Word On The Curb… Two intoxicated-half-naked Florida thots were arrested after eyewitnesses told police that they saw the two women allegedly tossing and flipping an infant boy "like a toy" over a concrete sidewalk.
DID YOU MISS: South Carolina man threw his baby in the air to 'toughen' him up and baby hit the pavement
The women have been identified as 19-year-old Brianna Lafoe and 20-year-old Sierrah Newell. According to the police, the incident happened outside of the Coyote Ugly bar in Daytona Beach, Florida. The women were reported to be half-naked and drunk. The incident happened around 1:30 a.m. on Thursday.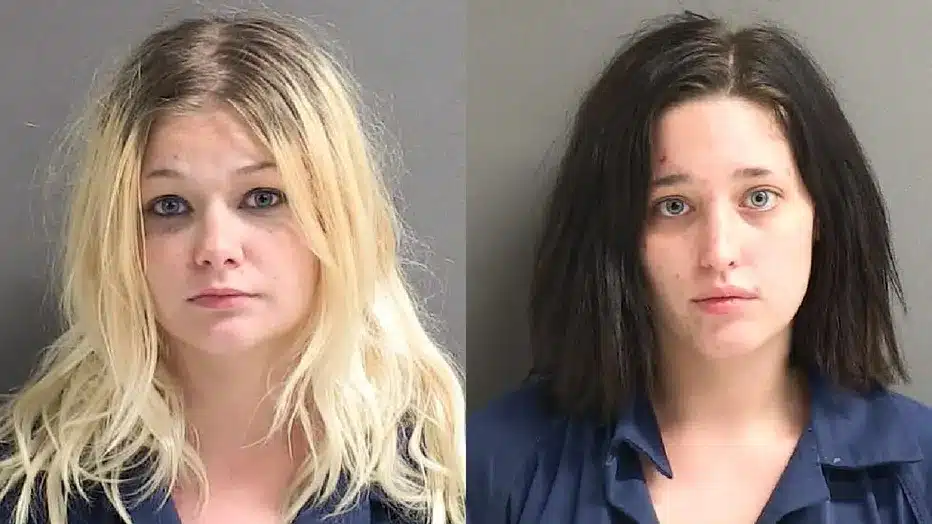 The Florida thots are also accused of flipping the child upside down, throwing him into the air, shaking him, and tossing him back and forth to each other as they stood four feet apart on hard pavement.
DID YOU MISS: Woman found guilty of throwing her sons off bridge so they could 'meet God' after representing herself in court
According to a video recorded by an eyewitness, Lafoe went to stop a person who was recording while she grabbed the child by his leg. At that point, Lafoe allegedly flipped the boy upside down and grabbed him by his ankles. In the video footage of the incident, which was reported by local NBC affiliate WESH, people can be heard yelling at the women to stop throwing the baby in the air.
Newell, who was on crutches, according to the police report, was actively approaching other bystanders before eventually focusing her attention on the witness with Lafoe.
DID YOU MISS: 3 teenagers befriended mother on social media just to kidnap her 14-day old twins
Newell allegedly used one of her crutches to strike the person twice.
One witness, Jahada Rasheed, later told the station that she saw Lafoe grabbing the baby while she was actively fighting with people who were telling her to stop.
The baby was taken to a hospital, where healthcare providers reportedly found red marks on his back and a suspected broken arm.
According to the Volusia County Divisions of Corrections, Newell and Lafoe were charged with felony child abuse, specifically cruelty towards a child. Lafoe was also charged with misdemeanor battery.
If you have a story you think the public should know about, send it to newstip@thencbeat.com 
Follow The NC Beat on Social Media: Instagram:@TheNorthCarolinaBeat | Facebook: @TheNorthCarolinaBeat | Twitter: @TheNCBeat
Follow me, Gerald, on Instagram @iiamgj and Facebook @TheOfficialGeraldJackson