The 'Stop Killing Us' March & Rally will be held on Saturday, August 26, 2023, in Wadesboro, North Carolina, to curtail violence as the 60th anniversary of the 1963 March on Washington approaches.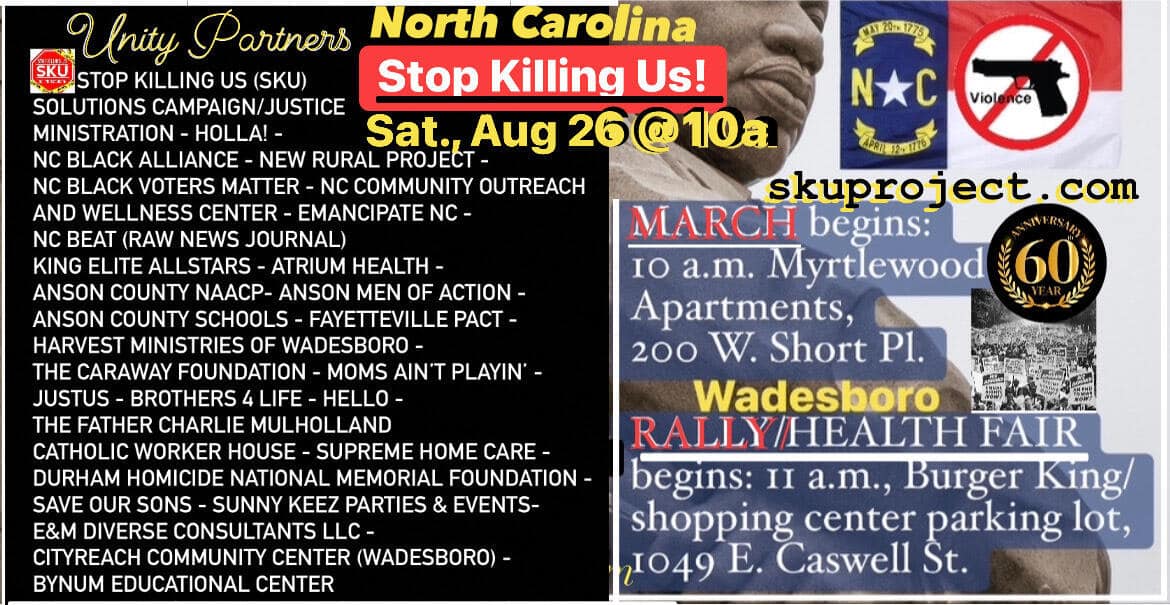 In July alone, Wadesboro faced a mass shooting that was said to fire approximately 100 rounds, leaving 7 civilians shot. A 22-year-old black male father later died. The following weekend, another 27-year-old black male was shot and killed by a juvenile.
At nearly the same time the shootings took place in Wadesboro, just miles away on the other side of North Carolina, a beautiful baby toddler, 19-month-old Nia'Loni Sheptock, was killed by gunfire in New Bern, North Carolina.
According to recent data, Wadesboro, which is 50 miles East of Charlotte, is among the top when not ranking as number one on the list of "the most dangerous cities in North Carolina per capita."
The gathering and coalitions are part of grassroots initiatives organized from the bottom up to save lives which are desperately under the deadly and daily threat of widespread violence.
There are community concerns for violence that range from deadly acts of gang affiliation, domestic violence, deadly misconduct from "law enforcement," racial terrorism, and government-sponsored legislative measures which have a violent impact.
SkuProject.com has researched the data that confirms how the widespread violence endangers the most vulnerable and most oppressed communities disproprotiantely as a range of killers are at work. Studies also show that youth today are no longer most likely to die from auto accidents or cigarettes. In 2010, the number one killer of youth became gun violence or "death from a firearm."
Partnering organizations for the aforementioned direct action are working in conjunction with commemorating the 60th anniversary of the 1963 March on Washington. Therefore the 'NC Stop Killing Us March/Rally' will be held in Wadesboro, North Carolina, the Saturday before the August 28th anniversary.
The March will begin at 10 a.m. at Myrtlewood Apartments located at 200 W Short Pl, Wadesboro, NC, and the Rally/Health Fair will start at 11 a.m. at the Burger King Shopping Center Park located at 1049 E. Caswell.
For more information about the event, you can visit SkuProject.com.