A father from Florida has been arrested and charged with murder after investigators say he unalived his 2-month-old daughter, Iris Napier, by forcefully shoving a baby wipe down her throat, causing her to choke to death.
The father, Joseph Troy Napier, was arrested and charged on Thursday with one count of aggravated manslaughter of a child in connection with the death of 2-month-old Iris Napier in 2021, according to court documents.
On May 28, 2021, the River County Sheriff's Office and fire department medics responded to a home in the 1500 block of 6th Avenue in Vero Beach in reference to an unresponsive 2-month-old girl. According to court documents, upon arrival, deputies located the infant girl and began performing CPR while quickly transporting her to an ambulance.
Paramedics reported that the child had no heart activity while being transported to Cleveland Clinic Indian River Hospital. Paramedics performed mouth sweeps on the child and were unable to find any blockage in her airways, according to court documents.
When investigators interviewed Napier, he told them that the infant had choked and he could only see a small white object in the back of her mouth. Court documents said Napier provided investigators with a timeline of events and, at one point,claimed that he had left the child unattended on a couch with his 18-month-old daughter for approximately 10 minutes.
Napier told investigators that "when he returned to the room he discovered the child was choking and in distress but still waited 5 minutes before calling 911."
Investigators determined that Napier spent 30 minutes on his cell phone, which made his timeline inaccurate, according to court documents.
Emergency room doctors performed a code on the 2-month-old baby and discovered that she had a baby wipe lodged in her throat. The court document stated that doctors confirmed the baby wipe was lodged so deep in the child's throat that it was deemed impossible for the infant to have swallowed it on her own. In addition, doctors told investigators that Iris, at her age, lacks the motor functions to consume a wipe and "swallow until the point it could not be seen."
Iris later died as a result of her injuries.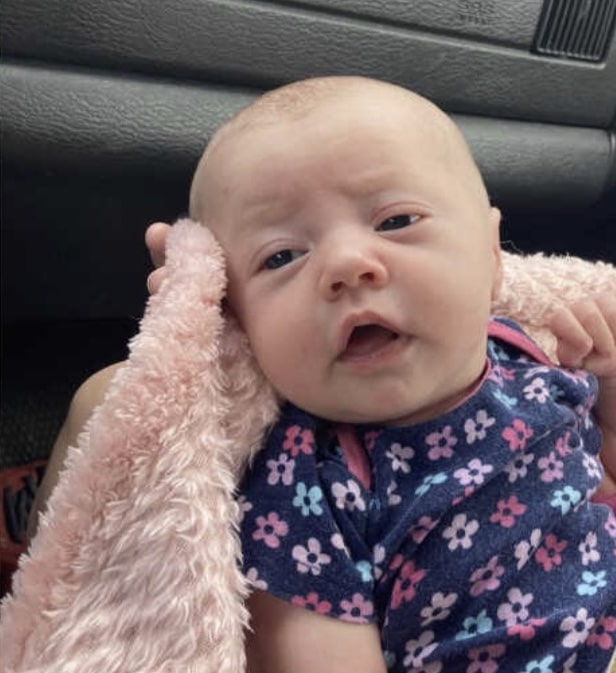 An autopsy determined that Iris' cause of death was "asphyxia due to an obstruction of the airway due to a foreign object",and her manner of death was listed as "unknown," according to court documents.
The grandfather of Iris, Joseph Miller, said that less than an hour before Napier called 911, he saw Napier standing over the infant, yelling, "You need to shut the f-up!", according to court documents."
During the interrogation, Napier suggested multiple times that his 18-month-old daughter could have put the baby wipe in his daughter's mouth. He cited that the infant girl would regularly try to place things in her sister's mouth.
Police said measurements of the 18-month-old's wrists, hands, and fingers allegedly showed that "it would have been impossible for her to get her hand inside Iris' mouth past her knuckle and place the baby wipe in her throat," according to court documents.
Investigators said Napier's claim that his 18-month-old child placed the baby wipe in Iris's throat was proven to be impossible, according to Sheriff Eric Flowers.
He shoved that baby wipe down her throat to shut her up, Flowers said.