A 19-year-old man has come forward to The North Carolina Beat and said that a North Carolina bishop tried to sleep with him in September 2020.
The man who wishes to remain anonymous identified the bishop as 45-year-old Shawn Smith, pastor of Progressive Church of Jesus Christ of The Apostolic Faith Inc. located in Graham, North Carolina.
Bishop Smith is no stranger to soliciting young men, making them his spiritual children, and then trying to sleep with them, but he also allows those young men to have sex in his home. And one former member said that he even watches them while they're doing it. That member has since moved out of the state of North Carolina.
The North Carolina Beat was shared a link to a video of two of Bishop Smith's spiritual children who also hold positions in his church that shows them masturbating and one sucking on the other nipples in a bedroom in his home. (That story is around the corner)
The young man said that he had been in church with Bishop Smith for nearly seven hours, and to help some of you understand, these kinds of pastors and churches may have a service at one church for two hours and at another for five hours or the power of God may fall, and they are in there for seven hours straight…but of course we know God doesn't even visit or lingers nowhere near Bishop Smith incest ass.
After being in service for nearly seven hours, the man says that Bishop Smith messaged him on Facebook and told the young man to stop calling him pops.
So stop calling me pops and I will love you appreciate you and care for you lol, Bishop smith said in the message. The. You can call me Zaddy, Bishop Smith continues.
READ THE FACEBOOK MESSAGE BELOW: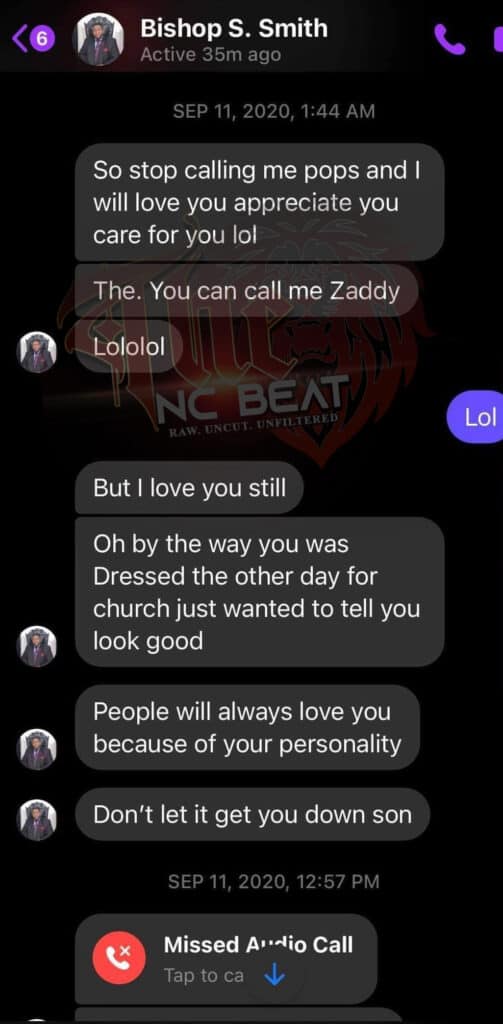 The man said that Bishop Smith tried to get him over his house so he could have sex with him.
Bishop Smith asked me to come to his house so we could fuck and I told him no because I wasn't attracted to him and he was supposed to be my spiritual father, the 19-year-old said.
This is beyond sad that Bishop Smith is allowing his so-called spiritual kids to live with him just so he can manipulate them into thinking they are his spiritual children but really, he wants what's in the back. And it is beyond sad that the ones who believe he's their spiritual father don't realize that they are just a piece ass to him.
It has been said around the triangle that Bishop Smith does give good gifts…to keep his victims quiet…just like he told the 19-year-old in Facebook messenger that he would care for him.
All that old people bussi out here in the world, and you choosing young bussi?? Chileeeee.
And before anybody at Bishop Smith's church tell anyone to "touch not my anointed," make sure to tell your Bishop to touch not his so-called spiritual children.
Don't forget to follow me on Twitter @GeraldJBlessed, Instagram @ImGJTheCEO , and on Facebook @GeraldJackson
If you have a story you think the public should know about, send it to newstip@thencbeat.com