Word On The Curb…the black woman who went viral in Houston after claiming she was hit in the face with a brick by a black man, after he asked for her number and she didn't give it to him, is being exposed for having a history of lying about "strangers" assaulting her in order to obtain money.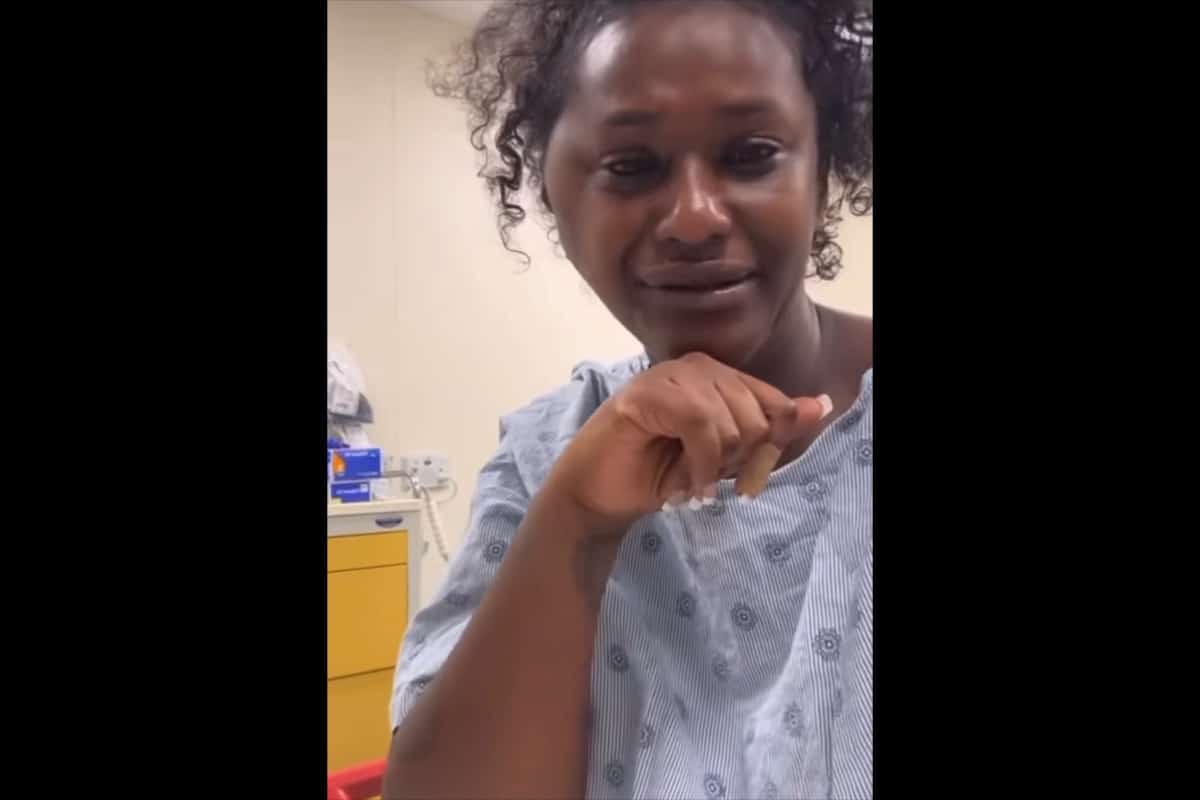 DID YOU MISS: [VIDEO]: Houston woman hit in the face with brick after refusing to give her number to a guy
When the BeatMob Street Committee sent this to us, we were in disbelief.
Earlier this month, the woman who goes by Rho Bashe on Instagram said that a man struck her in the face with a brick after rejecting his advances. Following the alleged incident Bashe said that there were men at the scene, and they refused to help her and watch the whole thing unfold. The woman went on to post another video on social media from her hospital bed, garnering a large amount of support across social media platforms.
Bashe never filed a police report…but guess what? There will never ever be a police report because the woman is a known scammer and she has over the years claimed people assaulted her in the face just to go on to create GoFundMe and get money knowing damn well ain't nobody laid a hand on her lying ass.
DID YOU MISS: Atlanta stylist accused of running major wig scam, allegedly targets women with hair loss
Chileeeeeeeeeeeee…she had us online thinking she was really assaulted, but she was pulling a Carlee Russell and Jussie Smollett the whole damn time.
In a new update, a TikToker has come forward to let us all know who this whoraaa really is. The TikToker said that Bashe uses her allergic reactions to falsely claim that she was assaulted just to get money.
In 2020, Bashe claimed that she was "trying to be a doctor" and be somebody and that a group of people jumped on her for no reason, while pointing at the same location the side of her face was swollen at in the recent hoax she pulled, but also on the other side of her face as well she claimed the group of people hit her at.
DID YOU MISS: Birmingham photographer exposed for scamming woman and others with shady photography business
The TikToker said that Bashe raised $41,000 for that scam.
Every few years she gets attacked in the face by a random stranger, fails to make a police report, but makes a GoFundMe and garner thousands of dollars, the TikToker said.
WATCH VIDEO BELOW:
If you have a story you think the public should know about, send it to newstip@thencbeat.com 
Follow The NC Beat on Social Media: Instagram:@TheNorthCarolinaBeat | Facebook: @TheNorthCarolinaBeat | Twitter: @TheNCBeat
Follow me, Gerald, on Instagram @iiamgj and Facebook @TheOfficialGeraldJackson