Word On The Curb… a gay, dirty-butt Atlanta hairstylist is being called out over his alleged wig scams that have been going on for years, and now people are filing BBB complaints and police reports against the stylist while he is out here threatening the same people he owes wigs to with lawsuits.
The stylist has been identified as Richard Anthony Flowers, of "The Prince Charming Experience."
The BeatMob Street Committee found out about Flowers and his alleged illegal and deceiving tactics toward customers after they bought a wig from him or thought they were purchasing a wig from him.
Fifty women have filed a complaint with the Better Business Bureau (BBB) about Flowers scamming them with his wigs that never show up at the front door.
In one complaint on ScamPulse, a woman says she purchased a wig from Flowers on August 22, 2022, for $399 and has been waiting for her wigs from Flowers since then. However, according to the complaint, as of April 18, 2023, eight months later, the woman said she has yet to receive her wig and has yet to hear from Flowers.
READ COMPLAINT BELOW: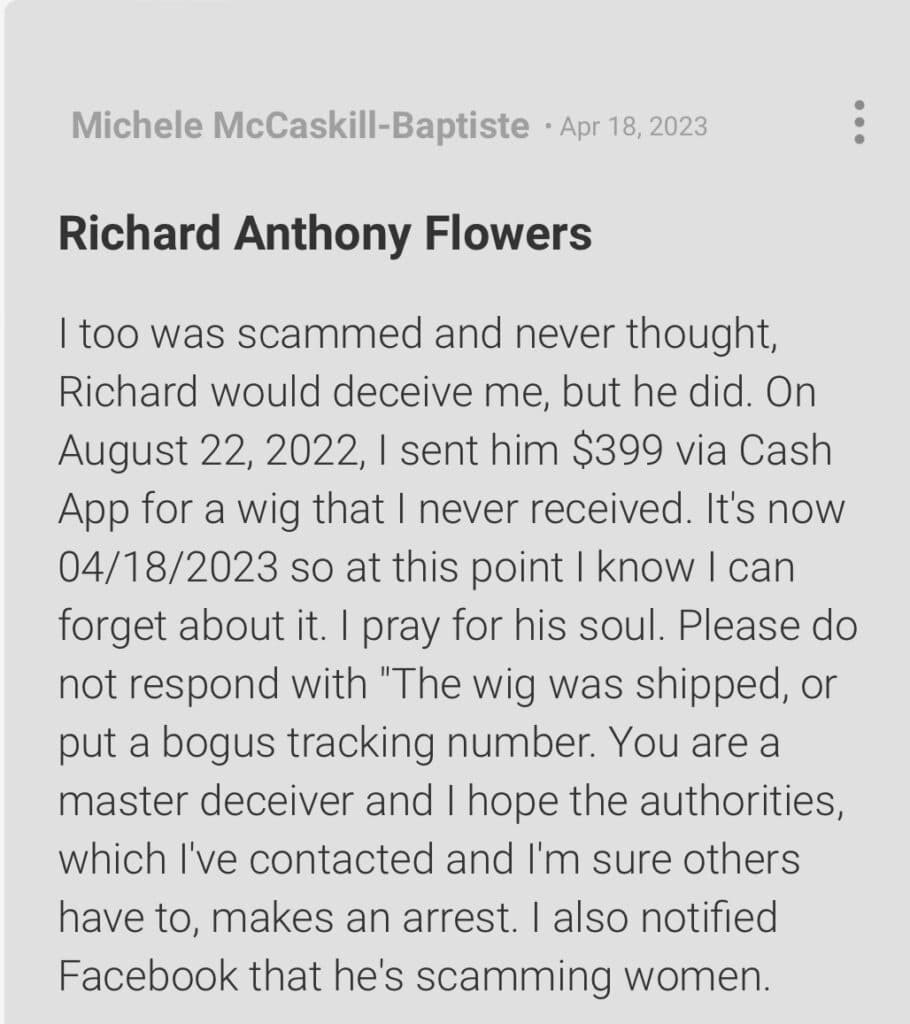 You know you are scamming when it takes eight months to send someone a wig.
Flowers, who has been allegedly scamming people far back as 2019, refers to himself as a hair loss specialist and a celebrity stylist nobody knows, but the people he scammed refer to him as a thief and rouge.
The North Carolina Beat spoke to two victims of Flowers who say he mainly targets women with hair loss. He prefers people to send him payments via Cash App because he knows customers can't dispute their transactions with him.
One of the victims The North Carolina Beat spoke with said on March 19, 2023, she purchased the "Buy 2 Get 1 Deal" from Flowers. The woman said she sent her payment of $750 to Flowers, and he confirmed that he received it. The woman said Flowers told her she would receive her units in 7-12 business days. On March 29, 2023, the woman said she contacted Flowers for tracking information; he responded, "Okay, I'll take care of it."
On April 1, 2023, the woman said she contacted Flowers again for an update because she wanted to make sure to receive the delivery. The woman said Flowers responded, "Yes, I will you this upcoming week for sure, they will get to you." But, of course, Flowers was lying as he has done to many other people who have ordered wigs and other products from his struggling business.
On April 6, 2023, the woman said she started getting worried, so she reached out to Flowers again, inquiring about another wig. During the conversation, the woman said Flowers stated that he had finished 2 of her units. The woman said her reaction was, "Okay, cool." She messaged Flowers again on April 15, 2023, asking if her products would arrive by April 20, 2023. 4/20 came, and the woman said she saw a package in her USPS informed delivery email.
She said she took a screenshot and sent it to Flowers, asking him if this was her wig, to which he responded, "Now, I'm shipping Friday," which would have been the next day, April 21. 
The woman says on April 21, Flowers sent her a long message which The North Carolina Beat has obtained, about stuff that doesn't have anything to do with the location of her package.
In the message, Flowers tells the woman that he had lost everything to his name in a fire in early 2023…but I bet you his ass didn't lose them Cash Apps and them Zelle's.
READ MESSAGES BELOW:
The woman said she sent a positive message telling Flowers that she hoped things got better for him. 
On April 26, 2023, the woman said she sent Flowers a message asking for updates on her order, to which he responded, "Yes, I can mail your two units to you this weekend," but nothing about the woman's third unit that was supposed to be included in her deal she had already paid for. Thirty days had passed, and the woman still had not received her package.
This past Sunday, April 30, 2023, the woman said she contacted Flowers again about her order. The woman said Flowers told her the order would arrive via USPS and he would send her the tracking number. 
Lastly, the woman told The North Carolina Beat that Flowers had left her message on "seen" since Monday, May 1, 2023.
In a Better Business Bureau Complaint, a person said on August 28, 2022, she sent Flowers a payment of $299 via Cash App for a wig he told her would be shipped in three weeks. According to the complaint and as of filing the complaint on December 31, 2022, Flowers had yet to send her wig. The complainant said Flowers would only communicate with her via Facebook messenger and promised to send her product but has yet to respond.
READ COMPLAINT BELOW: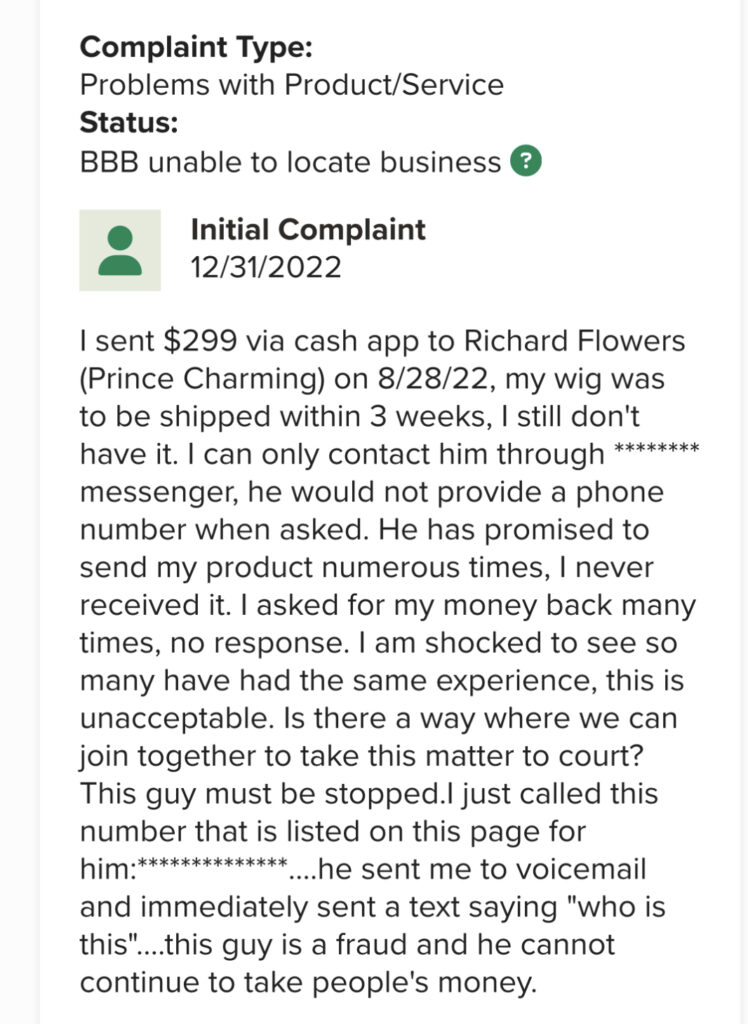 More than 50 complaints against Flowers and his struggling business have been filed with the Better Business Bureau. Flowers business is not accredited, but these complaints publicly help future consumers know about Flowers or anyone scamming. The BBB also works closely with local, state, and federal law enforcement agencies, providing them with valuable information on potential frauds, but it is unclear why they haven't acted against Flowers.
In another BBB complaint filed on January 19, 2023, a woman said she inquired about wigs that Flowers was selling. According to the complaint, the woman asked Flowers if it was too late to order a wig and have it by December 31, 2023, which the woman says Flowers told her it wasn't too late. According to the complaint, the woman sent Flowers the money after he sent her a Cash App request, and of course, he stopped communicating, and she never received her product.
READ COMPLAINT BELOW: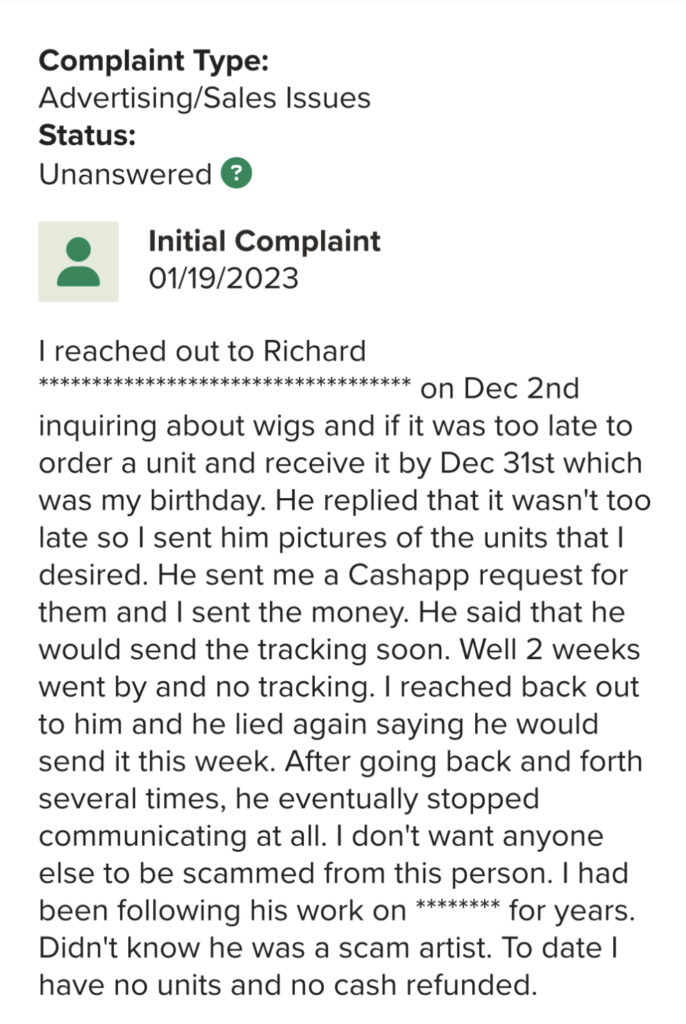 Another BBB complaint stated that a woman sent $837 to Flowers for three custom wigs and hair care products, but of course, she never received her wigs or products, and Flowers continued to lie about sending the product.
READ COMPLAINT BELOW:
Read more BBB complaints on Flowers and his alleged WIG scam by clicking HERE and or on ScamPulse by clicking HERE.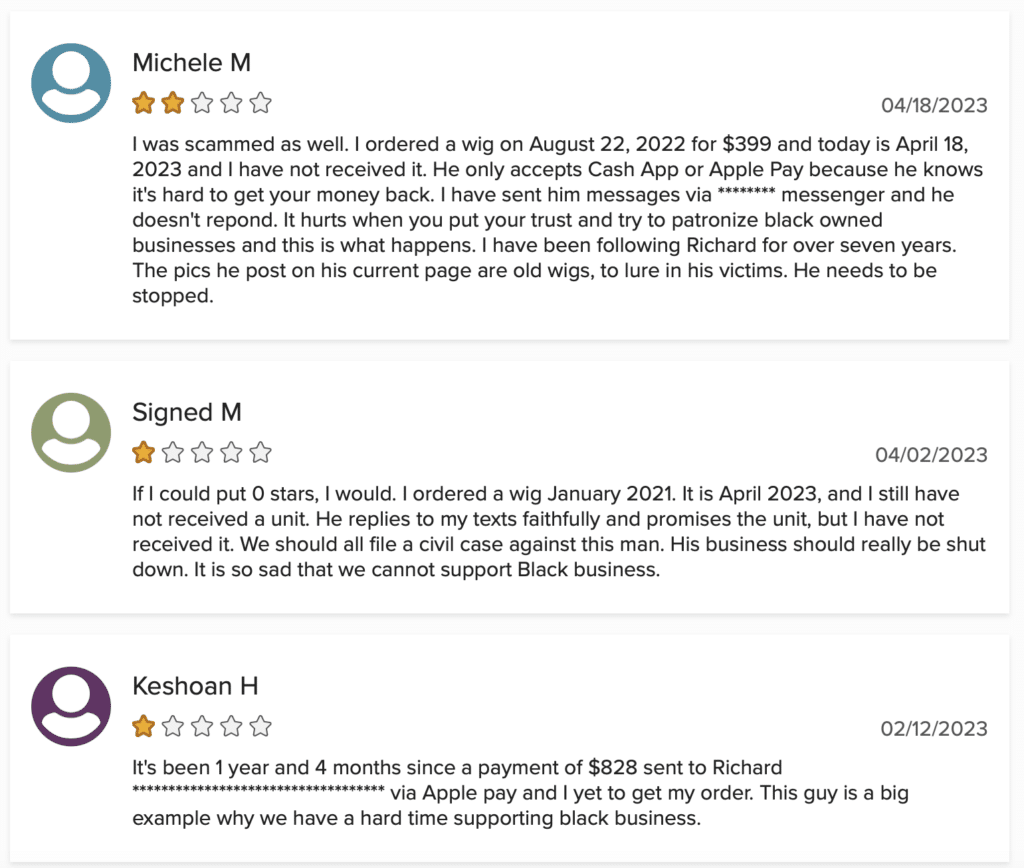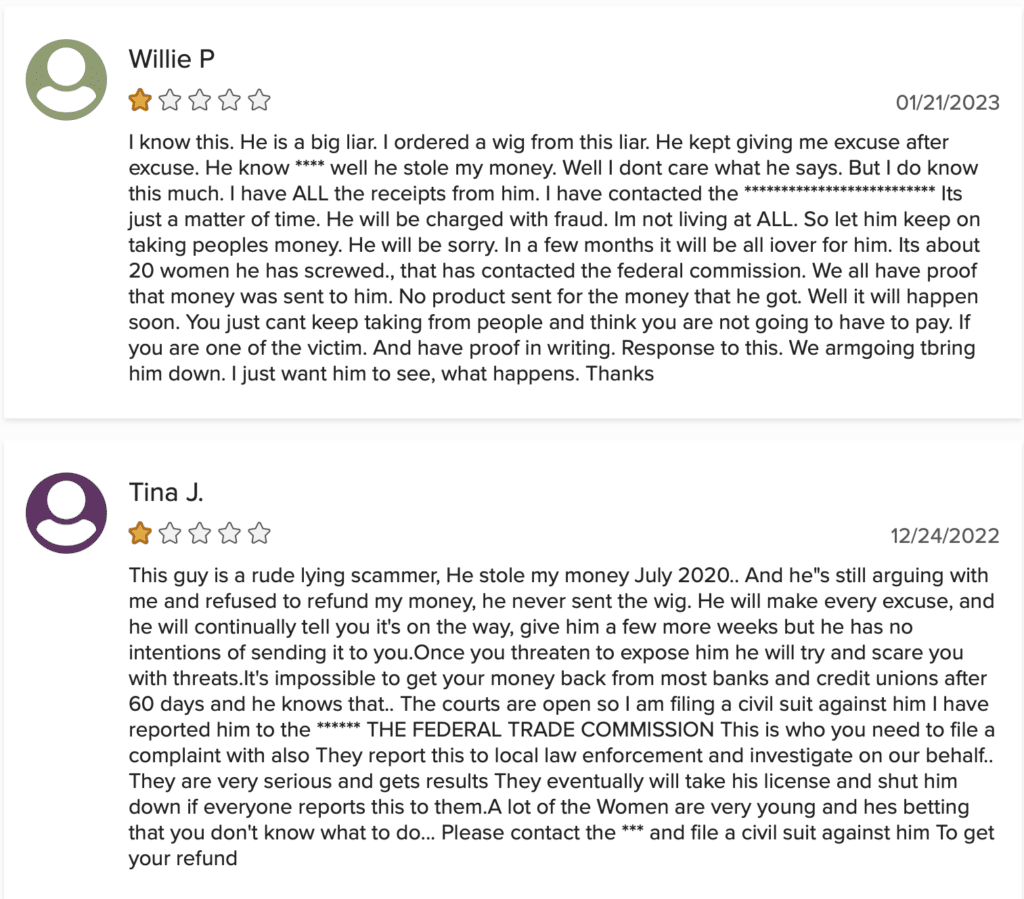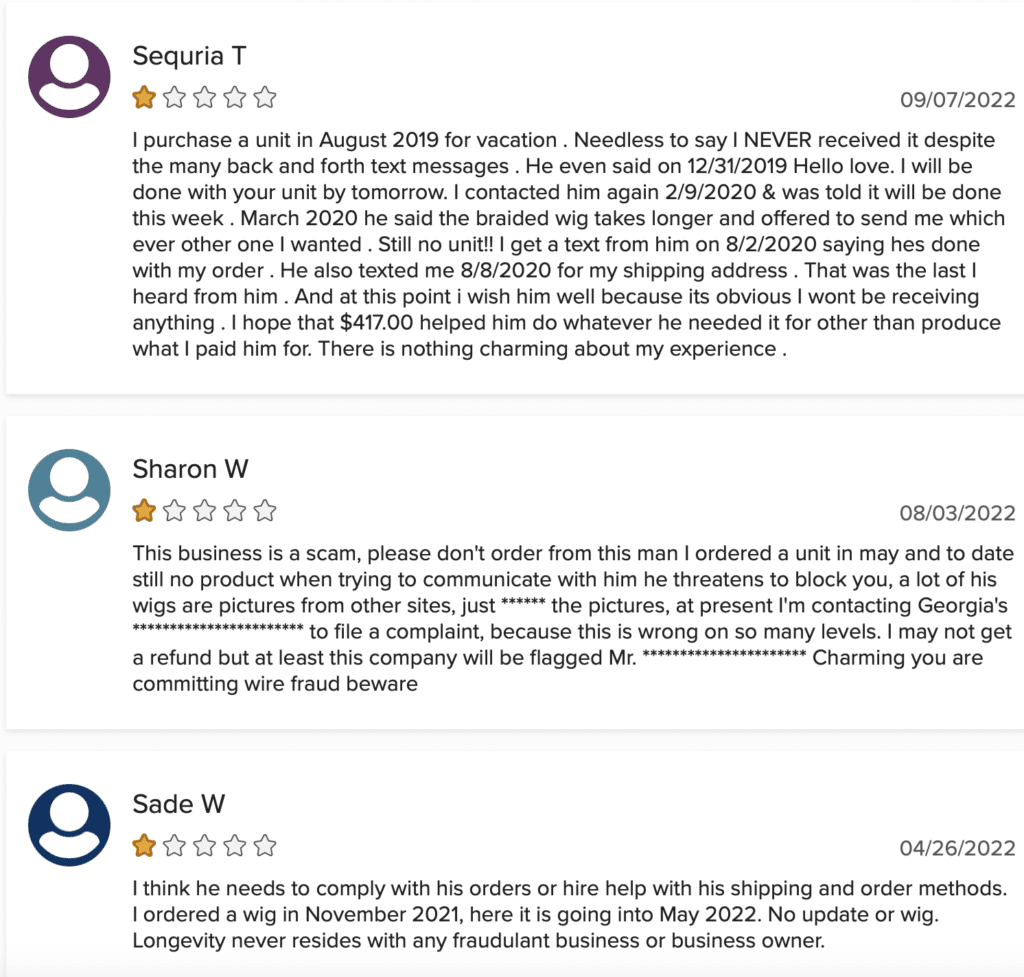 In a complaint on ScamPulse, a woman named Chandra said she purchased a wig from Flowers on February 24, 2021. However, three months later, she still had not yet received her product. Chandra said she messaged Flowers asking for updates, and he would only give her excuses, such as telling her certain days the wig would be shipped and when he would send the tracking information, but he has yet to do so. It reached the point where Chandra asked for her refund, and Flowers told her to read the terms and agreement, which Chandra said were trash because Flowers didn't deliver on his responsibilities as the seller. 
Attached to the woman's complaint was the messages below between her and Chandra: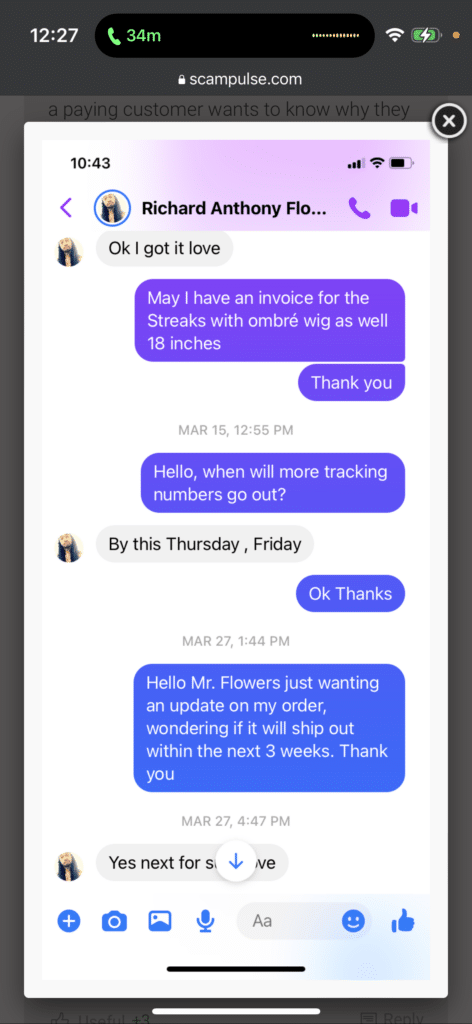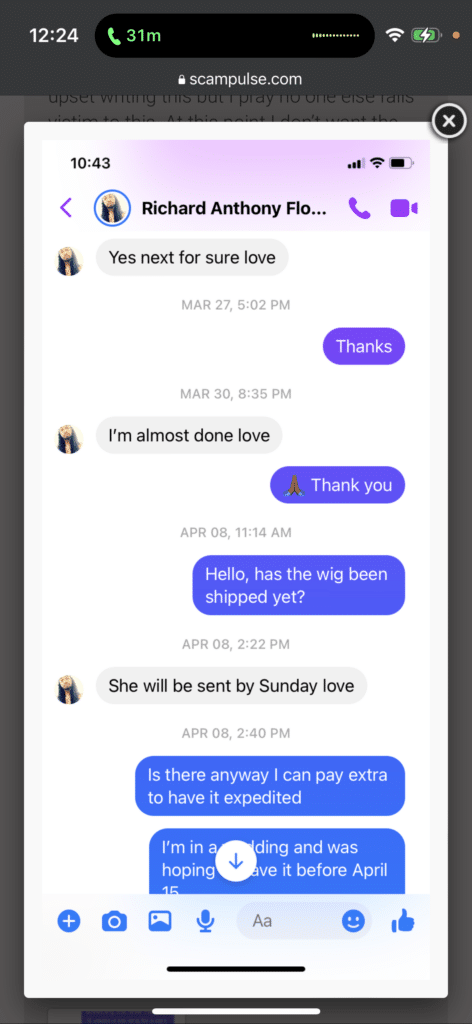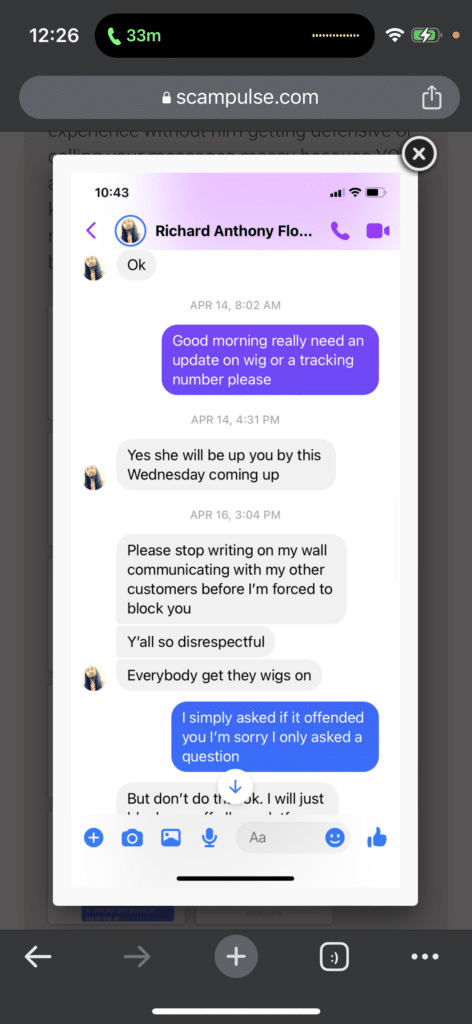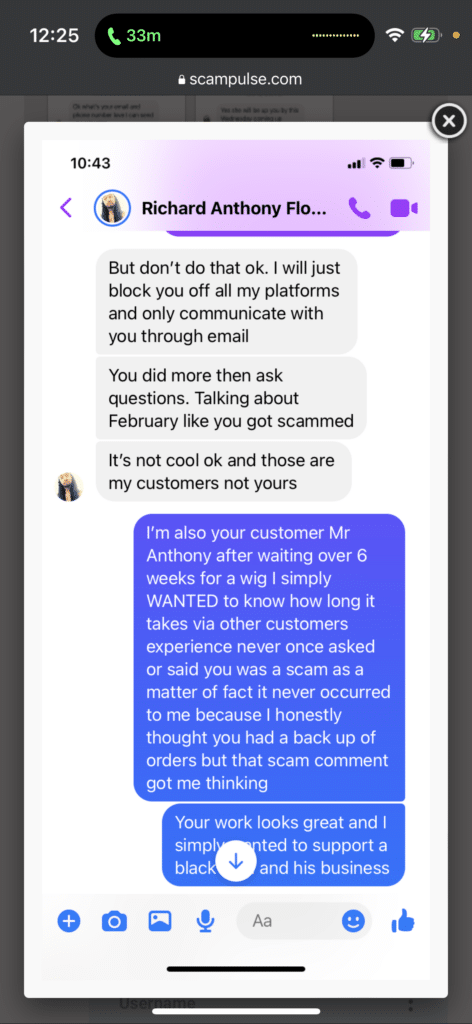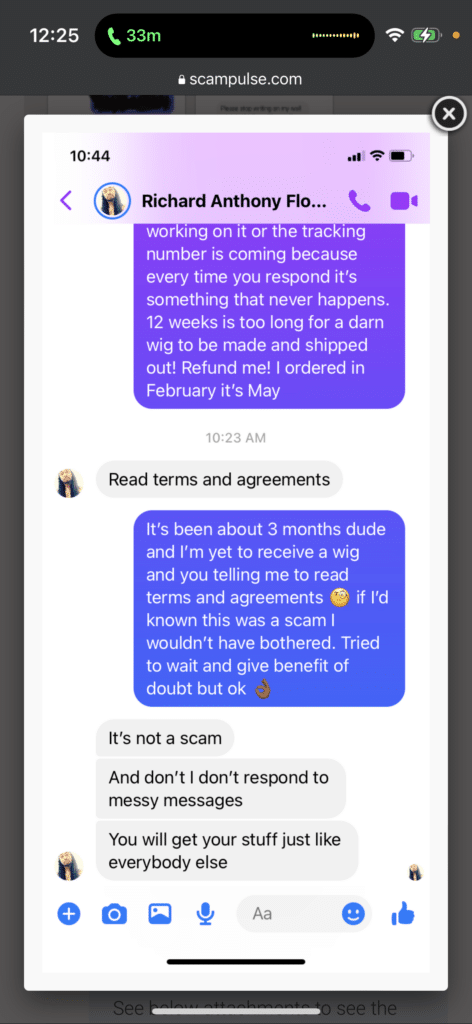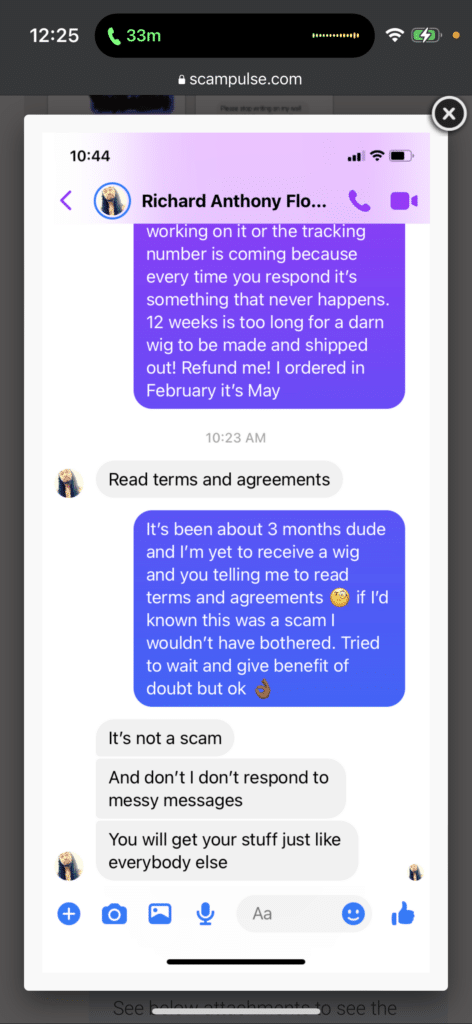 The North Carolina Beat reached out to Flowers for comment before posting this story, and he threatened to sue us if we proceeded with the story.
If you have been a victim of fraud by Flowers by thinking you were purchasing a wig and never received it, please email me personally, with subject (The Prince Charming Experience Scam) gjackson@thencbeat.com if you are interested in criminally prosecuting him. 
If you have a story you think the public should know about, send it to newstip@thencbeat.com
Follow me, Gerald, on Instagram @iiamgj and Facebook @TheOfficialGeraldJackson