Chileeeeee, these scammers won't stop scamming. Since that PPP money ran out, people are still trying to get to the bag MULTIPLE ways…but if your name comes across The NC Beat's desk, we will STAND OUR GROUND and report on your fraudulent ass. 
An alleged SCAMMA in Birmingham, Alabama, named Brandon Tubbs, who claims to be a professional photographer and run a professional photography business called bCreative, has been caught trying to get away with people's money without rendering service and we want Brandon to bForreal about where these people's money at he allegedly stole.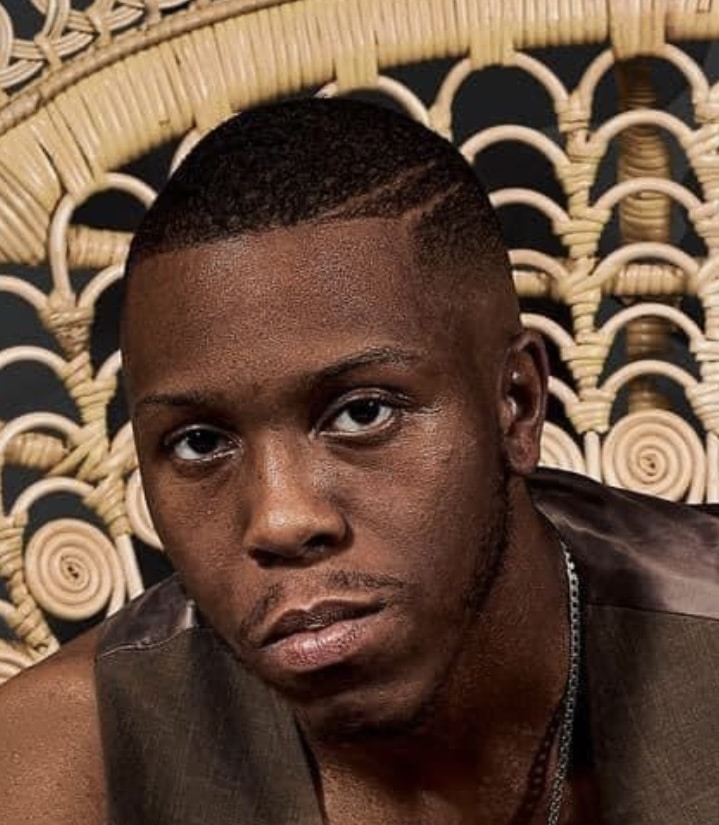 A woman reached out to The North Carolina Beat earlier this week and told us that a photographer in Birmingham had scammed her. 
We asked the woman what happened, and she said she booked Brandon for a photo shoot, and after she paid him a $250 deposit, he went off the radar. 
Chavon Morrison said she had found Brandon on social media and reached out because she wanted to book a photo session for her and her husband at a nice hotel in Birmingham for May 13. Morrison said she and her husband had recently moved to the area and didn't know much about it thus far. 
On April 19, Brandon reached out to Morrison, but Morrison was busy and asked if they could talk around 2 pm. 
Morrison and Brandon eventually spoke. During the conversation, Brandon tells Morrison how she can pay, etc. Finally, she decides she will pay through Cash App. Once off the phone, Brandon sends his Cash App.
Morrison pays.
Four days later, on April 23, Morrison texts Brandon, " I never received the receipt of confirmation email. This is Chavon Morrison."
READ TEXT MESSAGE BELOW: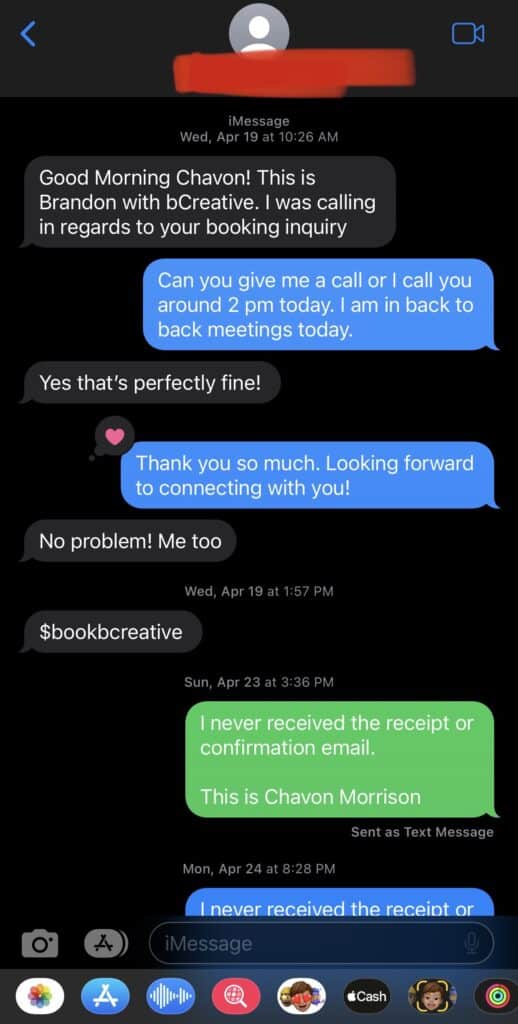 Brandon didn't respond. So, Morrison sent another text message the next day, April 24, "What's the address for the photoshoot on May 13 at 11 am?" But, again, Brandon doesn't respond to Morrison's text.
READ TEXT MESSAGE BELOW: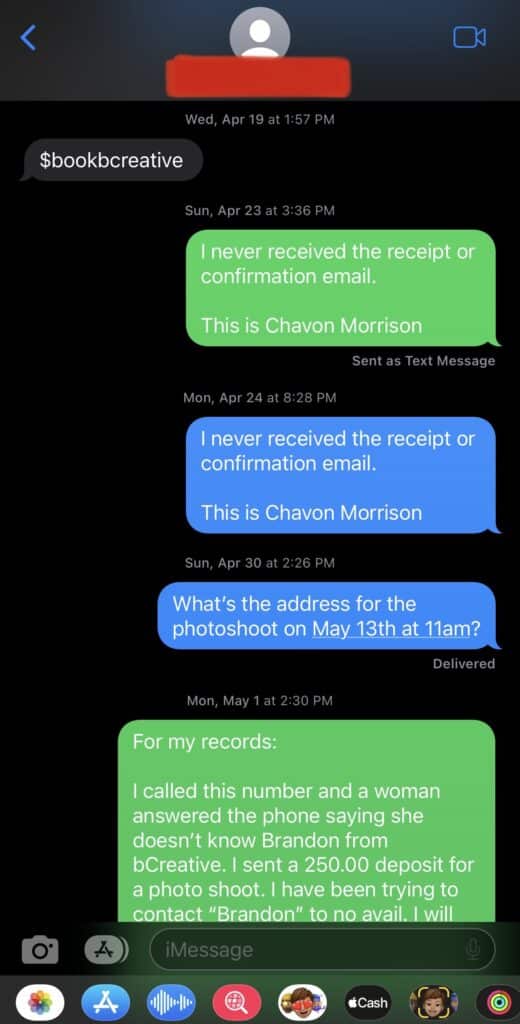 On May 1, Morrison sends Brandon a text saying that she called the number that Brandon had initially texted her on, and a woman picked up and said she didn't know anybody named Brandon from bCreative. Morrison said the number in the screenshots was no longer a number to reach Brandon after she sent him her money.
Morrison then says she paid Brandon $250 and had been trying to contact him to "no avail."
READ TEXT MESSAGE BELOW: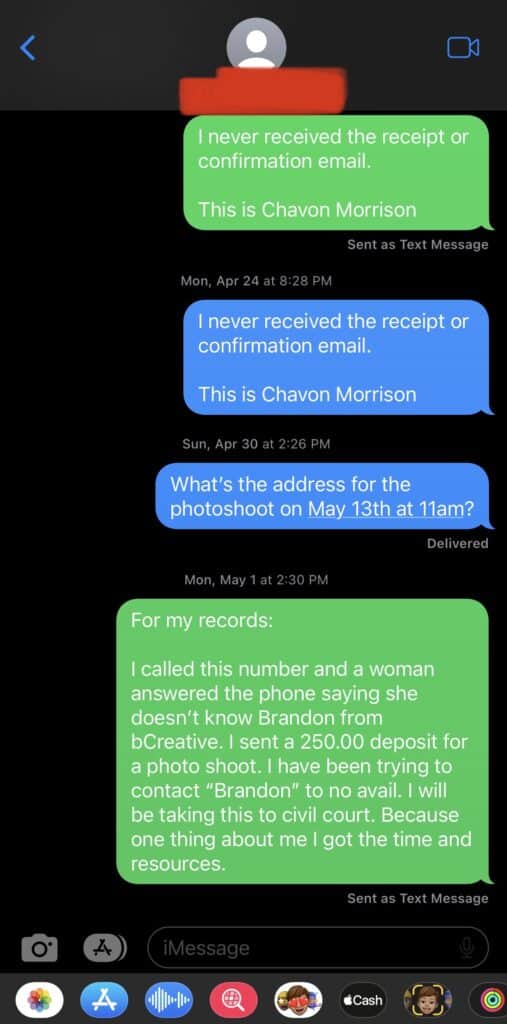 But see, that's what they do. They take your money and either go off the radar or talk to you like you ain't shit and use that as a reason to keep your money. 
On May 1, Morrison commented about Brandon possibly scamming her under a post with hundreds of people commenting.
The next day, May 2, Morrison sent Brandon an email about their phone conversation after Morrison commented Brandon was scamming.
In the email, Morrison reminded Brandon of their conversation and agreement to return Morrison's $250 deposit.
READ THE EMAILS BELOW: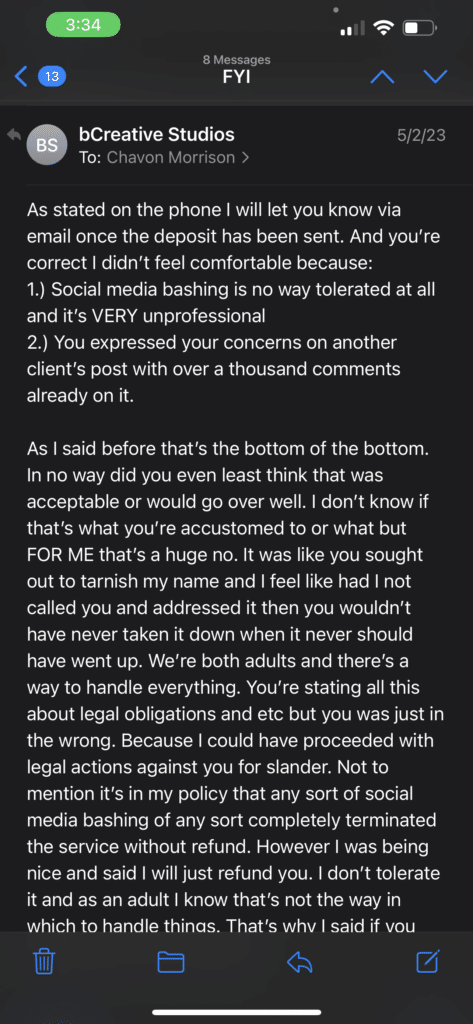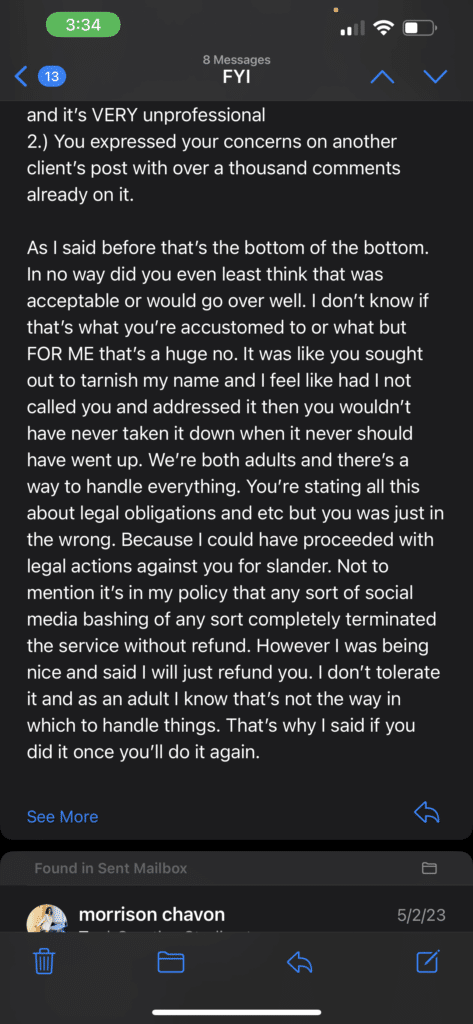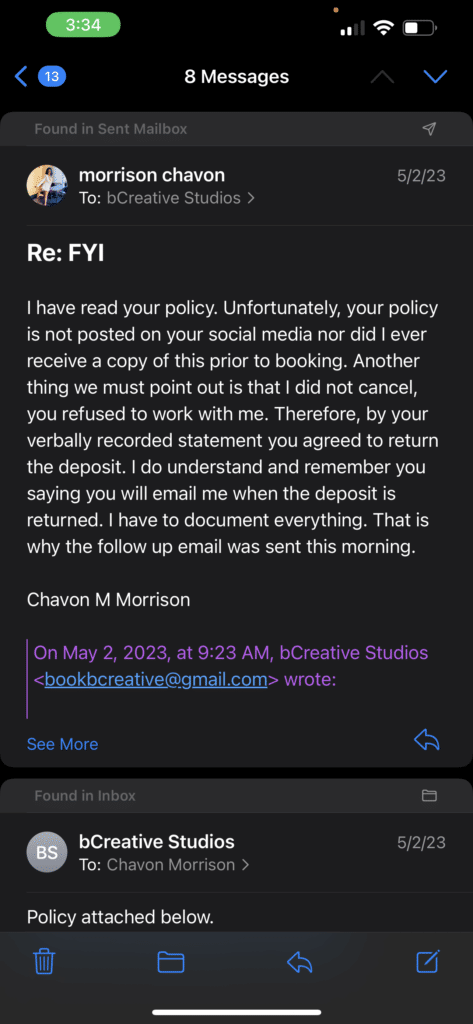 The North Carolina Beat looked at the bCreative Studios policy on their website. The policy stated that "There will be absolutely no bashing and/or social media slander."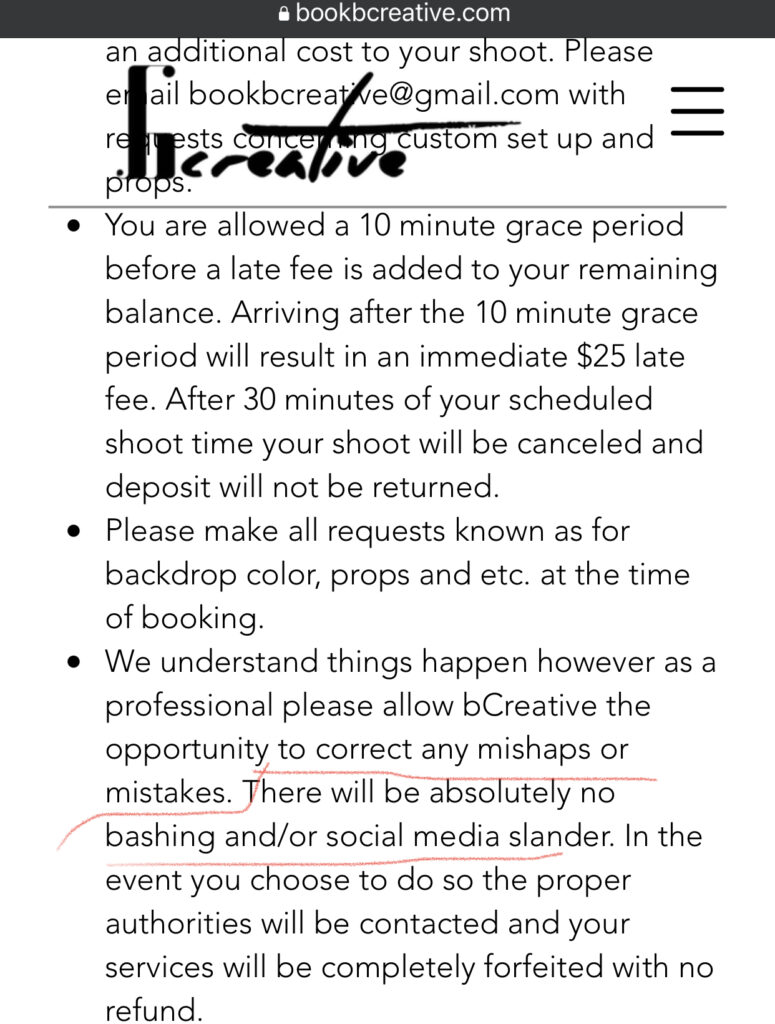 But that part of Brandon's policy is one of his alleged crafty tactics to keep people's money. So, when you book Brandon for a photo shoot, he allegedly takes your money and goes off the radar.
You reach out to NO AVAIL…so what do you do? You start researching this person and their business to see if someone else had the experience you feel you are having with this bozo. So you post about your experience. And BOOM…Brandon pops up to tell you that you can't social media bash him, and if you do, there are no refunds.
THAT'S HIS TACTIC! To get your money, don't never respond to you again and then when you go to social media he'll try to use you bashing him as a way to not give you your money back.
It's ORGANIZED crime.
The North Carolina Beat spoke with Brandon Thursday afternoon, who told us that he is not a scammer.
Brandon said he doesn't issue his customer receipts. If they pay through the method they choose, that's their receipt but what services they paid for with his letterhead on it, he doesn't give those unless the client specifically state's that's what they want.
I don't give itemized receipts, unless it is specifically requested, Brandon said. She didn't ask for an invoice or none of that. She asked me my method of payment and I told her and if she wanted a invoice, she should have asked for one.
The man sounded like a liar to me as he continued to say that Morrison didn't ask for a receipt. But y'all, if you pay for something, you get a receipt with the business information and a list of what you purchased. So even if Morrison didn't request a damn invoice, she still paid for a service. He didn't even give her a receipt for the $250 down payment.
 Your confirmation is you booking a shoot, Brandon said. It's not like you going into the store purchasing a shirt and you get a receipt.
Although receipts above show that Brandonwent off the radar, he still believes he didn't.
I didn't go silent on her, Brandon said.
Brandon said that he wasn't going to communicate with Morrison again until the date of the shoot.
What's in ya gon come out ya.
As we were wrapping up our conversation with Brandon started to complain about "life".
People fall short, Brandon said. People make mistakes and ain't nobody take the time out to say "at the time he was overwhelmed, at the time he was exhausted, or his laptop was broken." Shit happens and people go through.
In a BBB complaint made in August 2022, one woman said Brandon scammed her out of $1,000 for a photo shoot and web design creation.
In another BBB complaint made in June 2022, a woman says that she paid a $200 deposit to Brandon for a maternity photoshoot, and a day before the shoot, Brandon allegedly texted her and said that his car was in the shop. As a result, he had no way to commute to Birmingham. The woman said in the complaint that Brandon asked her if she could drive to Florence, Alabama, which was 2.5 hours away. The woman said she couldn't travel because she was nine weeks from her expected due date. 
The next day, the day of the woman's shoot, Brandon texted and said that he had to cancel entirely and would reschedule. However, the woman said she could not reschedule and would like a refund to find another photographer. Brandon agreed to the refund as he did Morrison's, but the woman still has not seen her money.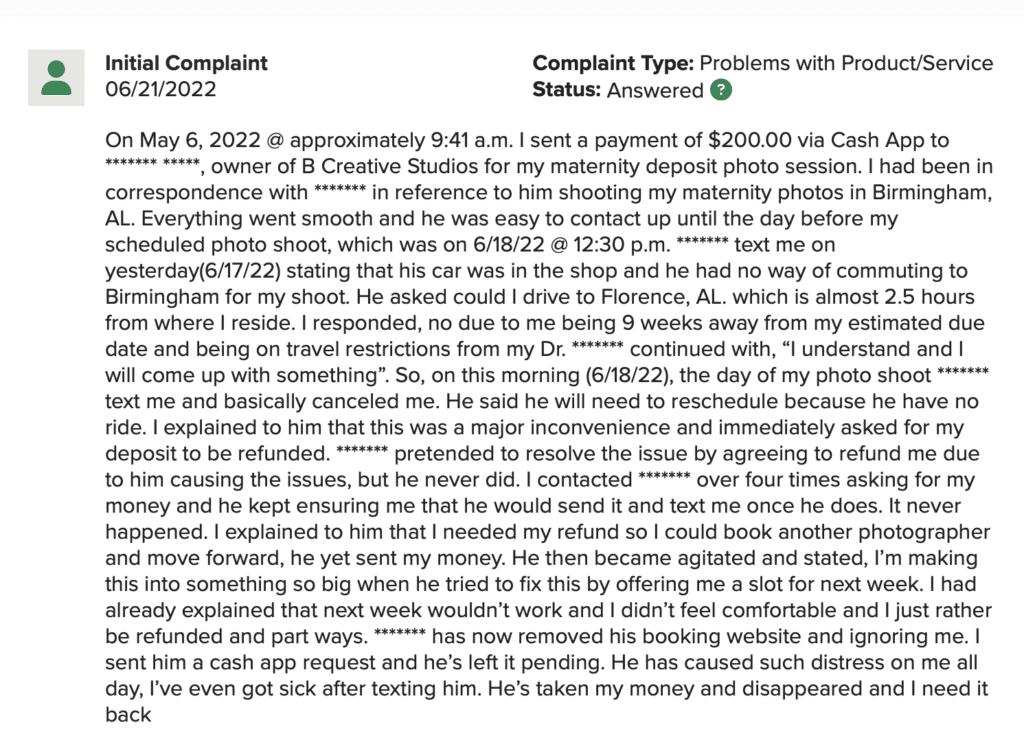 In one last BBB complaint from 2020, a woman said that two days before her photo shoot, Brandon called to reschedule, in which she could not reschedule an evening time. It would have needed to be morning or afternoon. The woman said Brandon continued providing her with times in the evening.
According to the woman, Brandon continued creating dates with evening times, trying to force a date on the woman to claim it was a no-show by the customer so he didn't have to refund the money.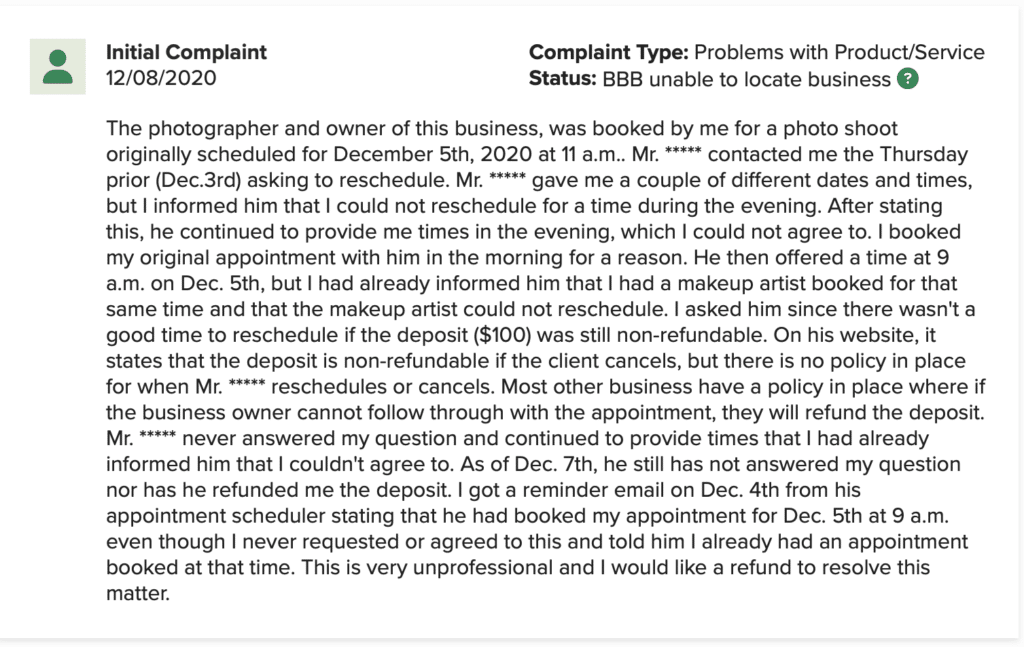 Scammers always be trying to cover they ass Chile.
Morrison said she plans to take legal action against Brandon.
If you have a story, send it to newstip@thencbeat.com
Follow me, Gerald, on Instagram @iiamgj and Facebook @TheOfficialGeraldJackson