A Mississippi artist says Lil Meech, whose real name is Demetrius Flenory Jr., a struggling rapper, and actor, scammed him for $1,015.00.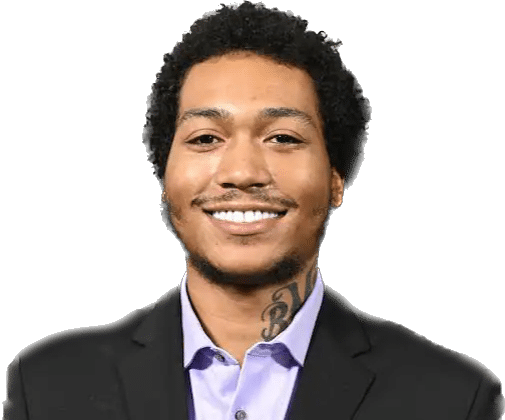 Mississippi artist O.C. 808 told The North Carolina Beat that Lil Meech had an Instagram post on his timeline asking people to tag "All Talent" and to dm him because he was looking for the "best of the best, hardest of the hardest."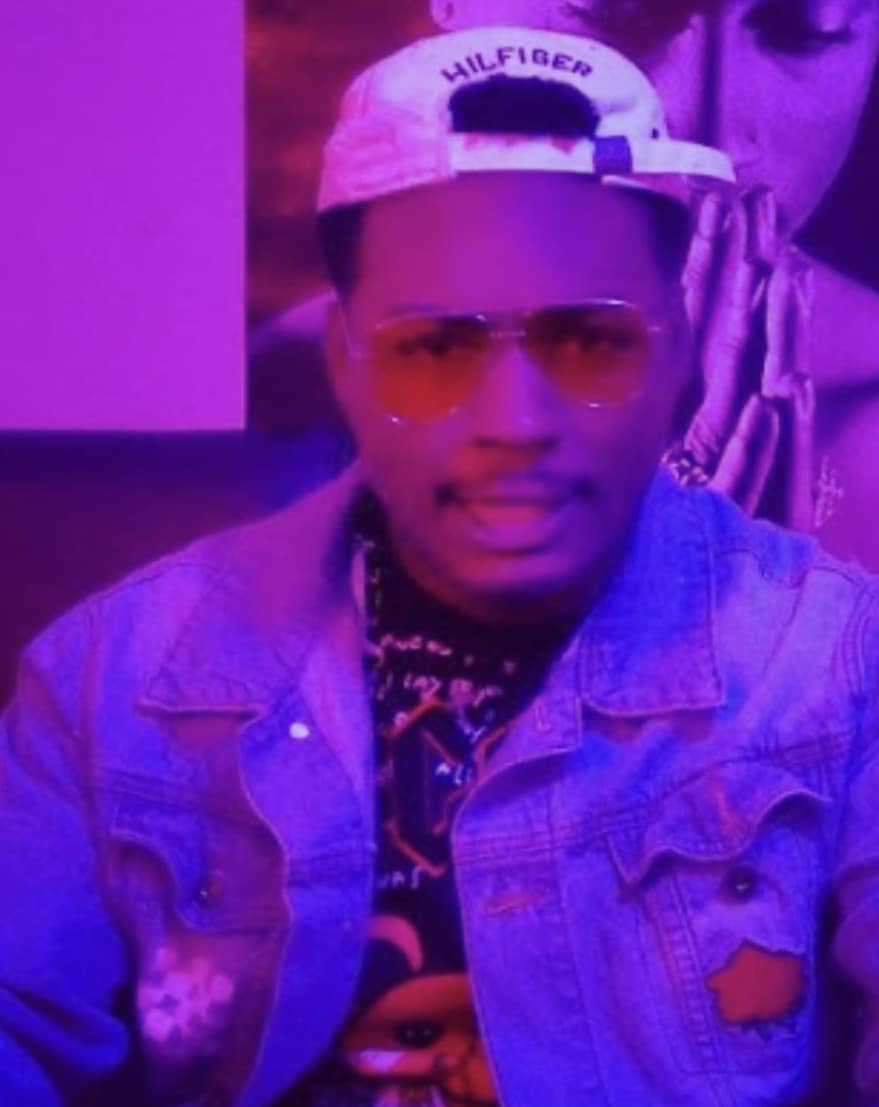 On August 8, Lil Meech D.M.'d O.C. and said, "Seen u was tagged in my post, keep working all love (100)."
O.C. responds with a message that appears to be an attempt to network with Little Meech.
Meech responds by telling O.C. that he was "fire" and that he could help him increase his following. He informs O.C. that he provides "intros, video, and all types of promos" and that it all depends on O.C.
Fasho that I'm working with 500 to market with at the moment but it's going to go up, O.C. responds back to Lil Meech.
Meech tells O.C. that in exchange for $500, he'll do a 24-hour story about his "content" that will get his name out there. O.C. asks Meech what he can do for $750 to $1000.
Meech adds more options to the table. He offered to make a video for O.C. shouting out his soundtrack and telling his followers to check him out, and he would get "major exposure."  Meech told O.C. that if he made an offer, he needed to be ready to put money down right then.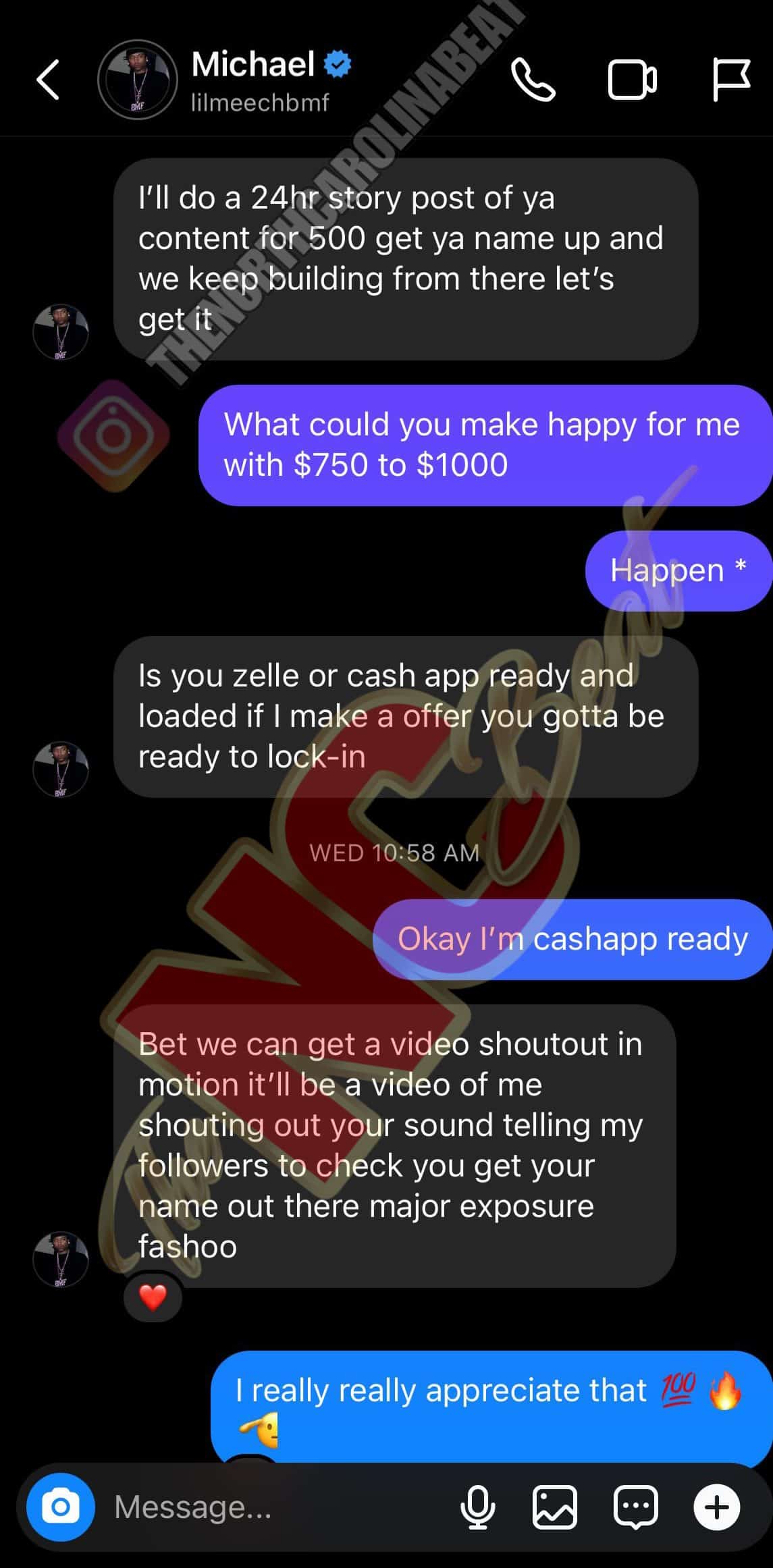 O.C. is then sent two cash app names by Meech for him to send his money to. The first  was $500 to lilzippobmf and $515 to EliteMusicPromo80. O.C. sent $515 to the cash app EliteMusicPromo80.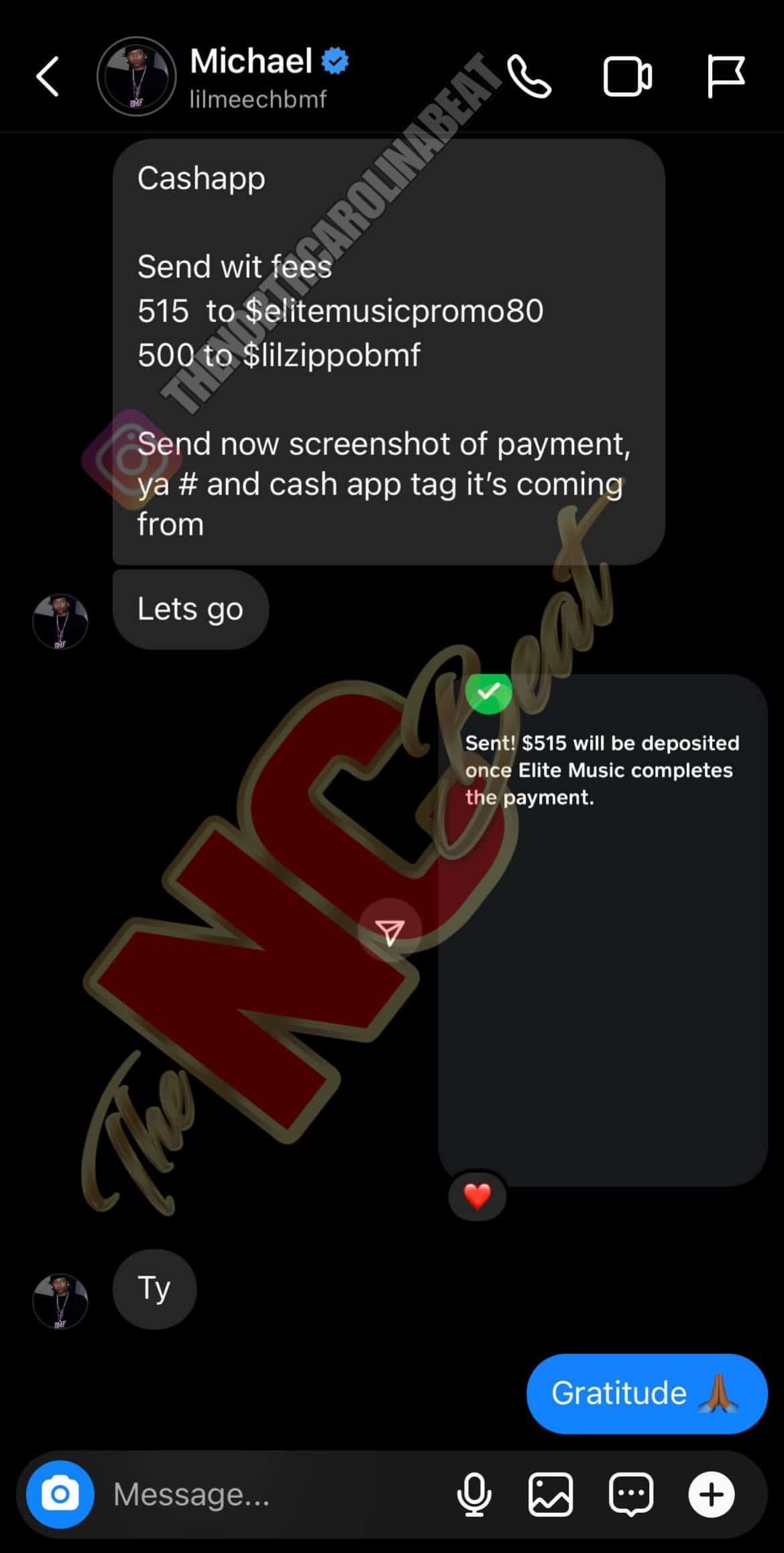 O.C. then sends the $500  to the lilzippobmf cash app account.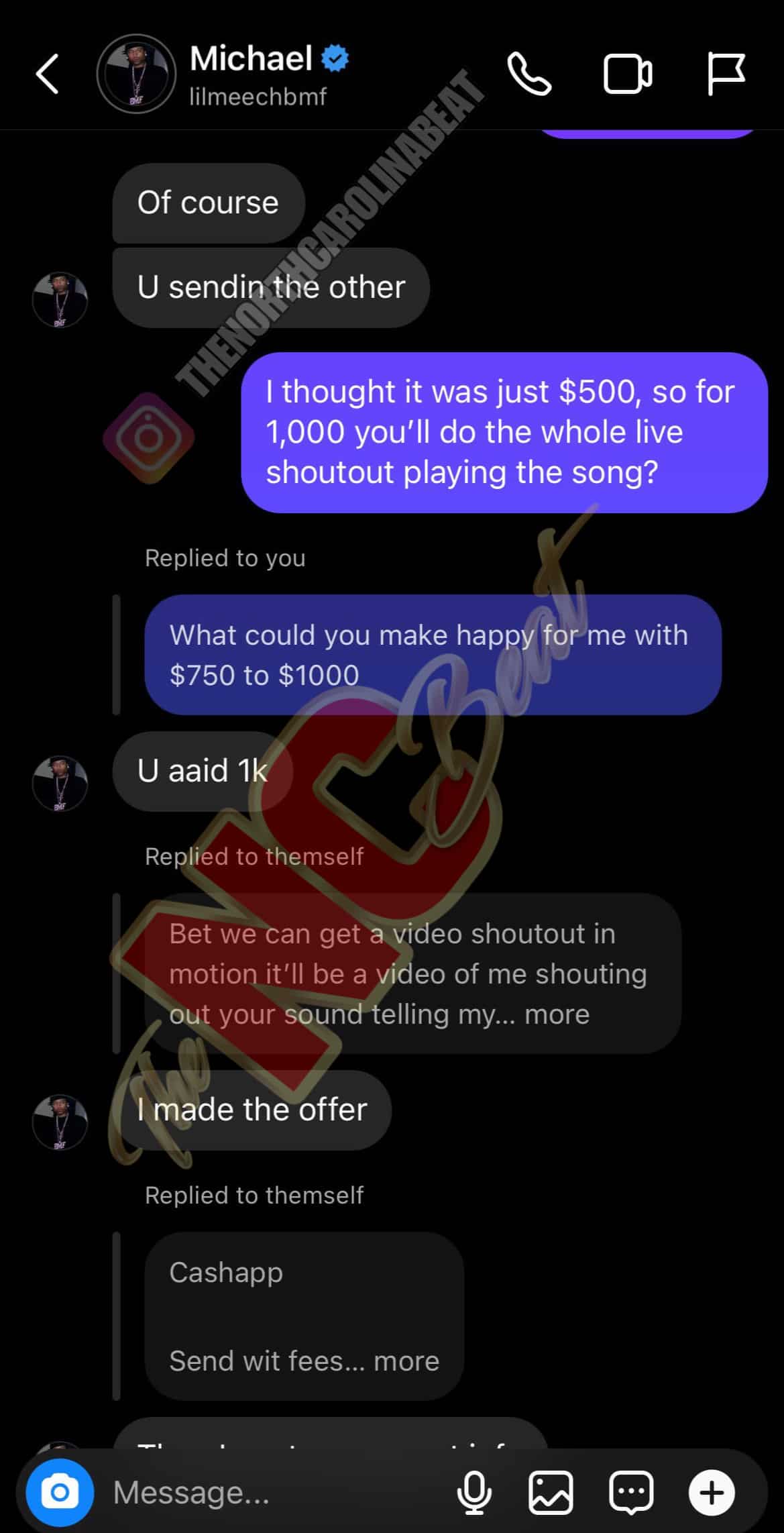 Following the second payment confirmation, O.C. sent his Cash App username for verification and his phone number to Meech. In the message, Meech responds, saying that his manager will confirm the payments and that he should contact his partner "Jay."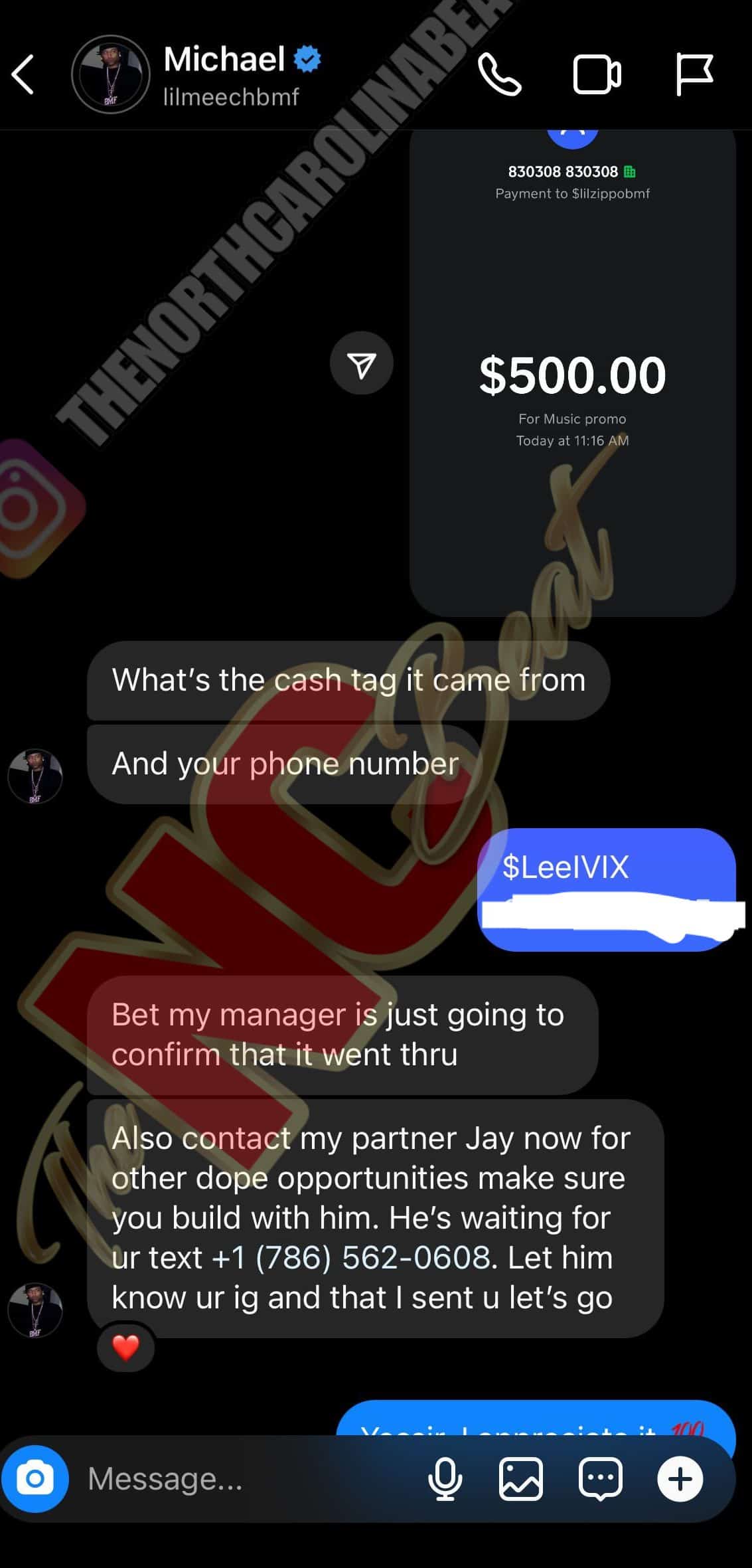 A few moments later, the cash app rejects O.C.'s $515 payment to EliteMusicPromo80 and informs him that he will be refunded on Friday. The other payment option was to send the money via Zelle. Meech instructs O.C. to send $1,000 to a Zelle account after downloading the app, which confuses O.C. because he had already sent $500 to the lilzippobmf cash app account.
At that moment, Lil Meech tried to play O.C. by telling him to send $1,000 when O.C. would only be sending the $515 that failed through the cash app. Lil Meech claimed both payments failed, which was a lie, and O.C. started questioning the legitimacy of Lil Meech's business.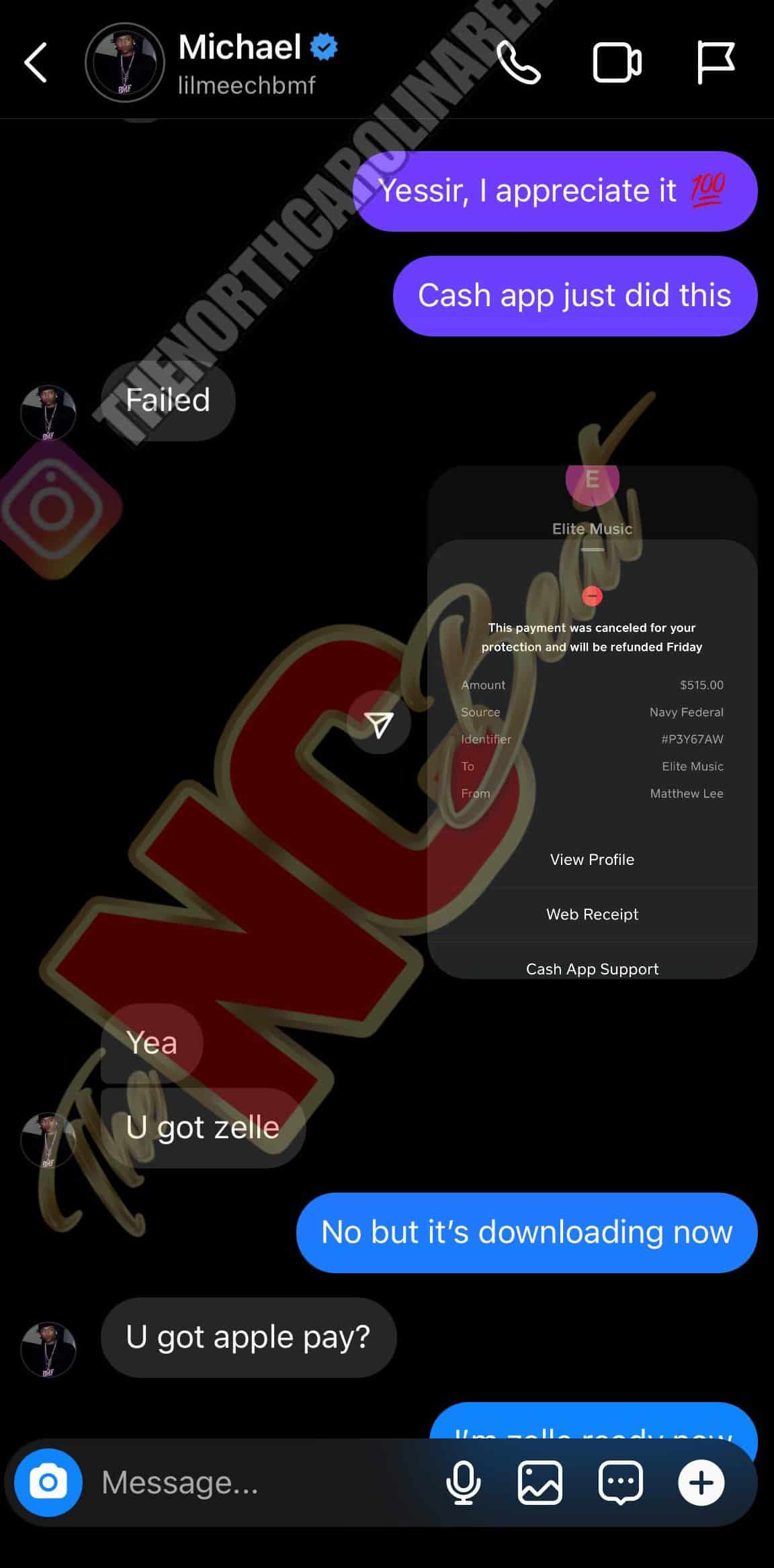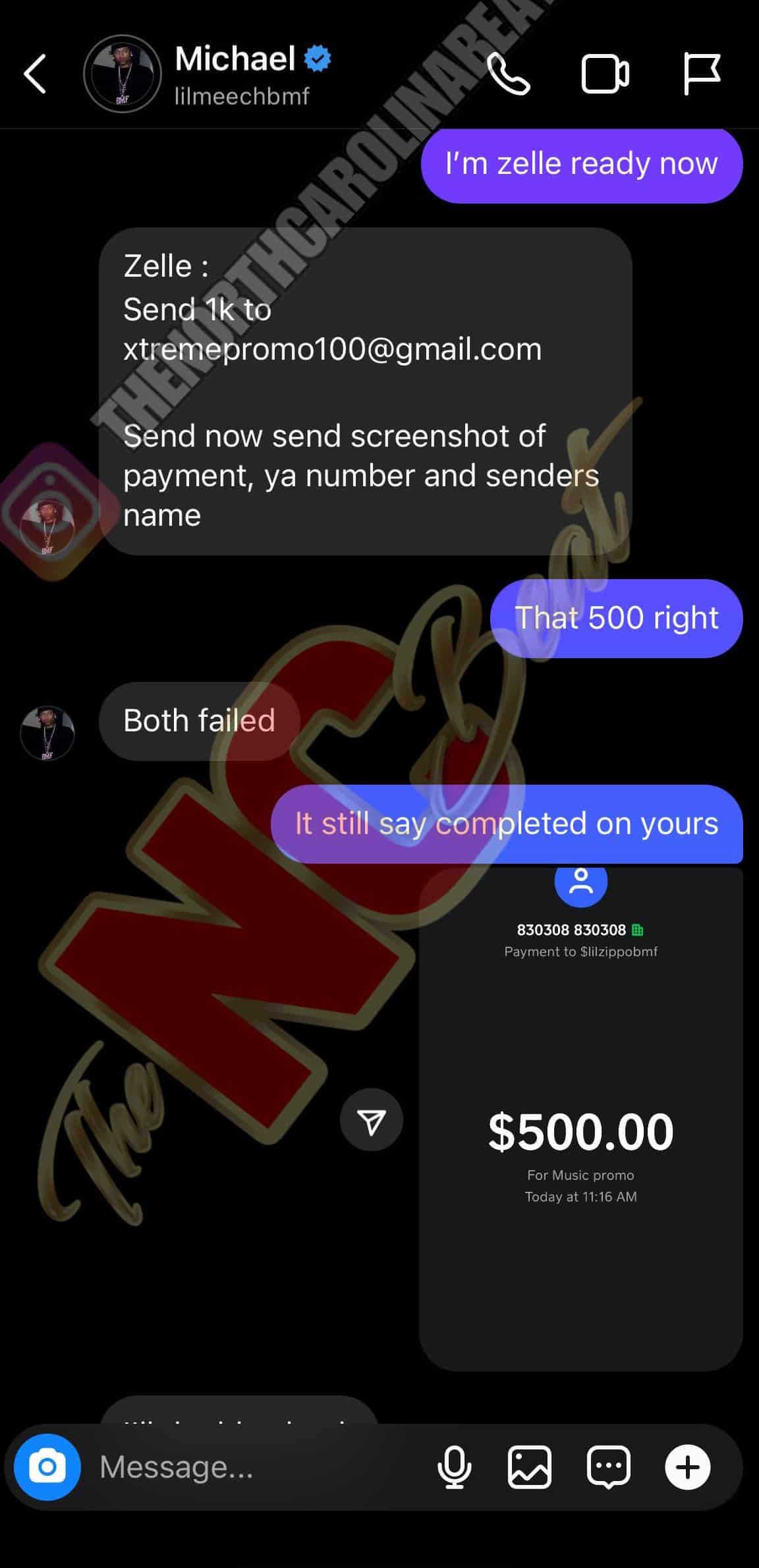 After O.C. sent Lil Meech proof that the $500 payment for one of the cash apps he initially provided had gone through, Lil Meech claimed: "It failed." O.C. agreed to send the $515 through Zelle, which he said prevented him from doing so. He then requests that Lil Meech video call him so that he can confirm that it is indeed him.
Lil Meech reassures O.C. that it is indeed him by sending a link to the same post-O.C. was tagged under on his timeline while searching for "All Talent."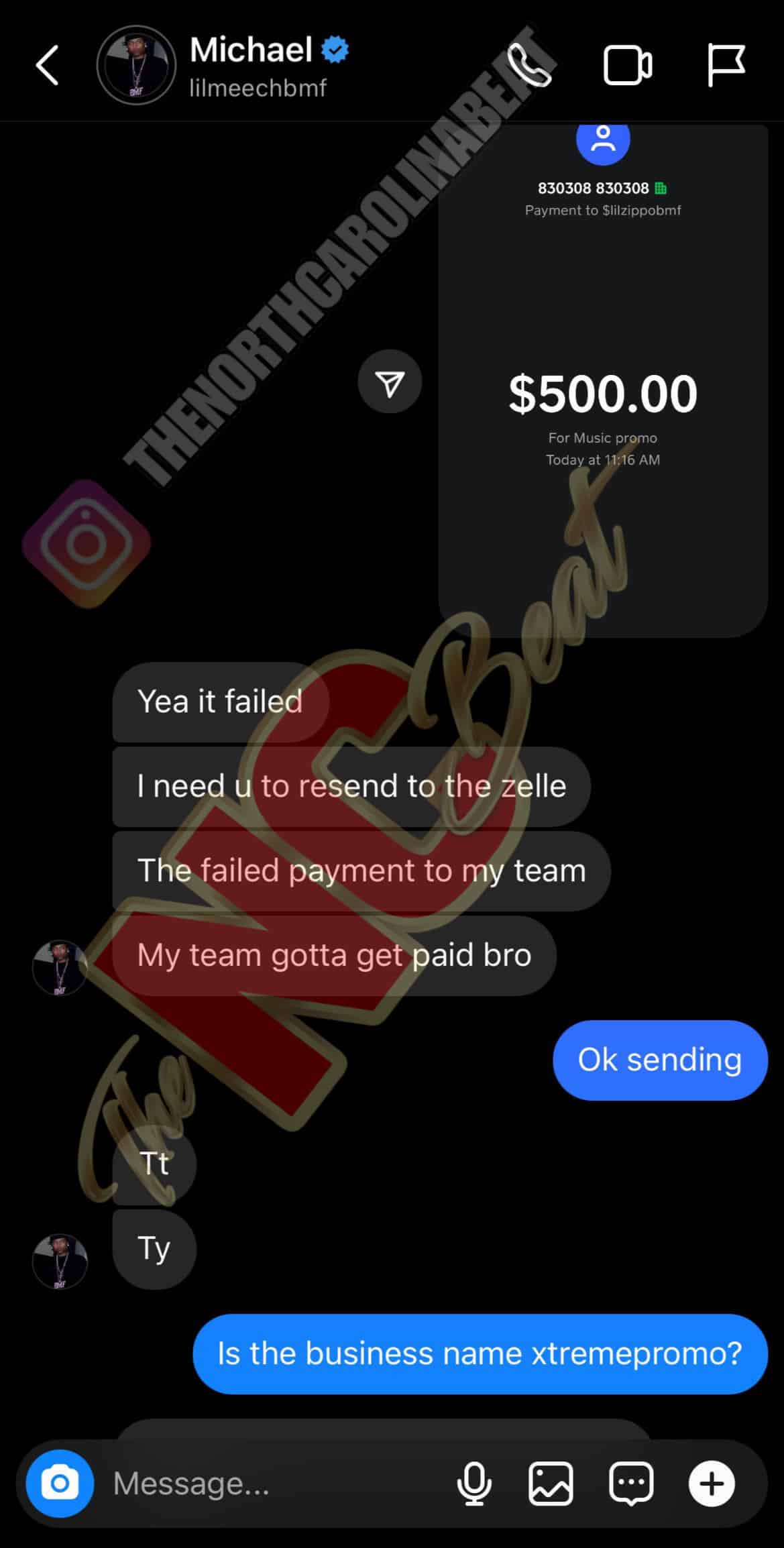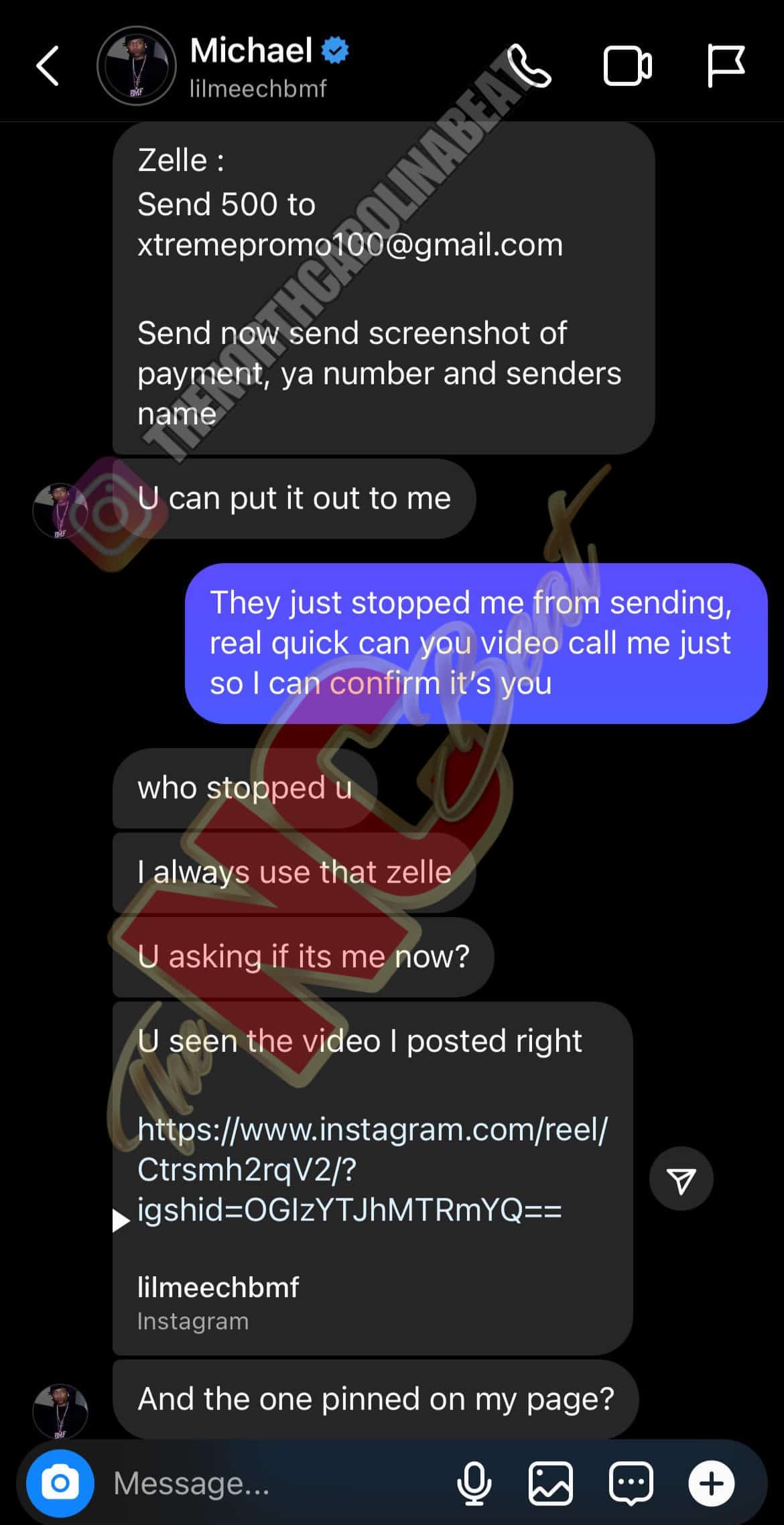 O.C. tells Lil Meech that he has to call his bank to have the payment approved to be sent but still wants to video call Lil Meech to verify that it was him behind his account, but Lil Meech denies video calling and claims it was him on his account.
Why is that a problem, considering that you already have $500 from me, O.C. said to Lil Meech in the messages.
Lil Meech continued refusing to video chat O.C. and reminded him about the videos on his page and the legitimacy of what he was doing. O.C. tells Lil Meech that he wants a refund if he can't video chat him to prove that their transaction was legit. Of course, Lil Meech's broke ass wasn't refunding the artist's money, but O.C. eventually sent the $515 through Zelle.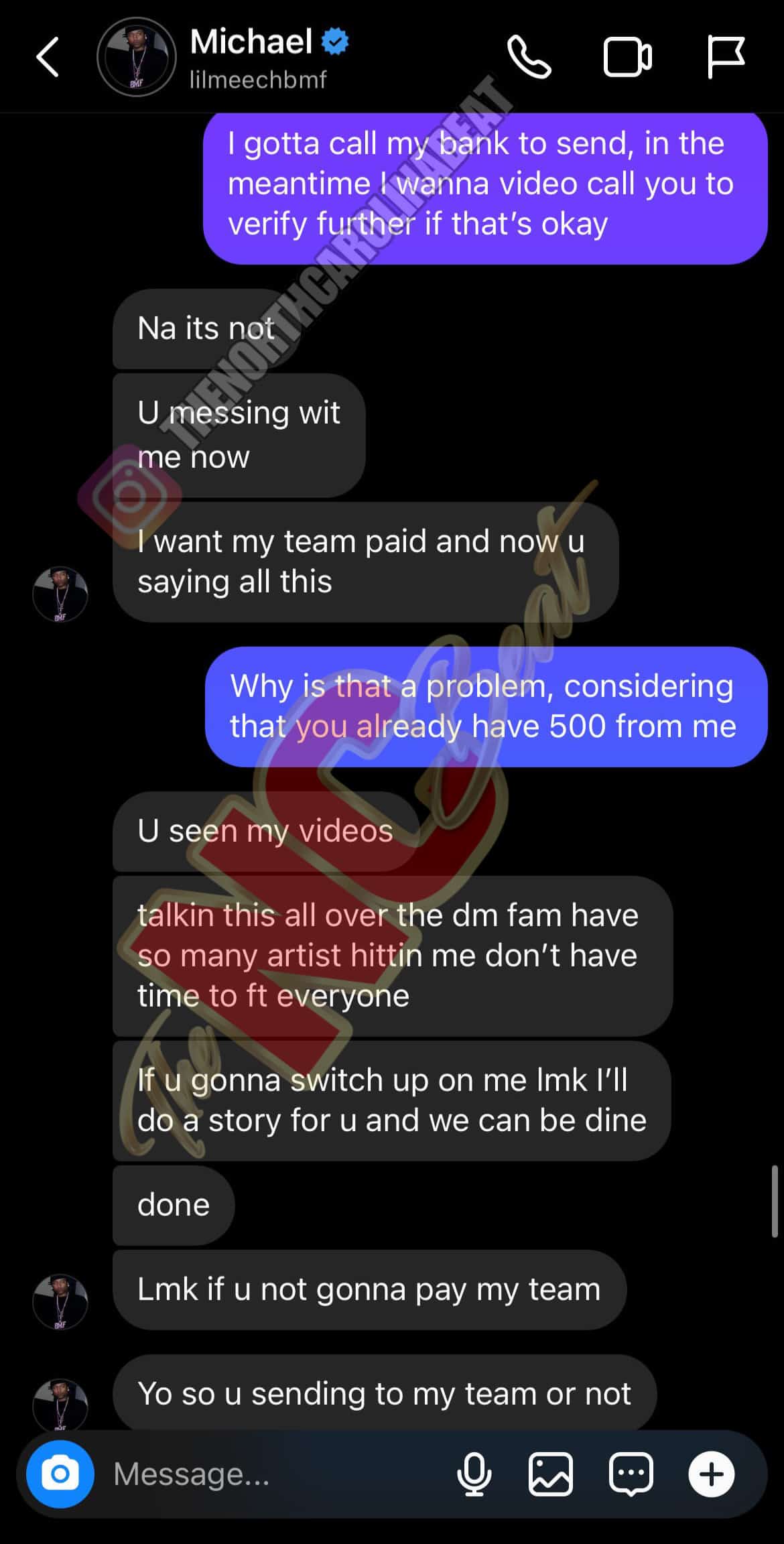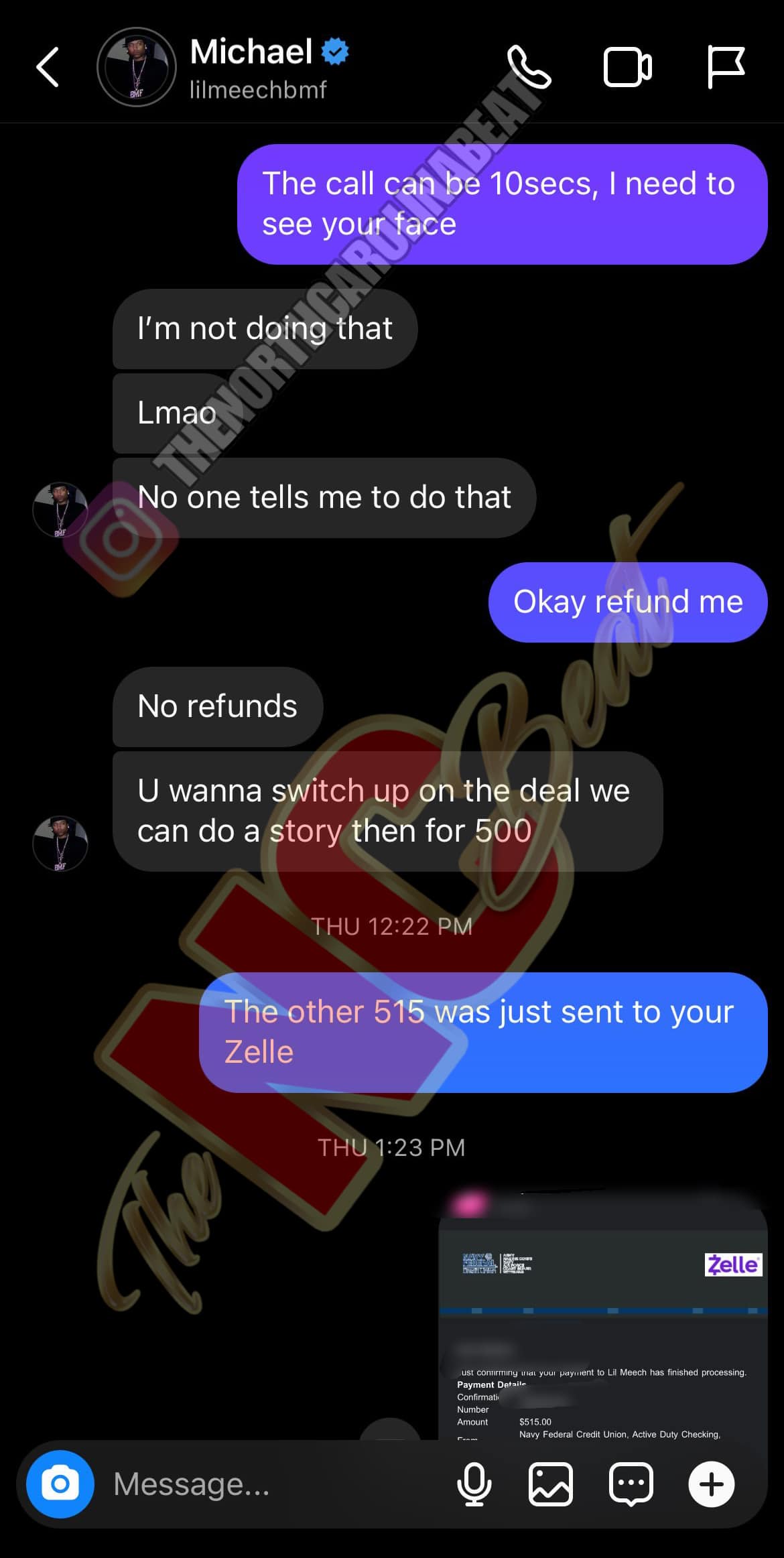 Following the payment, O.C. provides Lil Meech with information about his song, where he is from, his artist name, and a YouTube link to his music. Lil Meech stated that he needed to wait for his team to approve the promotion; however, minutes later, he informed O.C. that his team had approved the promotion.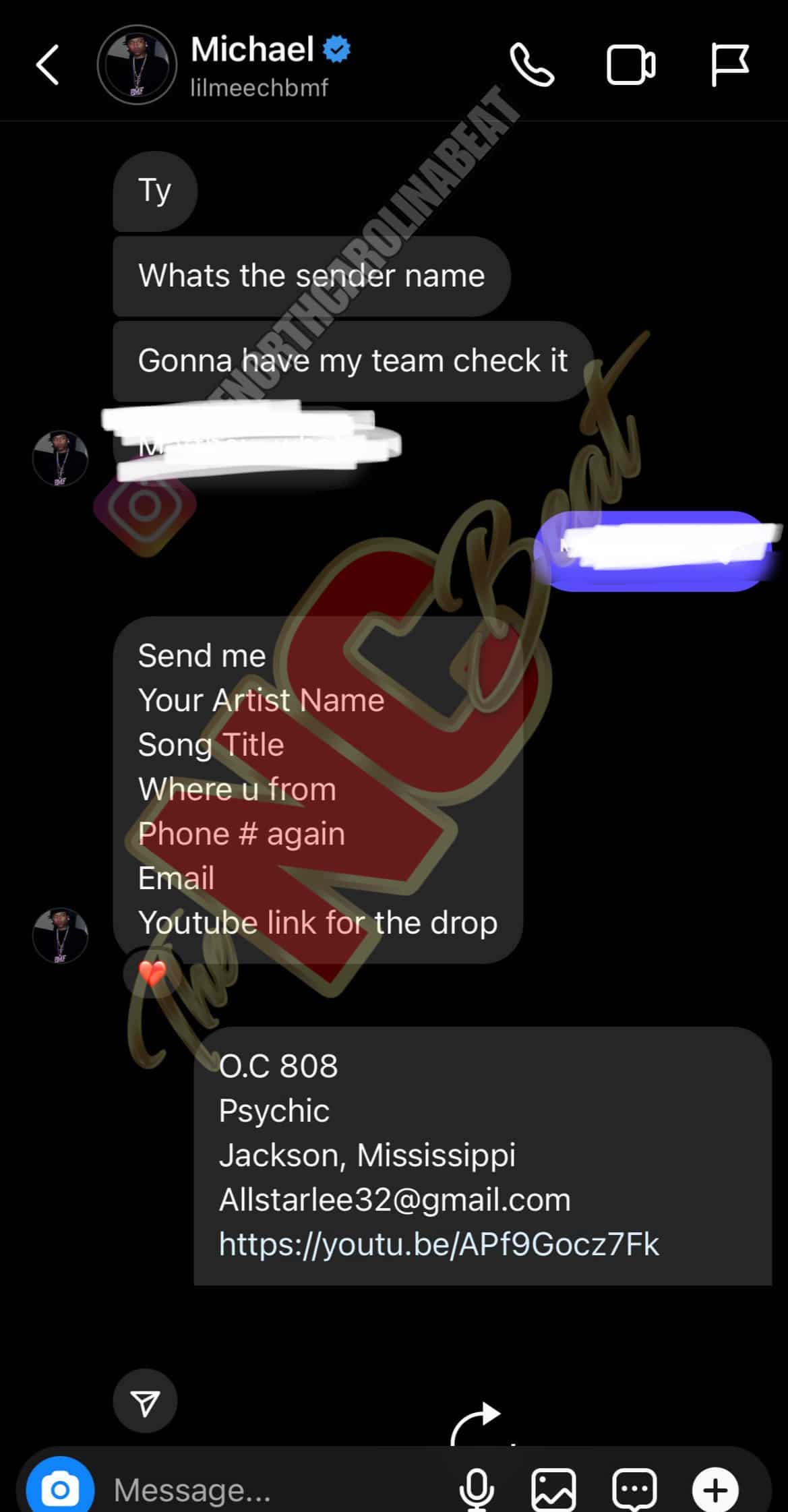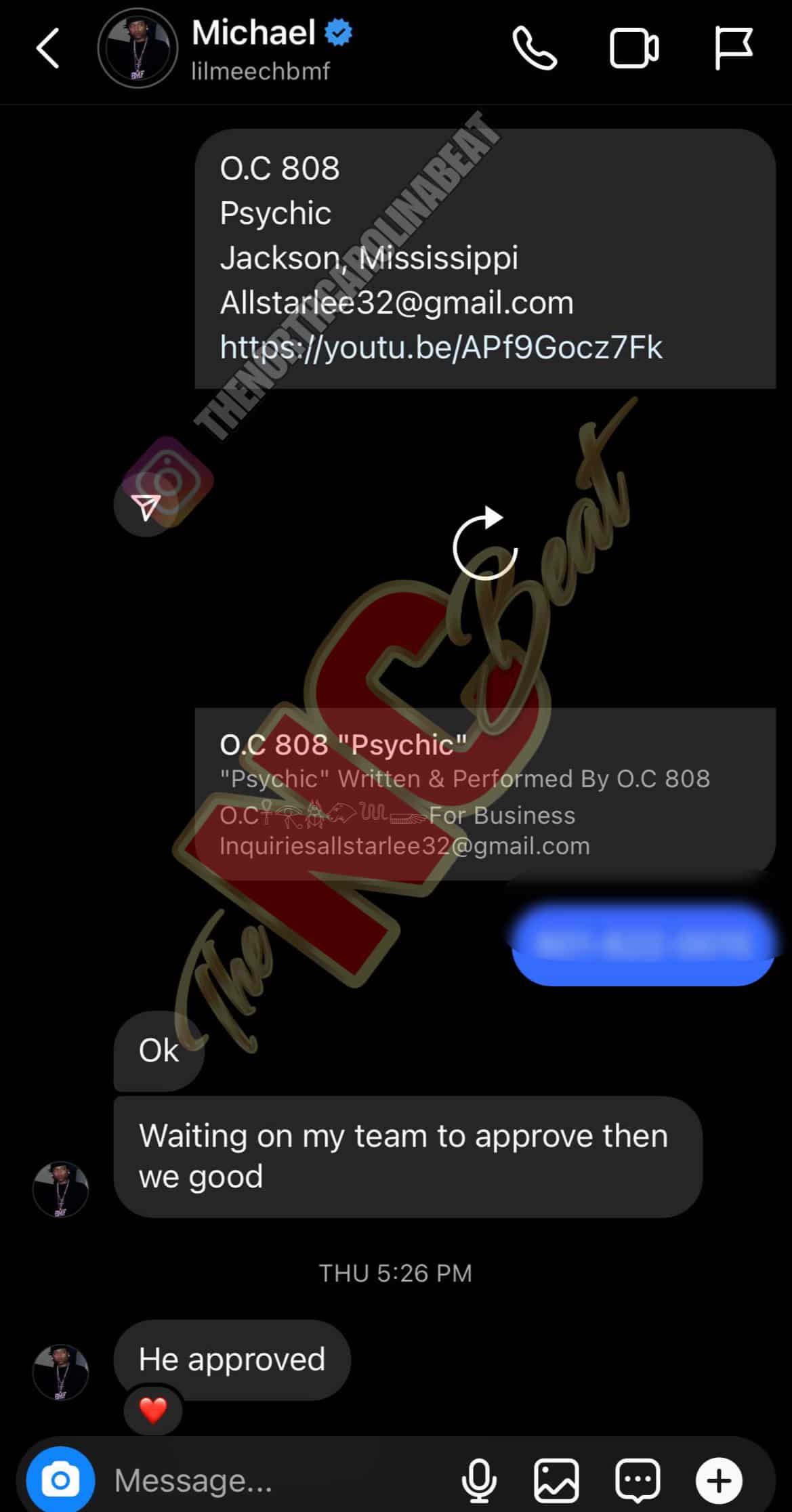 After O.C. got approved, he supposedly tells O.C. that he got him on his promo "in a few days" and then switches up and says, "gonna be in Sept."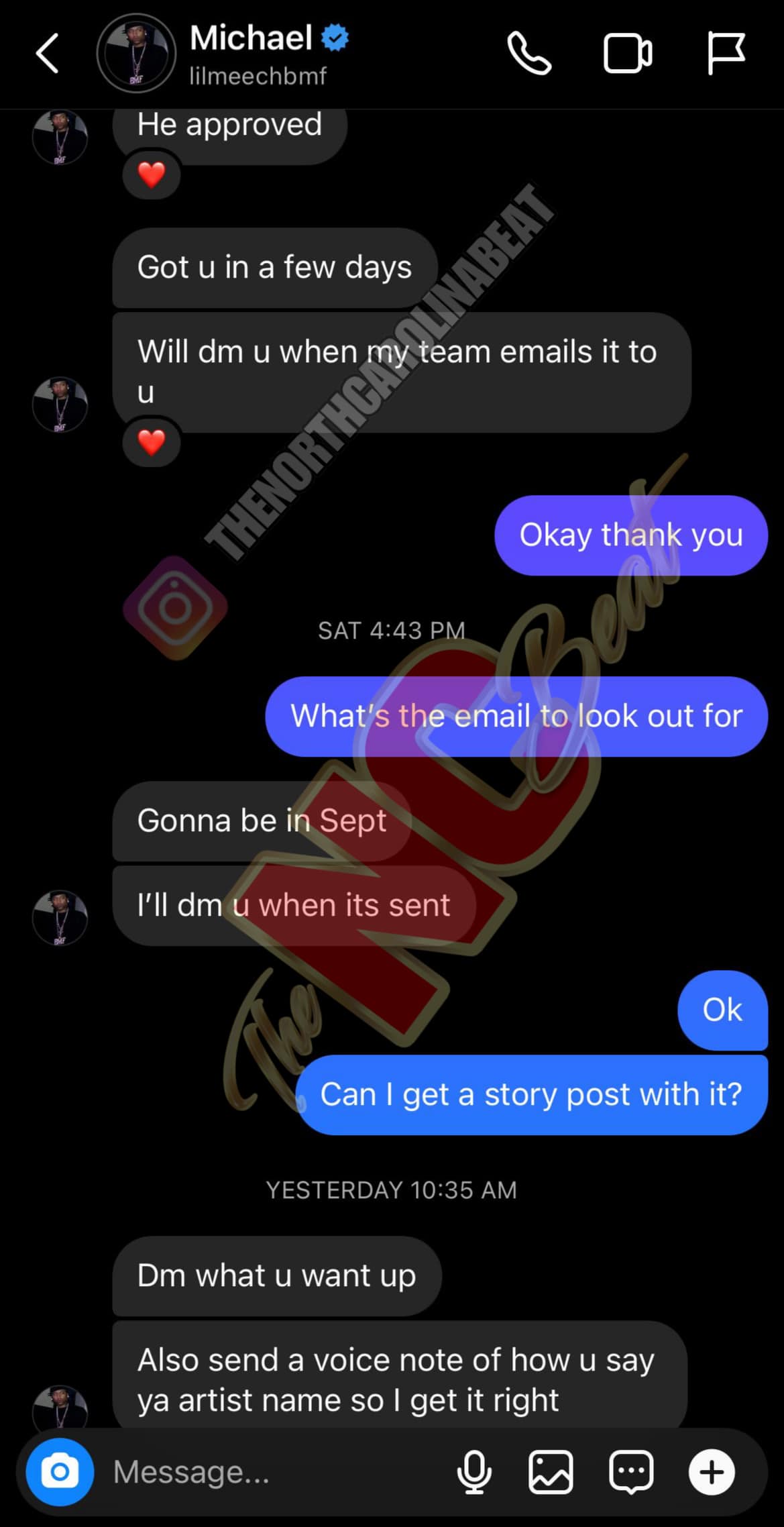 O.C. says he doesn't want clout, he just wants other artists to not be scammed by Lil Meech, and even though September hasn't arrived, O.C. doesn't believe he'll get what he paid for because of his conversation with the broke rapper.
We reached out to Lil Meech's team for comment and we got blocked.
If you have a story you think the public should know about, send it to newstip@thencbeat.com 
Follow The NC Beat on Social Media: Instagram:@TheNorthCarolinaBeat | Facebook: @TheNorthCarolinaBeat | Twitter: @TheNCBeat
Follow me, Gerald, on Instagram @iiamgj and Facebook @TheOfficialGeraldJackson