January 30, 2023, will be one year since 30-year-old Alexis Ware has been missing from Anderson, South Carolina, 40 minutes from where she lived in Greenville, South Carolina.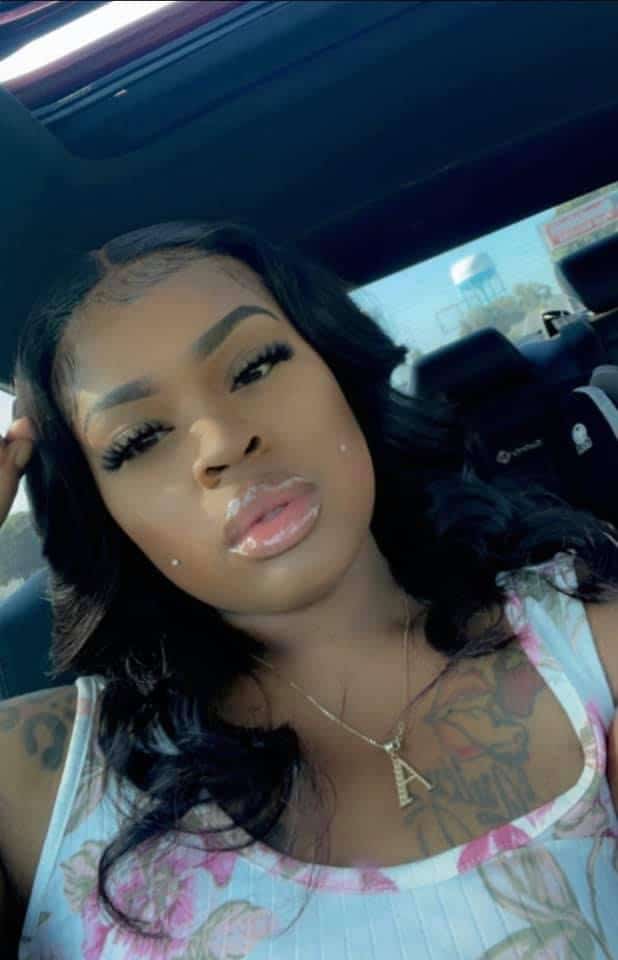 Her story has touched hundreds of thousands around the world, but new details obtained by The North Carolina Beat shed light on who may know what happened to Alexis and why the Anderson County Sheriff's Office investigation has become 'slouchy' and careless.
The story of this beautiful soul is that she had so much to gain, but she wanted to do it alone with just her and her son and daughter, and she somehow disappeared without them.
In a recent interview with The North Carolina Beat, Alexis's mother, Alberta Gray-Simpkins, told The North Carolina Beat that she believed TJ Patterson, Alexi's son's father, had something to do with her disappearance. However, law enforcement cleared TJ, and his ankle monitor was deemed his alibi. Law enforcement said that according to TJ's ankle monitor GPS, he did not leave his home after he returned from picking up his son and Alexis's daughter.
On Friday, January 28, 2022, Alexis and her two children went to her mother's house for the weekend to spend time with her. While Alexis was there, she told her mother, Alberta, that the "devil" would not stop calling her, but Alexis did not disclose to her mother whom she was talking about. She also told her mother that someone was following her but did not disclose whom she believed it to be.
The next day, Saturday, January 29, 2022, Alberta said Alexis said she didn't believe she would make it to her 30th birthday, which was two months away. Alberta said she asked her daughter repeatedly about what was going on, but Alexis wouldn't say.
On Sunday, January 30, 2022, Alexis left her mother's house around noon and returned to her apartment in Greenville. At 3 pm, Alberta said she spoke with Alexis, who was lying in bed and getting ready to nap. Hours later, Alexis's son's father, TJ Patterson, calls Alberta and asks her if she heard from Alexis. TJ told Alberta that around 7 pm, he met Alexis at a 7-Eleven Gas Station located off Highway 29 in Anderson, South Carolina, and he picked up his then 2-year-old son and her 9-year-old daughter. TJ said that Alexis was supposed to follow him to his mother's house, but on the way leaving the store, Alexis sped up around him and made a right turn at a traffic light ahead.
Alberta tried to call her daughter after TJ called and told her about the meetup, but Alexis didn't pick up.
No one had heard from Alexis on Monday, January 31, 2022. On Tuesday, February 1, 2022, her family filed a missing person's report with the Anderson County Sheriff's Office when they couldn't contact her.
At 8:35 pm on Sunday, January 30, 2022, Alexis's cell phone pinged in Abbeville County. At 7:30 and 8:50 pm, her car was captured on highway cameras leaving Belton Woods Apartments. Days later, Alexis's 2019 Red Honda Accord was found abandoned with her phone, daughter's phone, keys, and purse inside the car with a bag of clothes in the truck and her black hair bonnet on the ground outside of the car. Police said they were able to get prints off the Alexis vehicle but have been quiet about whom the prints belonged to.
Alexis worked as a hairstylist in her home studio, was very active on social media, and wanted to be an Instagram model. Her dreams were bigger than the alleged abuse she dealt with by her son's father, TJ Patterson. Alexis had plans to open up her boutique in Atlanta to make a better life for her children. However, she had just got permission from her apartment complex to break her lease to move, and the housing she applied for in Atlanta was waiting on her.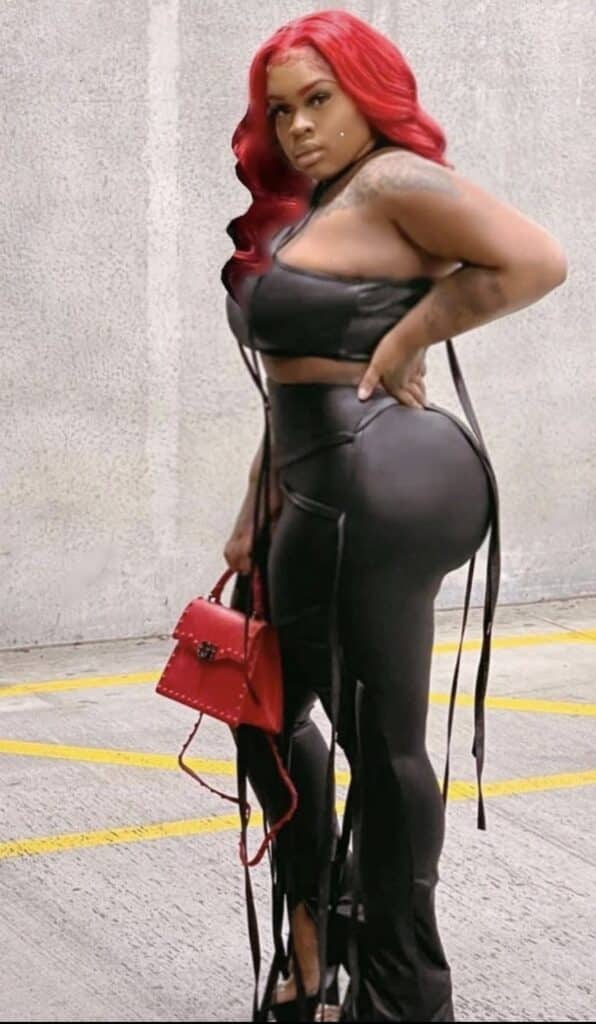 In a lengthy January 23, 2022, email to her then apartment complex manager, she detailed alleged abuse at the hands of TJ Patterson. She called him "abusive, controlling, manipulative" and said that she felt the more she stayed around, he would hurt her. Alexis broke up with TJ in December 2021.
"I feel the more I stay around him, he's going to really hurt me one day…I got to leave and I'm trying to leave fast and quietly. I need help," Alexis wrote in the email to her complex manager.
The email continues with Alexis saying that she was tired of allowing TJ to abuse her in front of her children and that she and her children's lives were more important to her.
"I'm trying to leave an abusive relationship on all levels," Alexis said in the email. "I wasn't strong enough then but I'm ready now! My life and kids are more important."
In the email, Alexis said she helped TJ with his legal troubles, including spending her savings on him by hiring two layers and everything else he asked of her. She also stated that she spent $50,000 that was saved for her kids.
"He took everything from me," she said in the email.
TJ, whose real name is Travis Howard Patterson, 34, is currently out on bond on Attempted Murder, Discharging A firearm Into A Dwelling, Criminal Conspiracy, Obstruction Of Justice, Possession of a Weapon During A Violent Crime, and First-Degree Burglary Charges.
In the email, Alexis recalled a time TJ allegedly beat her in front of her 2-year-old son, his mother, dad, and other family members "all for nothing." She said in the email that her taking her son to him at his family member's home was his opportunity to assault her. In the email Alexis said that after TJ allegedly beat her, his family was only concerned about why she called the police on him.
Alexis said that because of the assaults by TJ at his family house, she meets a family member or his mom "off the highway in Anderson."
And to think about it, Alexis probably didn't even know that TJ was coming to get his son. She probably thought it was either a family member or his mother.
"I got to get out while I got the chance now. He already killed 2 people years ago in his past early teens which is why he did jail time," Alexis says in the email. "Only 10 years."
Every time Alexis tried to give TJ another chance, he allegedly abused her repeatedly, but this time, Alexis was officially done with him.
"This time I can't let this chance pass me to get away because that same GPS controls his every move, he can't even leave out of town, he has a 9pm curfew for now. So this is my shot!, Alexis said in the email.
In an email, Alexis said she was done with TJ and would play everything cool until she could get her and her kids away.
"But I know for a fact Im done but if I can play it cool long enough that's what I'm doing but I'm in fear for my life…," Alexis wrote.
The 30-year-old said she cut ties with everyone because she was afraid anyone could have told him what she was trying to do.
Alexis also recalled in the email that TJ allegedly told her that he hadn't "smoked" her yet because he was on GPS monitoring.
"He actually told me on the phone the only reason why he ain't smoked me yet is only because he's on GPS",  Alexis said in the email.
READ FULL EMAIL BELOW: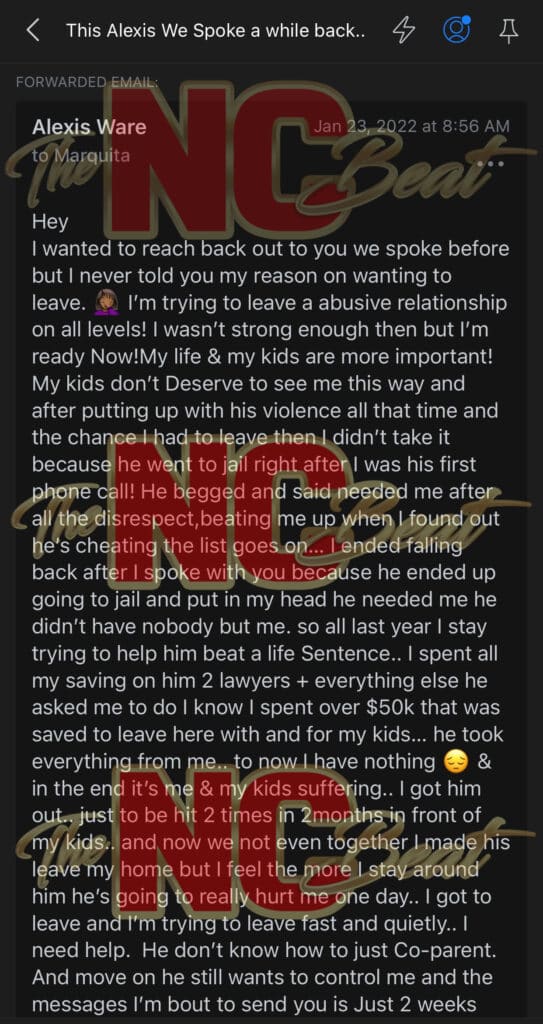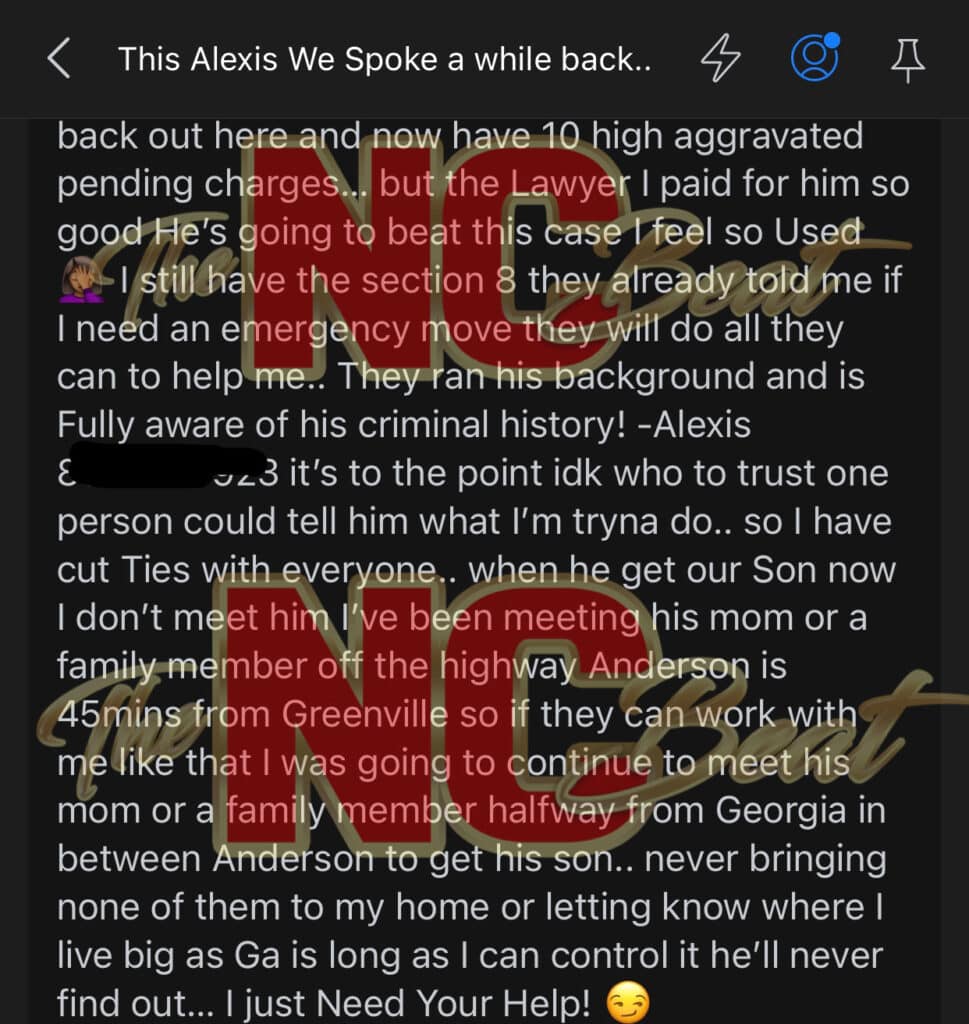 In the string of text messages alleged to be TJ, he tells Alexis that he hate her and want to hurt her.
"You just don't know how much I hate you n want to hurt you. Don't fucking text me period," TJ allegedly says in the text message.
Alexis responds back, "I won't. I'll just got through your mom bout everything! Don't worry," to which TJ allegedly text back and says "Bitch die."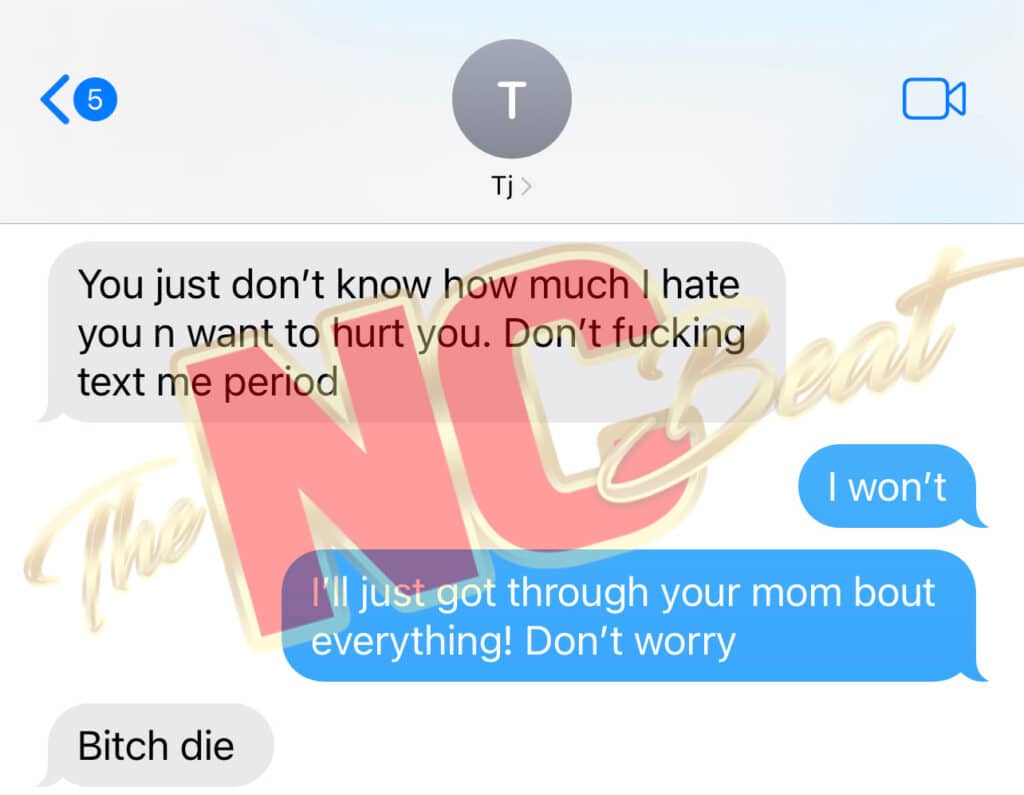 In another text message, TJ allegedly apologizes to Alexis for what he did and says "you was never supposed to put no police n involved with nothing."
Alexis responds back saying, "I didn't make you do what you did.. I was simply trying to be cordial with you about our child.. smh how can you not expect me to be upset when I didn't do nothing to you.. big as you are compared to me. big of man compared to a female I couldn't even defend myself…but that's that hate coming out I guess idk I can sit here all day tryna figure that out or understand why it happened but i'll never know.."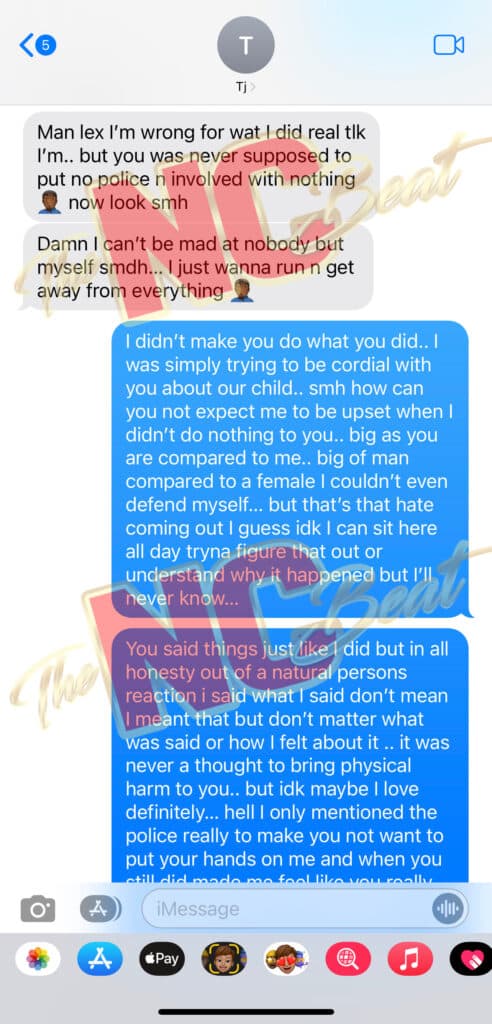 In another text message, Alexis sends TJ a picture of her face bloodied and beat with some words to him, to which he responds back saying he doesn't remember what happened because he blacked out.
"I honestly don't remember what really happen, it's like I blinked out but on God you never have to worry bout this again."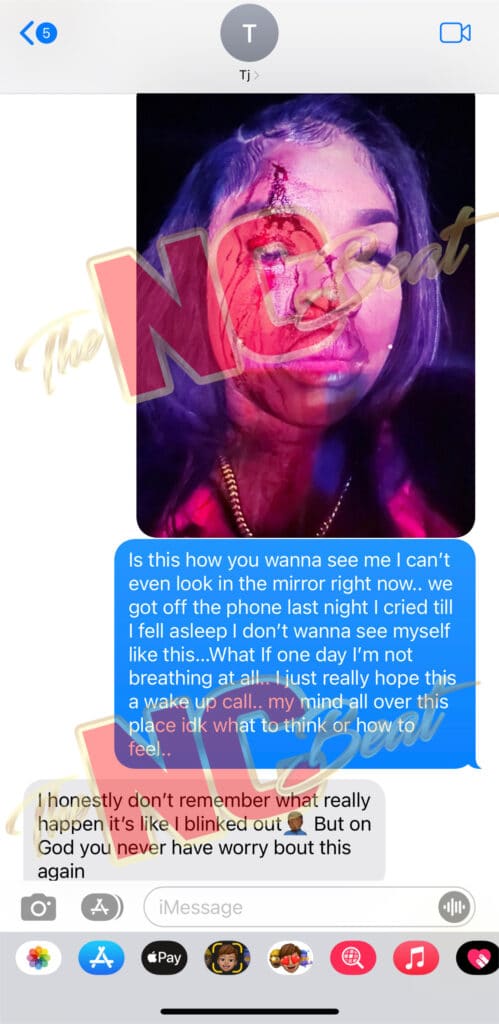 "You want me n jail?", a text message is sent to Alexis allegedly by TJ to which Alexis responds, "you going mf! You can't even be grown bout our fucking child!! Bitch if you done you done!!Df you need to put your fucking hands on me for!! Then think you not gon get locked df up."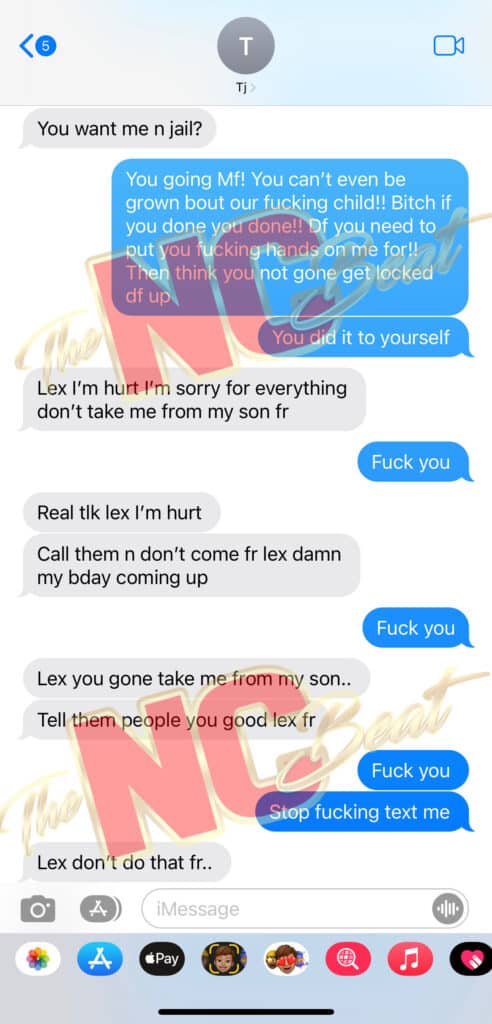 TJ also sent Alberta a text message apologizing to her for assaulting her daughter.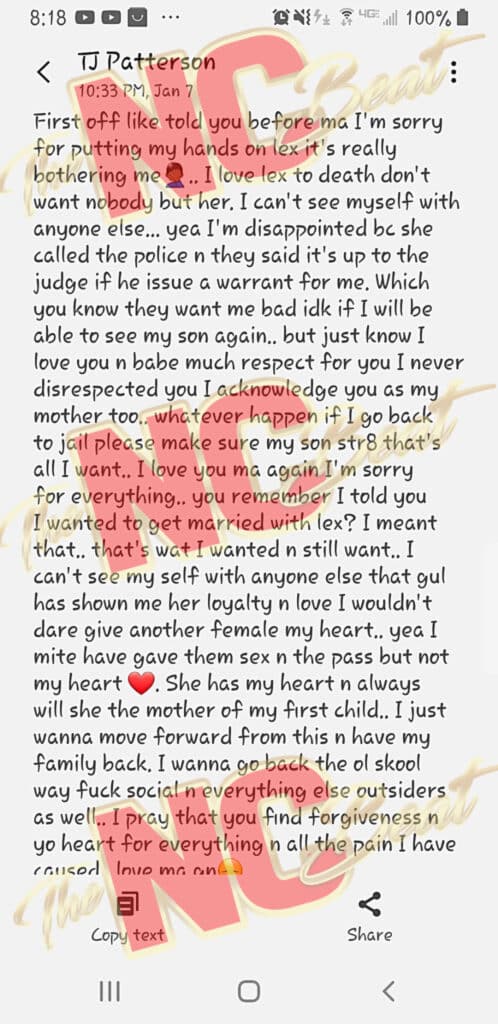 In a Facebook message, Alexis is talking to a friend with a photo of a black eye she says was at the hands of TJ.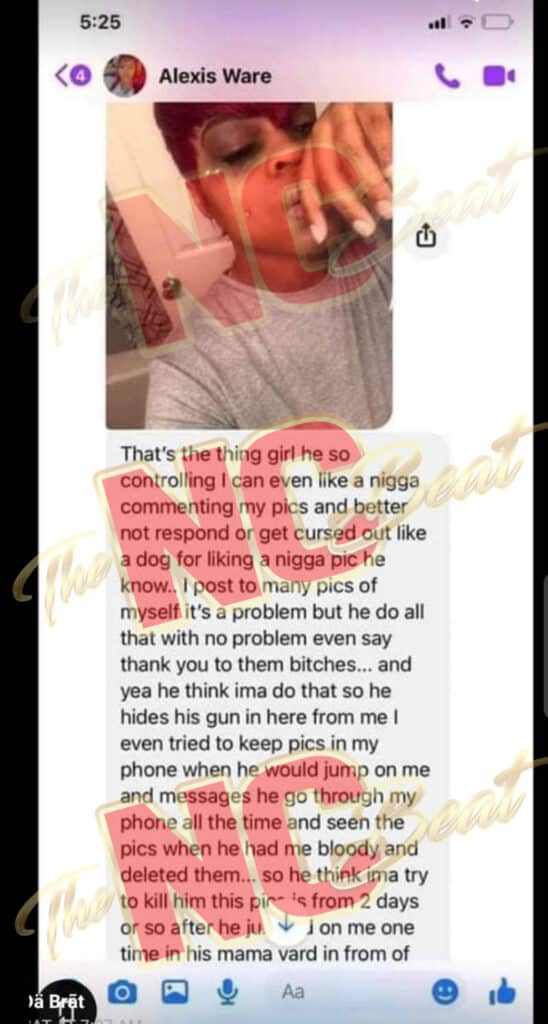 READ ALL MY TEXT MESSAGES BELOW: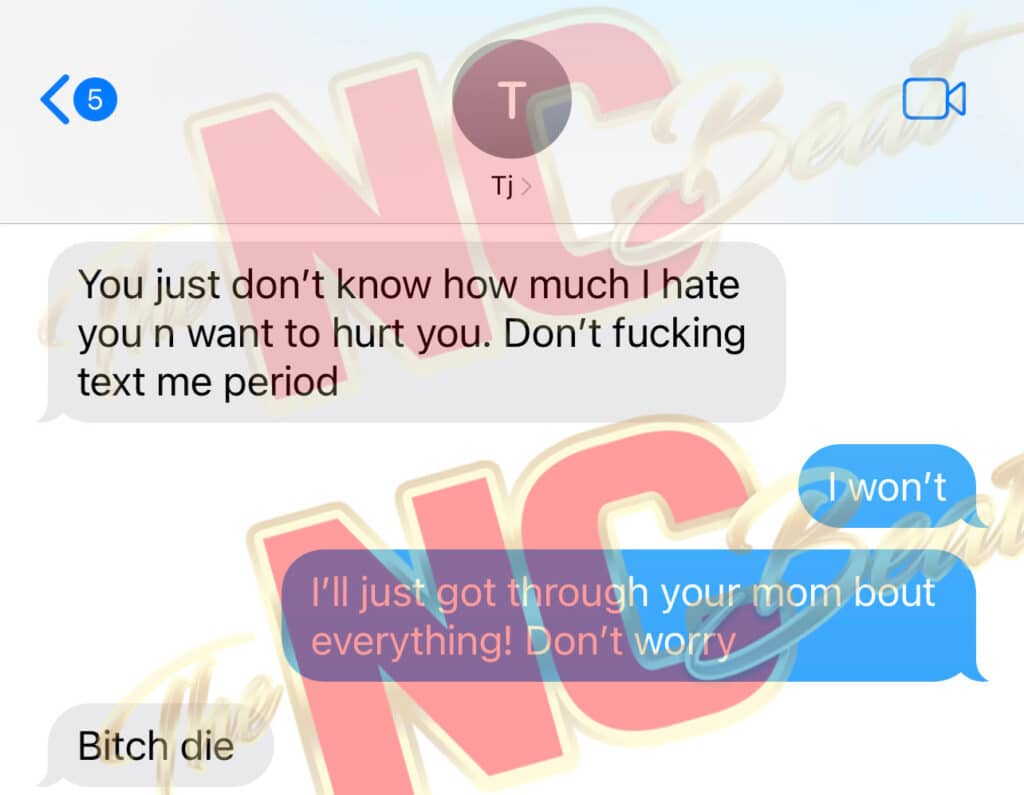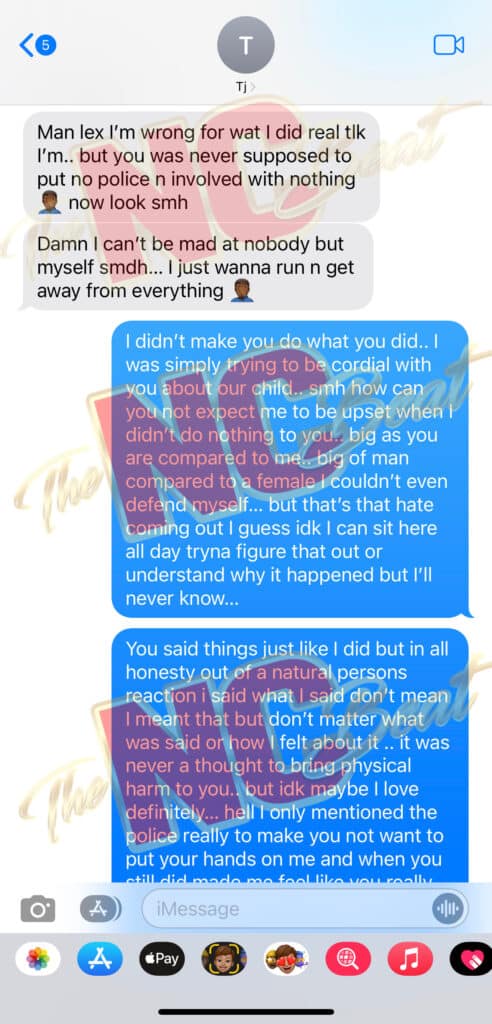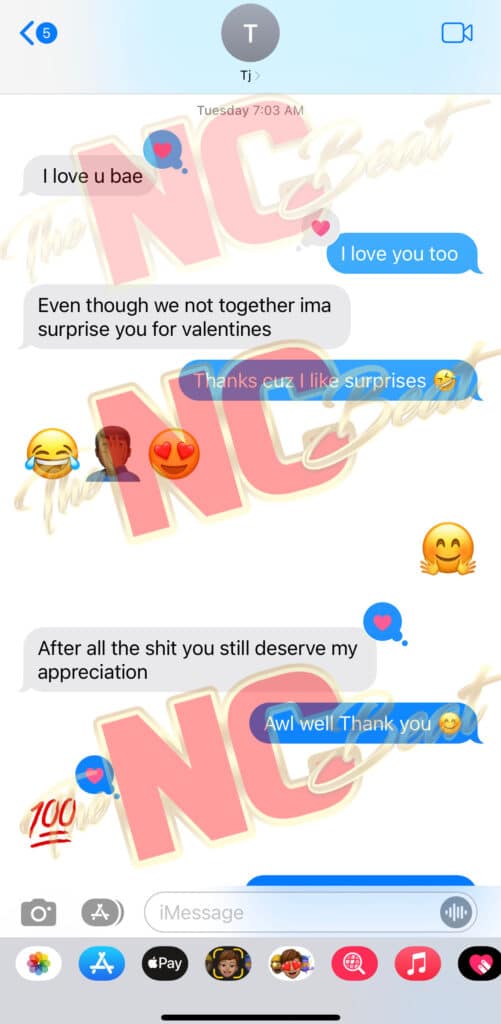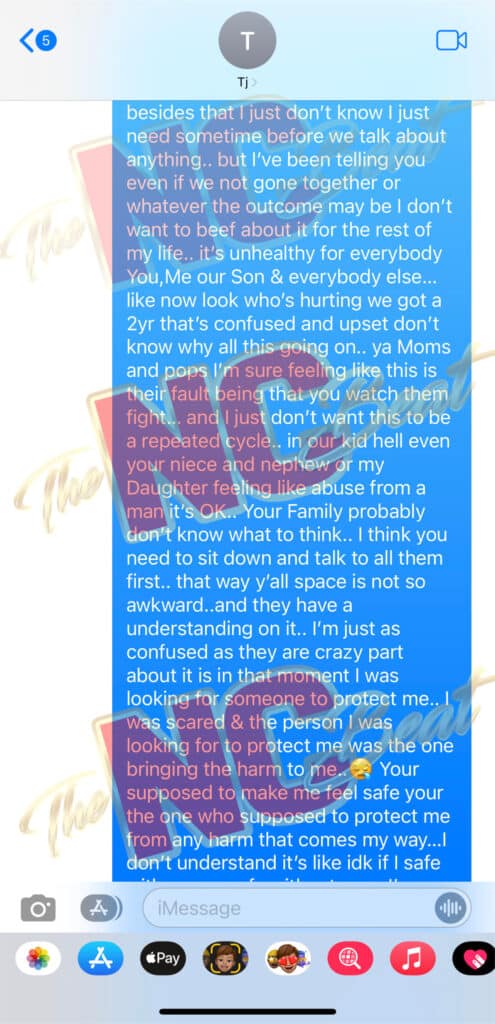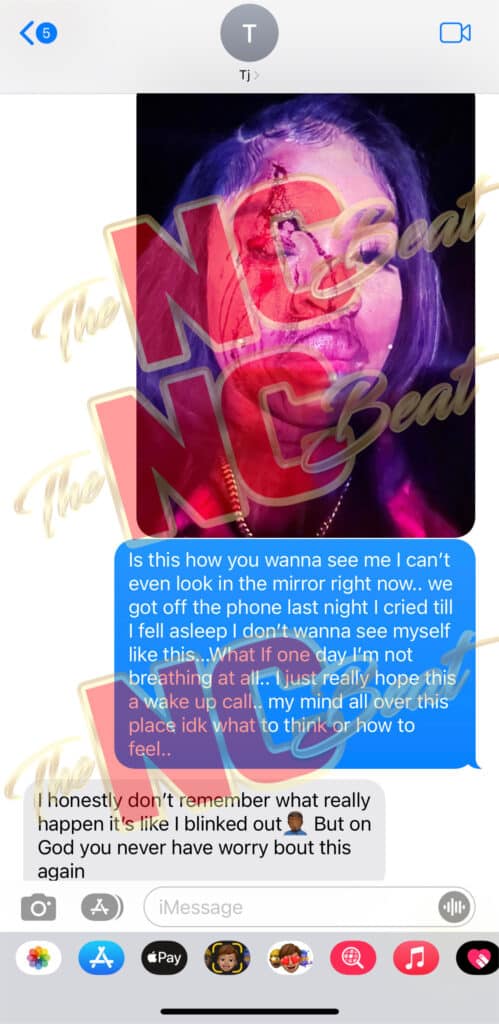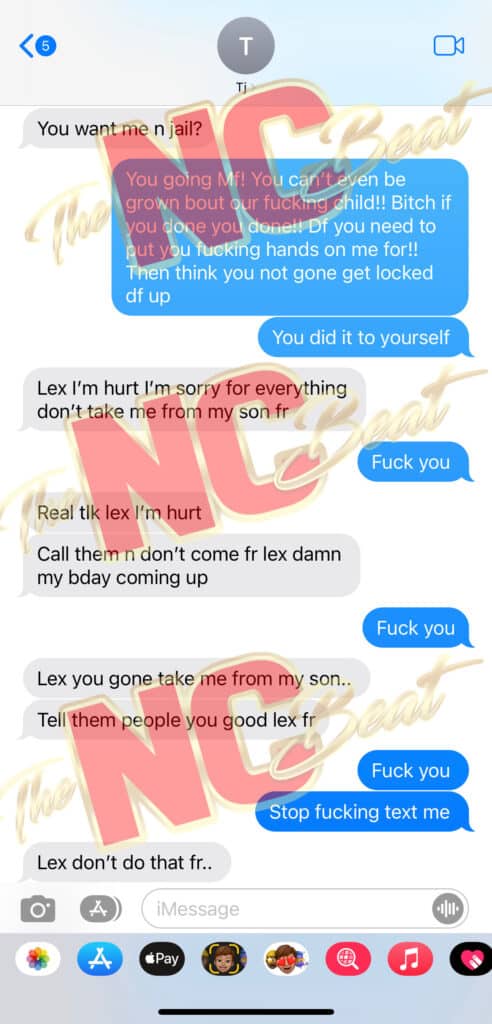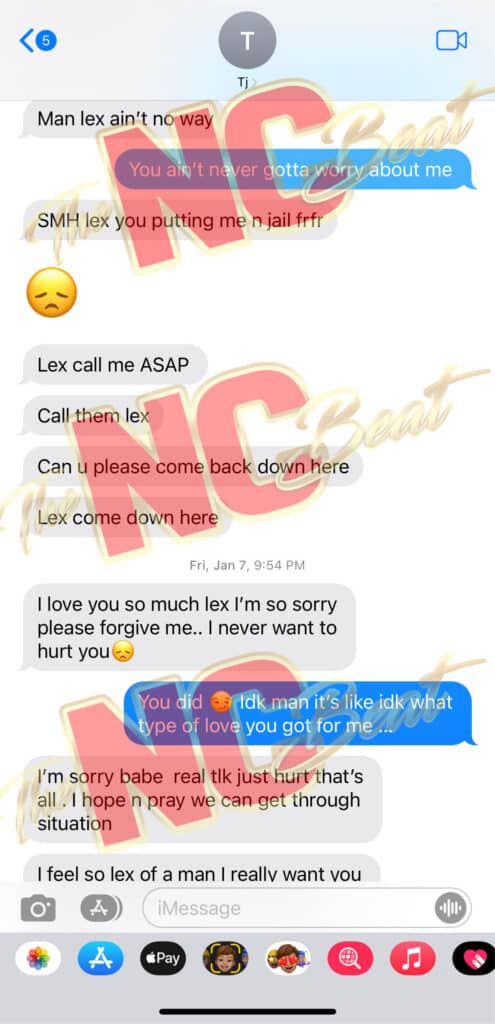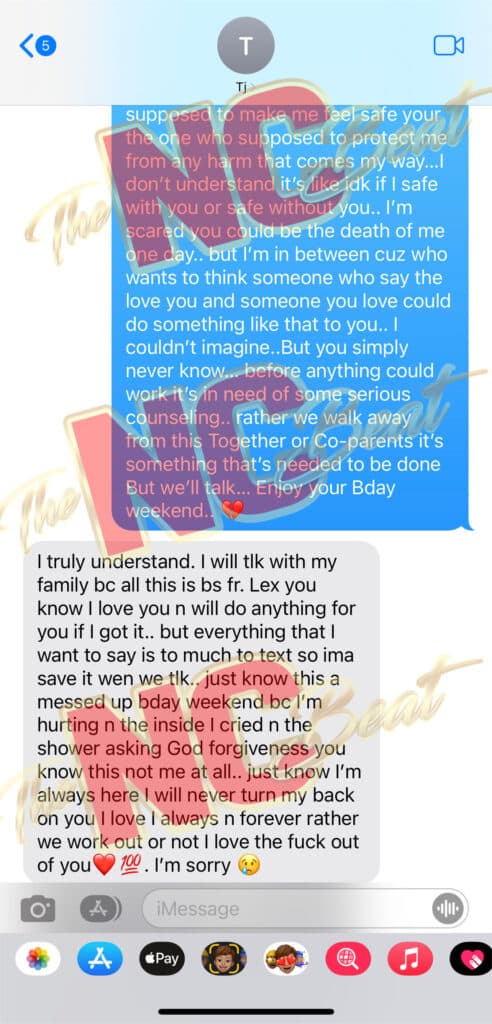 Alberta told The North Carolina Beat that Detective Jason Fowler with Anderson County Sheriff's Department had not contacted her since last year. He also has copies of the email Alexis sent her complex manager and text messages TJ allegedly sent Alexis.
"Detective Fowler won't answer my calls or emails and have been silent and has done nothing for my daughter," Alberta said.
Alberta said she found the email Alexis sent to the apartment complex manager in Alexis's email account with the text messages attached. Alberta said she believes TJ set her daughter up, and the motive was that he didn't want Alexis to move to Atlanta with their son. Alberta now has custody of both of Alexis's children.
January 30, 2023, will be one year Alexis Ware has been missing, and where she remains unsolved.
CONTACT Detective Jason Fowler at jmfowler@andersonsheriff.com and tell him to DO HIS JOB AND FIND ALEXIS! You can also contact Detective Fowler at (864)-260-4420.
Click HERE to watch the interview with Alexis mom, Alberta Gray-Simpkins and The North Carolina Beat.
Do you have a story you think the public should know about? Send it to newstip@thencbeat.com
Follow me, Gerald, on Instagram @iiamgj and Facebook @TheOfficialGeraldJackson
To support The North Carolina Beat, donate by clicking HERE or Cash App $itsgjtheceo
#JUSTICEFORALEXISWARE