A North Carolina man accused of shooting a 5-year-old in the head and killing him learned Thursday that if he is found guilty, he could be put to death.
Darius Nathaniel Sessoms of Wilson, North Carolina, is charged with first-degree murder and possession of a firearm by a felon in the shooting death of 5-year-old Cannon Hinnant.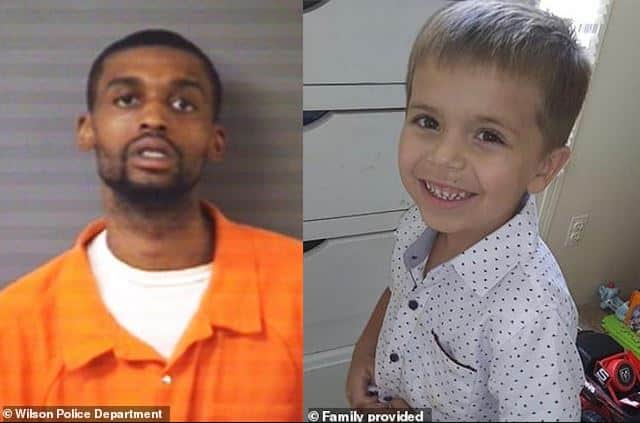 Hinnant was playing outside his father's house on August 9, 2020, with his siblings when he was allegedly shot in the head by Sessoms at point-blank range.
In a pre-trial hearing for Sessoms on Thursday in determining if Sessoms should face the death penalty, a witness told the court that they witnessed Sessoms kill Hinnant.
Doris Lybrand, a witness for the state, told the court that she was looking out of her glass storm door when she saw Sessoms run across the street toward Hinnant on August 9, 2020. She said Hinnant was standing in his father's driveway with his bicycle when Sessoms ran up with a gun in his hand, put it on Hinnant's head, and pulled the trigger. Lybrand said flames came out of the gun.
He ran directly up to Cannon. He had a gun in his hand. He put it on Cannon's head, Lybrand told the court. I saw the gun when he put it on the child's head. Flames came out.
Lybrand said she saw Hinnant drop to the ground.
It shocked me so much and I shut the door and walked to the back to get safe. I had never seen anyone shoot anyone before, Lybrand said. I don't think you ever expect to see someone shoot a child.
Lybrand said Sessoms took off running.
Assistant District Attorney Joel Stadiem told the courts that the evidence presented to the judge in his chambers showed "unusual depravity of the mind on the part of the defendant."
Stadiem argued to the court that there were no comparable cases "where a defendant has walked over to a 5-year-old playing in his own yard and walked up to that child and intentionally shot this child in the head."
Sessoms defense attorneys Alicia D. Cassidy-Quare and Ernest L. Conner Jr. told the could that this was a case where a 5-year-old died of a lone gunshot, and the suspect fled the scene.
She also cited 16 different cases considered comparable to this, adding that "none of them involved a single shot and a single victim."
This case would not be a capital case if the victim was an adult, Cassidy-Quate said.
Superior Court Judge L. Lamont Wiggins' said he considered the evidence presented in open court, the evidence showed "in camera," including photos of the weapon allegedly used in the shooting, autopsy photographs, body camera footage, and other evidence, memorandums of law from both the state and the defense and case law.
Judge Wiggins said the state had met its burden to demonstrate one or more aggravating factors in the case. Judge Wiggins ordered the state to proceed with its capital case against Sessoms, where he would face the death penalty if convicted.
Bonny Parker, Hinnant's mother said she was 'thankful'.
I am so thankful we got the ruling we did, Parker said. Cannon deserved every bit of it. I feel a little bit of relief knowing that justice is being served.
Sessoms' next court date is Tuesday, December 13, 2022, at 2 p.m.