For the past few weeks, a North Carolina Pastor has received much backlash about a revival that he is expected to host in 2021, which is 15 days away, but the revival date is still undecided.
Pastor Brandon D. Hayes of Restoration Deliverance Freedom Center in High Point, North Carolina, made a video on social media on November 23, 2020, telling his two-member church that they need to have faith through COVID-19. Hayes also said he hasn't had the virus since the pandemic, hasn't always worn a mask, and still not wearing one because "it's according to your faith."
You believe God to heal you from everything else but this COVID thing, you're so afraid. Of course, we got to mask up…but where is your faith?, Hayes said.
WATCH THE VIDEO BELOW:
When The North Carolina Beat spoke to Pastor Hayes Wednesday, he said that his "Take The Mask Off" revival had nothing to do with COVID-19 and that the revival is a spiritual thing. That was a lie because right after he made the video, he posted the flyer for the revival.
LOOK AT FLYER BELOW: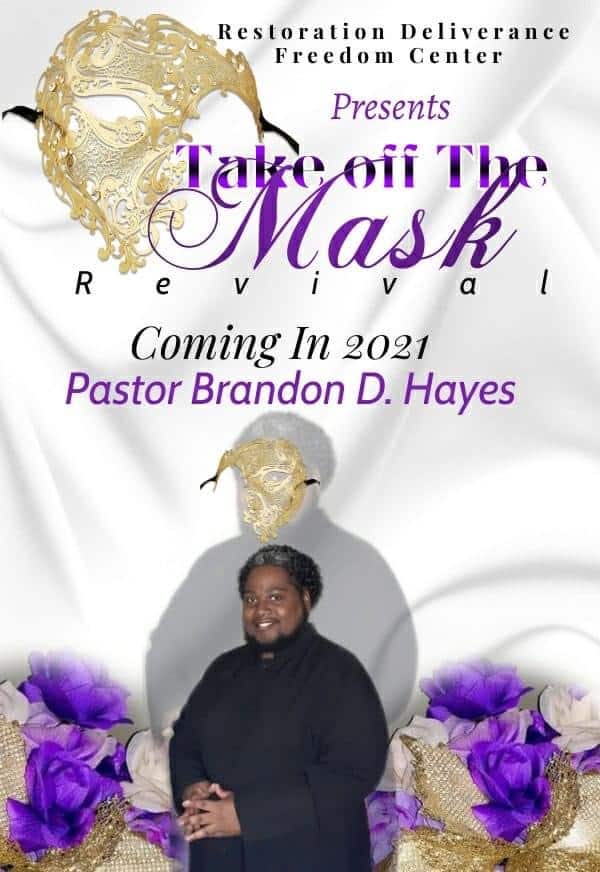 Now, in the video, Pastor Hayes is telling his two-member church that they believe God to heal them from everything else except COVID and saying that he hasn't worn a mask because it's "according to your faith." It sounds like to me that he is encouraging people to take their masks off and have faith.
I am so sick and tired of these ugly, powerless, not anointed, empty church having ass preachers who make no sense, sounds foolish, and has not been called by God continue to stand behind the pulpit and preach the Word of God.
On December 9, 2020, a man named Jason Tuttle made a social media post about Pastor Haye's revival, "Take The Mask Off," tagging Governor Roy Cooper asking him to shut it down. (Read the post below)
After the post gained some attention, Pastor Hayes responded by saying "y'all motherfuckers sitting up there lying on me." (Watch the short clip below)
Chileeeeeeeeee…
Follow me on Instagram @ItsGJTheCEO and if you have a story, make sure you send it to [email protected]