Authorities in Orange County, New York, say that one person has died and 46 others have been injured, with 5 currently in critical condition, after a charter bus carrying a school band veered off a busy road, went down an embankment,and rolled over.
DID YOU MISS: Bus driver ambushed and beat after student call her mom and sister to jump on the driver
Police report that several individuals have sustained serious injuries, and one fatality has been confirmed following the bus rollover. Five people are fighting for their lives, officials say. Initially, the police reported that 50 people were injured, with 10 in critical condition. However, they have since updated the number.
Officials say that the majority of the passengers were young people.
According to officials, members of a high school band were being transported by charter bus when it careened down an embankment and flipped over Thursday afternoon.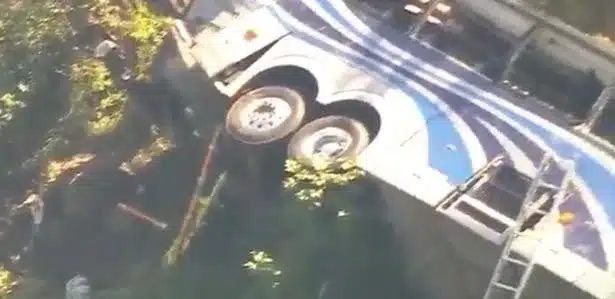 New York Governor Kathy Hochul said she was briefed on the tragedy:
I have been briefed on the tragedy in Orange County where a bus filled with high school students was involved in an accident, leading to injuries and one fatality.
The one person that died was an adult, according to Orange County officials. 
DID YOU MISS: [VIDEO:] Alabama band director tased after refusing to stop his band's performance
If you have a story you think the public should know about, send it to [email protected] 
Follow The NC Beat on Social Media: Instagram:@TheNorthCarolinaBeat | Facebook: @TheNorthCarolinaBeat | Twitter: @TheNCBeat
Follow me, Gerald, on Instagram @iiamgj and Facebook @TheOfficialGeraldJackson