Dancer and skater Beauty Couch was stabbed multiple times in the torso, according to new court documents.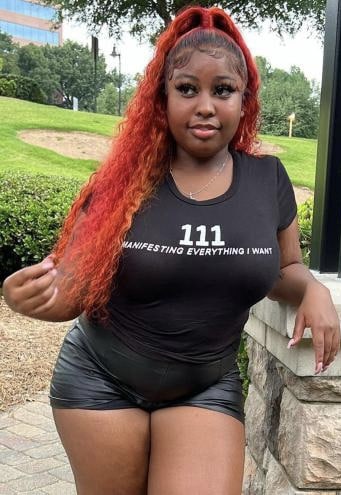 According to the Austell, Georgia police, 21-year-old Eugene Louis-Jocques, Couch's boyfriend, stabbed her to death. He then disposed of her body in a wooded area near Atlanta and set her car on fire. Court documents say that Louis-Jocques used a sharp instrument to stab Couch multiple times in her upper torso area.
Louis-Jocques is facing charges of first-degree murder, arson, and aggravated assault. He was arrested in Louisiana on August 25th and extradited to Cobb County, Georgia on Friday. On Saturday, a judge denied him bail during his initial court appearance, according to court records.
DID YOU MISS: Roller Skater Beauty 'Katera' Couch boyfriend arrested in her murder
The North Carolina Beat previously reported that on Thursday, August 24, the Austell, Georgia fire department responded to a scene where a vehicle was fully engulfed in flames. After the fire was extinguished, the officers were able to obtain the owner's information. When Austell police arrived at the address registered to the vehicle, they learned that 22-year-old Beauty 'Katera' Couch had not been seen since Wednesday, August 23, according to her family.
Austell police searched the area where Couch's car was engulfed in flames and discovered her lifeless body near a wooded area. Cobb County police took over the investigation and immediately suspected foul play in Couch's death.
Authorities identified Louis-Jocques as a suspect, and warrants were issued for his arrest. The U.S. Marshals received information on August 25 that Louis-Jocques had ties to St. Tammany Parish in Louisiana. Surveillance was set up on him after the Marshalls learned where he was hiding.
DID YOU MISS: 'Well-Known' Twin brothers from Salisbury North Carolina killed in DWI wrong way crash
Around 4:40 p.m., detectives observed Louis-Jocques driving and conducted a traffic stop. They took him into custody without incident, according to the sheriff's office. Authorities booked him into the St. Tammany Parish Correctional Center, where he was detained before being extradited to Georgia.
Couch had over 150,000 followers on Instagram and frequently shared pictures of herself roller skating.
If you have a story you think the public should know about, send it to [email protected] 
Follow The NC Beat on Social Media: Instagram:@TheNorthCarolinaBeat | Facebook: @TheNorthCarolinaBeat | Twitter: @TheNCBeat
Follow me, Gerald, on Instagram @iiamgj and Facebook @TheOfficialGeraldJackson