The sleazebag woman who was seen in a viral video back in June of 2020 threatening an elderly customer charges have been dismissed, according to N.C. Courts.
Randi Lynn Fahey of Roanoke Rapids, North Carolina, was arrested on June 26, 2020, by the Roanoke Police Department and charged with communicating threats.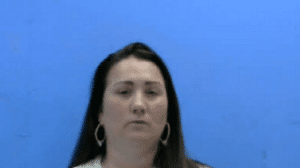 Fahey was an employee at a local Dollar General store when she threatened a customer named Patricia Bailey.
According to police warrants, Fahey threatened Patricia Bailey stating to her "fucking white bitch you think you are better than everybody else. She stated she would beat her ass and to come back tomorrow and meet her in the parking lot that she would beat the hell out of her with a baseball bat."
Fahey faced 120 days in jail if she was found guilty, but sadly her charges were dismissed.
Court records show that Fahey's charges were dismissed on November 10, 2020, without leave by the DA, meaning that the district attorney's office can not bring these charges back up against Fahey again.
READ COURT RECORD BELOW: