A cheating pastor, Keshon Blue, in Durham, North Carolina has been exposed by his side chick, leading to a street fight between the side chick and his wife.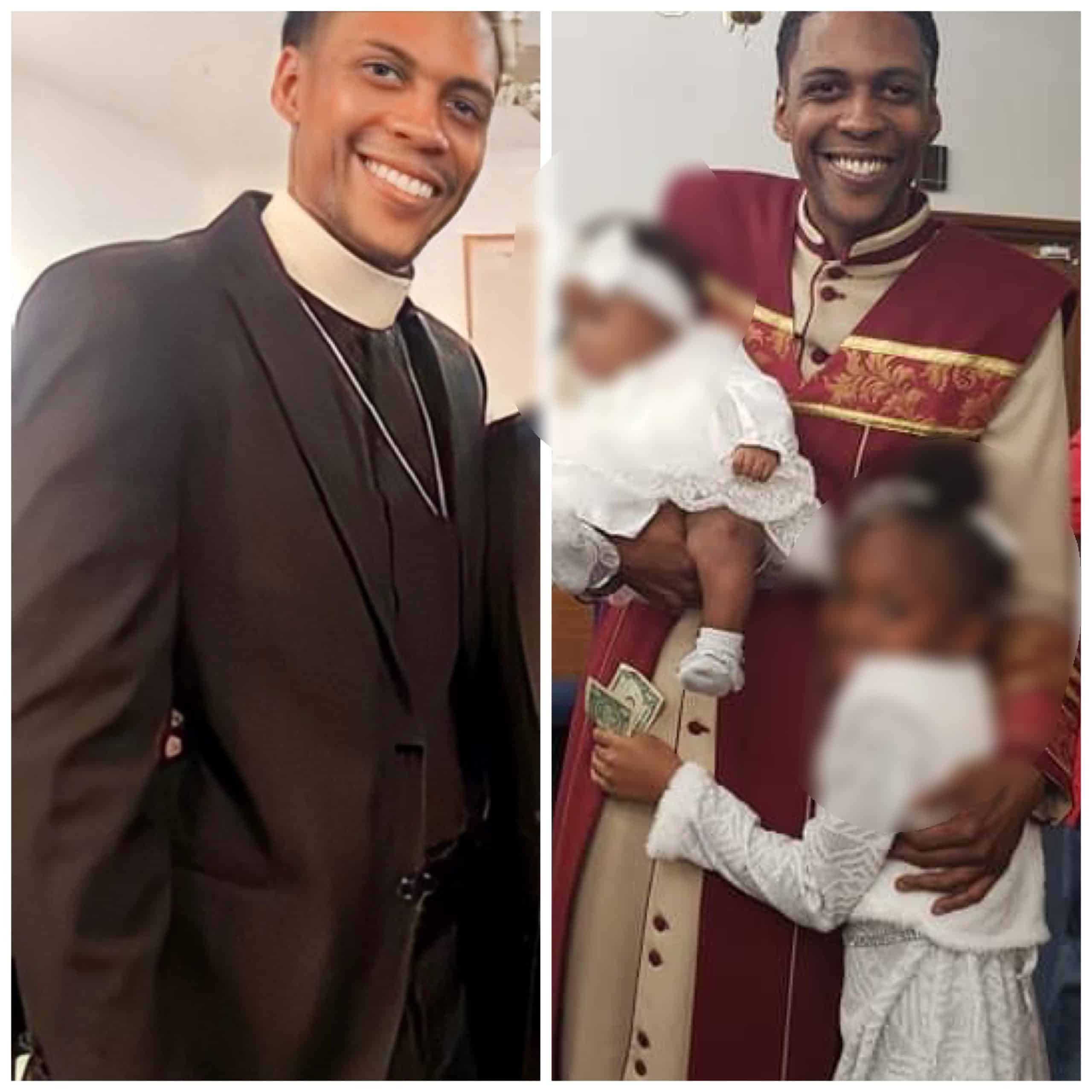 The side chick, Kadeshia Crews, told The North Carolina Beat that she had met Pastor Keshon Blue, the former pastor of Gwynns Chapel Missionary Baptist Church in Pelham, North Carolina, in 2018. They crossed paths in a school parking lot where his then-fiancée, Jasmine Blue, worked and where Kadeshia child attended.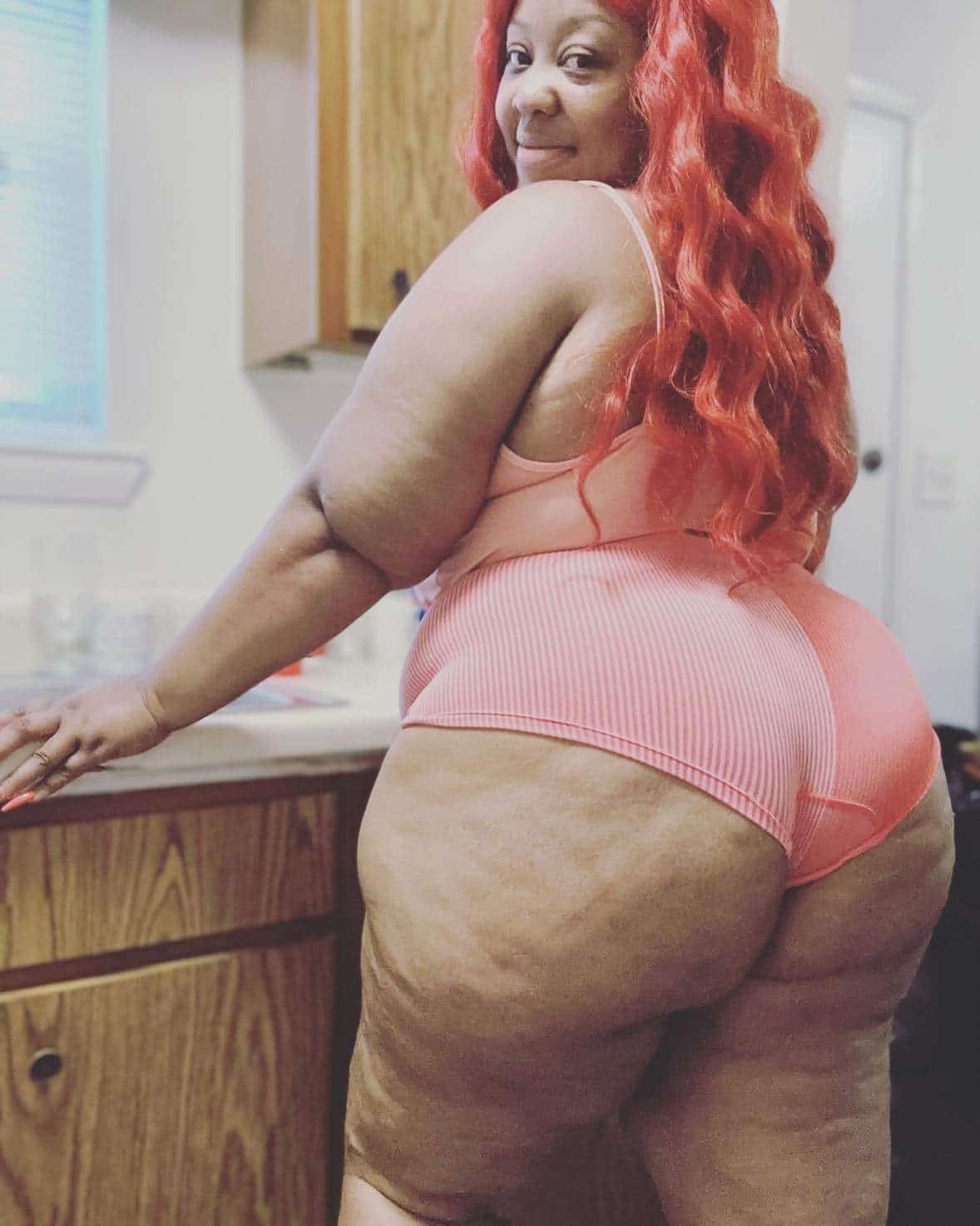 Kadeshia said that Pastor Keshon, whom she didn't know was a pastor at the time, was in the parking lot acting like he detailed cars. She said he gave her a business card, which was his church card, and told her to contact him. She did.
Two months later after Keshon met Kadeshia, he went and married his then-fiance, First Lady Jasmine Blue. Kadeshia said she found out about the marriage on Facebook. However, what First Lady Jasmine didn't know was that she married a man who can't take "one woman" for an answer.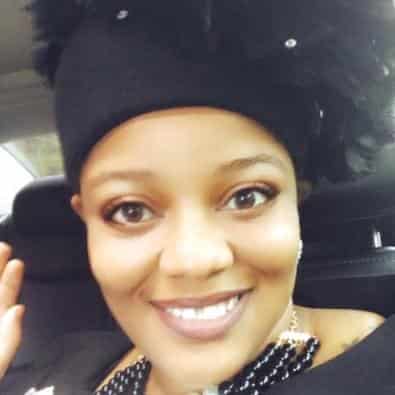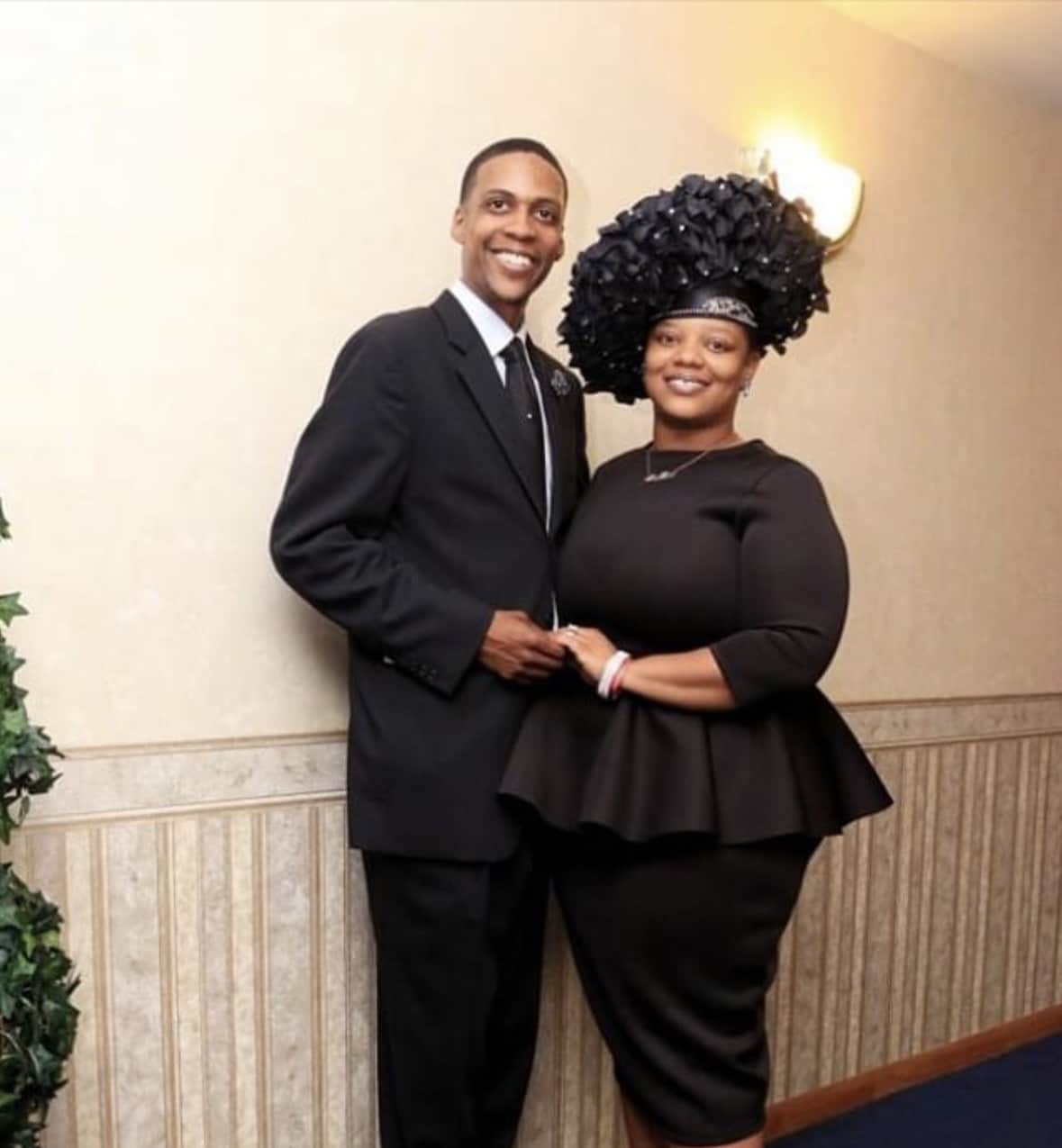 DID YOU MISS: 'Sleeping With The Enemy': North Carolina Bishop Dameyon Massey sex tape released by his boyfriend
Kadeshia said that for an entire year after meeting Keshon, he became a stalker. She said Keshon didn't allow her to have company at her house, where she pays the bills. He would randomly show up at her house, follow her places, and try to fight her.
At first, it was everything was okay between them, but Kadeshia said Keshon's stalking became too much for her to bear. She said that at some point in 2019, she told Jasmine that Keshon was stalking her. Kadeshia said she told Keshon's wife that he would not stop harassing or contacting her.
Dealing with him at the time wasn't right but he thought he could come to my house and control my household and then go home like everything was okay, Kadeshia said.
Kadeshia said Keshon was dicking her down even after he got married to Jasmine. She said he would come over to her house while she's in the shower, knocking on her door with her kids at home. Instead of Kadeshia not knowing her place dealing with a married man, it seems like Keshon was the one who forgot he was married.
It has happened multiple times, according to Kadeshia, that she has gotten out of the shower and found Keshon lying in her bed without her knowledge of him coming to her home. Kadeshia said that the maintenance man where she lives even witnessed Keshon attempting to climb through the windows of her home one day, noting that's how much of an alleged stalker he is.
Kadeshia said that after she told Jasmine, Keshon would not stop bothering her, he continued to stalk her. She said thatwhen she told Jasmine about Keshon, she didn't provide too many details because she didn't want to get involved in the drama.
Kadeshia said Jasmine is no saint either, saying that Jasmine referred to her daughter, who has autism, as "retarded."
He and his wife would call my daughter retarded for years, Kadeshia said. I just got fed up with him.
In 2021, Kadeshia stated that she had stopped talking to Keshon and started conversing with another person. She said she told the guy about the history between her and Keshon, and as a result, the guy began contacting Keshon. Keshon then snitched on the dude and took out warrants on him. Kadeshia said that after Jasmine found out, she started sleeping with the guy.
Earlier this week, a lot of new drama started between Kadeshia, Keshon, and Jasmine. Kadeshia said that Jasmine had posted a video on TikTok, targeting her autistic daughter. In the video, Jasmine had a written caption that stated, "Sleepingwith a man that mocks your deprived daughter is insane".
WATCH CLIP BELOW:
Kadeshia also alleged that Keshon and Jasmine had made an anonymous call to CPS, claiming that she neglected her kids and woud leave them unsupervised at times.
That's when I started exposing him, Kadeshia said.
Kadeshia sent The North Carolina Beat several screenshots that displayed Pastor Keshon's phone number. We can confirm that this is the same number we have spoken to Pastor Keshon on twice this week. In the screenshots, it appears that these messages are from 2022 and in one, it appears to be some messages deleted on Kadeshia's side.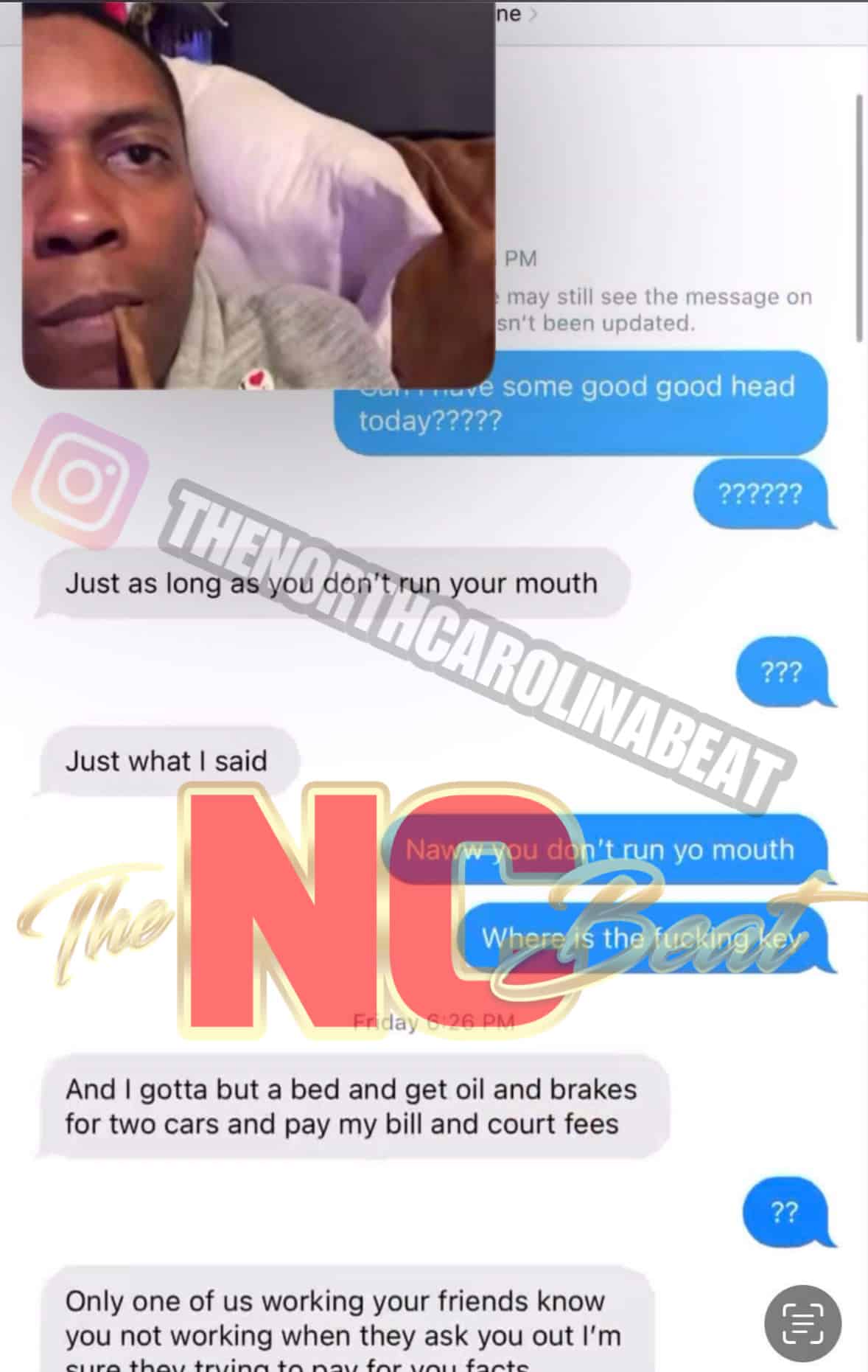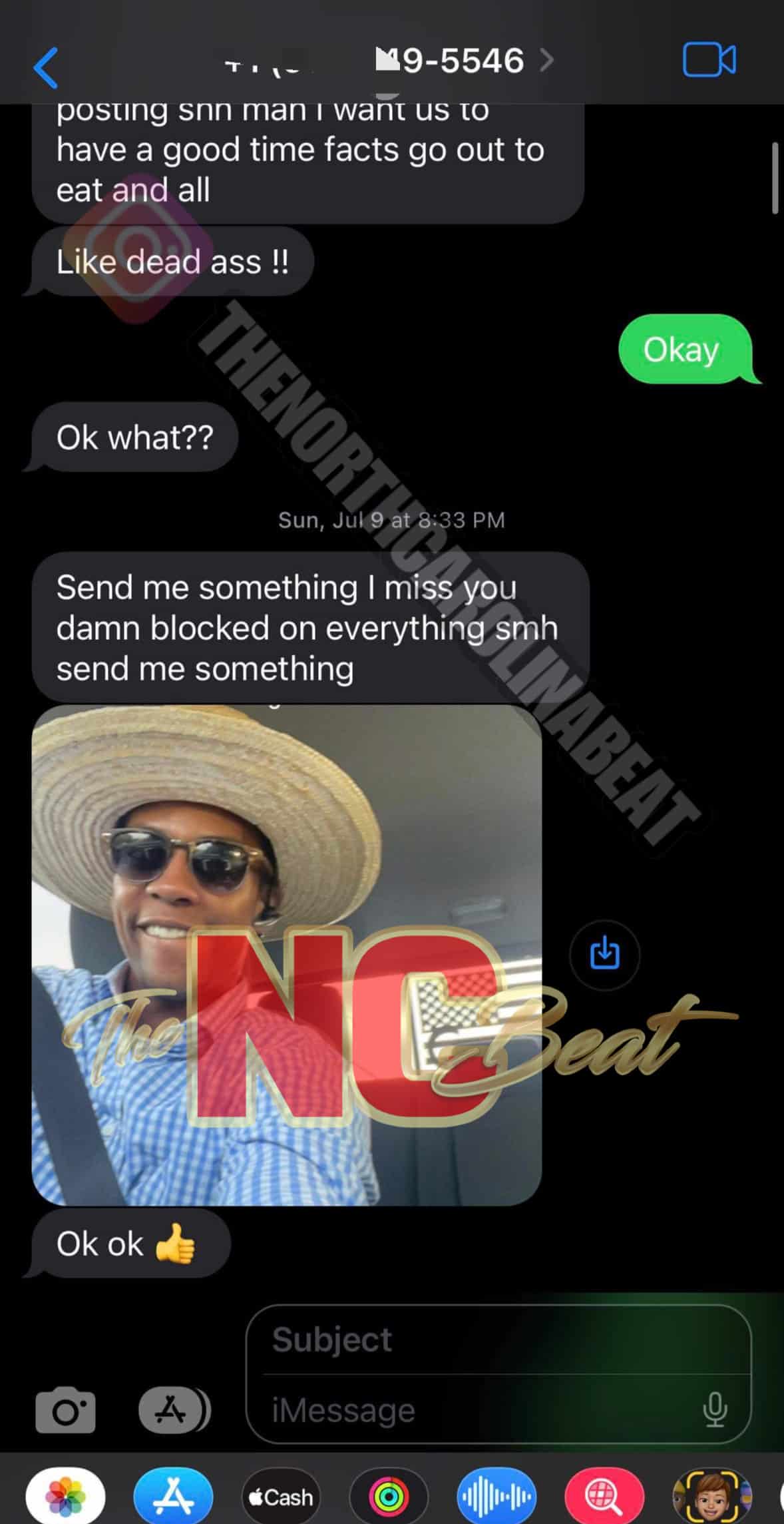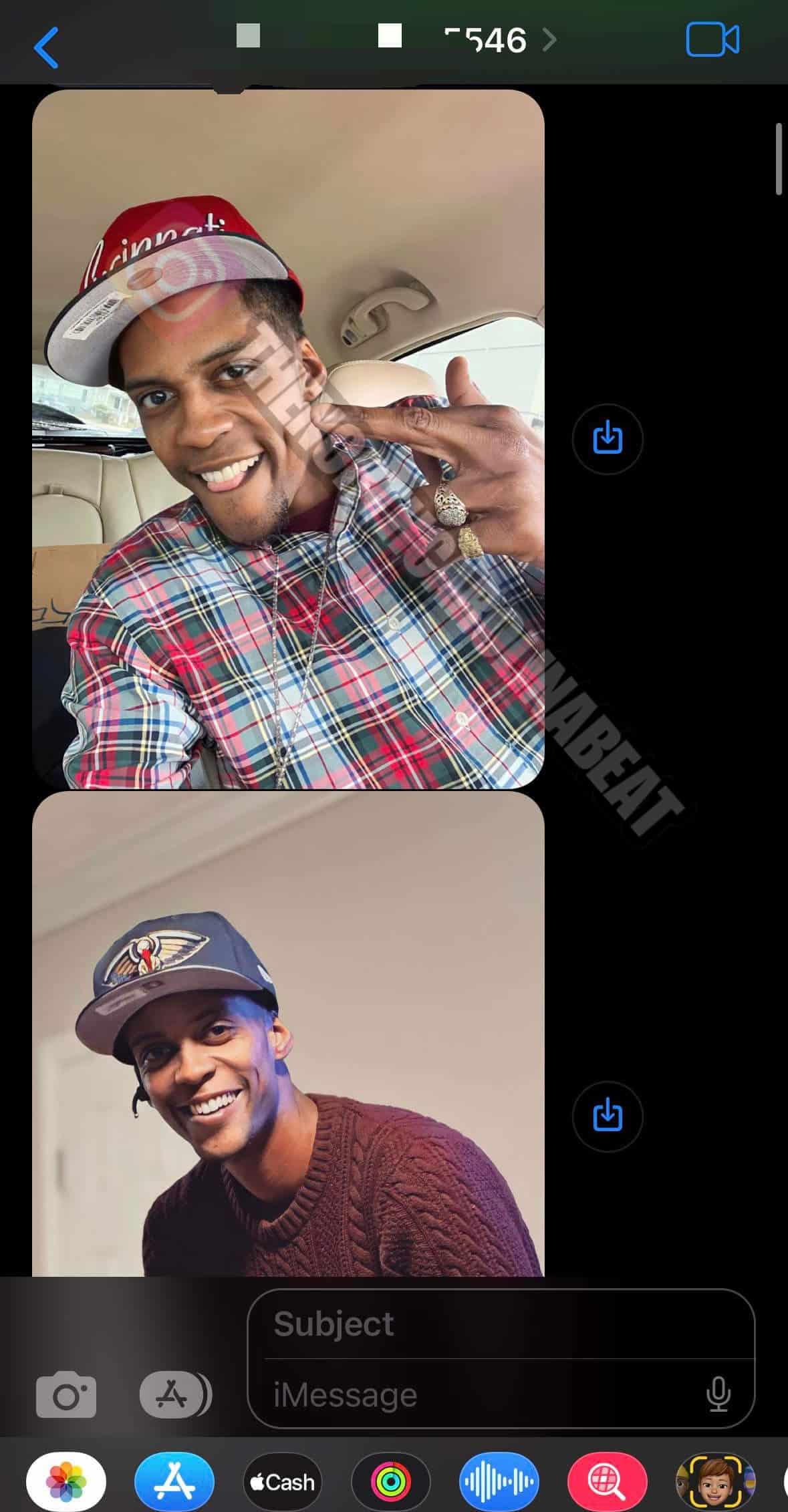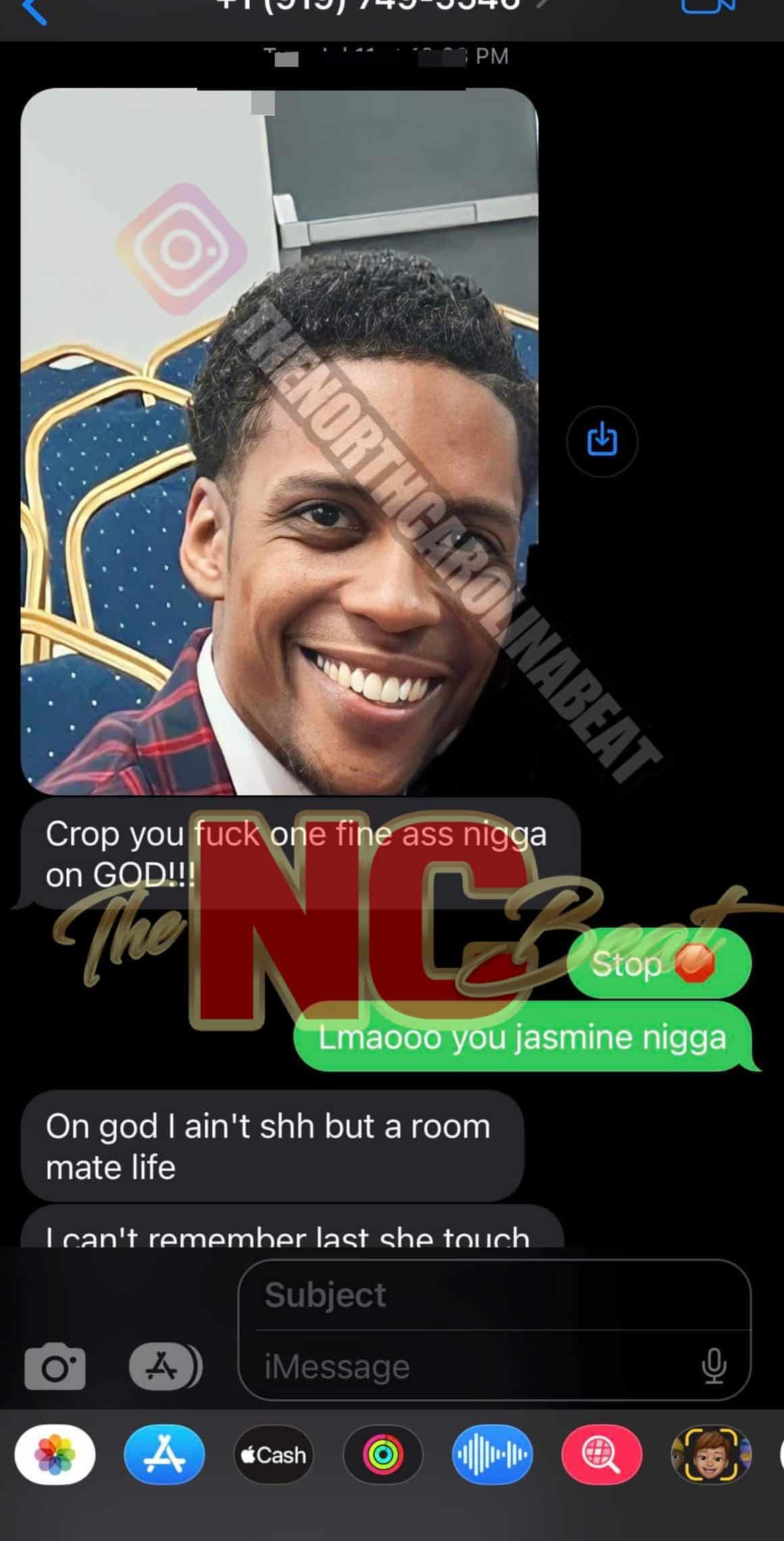 In the screenshot above, Pastor Keshon referred to his wife as a "roommate" after Kadeshia informed him that he was Jasmine's man. Kadeshia told The North Carolina Beat that Pastor Keshon also left voicemails of him singing to her. In another voicemail, he was cursing while listening to church music and telling Kadeshia to call him.
LISTEN TO THE VOICEMAILS BELOW:
Not only are Pastor Keshon and his wife Jasmine preachers by day, but they are also clubbers by night. A video provided to us by Kadeshia shows the First Lady in a club, appearing tipsy and dancing. In the background, Pastor Keshon can be heard yelling, "Freak him, Jasmine."
WATCH BELOW:
In a partial fight video obtained by The North Carolina Beat, you can see Kadeshia wearing green pants, while First Lady Jasmine is wearing a zebra-print dress. Kadeshia said it got to the point where she pulled up to fight Jasmine. During the fight, Kadeshia said Jasmine sat on her and scratched her.
WATCH VIDEO BELOW: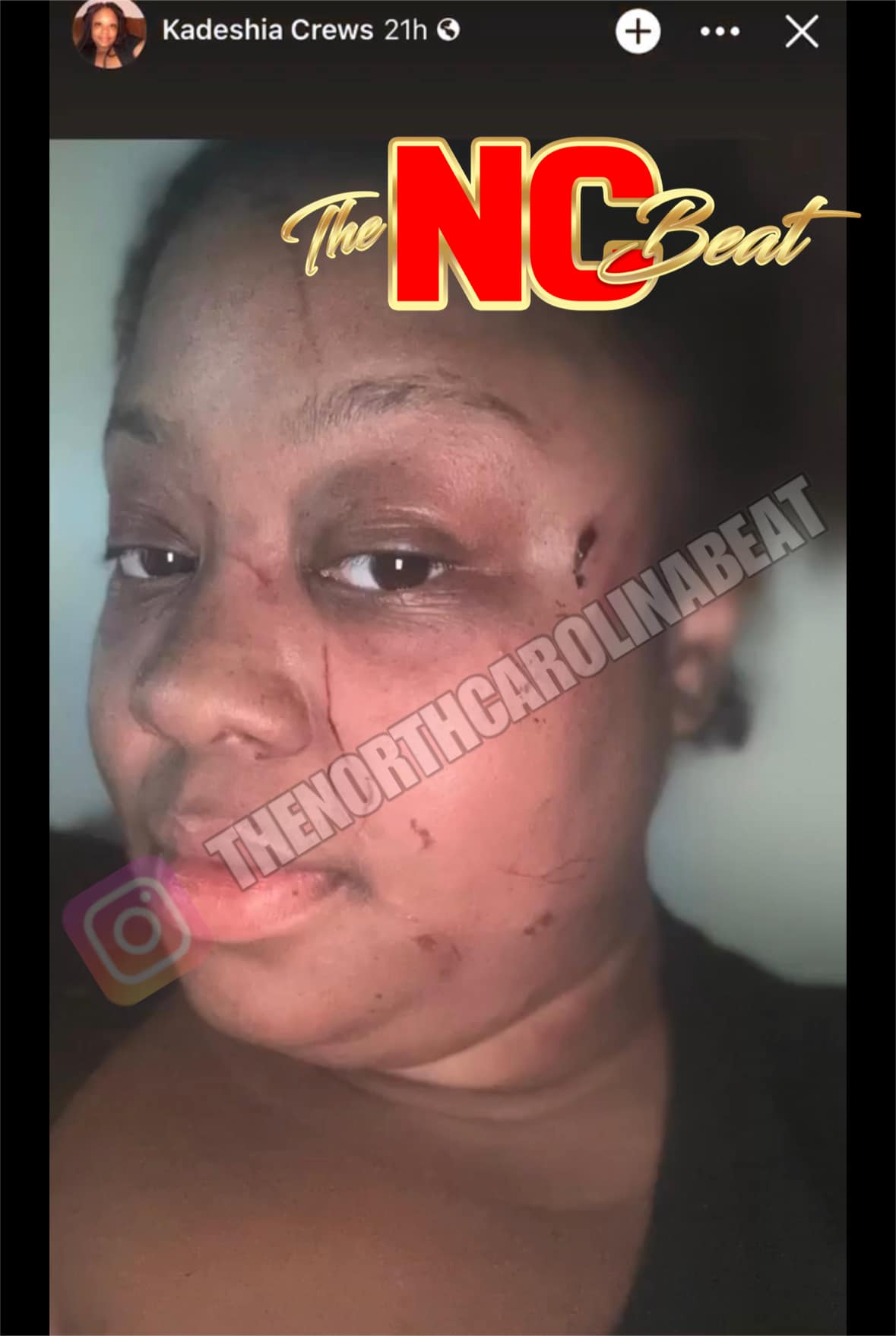 Pastor Keshon recently filed criminal charges against Kadeshia because he couldn't tolerate her publicly shaming him on social media. This happened after he and his wife were accused of anonymously reporting Kadeshia and her children to Child Protective Services (CPS).
DID YOU MISS: Mooresville North Carolina pastor dies from fentanyl and cocaine overdose
In an Instagram post, Pastor Keshon shared the warrant along with the caption, "Crazy woman keep posting old videos of me and her ok nasty self like she is sick and I don't want her I had to have her put in jail. SMH." The North Carolina Beat also obtained video footage that shows Keshon masturbating on Facetime, while Kadeshia was twerking. We will not be posting the video at the moment.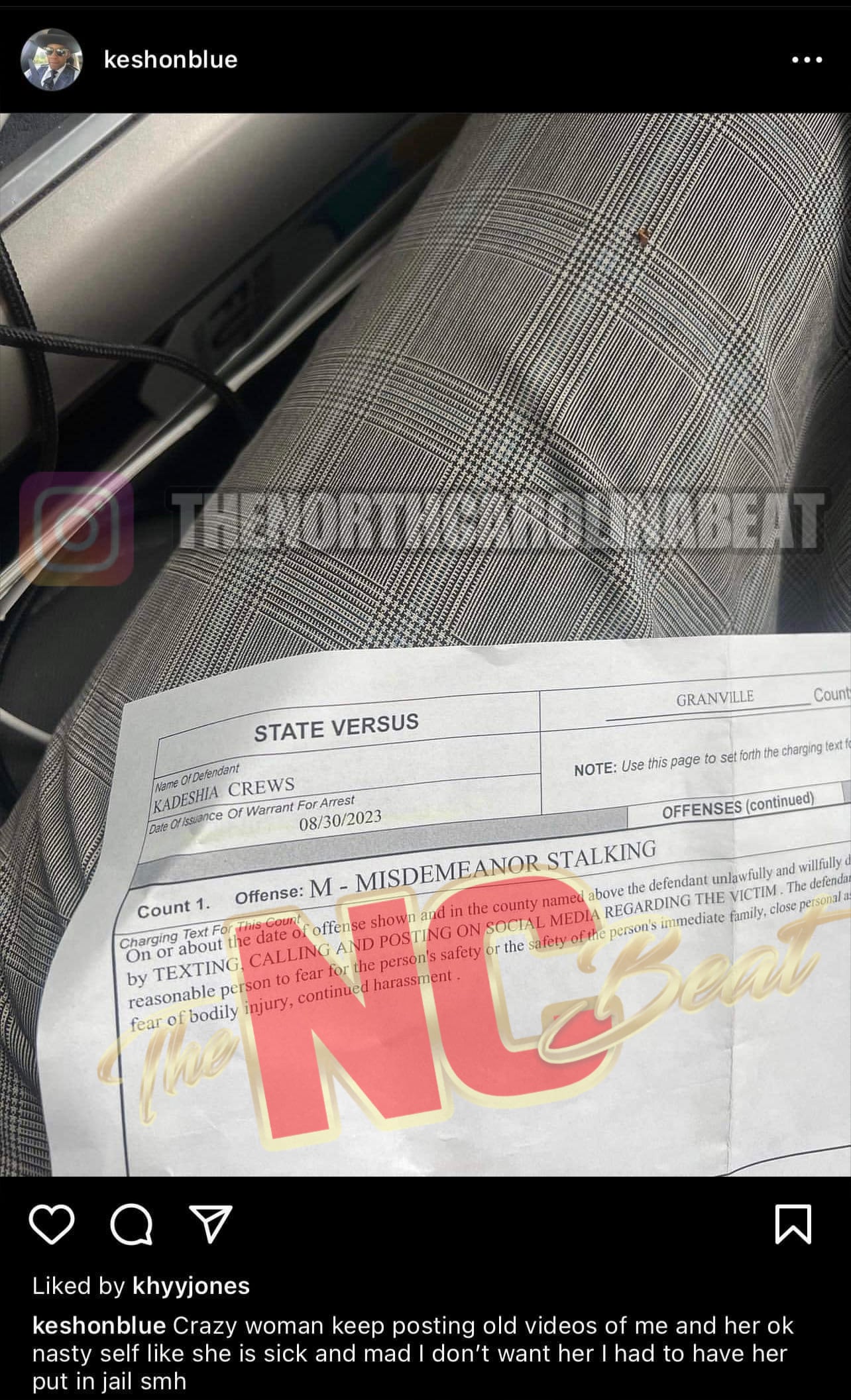 According to an anonymous church member at Gwynns Chapel Missionary Baptist Church in Pelham, North Carolina, where Keshon was the pastor before he was kicked out for sleeping around with female members of the congregation, the church paid Keshon $10,000 to leave. The church member said that Keshon was allegedly involved with other women in the church, and one day things got out of hand to the point where the police had to be called.
The church member said that Keshon had pastored Gwynns Chapel Missionary Baptist Church for six months.
They had to kick him out, the anonymous church member said. He tore our church up. He tore apart families and destroyed lives in our church.
The church member said there were rumors that Pastor Keshon also had impregnated a woman at Gwynns Chapel. We have been provided with the name and contact information of the woman, but we have not yet reached out.
DID YOU MISS: Denise Clark-Bradford post video of her sister Karen Clark-Sheird lying over the years about coma
The North Carolina Beat spoke to Pastor Keshon, who denied most of the allegations made by Kadeshia. He claimed that she is upset because he no longer has romantic feelings for her.
If you have a story you think the public should know about, send it to newstip@thencbeat.com 
Follow The NC Beat on Social Media: Instagram:@TheNorthCarolinaBeat | Facebook: @TheNorthCarolinaBeat | Twitter: @TheNCBeat
Follow me, Gerald, on Instagram @iiamgj and Facebook @TheOfficialGeraldJackson