Word On The Curb…Shaun 'Confused With His Race' King is being called out again for the lies he continue to live each and everyday in his life. At this point, we believe this kid has some type of mental illness that need to be checked by a psychologist for treatment because he is out of line with these new lies.
A mother and daughter were released on Friday by the terrorist group Hamas, which launched a deadly terrorist attack on Israel earlier this month and took hostages. Judith Raanan, 59, and her daughter, Natalie Raanan, 17, were two of hundreds of hostages.
However, Shaun King is claiming that he and others helped make this happen although U.S. Officials said the Government of Israel, the IDF, and the entire security establishment secured the release of this mom and daughter.
It is no surprise that Shaun King is taking credit for these releases after expressing his concerns on his Instagram over the past two weeks about the conflict between Israel and Hamas in the Middle East. There is nothing wrong on his stance but for so long Shaun King has preyed and used life-changing tragedies to line his pockets for his own gain.
Israeli Prime Minister Benjamin Netanyahu said in a statement that the hostages were received "at the border of the Gaza Strip" and were being taken to "a meeting point at a military base in the center of the country, where their family members are waiting for them."
Hamas said in a statement that the hostages, a mother and daughter who are both Americans, were released "for humanitarian reasons, and to prove to the American people and the world that the claims made by Biden and his fascist administration are false and baseless."
In an Instagram post, King said that he and others "worked frantically behind the scenes to help make this possible." He also claimed that Judith and Natalie had been long-time supporters of his.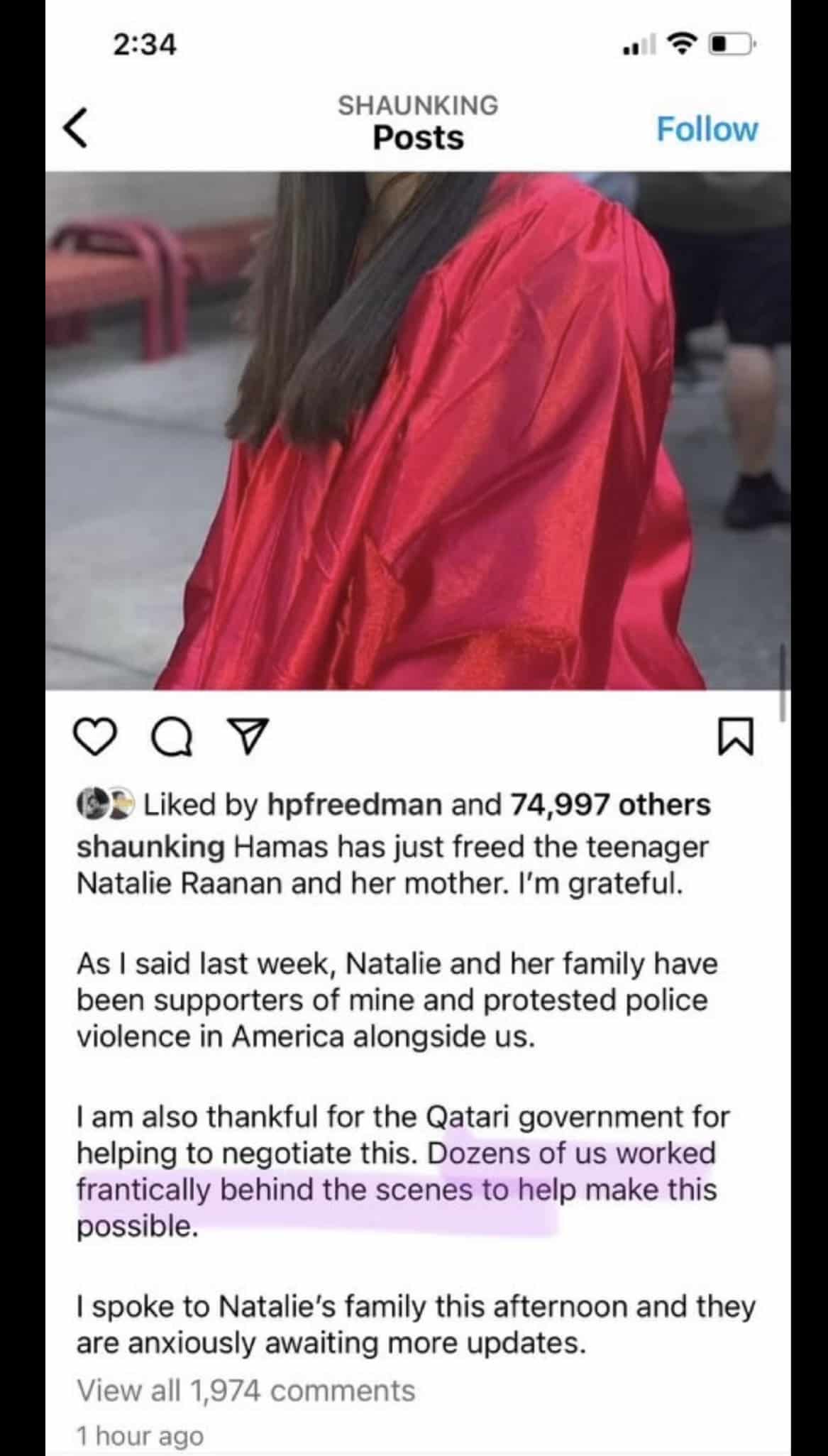 He thanked the Qatari government for their assistance in negotiating the release.
King did not go into detail exactly his role in the releases of the two women but we know he has never been in or near the situation room at The White House.
In 2015, King was accused of lying about his upbringing as a biracial man in America and the claim that he had been "brutally assaulted by a racist mob of rednecks" at his school. He was later accused of stealing money raised through online fundraising efforts.
Hopefully Shaun can get some mental help.