The pastors in North Carolina are becoming messier than members in their church, and I cannot deal, but The North Carolina Beat will report to you the FACTS of each case.
Hold on and get ready to light your cigarette and take you a shot as I take you to Fayetteville, North Carolina, where one pastor is being accused of being a root doctor by another pastor.
On the night before Christmas, when all through the house, not a creature was stirring, not even a mouse but Pastor Latoya Powell took to social media to subliminally call out the lack of discernment of the people who went to a pastor whom she refers to as a 'root doctor' church service.
WATCH THE VIDEO BELOW:
The video is about 41 minutes long, but in the short clip we grabbed, Pastor Powell said as soon as she puts his name in an online search, his "criminal background came up, and his charges came up." Pastor Powell also said that the "root doctor" used to be in the Yellow Pages listed as an individual specializing in Voodoo.
The North Carolina Beat spoke to sources close to Pastor Powell Sunday afternoon who said that Pastor Powell was indeed talking about Pastor James Earnest Gandy Jr. of Transformed By His Grace Ministries in Fayetteville, North Carolina.
While we didn't find much information on the allegations Pastor Powell made, we did find some truth to her comments in her video.
Pastor Gandy is a registered child sex offender. In 2009, he was convicted of statutory rape of a 15-year-old child in Georgia. Gandy was 25-years-old at the time. He was released from prison for this charge on July 3, 2013, but he remains on the sex registry.
On January 30, 2020, Pastor James Gandy and his sister Jamie Gandy was arrested by the Feds and charged with making false claims against the United States, making false statements to a bank, and aggravated identity theft.
According to court documents, Jamie Gandy worked as a supervisor at the Liberty Tax Services franchise store in Lexington. One of the services the Liberty Tax Store provided was rapid refund loan products from Republic Bank and Trust Co.
A customer could apply for a repaid refund loan, and Republic would provide the refund to the customer in a short time period and then collect loan payment from the tax customer's refund. Up to $1,300 of the repaid refund loan could be loaded onto a NetSpend card which would allow the customer quick access to cash from the refund loan.
After Gandy began to work at Liberty, James began to appear at the Lexington business, purportedly to visit his sister. James Gandy operated a business in Dunn providing shipping pallets.
After receiving complaints from customers that they had not received their tax refunds and observing other indications of fraud, a company audit revealed that numerous fraudulent returns had been filed at the Lexington Liberty Tax Store, usually under the name of Jamie Gandy. Many of the fraudulent returns were filed without the taxpayer's authority or knowledge.
Some of these returns were filed in the name of employees of James Gandy's pallet business without their knowledge or consent. In these cases, the W-2 forms attached to the returns had been falsified to enlarge the taxpayer's income.
Other people sold their personal identifying information to James Gandy in Dunn or in Greensboro. They were also unaware that returns had been filed in their names.
For most of the fraudulent returns, James Gandy provided the identifying information of the victims to his sister, who prepared and filed the false return. Jamie Gandy then applied for a repaid refund loan from Republic in the name of the purported taxpayer, making use of the false tax return to induce Republic to load the initial repaid refund loan onto a NetSpend card.
The Gandy then used the NetSpend cards to convert the fraudulently obtained loan proceeds. For example, in one case James Gandy used a NetSpend card from a fraudulent return filing to purchase a deluxe trampoline party for his family, followed by an overnight stay at the Grandover Resort in Greensboro.
On September 18, 2020, Pastor Gandy was sentenced by United States District Court Judge Catherine C. Eagles in Greensboro to 51 months in prison and three years of supervised release. The Court also ordered Pastor Gandy to pay $129,017 in restitution and a forfeiture money judgment in the amount of $62,088.19.
The North Carolina Beat dug deeper into this case Sunday afternoon, we learned that Pastor Gandy is expected to turn himself in and start his prison time tomorrow, Monday, December 28, 2020, at noon. Pastor Gandy will serve his time at the Federal Bureau of Prisons at Ashland Correctional FCI in Ashland, Kentucky. (READ DOCUMENTS BELOW)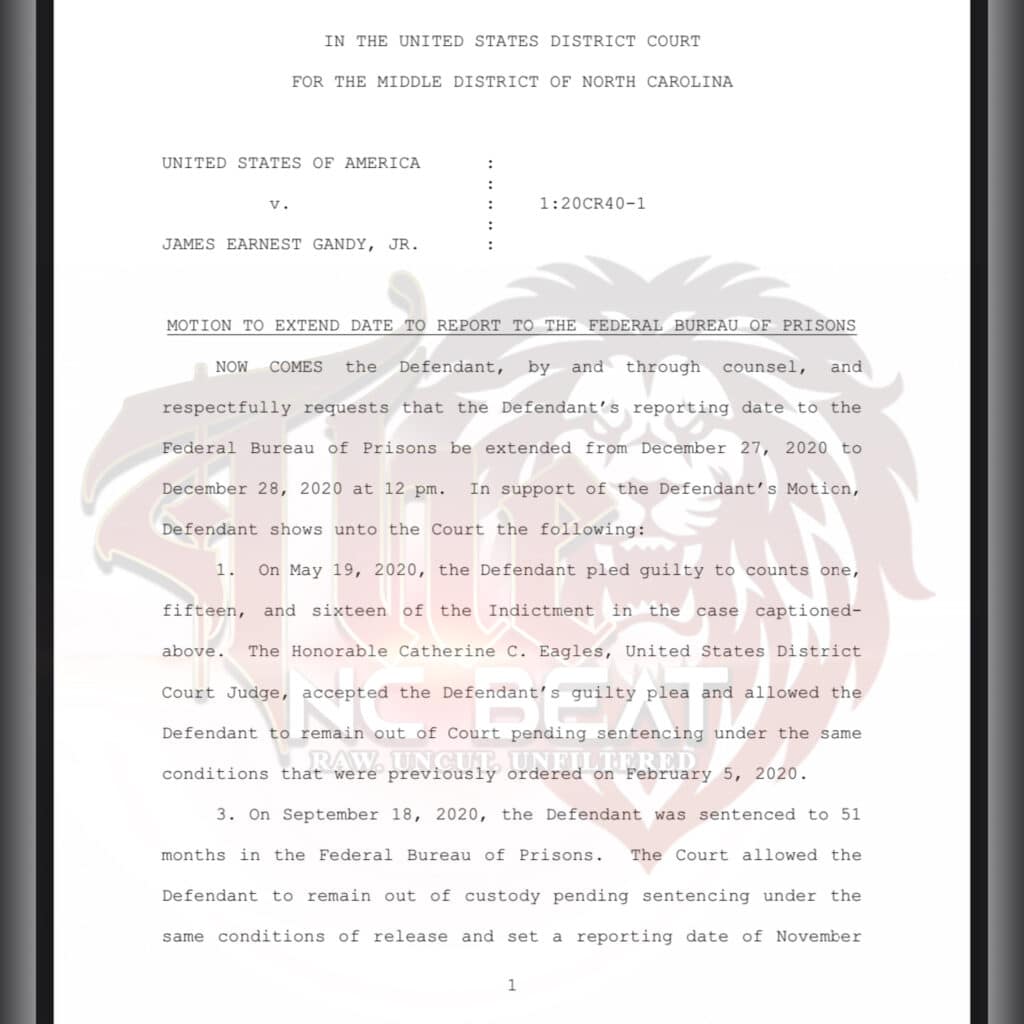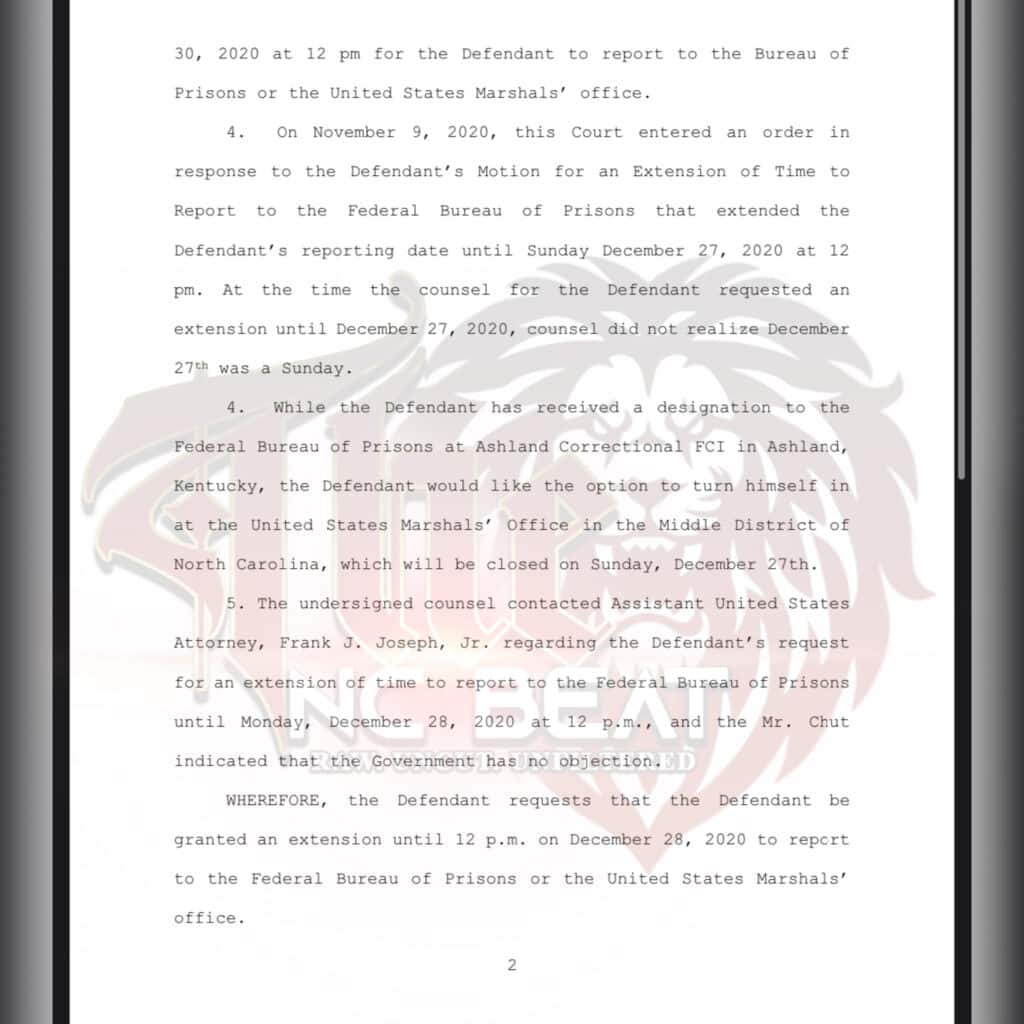 If Pastor Powell is right about this "root doctor," it looks like Pastor Gandy better get to casting his spells on Pastor Powell before noon tomorrow. Oops!
The North Carolina Beat reached out to Pastor Gandy for comment and he released the following statement:
I'm not a rootworker. I'm the root worker but I am a root worker worse nightmare because I bind the powers of darkness not promote them.
Does anybody know this Pastor Gandy guy? Is he really doing witchcraft? Chileeeeee
Follow me on Instagram @ItsGJTheCEO and if you have a story, send it to [email protected]