Wow, with all this free booty in the world, the teacher wants to sleep with a student.
Word Down At Booking…A nasty North Carolina high school teacher has been arrested for engaging in sexual activities with a student outside of school at a private residence.
Court documents show that 28-year-old Tyrone Khalil Outlaw has been charged with engaging in a sex act with a student.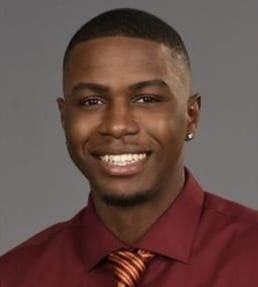 According to authorities, at 10:00 a.m. on Wednesday, the victim's father reported to Person County High School that Outlaw had been engaging in inappropriate sexual activities with his daughter. The high school then contacted the Person County Sheriff's Office.
DID YOU MISS: Colorado funeral home owners who allegedly stored 189 dead bodies and gave families fake ashes arrested
Police said their investigation led them to believe that the incident took place outside the school, at a private residence in Person County.
Outlaw, from Roxboro, is a social studies teacher at the high school but has been suspended with pay.
Sources have informed The North Carolina Beat that the victim is a 16-year-old girl.
Outlaw was bonded out of jail on Thursday for a $30,000 bond.
Outlaw was a basketball player at UNC Greensboro from 2013 to 2014 and at Virginia Tech from 2015 to 2019.
Outlaw was bonded out of jail on Thursday for a $30,000 bond.
Follow me, Gerald, on Instagram @iiamgj and Facebook @TheOfficialGeraldJackson
If you have a story you think the public should know about, send it to [email protected]