A North Carolina sheriff who is not at all worthy to take a dog to the dog pound, let alone sit in a high position and call himself a sheriff, is being exposed for lying about Tyrance Drequan Benbow court records. 
Sheriff John Ingram's motive was to stand in front of tv cameras and slander now deceased Benbow, making false statements that Benbow was some sort of cocaine drug trafficker in an attempt to make the public believe that his office was not involved in some kind of foul play WE THE PEOPLE believe they are involved in as a result of his untimely death on Friday night. 
The comments made by Sheriff Ingram were shocking to watch but were expected, especially when you're trying to cover-up potential crimes that may have been committed by your deputies.
In the press conference, Sheriff Ingram says that his office had been investigating Benbow and associates over the "past several months" who had been bringing in "large amounts of crack cocaine into our community and distributing them throughout the community." He then goes on to say that his office has made a "number of buys from Benbow and his associates regarding this prior to this date."
But Sheriff Ingram's false claims are not backed up nor supported by court records obtained by The North Carolina Beat. 
As the press conference continued, Sheriff Ingram told reporters that it was important to know that "over the past several months and past couple of years, our drug unit has had a number of encounters with Mr. Benbow. We have arrested him a number of times for various charges, drug charges, and felony charges."
Sheriff Ingram claims about Mr. Benbow was false and deceiving, with nothing to support them.
(WATCH VIDEO BELOW)
In Benbow's court records which are public records in North Carolina, it is very important to know that as much as Sheriff Ingram said they have made a "number of buys" from Benbow and that he had been bringing in "large amounts of crack cocaine into our community and distributing them throughout our community", his criminal record does now support or add validity to the sheriff's outrageous refutable claims.
To add insult to injury to the claims made by Sheriff Ingram about Benbow, court records show that Tyrance Drequan Benbow only had one cocaine charge, which was dismissed in 2020 by Brunswick County DA'S. 
(LOOK AT COURT RECORD BELOW)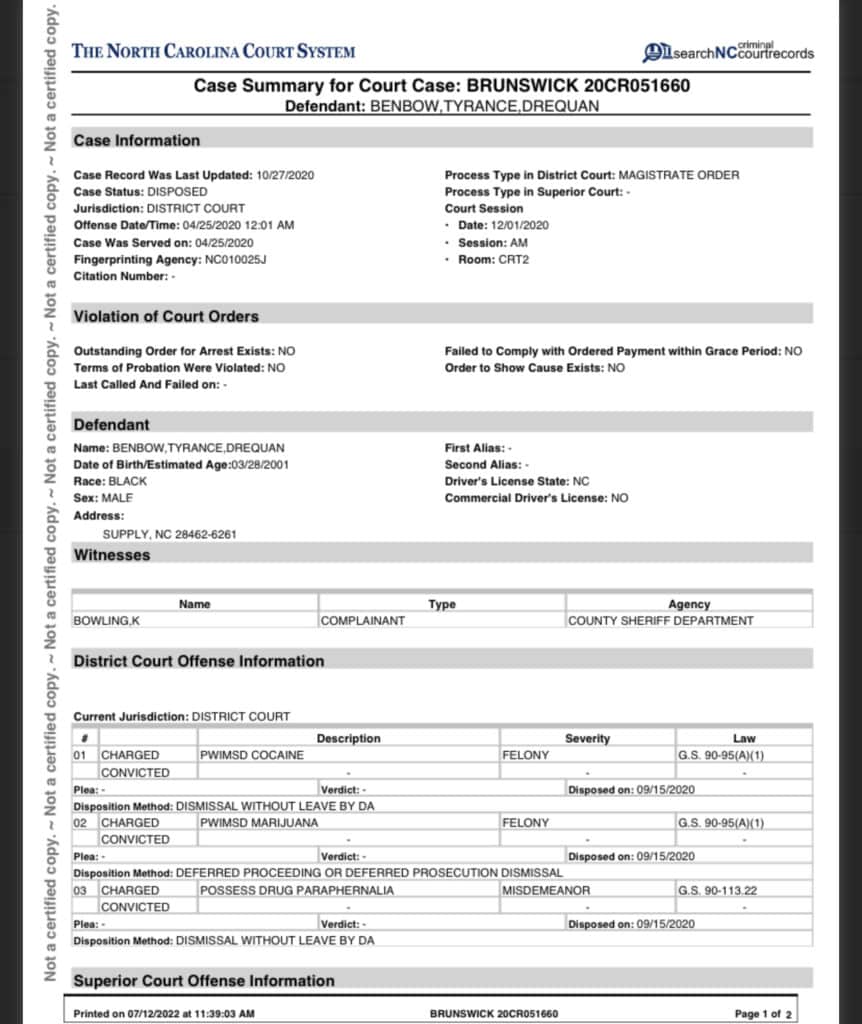 As you can see, Benbow was charged with PWIMSD Cocaine (Possession of a controlled substance with the intent to manufacture, sell, or deliver), which is what Sheriff Ingram was falsely claiming Benbow was doing but that charge was Dismissed Without Leave By DA, which means the district attorney dismissed the charge against Benbow and they cannot be brought back against him. In Benbow's case, the charges were dismissed due to lack/no evidence.
So, was Sheriff Ingram being honest about Benbow? No, he was not. It was again, as I said earlier, an attempt to cover-up their potential wrongdoing resulting in his death.
Also, after they arrested him for the aforementioned charge, they illegally seized his cell phone but a judge ordered they return it back to him. You know why they took that, right? They wanted to go through it without a warrant and see what they could find.
(SEE JUDGE ORDER BENBOW PHONE BACK TO HIM BELOW)
In a May 2020 frivolous arrest, Benbow was charged with two counts of PWISD Marijuana, but the DA also dismissed those charges.
(LOOK AT RECORD BELOW)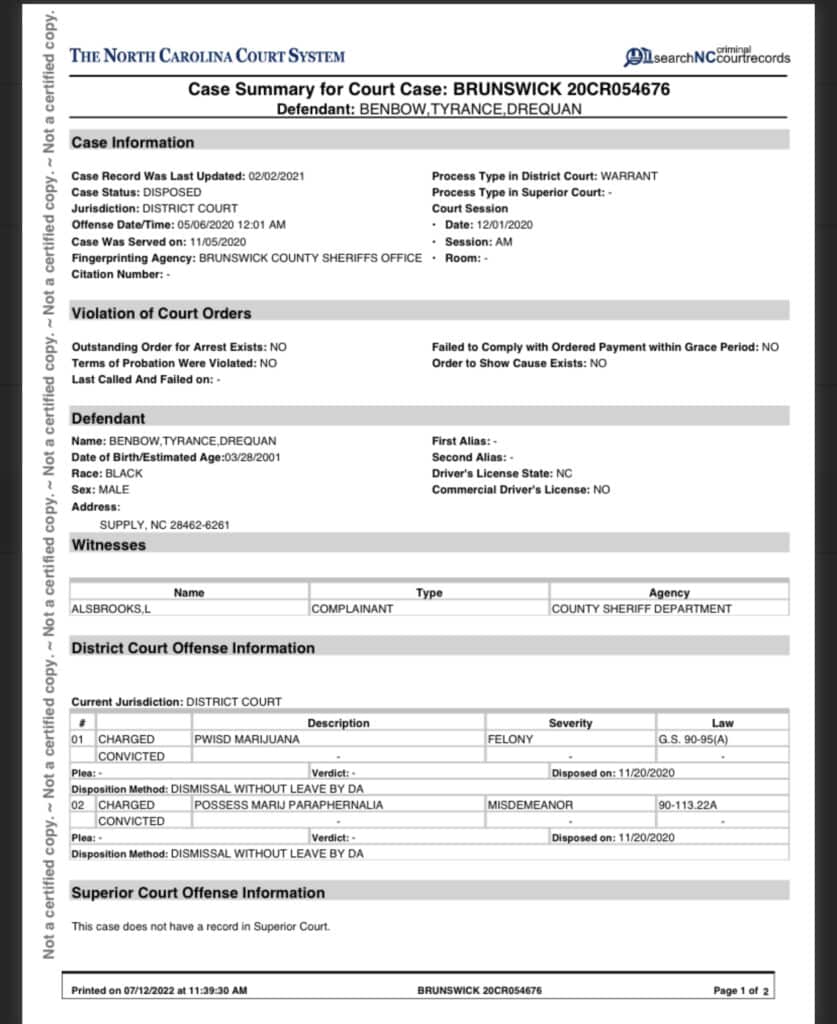 In January 2022, Benbow was initially charged with PWIMSD Marijuana, which is a felony. He was also charged with Maintn Veh/Dwell/Place CS (F) and Resisting Public Officer, in which those two charges were dismissed yet again by the DA. 
On the Felony PWIMSD Marijuana charge, the Brunswick County Sheriff's Office gave Benbow that charge because they thought it would stick, but a DA handed Benbow a simple possession of marijuana charge because there simply was no evidence that he was manufacturing, selling, or delivering marijuana. But that's how Brunswick County Sheriff's Office tried to set him up.
(LOOK AT RECORD BELOW)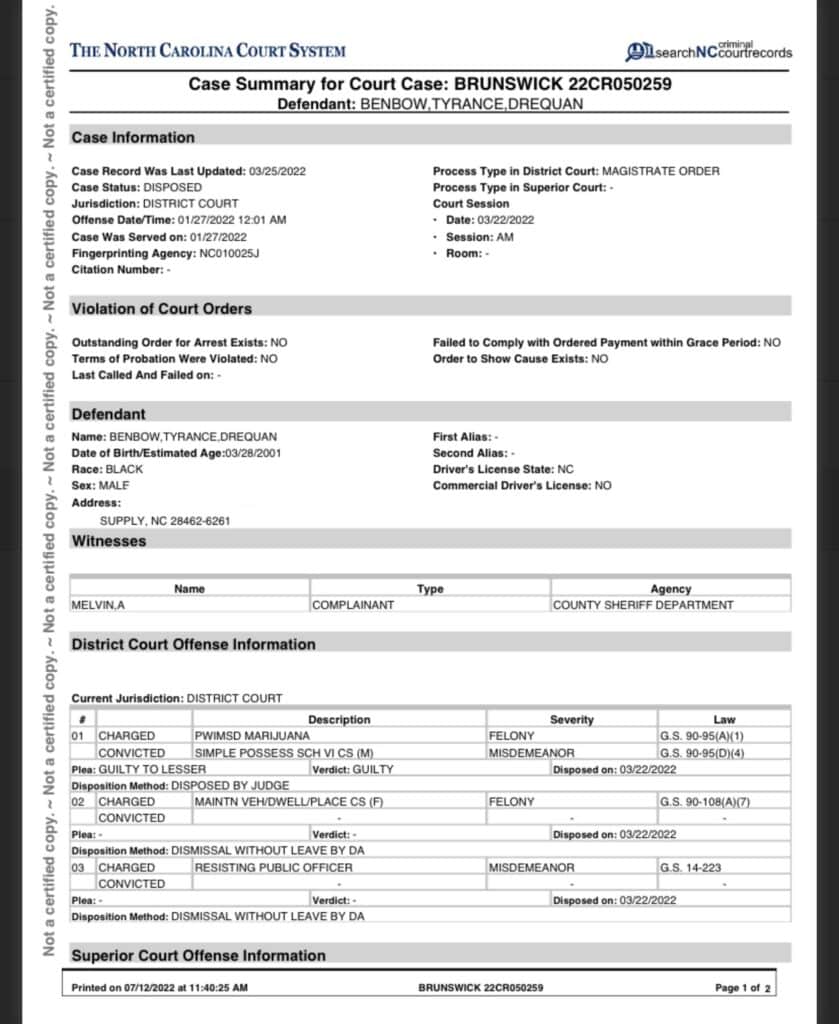 Two weeks ago, Benbow went out for a friend's birthday party, but on his way home, the KKKOPS at the Brunswick County Sheriff's Office pulled him over. Guess for what? NOTHING! 
In the video below, you will hear "Duke" saying "Find Something" as police walked a K-9 dog around his vehicle. Of course, the police did not find anything and let him be on his way. And if you've had a "number of buys" from Benbow, then why didn't you arrest him the night of the video below? 
(WATCH VIDEO BELOW)
The lies of Sheriff Ingram did not cease about Benbow, they continued. Another lie the sheriff spewed out his disgruntling mouth was that "we have had nothing but very positive interactions with him even when he was involved in this criminal activity." 
Will Sheriff Ingram ever explain these pictures below? What's positive about busting the lip of someone you've "had nothing but very positive interactions with"? 
(LOOK PICTURES BELOW)
Again and again, Sheriff Ingram does nothing but lie. Because that's who he is and what he will always be. No matter how many mindless people support him, it won't stop him from always being a threat to the truth.
Brunswick County Sheriff's Office could never catch Benbow with what they THOUGHT he had, so they harassed him. 
To sum it all up, Benbow has only been charged and convicted with possession of marijuana, which is far from the picture Sheriff Ingram painted of him Monday. 
Benbow's mother, Becky Laselle, still hasn't been able to see her son.
If it makes it easier for authorities in Brunswick County, then show Benbow's mother the dash-cam footage and body-cam footage privately. If what y'all are saying is what happened, then show her the tapes!