Do you have a story the public should know about? If so, send it to gjackson@thencbeat.com
Follow me on Social Media: Facebook, Twitter, Instagram
---
A Jacksonville, North Carolina restaurant owner is facing criticism on social media for a crime that has nothing to do with her other than the defendant being her husband.
Liliana Rios, the owner of Liliana's Colombian Restaurant & Bakery in Jacksonville said that on Sunday, July 19, she was made aware of a social media post attacking her business because of a crime her husband committed.
If you don't remember, back in 2007, Gustavo Ernesto Rios, who was 39 at the time was arrested and charged with six counts of first-degree sex offense with a child under 13. He was a pediatrician at the time of his arrest.
On June 6, 2007, Gustavo pleaded guilty to six counts of indecent liberties with a child and was sentenced to 7 years in prison. He was released on March 7, 2014.
Gustavo is currently registered as a child sex offender and according to him, he's on probation for the rest of his life because of his choices.
Sunday, Gustavo told The North Carolina Beat that he took and still take full responsibility for his actions and that what he did has nothing to do with his wife's business.
When I came home from prison, this is what she had. A restaurant. And she gave me a job. I know what I did and i know what i have to live with, he said.
Gustavo said that his wife had to move on with her life when he went away and that's what she did.
Liliana told The North Carolina Beat that she had been in Jacksonville since 2006 and that everybody knows about her husband and what he did. She says there's nothing she can do to change what happened.
This has been out there for years and I cannot change it, she said. But I do have to survive, and still, pay bills.
The post was made by Natasha Bush who warned people in the area to be aware of the businesses they choose to patronize. (SEE POST BELOW)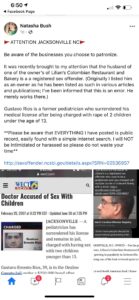 The post read that Lilianna's husband, Gustavo was the owner and that people needed to be careful because he was a registered child sex offender. But Gustavo is not the owner of the business, according to North Carolina Secretary of State.
As of Monday, it remains unknown as to why the attacks on the business all of a sudden started. However, rumor has it that "customers" don't feel safe with Gustavo being around their children. But Gustavo said that he is not allowed to be around children unattended.
Lilliana told The North Carolina Beat that in 2007 when Gustavo went to prison, it was just her and her three small children. She said that she struggled to take care of her kids. Her mom moved to Jacksonville from New Jersey to help her, and while Gustavo was incarcerated, they opened a restaurant.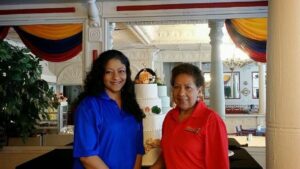 I came home to try to better myself and get a job. It was so hard because of what I did. It has been so hard Mr. Jackson but my wife gave me one and I love what I do, Gustavo said.
Liliana said that she wishes people will still come and enjoy the food she and her mother cooks but it's up to them and she simply cannot change what happened with her husband.
I didn't tell him to do that. That was his choice that I did not know about. My kids and I was really hurt. I didn't know what to do but I made a vow to God that for better or worse that I would stay by my husband's side, Liliana said.
Gustavo said that working at Liliana's Colombian Restaurant & Bakery is the only job he's had since he was released from prison in 2014.
This is the only job I have and if it closes, I lose it, Gustavo said.
With tears in her eyes, Liliana said that she is going to move on with her life and hope that people who enjoy their food would not let her husband's decision change their taste buds.
I have to move on because I can't dwell here, she said. I have three children that depend on me and I need my husband because nobody is gonna work for me as hard as he works for me, nobody.
Liliana said that her husband is in compliance with the law and is doing everything he supposed to do and he has not done anything he isn't supposed to do.
She tells us that she is not divorcing her husband because of her vow to God and that she does not plan on terminating him. She simply wants to move on with her life.
If the business closes, then there's nothing I can do. It just lets me know that God has something greater for me. But I am not leaving my husband. He still has to live, eat, survive and so do our children, Liliana said.
I am so glad that I had the opportunity to sit down with both Liliana and Gustavo Rios and talk to them Sunday evening. You know, people have every right to not like Gustavo because of his deplorable actions but is it right to attack and try to destroy his wife's business because of HIS choices..the business that she started on her own to help take care of her children because her husband couldn't because he was in prison due to his actions? No, it's not right in my opinion. Some of you may say otherwise, but let's be real…what do you want the man to do? Kill himself? Nah, I'm not for that. Yes, he did some disgusting things and he has done his jail time for that and he has to be monitored for the rest of his life…but he can't be mad at anyone but himself.
Let's face it, what do you really want from this family? Does the food change because of what he did? I hope not. If you attack him, fine but leave this woman business out of it! She has every right to employ her fucking husband…that's her MAN!