The Fayetteville, North Carolina police department is at it again with racist officers illegally stopping and attacking black people.
Fayetteville, NC, racist kkkops can be seen on video violently and illegally arresting 22-year-old Ja-Lana Dunlap on September 6, 2022.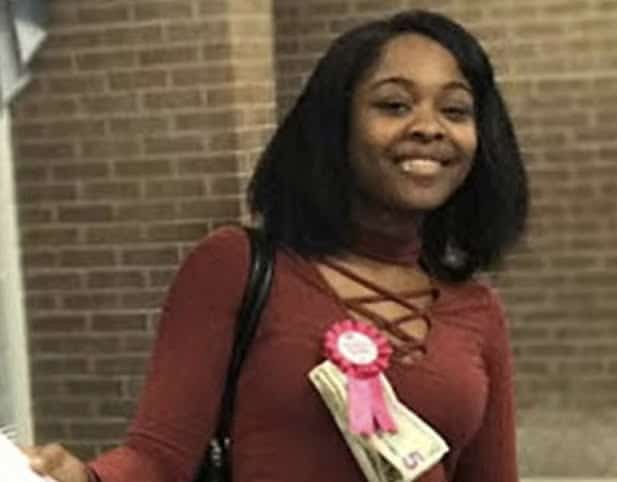 Dunlap said her employer hired her to take photos of debris on a property. Moments after she finished taking the pictures, she got inside her vehicle, put her seatbelt on, and put her keys in the ignition. Before she could crank her car, Fayetteville police rolled up.
According to Dunlap, officers questioned her about being in the area. Dunlap said she explained to the officers that she was taking photos for her employer. After Dunlap explained her reasoning for being on the property, she said the officers asked her for identification. She provided them with her name but not her ID.
 "I gave them my name but did not give them my ID," Dunlap said.
Dunlap said the female officer in the video yanked her out of the car by her wrist, tried to wrestle her for her phone because she was filming the illegal arrest, threw her against the trunk of her car, and put her in handcuffs.
While Dunlap was in handcuffs, she said the female officer went inside her fanny pack, took her ID, and threw it back in her car. 
According to Dunlap, when officers approached her, they told her that they were with the fugitive task force and were looking for someone, but they never told her why they were stopping or detaining her.
"Of course, being a black woman just sitting in my car, I was suspicious to them," Dunlap said.
Dunlap said she was so scared that she started to hyperventilate and puke. 
"As I'm kneeling down to throw up, they are still trying to yank me up," Dunlap said. "I had to ask them to stop and let me finish throwing up."
After Dunlap finished throwing up, a sergeant with the Fayetteville Police department arrived on the scene and asked Dunlap if she needed medical attention, to which she declined.
Dunlap said the sergeant removed the handcuffs and later took photos of the scratches and bruises on her wrist left by the female officer trying to yank her out of her car.
Dunlap said she is no longer with her job because she was becoming overwhelmed with what happened to her, hasn't been able to sleep and eat properly, and believes she's lost 6 pounds.
Dunlap said the interaction with the police had her in fear for her life.
"I am a small black woman who is around officer that are twice my size and weight and I know what they can do," Dunlap said. "I also have sickle cell and asthma and I don't want to be another George Floyd, for instance not being able to breathe on the ground." 
WATCH THE VIDEO BELOW:
Fayetteville Police department did not charge Dunlap with a crime or issue her a citation.
Dunlap said she filed a complaint about the incident with the Fayetteville Police department, and it has been over a month, and no one has reached out to her.
Tuesday, Fayetteville Police Chief Gina Hawkins, a black woman, released a statement about the incident trying to justify her officers and blaming Dunlap for being in an area "approximately a half mile from a scene where a potentially violent suspect fled from police."
READ THE STATEMENT BELOW:
"I understand why the cell phone video of a Fayetteville Police Department encounter with Ms. Ja'Lana Dunlap causes concern and the desire of the public to know more. That's why I am making a request to the Superior Court Judge for the release of body-worn camera footage for this incident.
We will ensure that the investigation already in process is expedited by the Internal Affairs Unit. The Department takes all complaints seriously and carefully investigates them consistently with our policy and process. We are asking for our community's patience as we complete a thorough review of the situation ensuring accurate and complete information.
We know and can share that the responding officers encountered Ms. Dunlap in a vacant lot in a neighborhood approximately a half mile from a scene where a potentially violent suspect fled from police. After it was clear she was not involved, she was released and not charged."
Atlanta-based attorney Harry Daniels represents Dunlap, who says they plan on filing a federal lawsuit in this case.
If you have a story and believe the public should know about it, send it to [email protected].
Follow Gerald on Instagram @Itsgjtheceo and Facebook @TheOfficialGeraldJackson