A black North Carolina lawyer is being dragged for filth on social media after inserting her unfounded legal argument related to the Breonna Taylor verdict Wednesday afternoon.
Attorney Monique Sexton Williams of Redemption Law Firm, LLC took to social media Wednesday in my opinion to basically congratulate the officers who murdered Breonna.
In an unfounded statement, Williams says she has been relatively quiet about the Breonna Case and I honestly think she should have remained relatively quiet.
During her minuscule statement, Williams says it's uncertain who bullet killed Taylor.
Whose bullet actually killed Breonna Taylor? It was dark in the house and bullets were flying, Williams said. Did the police bullets kill her or the boyfriends?
We know who bullet killed Breonna, the KKKOPS did but Williams suggests by her statement that if she had to represent the KKOPS, she could help them walk.
Williams even says that Breonna Taylor's case isn't a case where the system failed, but a case where she was caught in the crossfire of her boyfriend Kenneth shooting at police.
But the attorney makes it seems as though Kenneth didn't have a right to shoot intruders at the time who was later identified as police breaking into his home. The controversial attorney also said in her statement that the outrage for Breonna Taylor should be for other cases where police brutality is real.
Take the time to grieve, but the facts really speak for themselves. This is unfortunate, but when we look at this case based upon facts… We realize that our outrage should be reserved for other cases where police brutality was really at issue, Williams said.
READ WILLIAMS FULL STATMENT BELOW: 
Chile, social media was not here for the attorney's irresponsible, and "fake ass wanna be I'm so sorry but this was justified status."
READ SOME OF THE SHADY COMMENTS WE REACTED TO DIRECTED AT WILLIAMS: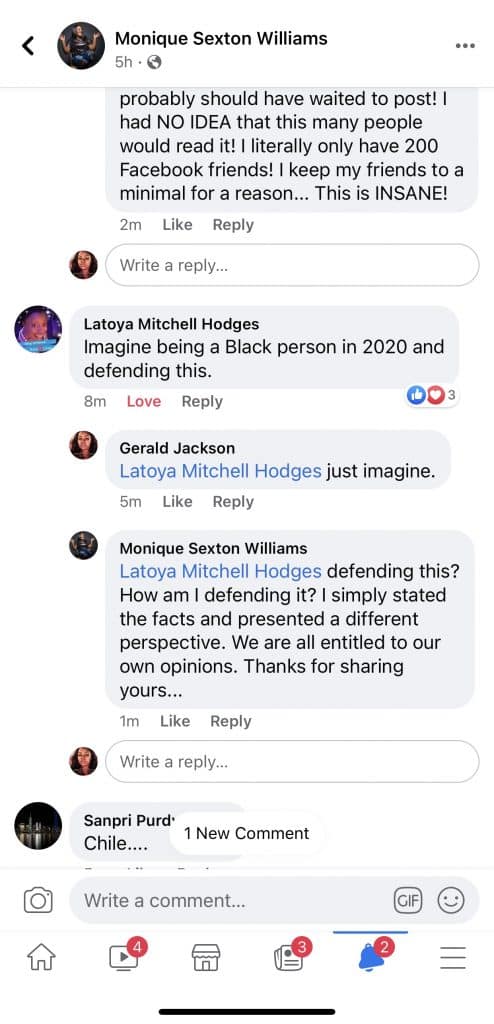 After receiving more backlash than she can handle, attorney Williams makes her Facebook page that was once public, private.
What do you think? Do you agree with the lawyer? Maybe Williams should focus more on the "FACTS" in her cases and stop trying to decide the "FACTS" in Breonna Case that has never been on her desk or nor ever physically placed in her hands.