Six teenage baseball players in South Dakota pleaded guilty last week to charges of raping two 16-year-old boys this summer while their team was in Rapid City for a tournament.
A Pennington County grand jury in August charged 19-year-old Landon Waddell, 18-year-old Lincoln Bates, 18-year-old Hudson Haley, 18-year-old Carter Miller, 17-year-old Peyton Mandel, and 17-year-old Karter Sibson with second-degree rape and aiding and abetting second-degree rape against one of the victims. According to court documents, Haley is facing an additional charge of rape against the second victim, while Waddel has been charged with aiding and abetting rape against the second victim.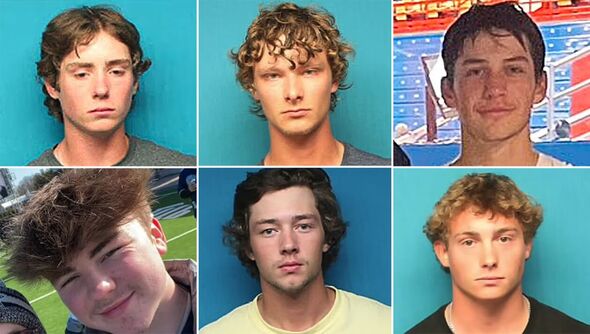 Per state law, 17-year-old Gibson and Mandel will be tried as adults.
DID YOU MISS: [VIDEO]: Florida coach caught on video cursing out player and calling him a 'Pu**y B**tch'
Three other juveniles were also charged, but their cases are in juvenile court, and the details of their charges have not been disclosed. During a court hearing, Judge Robert Gusinsky granted a motion for Mandel to attend school as long as he does not be in the same classes as the victim, who also attends the same school.
Judge Gusinsky said that Mandell is still allowed to play basketball and attend extracurricular events, but the victim has priority. Mandel is also ordered to stay 100 feet away from the victim during activities and 30 feet away during school.
According to court records, another judge had approved similar motions for Miller and Haley. Additionally, Judge Gulinsky granted a modification to Waddell's bond, allowing him to travel with his family over the holiday season.
All six of the suspects were members of the Mitchell Post 18 American Legion team, which has been suspended since the allegation of misconduct surfaced this summer. The State's Attorney General's office said it is still reviewing the charges against adults involved with the team who allegedly knew about the rapes and failed to report them.
In an interview with NewsNation, State's Attorney Lara Roetzel stated that the Mitchell baseball association treated the case as a "hazing ritual." Eventually, it was referred to the authorities due to potential links between local law enforcement agencies and the baseball association.
DID YOU MISS: 'BUSTED': Charlotte barbershop owner pleads guilty to $720,000 COVID-19 fraud scam
Roetzel said she didn't believe this was an isolated incident but something that has been going on in the Mitchell Legion baseball team "possibly for years."
I also think it's very important for people to understand that I do not think that this was an isolated incident within the Mitchell Legion baseball team. I do believe that this was a culture of repeated behavior that had been going on for possibly years, she said.
Haley and Waddell face up to 150 years in prison and a fine of up to $150,000 if they are convicted. The other four individuals could face up to 100 years in prison and a $100,000 fine.
The six defendants have all been released on bail and are scheduled to appear in court in February.
Follow me, Gerald, on Instagram @iiamgj and Facebook @TheOfficialGeraldJackson
If you have a story you think the public should know about, send it to [email protected] 
Follow The NC Beat on Social Media: Instagram:@TheNorthCarolinaBeat | Facebook: @TheNorthCarolinaBeat | Twitter: @TheNCBeat