Two North Carolina Senators have sent a letter to Governor Roy Cooper to question him about the specifics of his executive order.
Read what Senator Warren Daniel and Danny Britt wrote to the Governor below: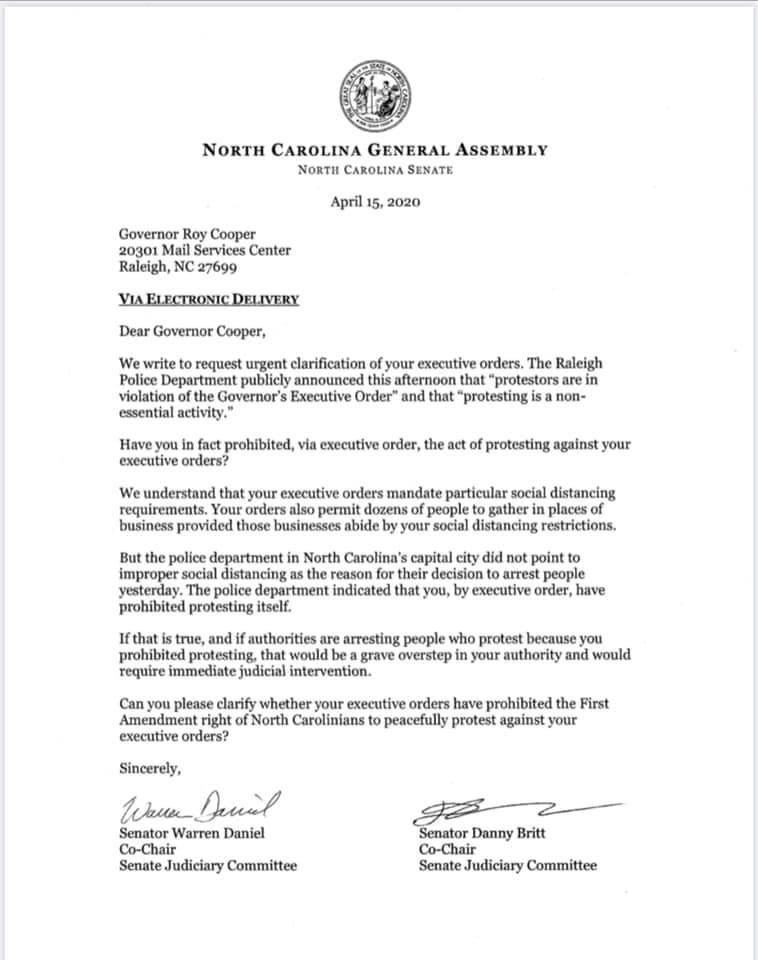 The letter comes a day after protesters of a group called #ReopenNC took the streets of Raleigh demanding that Governor Cooper open the state.
More than 100 protesters gathered in downtown Raleigh in protest of the executive order calling it an unconstitutional overreach that will kill small businesses in the state.
Cooper said at a Monday afternoon news conference that anyone wanting the restrictions to end abruptly is inviting danger.
Some people want to completely obliterate these restrictions," Cooper said. "It would be a catastrophe. The numbers are very clear that the interventions that we've entered into — social gatherings, limitations on bars and restaurants, the stay at home order — those kinds of things are working.
Police became fed up with the protesters later on in and ordered them to disperse.
You are in violation of the executive order," said a police captain. "You are posing a risk to public health. If you do not disperse, you will be taken and processed at Wake County jail.
The protestors are in violation of the Governor's Executive Order and have been asked to leave. #ReopenNC pic.twitter.com/AIEetS42NE

— Raleigh Police (@raleighpolice) April 14, 2020
Although the State Capitol Police made the arrest, the Raleigh Police Department garnered much of the attention Tuesday for its defense of the arrest on social media. The Raleigh Police Department tweeted "Protesting is a non-essential activity" about 1:20 p.m. to explain why protesters were asked to leave.
In a statement Tuesday night, the Raleigh Police Department stood by its tweet as well as officers' obligation to enforce the stay-at-home order during "these unprecedented times and unusual circumstances." They said there's no exemption spelled out in state and Wake County stay-at-home orders for protesting like there is for other "essential" activities."
But more important is the health and wellness of all who live in our community, including the officers who must engage in circumstances such as these," the statement said. "We simply want everyone to be safe during this very serious public health crisis.
Hopefully, Governor Cooper will clear up this confusion amongst the people of North Carolina.