The mother of DJ "Big Abe," a former DJ at Foxy 99 in Fayetteville, North Carolina, believes that his so-called "friends" killed him. They then lied to the police, claiming that DJ "Big Abe" fell off a third-floor balcony at an apartment in San Antonio, Texas.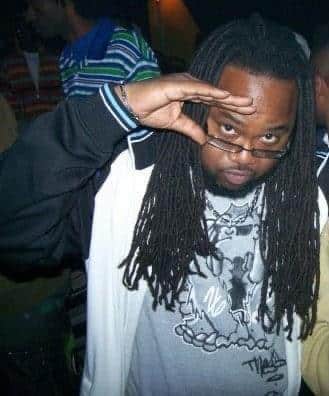 Cynthia Hunter told The North Carolina Beat that sometime between 2013-2014, her son, 44-year-old Terrance Theodore Abraham, known as DJ "Big Abe", moved to San Antonio, Texas with his then-wife and kids.
Hunter said that when Abraham moved to Texas, he was having a hard time finding radio work. However, he managed to secure a good job as a car salesman at Gillman Subaru. Hunter said her son loved the job and, like any responsible man, he would be a provider for his family regardless of the occupation. But things took a turn for the worse.
DID YOU MISS: Birmingham photographer exposed for scamming woman and others with shady photography business
Hunter said that July 21, 2023, was the last time she had spoken to her son. She said that they talked at least 3 or 4 times a week, but Hunter did not know that July 21 was the last time she would be able to speak to Abraham.
On Sunday, July 23, 2023, Hunter said Abraham had gone over to a friend's house at True North Apartments, located at 17715 Overlook Loop in San Antonio. She said Abraham's friends, who have been identified as Robert Bullard and Briana Morrison, told her that they were all drinking when Abraham started crying and talking about how he was depressed. And then claimed Abraham fell over the balcony.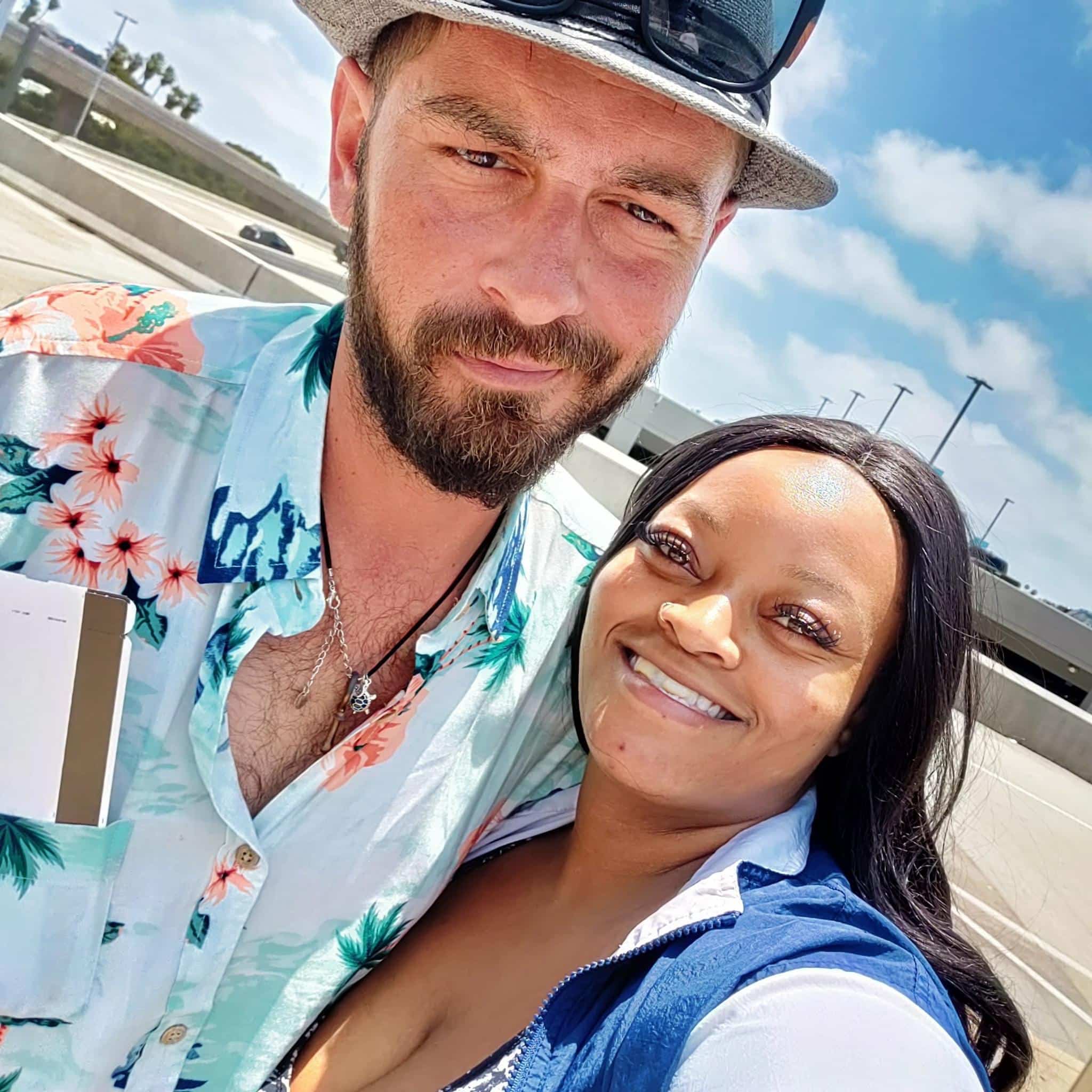 Hunter said that neither Bullard nor Morrison called 911 after her son supposedly fell off the balcony. She said that a neighbor on the first floor called 911 for her son.
Why didn't they call 911 for my son after he supposedly fell, Hunter said she asked herself. How is that my son is laying in the rain for 30 minutes and a neighbor on the first floor is the one to call the police?
Hunter told The North Carolina Beat that when paramedics arrived, Abraham was transported to Methodist Stone Oak as "John Doe." Hunter said she thought that was weird because Morrison and Bullard were supposed to have been his friends, yet they refused to provide the police and paramedics with his name.
DID YOU MISS: Fans accuse Atlanta DJ AONE of sexual harassment on Kandi Koated Live Podcast, accuses Kandi of allowing it
When Hunter arrived in San Antonio, she mentioned that she had the opportunity to speak with the neighbor on the first floor, who had called the police. She said the neighbor told her that it was thundering and lightning throughout the night into the early morning of Sunday, July 23, 2023. Hunter said that the neighbor told her she heard a loud thump, but she didn't get up immediately.
She told me when she eventually got up about thirty minutes later, she looked out her blinds and saw a man lying on the ground, Hunter said. She said she started freaking out and called 911 because no one was near her son.
Hunter said that when she arrived at Methodist Stone Oak, doctors informed her that her son did not have any bruises or broken bones in his body. She said they told her that her son didn't even have a gash on his head. What should have been bruises and broken bones on Abraham from a fall from a third-floor balcony were not present on his remains, according to Hunter and the information provided by the doctors.
I was able to get my son glasses and when I looked at them after hearing everything the doctor told me, his glasses weren't broke, Hunter said. At all.
In a police report obtained by The North Carolina Beat, San Antonio police asked Bullard if he had been near a patio. The officer told Bullard that they had received a call reporting that someone was lying on a patio. According to the police report, Bullard told the police that his friend, Abraham, was the one lying there.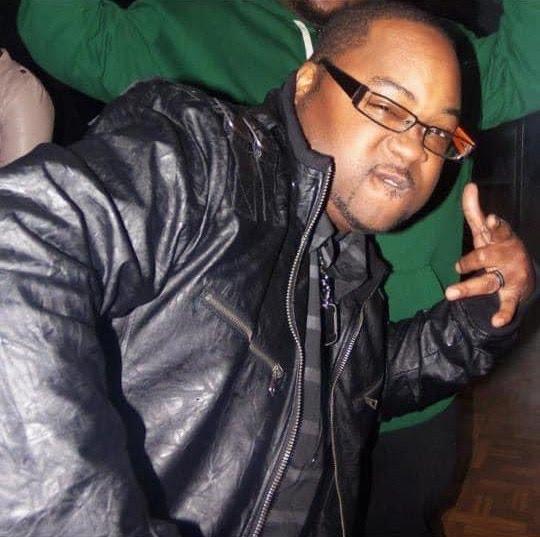 The officer in the report stated that he walked around to the back and discovered Abraham lying face down. The officer attempted to wake Abraham up but was unsuccessful. The officer said that he began performing chest compressions on Abraham until paramedics arrived.
DID YOU MISS: Coast Guard suspends the search for Kevin McGrath missing on three-day Carnival Cruise
According to the police report, Bullard informed the authorities that he had consumed alcohol that night, and Abraham had visited his apartment on the third floor of True North Apartments. He said they went to the patio area, and that's when Abraham "fell off the balcony," according to the police report.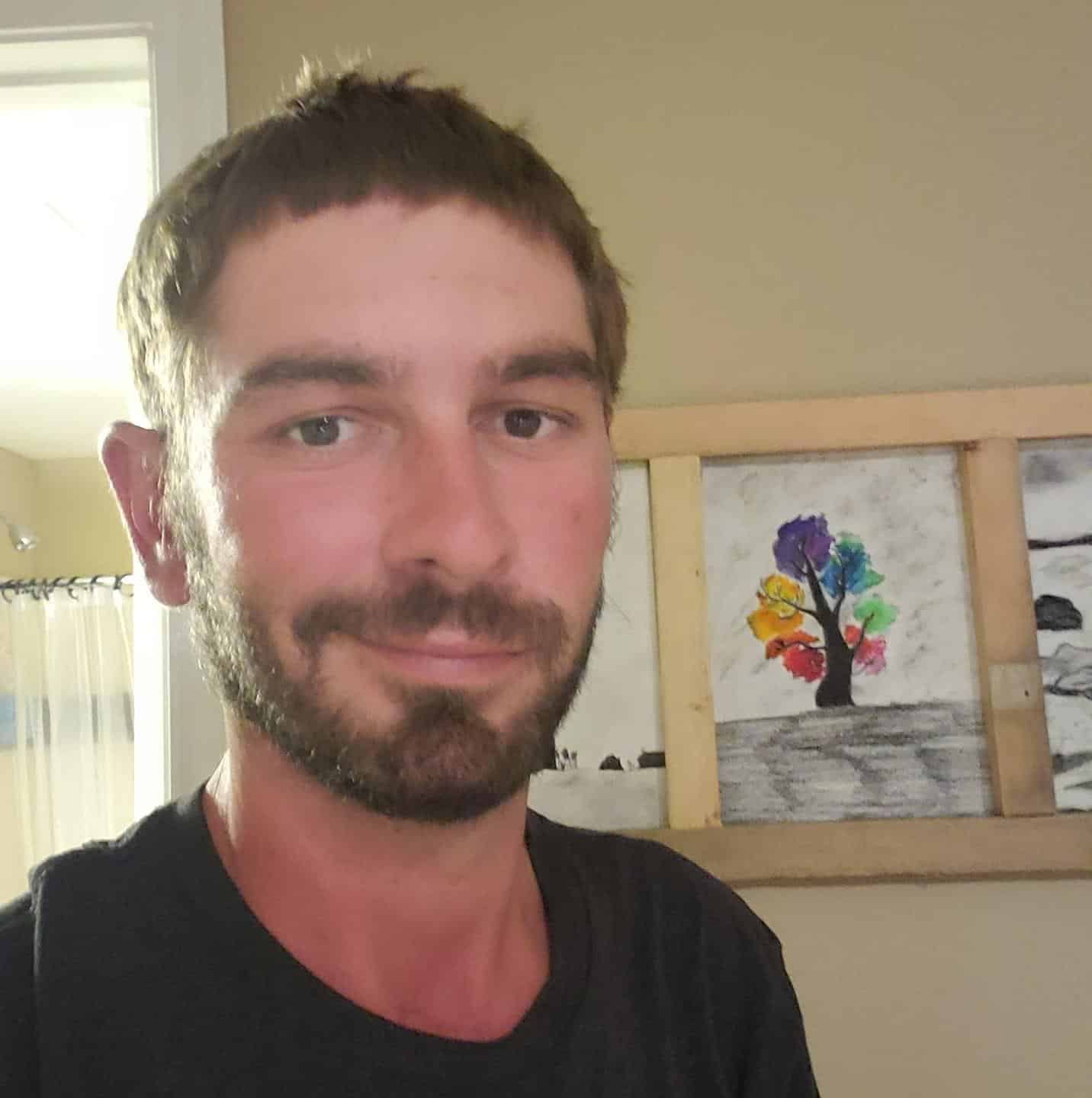 Bullard told the police that he didn't expect "that" and found it "weird" when Abraham fell off the balcony, according to the police report. The officer stated in his report that Bullard informed him that Abraham was having a difficult time in his life but did not believe he was "suicidal."
According to the police report, Abraham did not have any identification on him other than his bank card.
The officer stated in his report that his cover officer informed him that Abraham did not have any fractures and was in stable condition. Officers also noted in the police report that "no cameras were seen at the location" and that Abraham was found lying next to a Tesla. According to the police report, officers did not make contact with the owner of the Tesla car.
READ REPORT BELOW: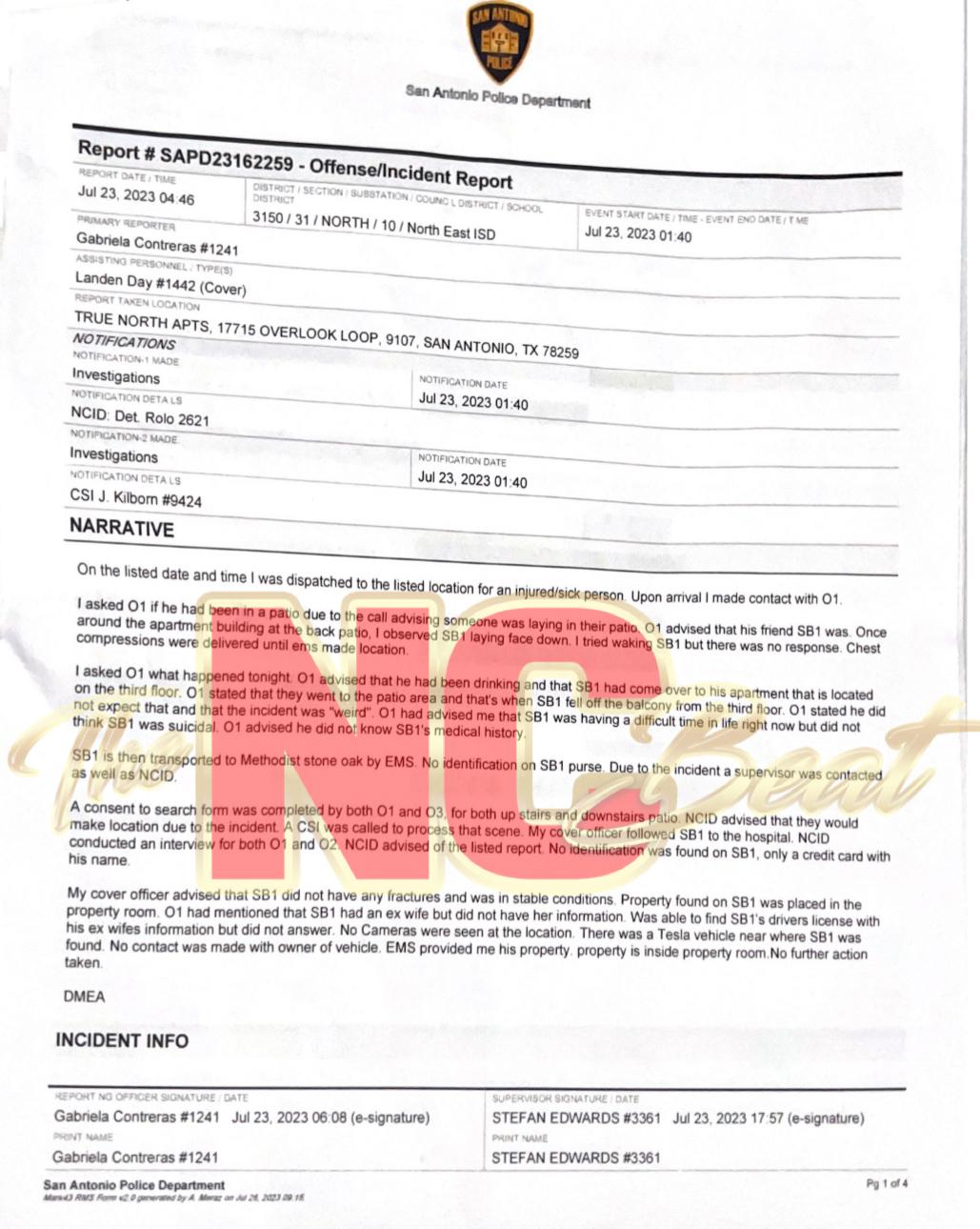 In a photo provided to The North Carolina Beat by Hunter, it appears that Abraham's car had been broken into because of a large hole that could be seen in the door.
LOOK AT PHOTO BELOW: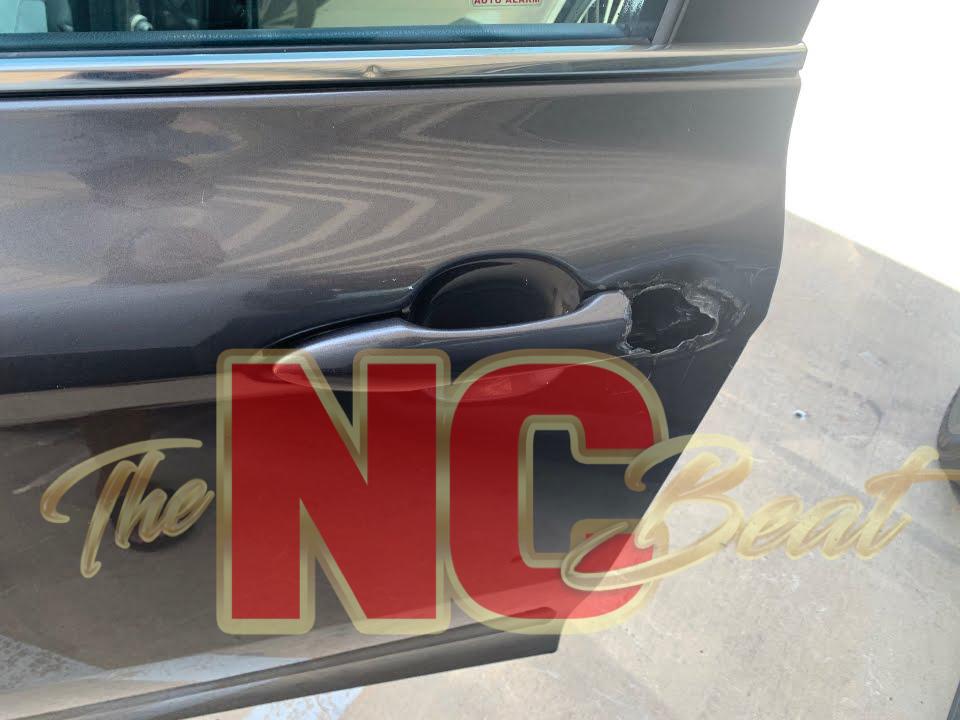 I believe they killed my son and the police have closed the case claiming my son's death was an accident and suicide, Hunter said. My son was murdered. How do a person fall from 3 stories, land on his face with his glasses on and he have no broken glasses, no busted lip, no bruises on his face, or nothing.
According to a death certificate, the medical examiner ruled that Abraham's manner of death "could not be determined."
Later on Sunday afternoon, July 23, Briana Morrison, Bullard's girlfriend who was also present at the home that night, contacted Abraham's then-wife and attempted to provide an explanation for what had occurred. This information was not included in the police report, despite officers interviewing Bullard at the scene.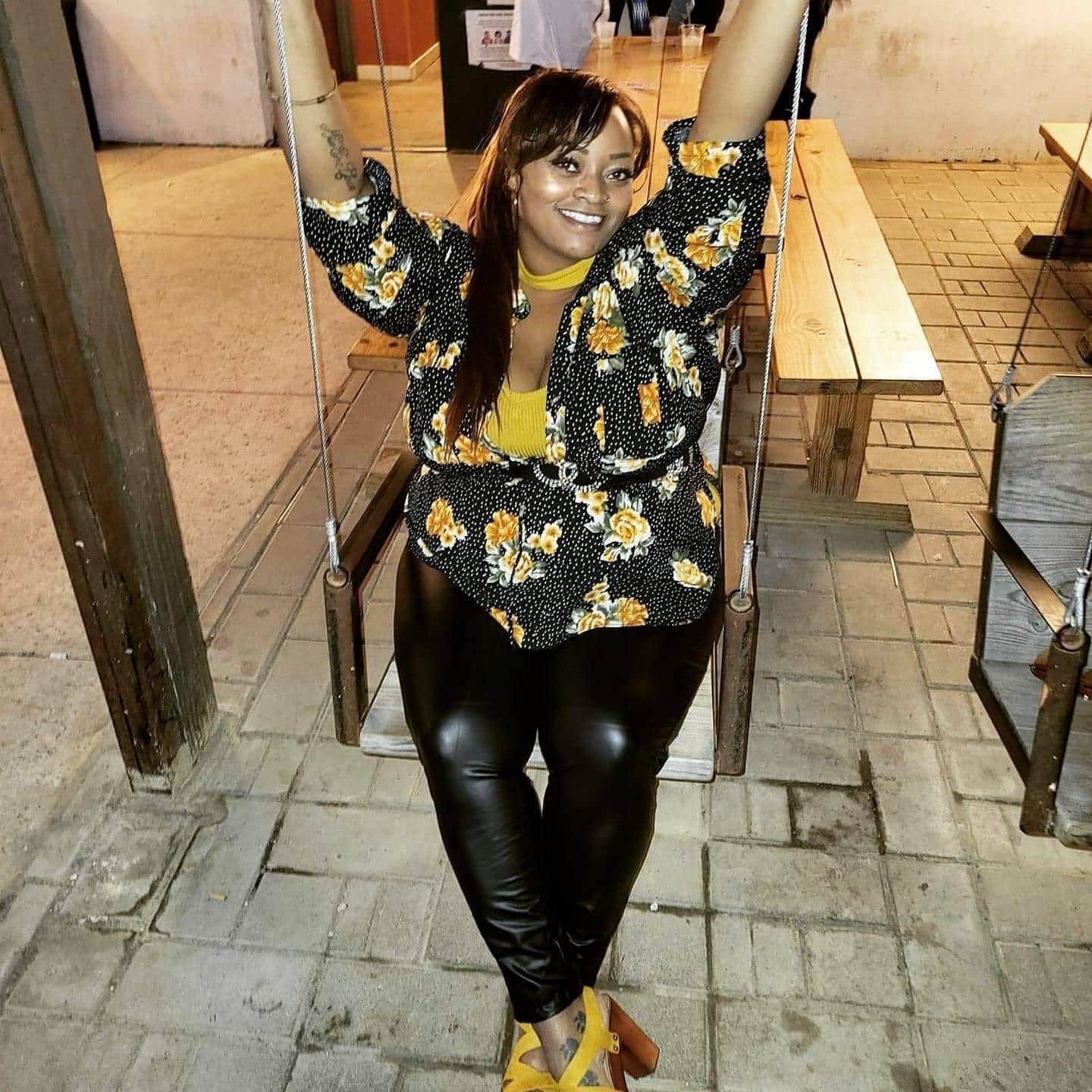 In the messages, Morrison informed Abraham's former spouse that Bullard was seated on the opposite side of the patio while Abraham all of a sudden started crying and then leaned over and pushed himself off the balcony. Morrison said in the messages that she was asleep and was awakened by Bullard, who told her what happened. She said it was pouring rain and that she could see Abraham lying face down.
Morrison said in the messages that Bullard told her he was going down to check on Abraham. However, according to the neighbor who called the police, no one was standing around or trying to help Abraham when she looked outside her window and saw him lying there.
READ MESSAGES BELOW: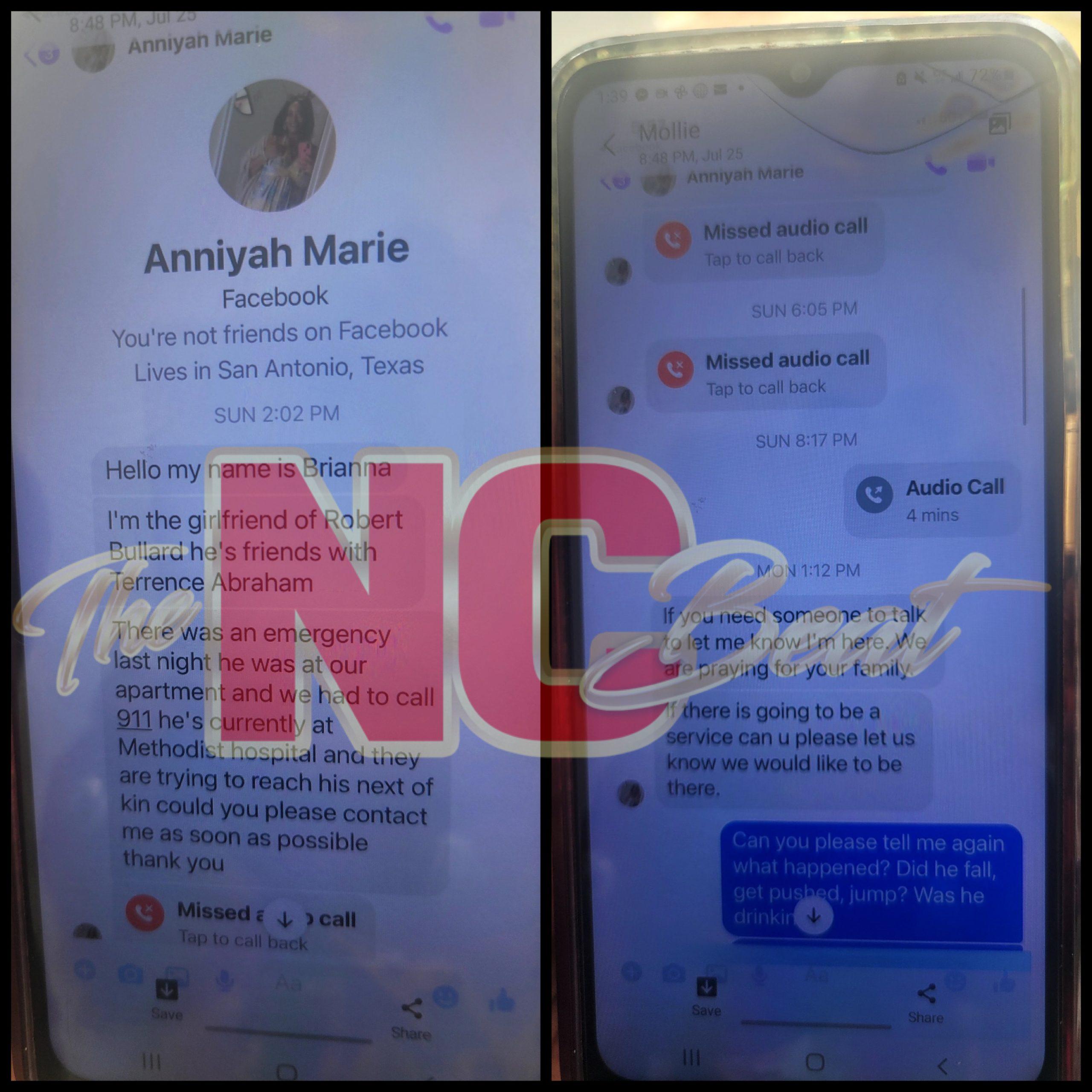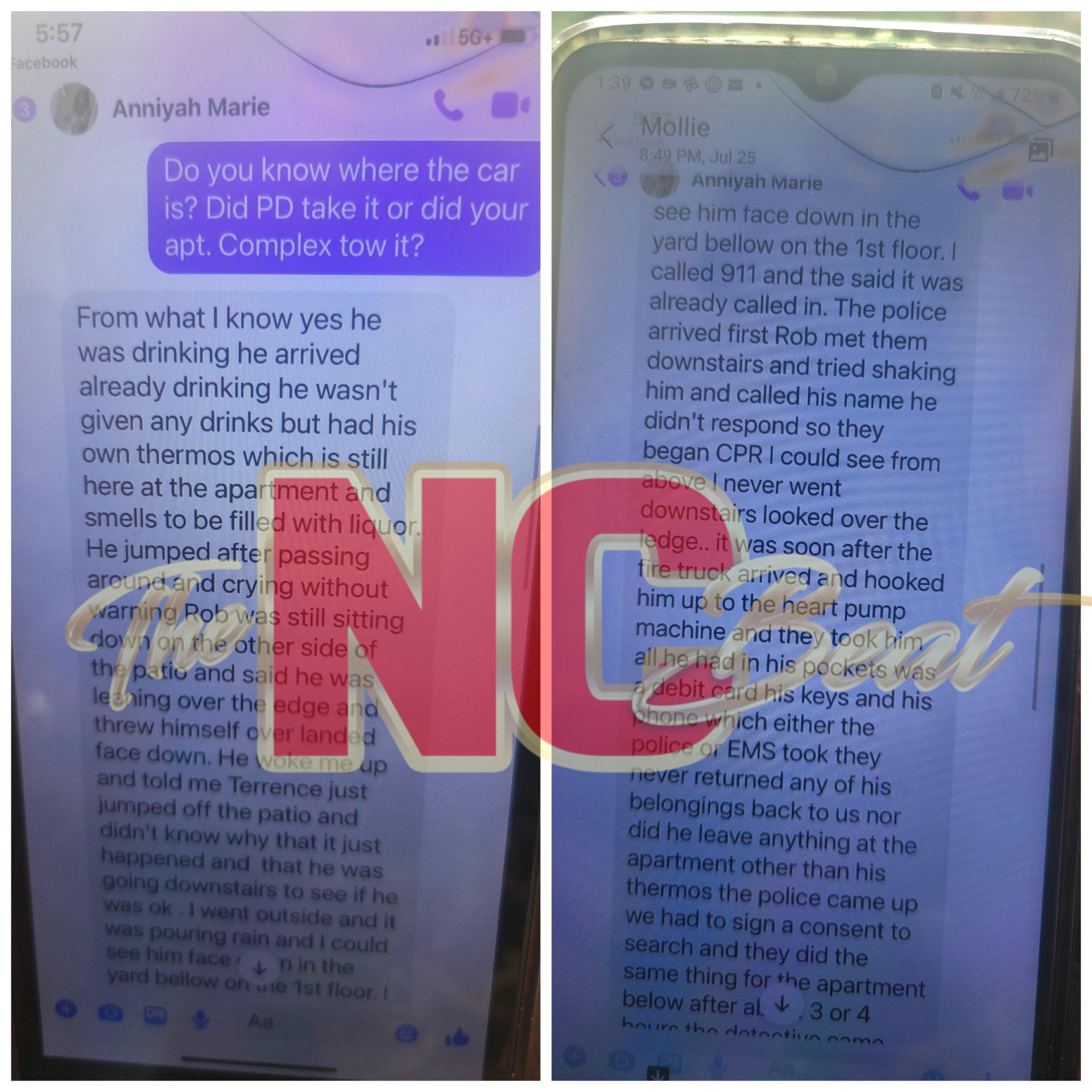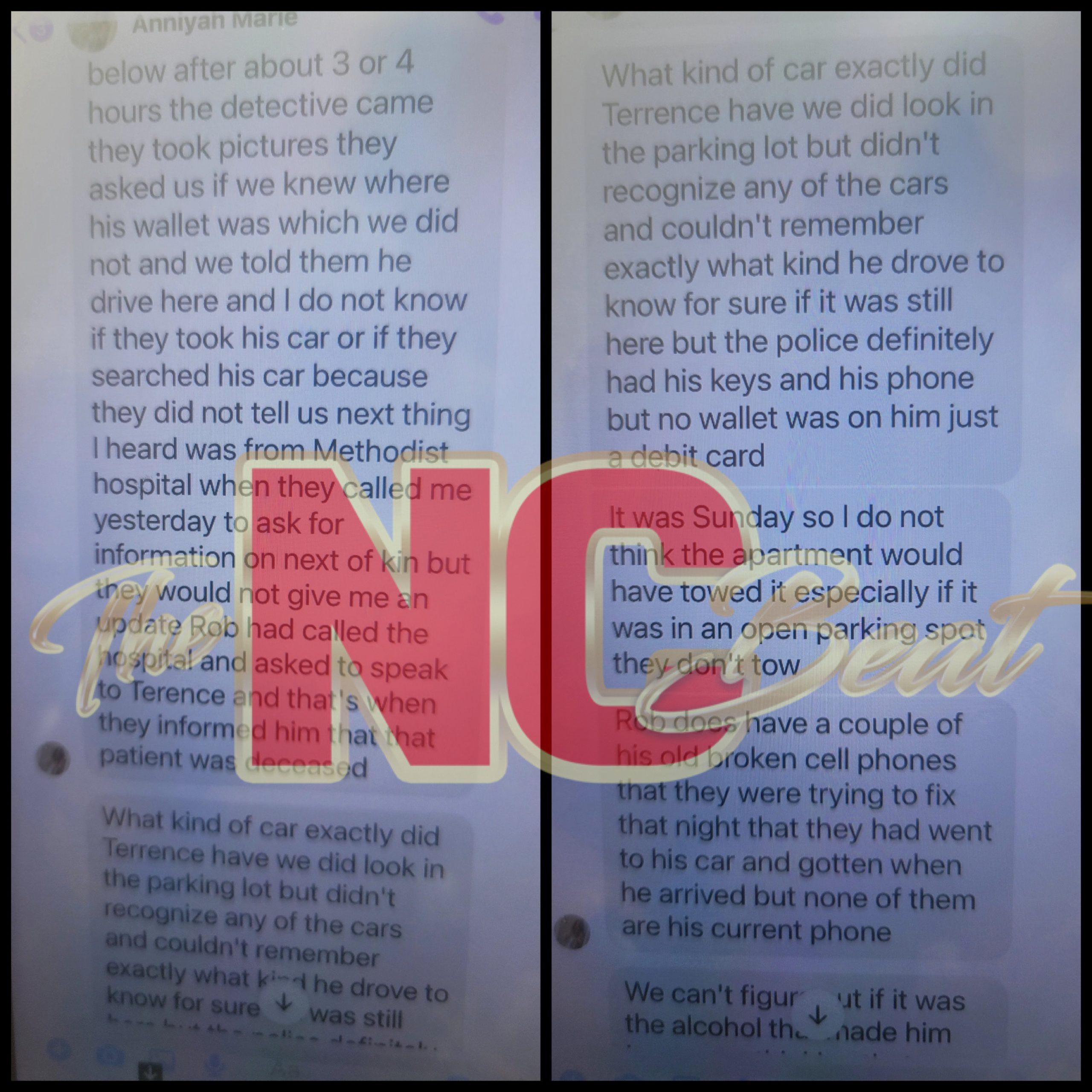 Hunter said her son was born in Paterson, New Jersey, and they moved to North Carolina in 1993. She said Abraham graduated from Ragsdale High School and went on to attend Methodist College in Fayetteville, where he pursued a master's degree in mass communication. This eventually led him to a career in radio.
Hunter said that Abraham has been in radio for more than ten years and from what she can remember, started at Foxy 99 in 2003 before relocating to San Antonio, Texas.
In 2007, Abraham, also known as DJ "Big Abe", won "The Big Stick: Foxy 99 Team Player/Best Attitude and Ultimate Weekend Warrior" award.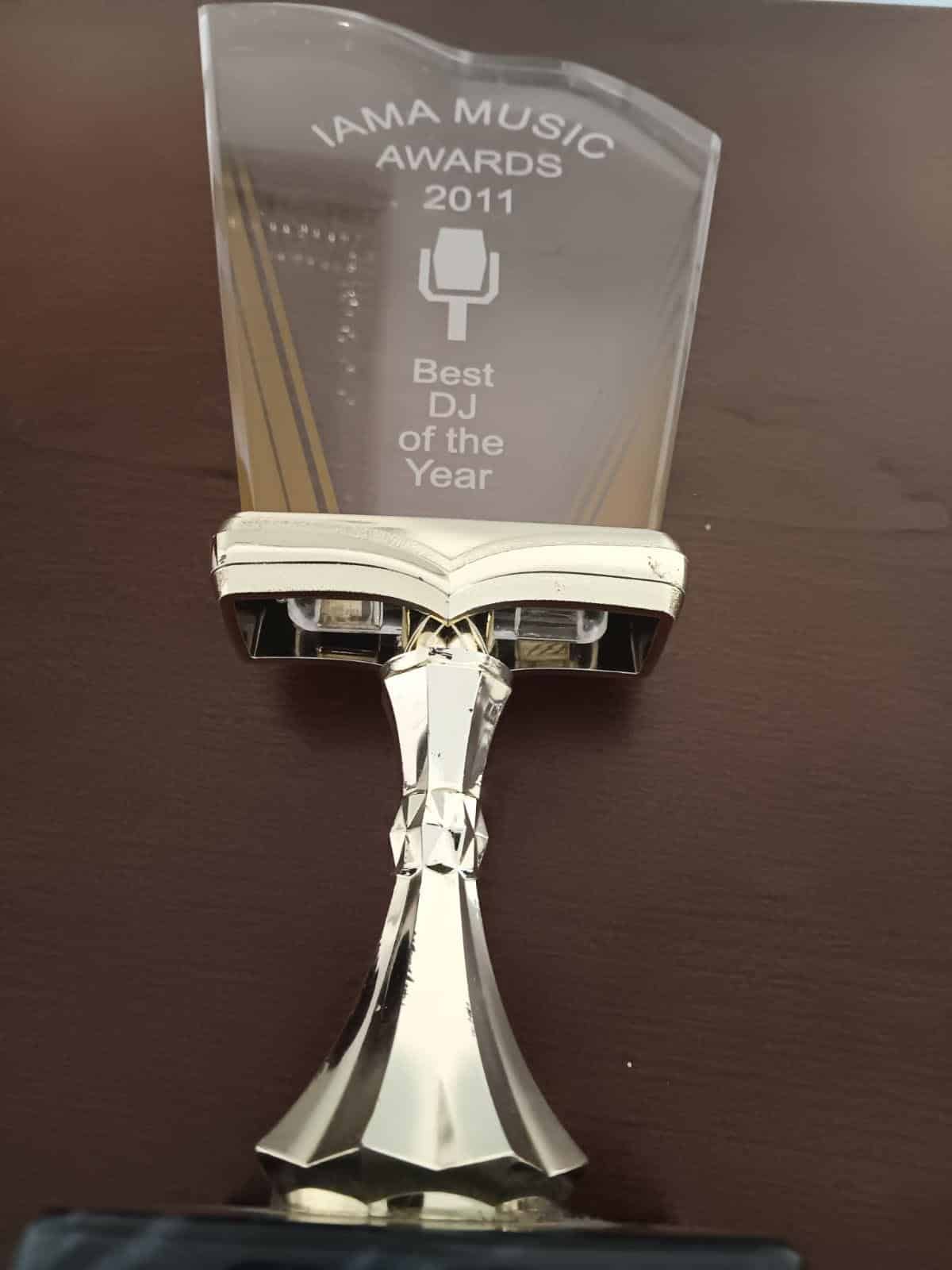 Abraham was also awarded "Best DJ Of The Year" Award from the IAMA Music Awards in 2011.
If you have a story you think the public should know about, send it to newstip@thencbeat.com 
Follow The NC Beat on Social Media: Instagram:@TheNorthCarolinaBeat | Facebook: @TheNorthCarolinaBeat | Twitter: @TheNCBeat
Follow me, Gerald, on Instagram @iiamgj and Facebook @TheOfficialGeraldJackson