A Fayetteville, North Carolina church is being accused of throwing a "Fishnets and Booty Shorts" stripper party over the weekend, and the first lady is denying it.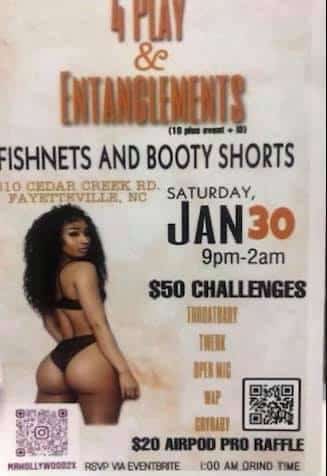 It all happened this past weekend on Saturday, Jan. 30, at Transformed By His Grace Ministries. Remember back in December when I told you all that Pastor James Earnest Gandy Jr was accused of being a root doctor? Well, it's his church, but he's in federal prison now, so he won't be able to save the day on this one. 
Word On The Curb is that the strippers were stripping behind the pulpit, and they weren't giving the Word of God; instead, they gave the people that WAP (Wet Ass Pussy), Oop.
On Monday, reading from notes and sounding like a witch, first lady Pastor Johnica Gandy said the church did not condone the event.
It was not the church, Pastor Johnica said. Anyone and everyone that has ever dealt with us, know we allow people to use the building for events.
Pastor Johnica said they believe that someone deceived them in utilizing their building as a birthday party Saturday.
We were contacted by our people in reference to a flyer within an hour of the event. When we contacted them about the flyer, they claimed it was not theirs, Pastor Johnica said.
Pastor Johnica believes that a former employee of Transformed By His Grace Ministries who had a key to the building framed and sabotaged the event, in which now she has called for the Fayetteville Police Department to investigate.
We are offering up to $10,000 on any information given to us, to our private investigator, or Fayetteville Police Department in reference to and leading to the arrest of this individual or individual(s), Pastor Johnica said.
WATCH THE VIDEO BELOW:
Did this woman say that anyone who tried to sabotage their ministry, will be held accountable? How are you upset at the fact that you allowed a stripper party at your CHURCH, and now that you have been caught, someone sabotaged your church? Chile.
If you believe the lies and fuckery coming out of her mouth in the video, you are crazy as hell.
This woman is trying to stay afloat somehow because her husband is in federal prison for fraud. But, you should not, and I repeat, should not use the house of God in exchange for a nut-busting service.
Follow me on Twitter @GeraldJBlessed, Instagram at @ItsGJTheCEO and if you have a story, please send it to newstip@thencbeat.com.