A gay Alabama photographer says he was sexually assaulted by a Montgomery Southern Soul artist, 'King South,' whose real name is Southern Lausane III.
'King South' is known for one of his hit songs, "Southern Soul Cowboy," featuring Jeter Jones, among many others, but he will probably soon have to register as a sex offender after Ron Vugotta, a gay photographer said in a May 2022 Facebook post, that in October 2019, he was "lured into hell" under the impression that he would be "doing business" with King South and gain more exposure and continue building his brand. But that was different from what down low King South had in mind for Vugotta.
Vugotta said King South left him feeling damaged, and he no longer feels like a shining star. On the night of October 16, 2019, Vugotta said King South invited him to do photography work at a studio, where King South made him get undressed at gunpoint and proceeded to assault him sexually. Vugotta said he remembered crying and trying to fight King South off of him, but King South allegedly would not stop and told him, "I know this what you wanted."
I didn't want that, Vugotta said. I was defenseless and out of body I still don't have the courage to go into full explicit details because I never got therapy for it. I just dealt with it on my own.
In his post, Vugotta said he never gave any straight man a sign that he wanted them or something from them, including King South.
Why did you ignore my tears & cries for you to stop? Vugotta said.
Later in the social media post, Vugotta said King South drugged him and tried to kill him.
I want whoever reading this to know that King South drugged me and tried to kill me after he realized that he messed up! Vugotta said. I had to run for my life from his demons before he could shoot me.
Vugotta said he wanted to avoid running paths across King South again, so he stopped doing photography. He said his dreams of "becoming the best photographer in the world, going on tours and building my own vogue" is crushed because that night, what King South allegedly did to him, changed him forever.
I used to hate this man but I don't anymore, Vugotta said. I do wish for his downfall. I wish downfall on his entire bloodline for not being real with him. I always told myself that I would have the last laugh.
One month after Ron Vugotta made that post on social media about what King South did to him, on June 15, 2022, King South was arrested by Montgomery Police Department and charged with sexual torture/abuse, sexual extortion, and unlawful imprisonment in the first degree. He was booked in the Montgomery County Detention Center under a $90,000 secured bond, which he bonded out on.
While King South is still waiting for trial in this sexual assault state's case, he is currently in the custody of the feds after they arrested him for the gun he used in the sexual assault case. The feds said on June 15, 2022, they executed a search warrant at King South's home and found multiple weapons and ammunition.
According to court documents obtained by The North Carolina Beat, in March 2022, Montgomery police received a complaint from a victim who reported that King South had held him at gunpoint and sodomized him with a champagne bottle. King South and the unnamed victim met two days before the assault to discuss a "potential business arrangement whereby Lausane would promote the victim's beverage brand." The evidence appeared to show "that the victim sent King South a series of sexually explicit text messages and photographs after the meeting," according to documents.
After King South received the sexually explicated photos from the man, prosecutors said he invited the victim to his home under the pretense of having him serve for a social gathering. Court documents said when the victim arrived at King South's home, "it became apparent that there was no such gathering, and Lausane instead allegedly held the victim at gunpoint, forced the victim to reveal the contents of his cellphone, directed the victim to undress, and then sodomized the victim using a champagne bottle." According to court documents, the victim told investigators that King South also tried to extort him by threatening to reveal certain sexually explicit photos of the victim.
READ COURT DOCUMENT BELOW:
Investigators said King South denied the allegations.
Alabama prosecutors said King South continued conversing with the victim, two months after the alleged sexual assault.
The North Carolina Beat learned over the weekend that the victim in March 2022 incident is a separate victim from Ron Vugotta.
In 2002 and 2011, King South was hit with domestic violence charges.
The FBI said they seized a Ruger, model Ruger-57, 5.7 caliber pistol, a Mossberg, model 590 Shockwave, and a 12-gauge shotgun. Federal prosecutors tell The North Carolina Beat that King South initially pleaded not guilty to the charges but later changed his plea to guilty.
Federal prosecutors said King South's sentencing for the gun charges is set for October 2, 2023, at 2 pm in Montgomery. He faces up to 10 years in prison if convicted.
A trial date has not yet been set for King South's sexual assault state case.
READ VUGOTTA'S FACEBOOK POST BELOW: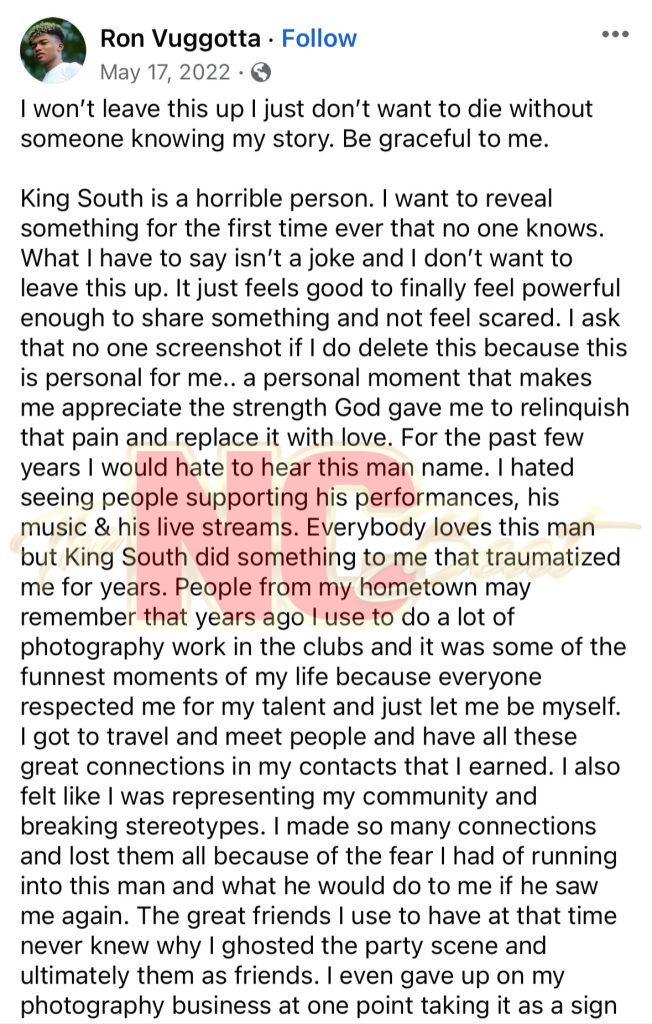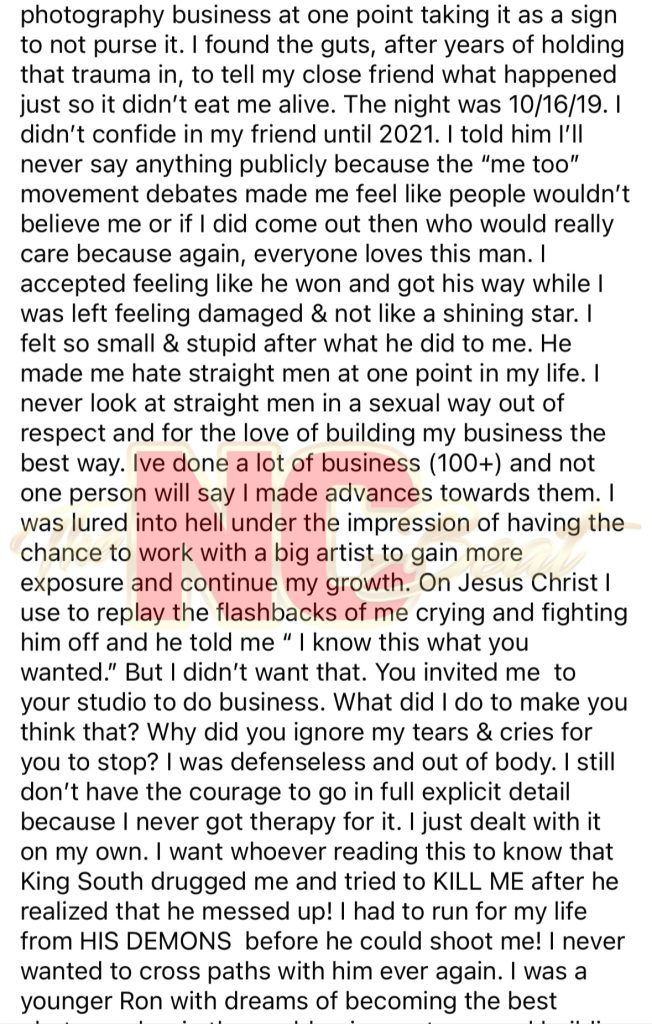 The North Carolina Beat reached out to King South's camp for comment but they stated that they are charging for statements.
If you have a story you think the public should know about, send it to newstip@thencbeat.com.
Follow me, Gerald, on Instagram @iiamgj and Facebook @TheOfficialGeraldJackson