History has just been made in America.
Joe Biden has been elected as the 46th President of The United States by the American People, and Kamala Harris is now the first-ever Black Vice President.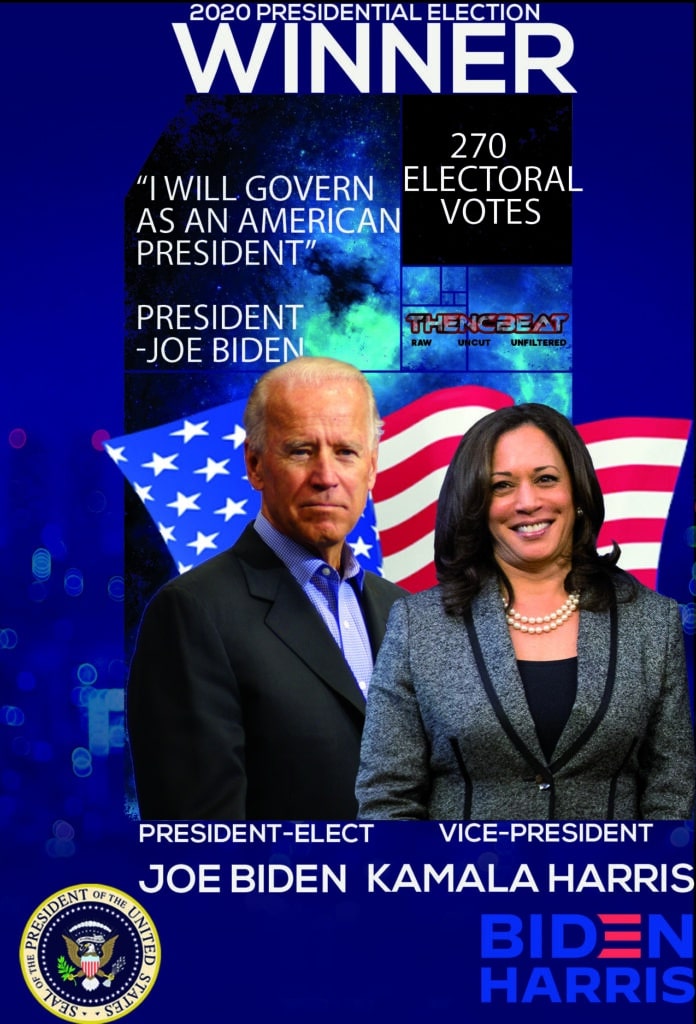 The announcement came by The Associated Press around 11:30 a.m. Saturday morning.
President Joe Biden, his campaign, and the American People waited more than three days for this announcement as ballots continued to be sorted through and counted. President Biden Presidential win comes after he won Pennsylvania Saturday morning, leading him to 284 Electoral Votes, which he only needed 270.
Donald Trump tweeted Saturday morning that he was the winner of the 2020 Presidential Race and has continued to sow discord and make baseless claims that voter fraud and election fraud has occurred in this election.
I WON THIS ELECTION, BY A LOT!

— Donald J. Trump (@realDonaldTrump) November 7, 2020
 Former President Trump has shown no evidence or proof of his claim, but the American People showed proof that they will no longer tolerate his stupidity, lies, sexism, homophobia, antisemitism, racism, cruelty, corruption, or treason.
Trump is now the first incumbent president to lose reelection since George H.W. Bush in 1992.
In a short victory message, Joe Biden took to Twitter to thank the American People for choosing him as President:
America, I'm honored that you have chosen me to lead our great country.

The work ahead of us will be hard, but I promise you this: I will be a President for all Americans — whether you voted for me or not.

I will keep the faith that you have placed in me. pic.twitter.com/moA9qhmjn8

— Joe Biden (@JoeBiden) November 7, 2020
I'm certain that Former President Trump will not let this go without a fight, but ultimately he will continue to lose from this day forward in anything he does to change the results of this LEGAL election.