According to local officials, a Jacksonville Bar & Lounge can no longer reopen its business for now after the owners violated Governor Roy Cooper's executive order.
On Sunday, October 18, 2020, at approximately 2:00 A.M., Jacksonville Police Department responded to Prive Bar & Lounge 2 located at 700 Gum Branch Road to an overcrowding report, according to JPD's Public Information Officer, Beth Purcell.
When police arrived, patrons inside the club started dispersing before management could be located.
The Jacksonville Fire Marshal's Office conducted an occupancy violation investigation. The investigation determined that the owners, Miguel Barrow and Myron T. Midgette, had violated the Governor's executive order, restricting large gathering due to COVID-19 transmissions.
Officials say Barrow and Midgett was understanding of the overcrowding concerns and said they would take steps to ensure the business complies in the future, according to a press release.
The business opted to close before local officials had the opportunity to advise them to cease operations, according to a press release.
When asked if the bar/lounge could reopen or not, Purcell released the below statement:
Because they are a Bar/Lounge and were found in violation of the NC Executive Order, Prive 2 was required to close, Purcell said.
According to a Facebook post by Midgette, he would be able to reopen on November 13, 2020, but Midgette told The North Carolina Beat Thursday evening that the business would remain closed.
READ POST BELOW: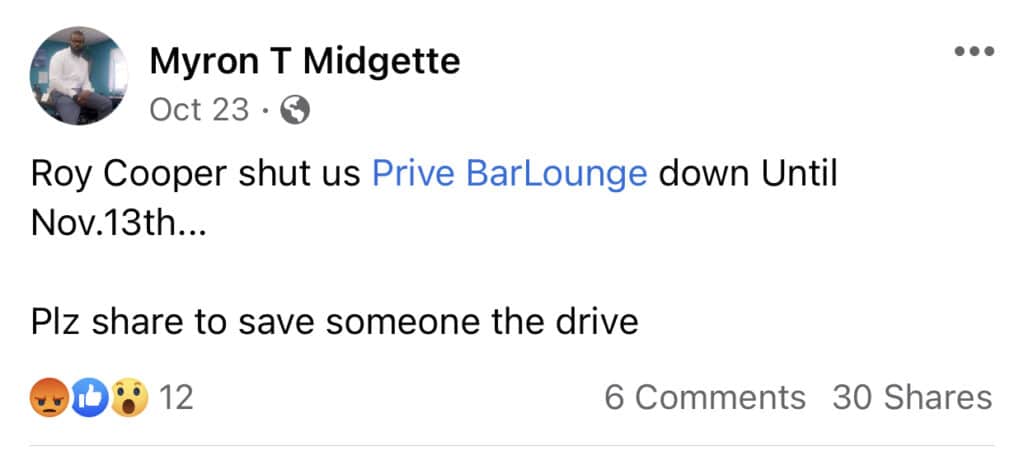 Barrow and Midgett met with fire officials Friday, and they say that they can reopen, but they will remain closed for now.
The North Carolina Beat was unable to confirm Barrow and Midgett's statements due to the Fire Marshall's office closing at 5 p.m. when we reached out for comment.
The bar/lounge has been closed for 4 weeks as of Friday.
The two owners told The North Carolina Beat that they made a mistake allowing too many people inside the business.
We take full responsibility for our actions. We wanted to give the people of Jacksonville a place to come and have fun and we made a mistake, Barrow & Midgette said.
It's unfortunate that you can go inside any store, mall, and restaurant just to see hundreds of people inside at one time but when it comes to small business owners, there's a capacity problem. It's not right and it's certainly not fair to them.