Word On The Curb…Nazeer 'Lying-Ass' Wiggins, a member of the Cabo 6, has been charged with a hit-and-run in Charlotte, North Carolina.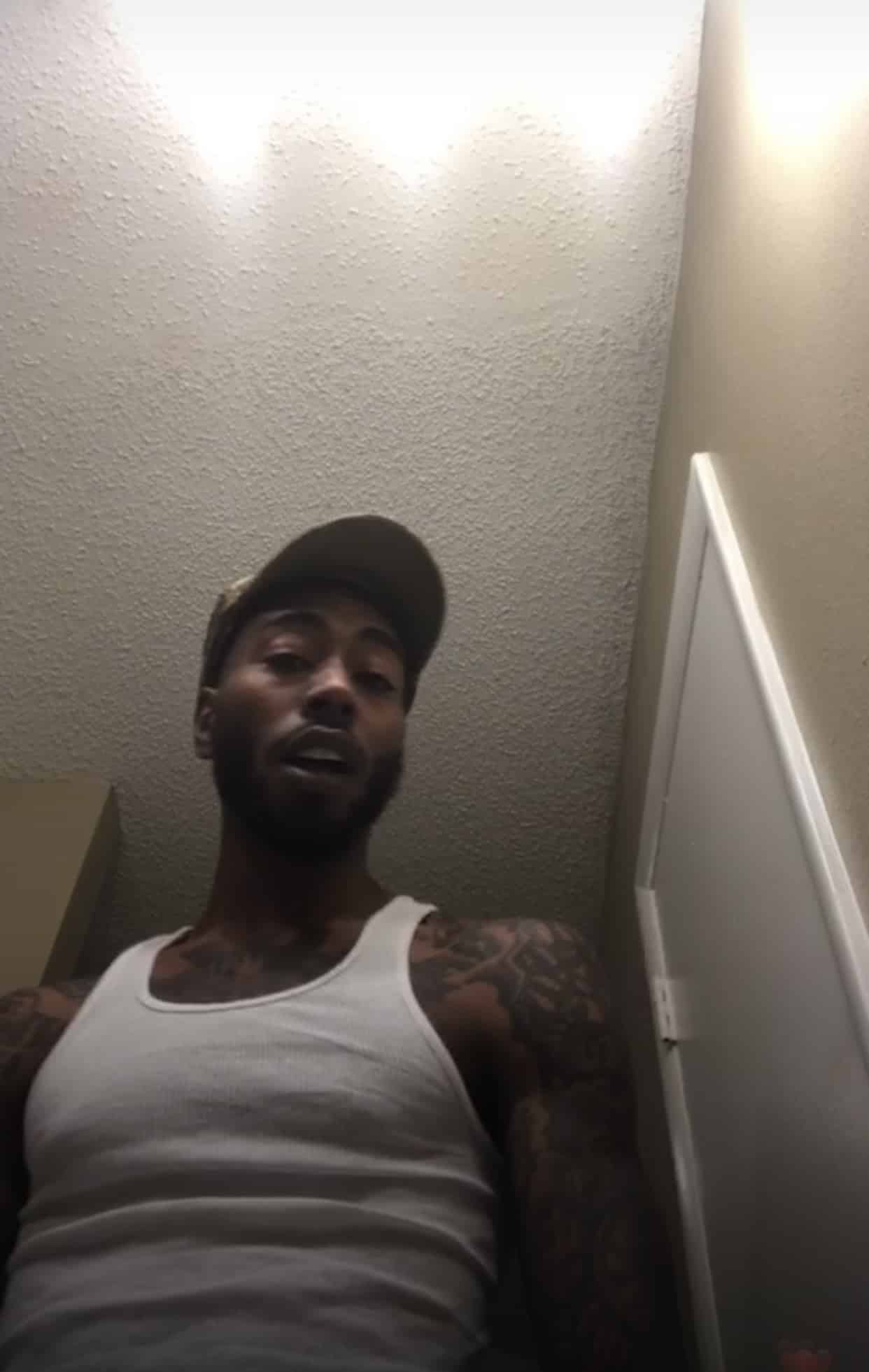 Seems like he saw the boogeyman when he got spooked and hit another person's car, then took off as if he were fleeing from a murder scene, which he did. Still running around North Carolina in hiding, trying to advocate and manipulate people into believing that he was not in the Cabo villa at the time when 25-year-old Shanquella Robinson was brutally beaten and killed in Cabo, Mexico.
We haven't forgotten, and Shanquella Robinson hasn't forgotten either. Now, the Cabo 6 member is starting to find himself in legal trouble, slowly but surely.
DID YOU MISS: Nazeer Wiggins from Cabo 6 punched in face and got hat took at Charlotte NC lounge
According to court documents obtained by The North Carolina Beat, on October 19, Wiggins of Londonderry Road was charged with a misdemeanor hit and run for failing to stop, which resulted in property damage. Court records stated that Wiggins also failed to provide his information.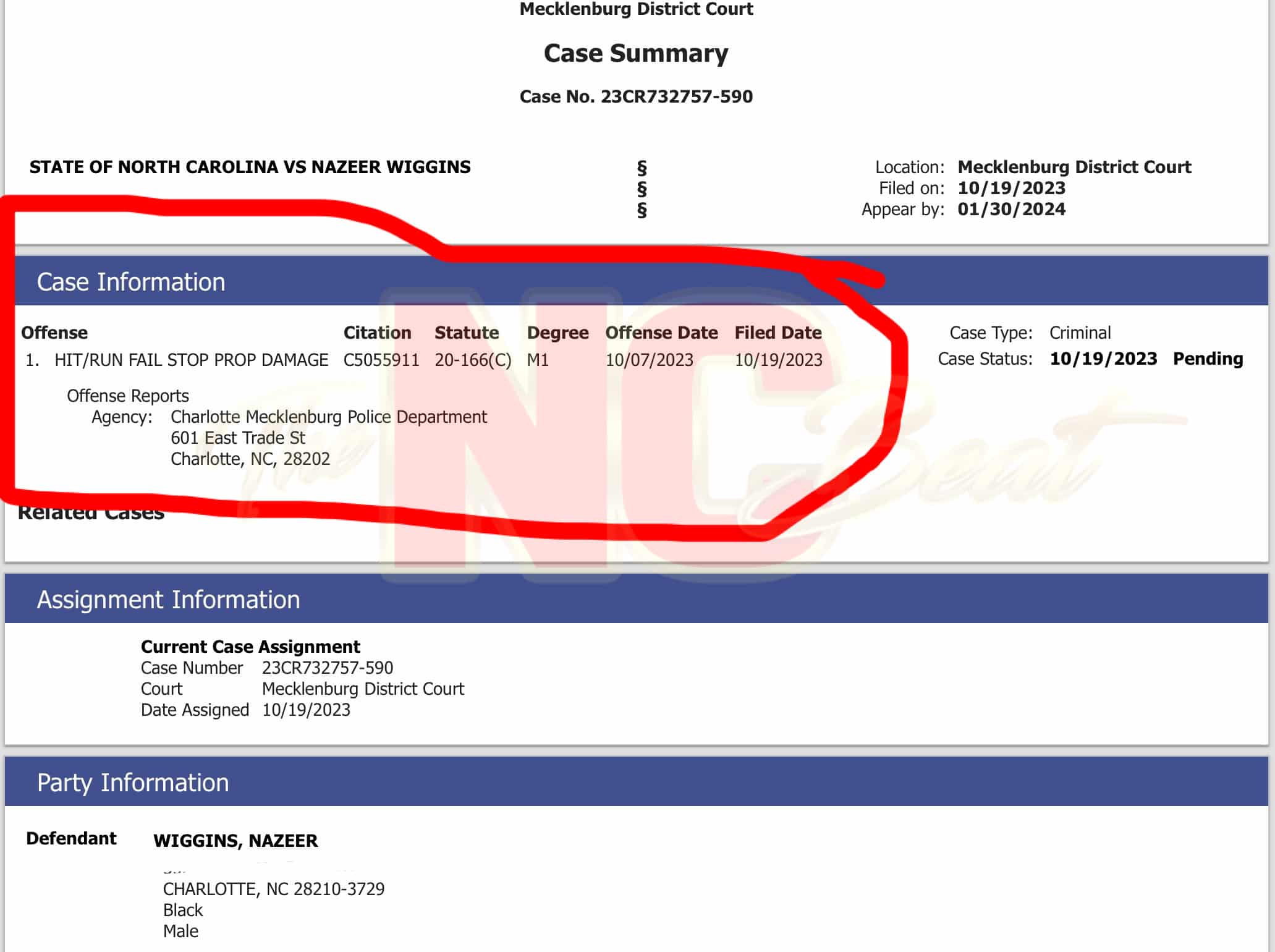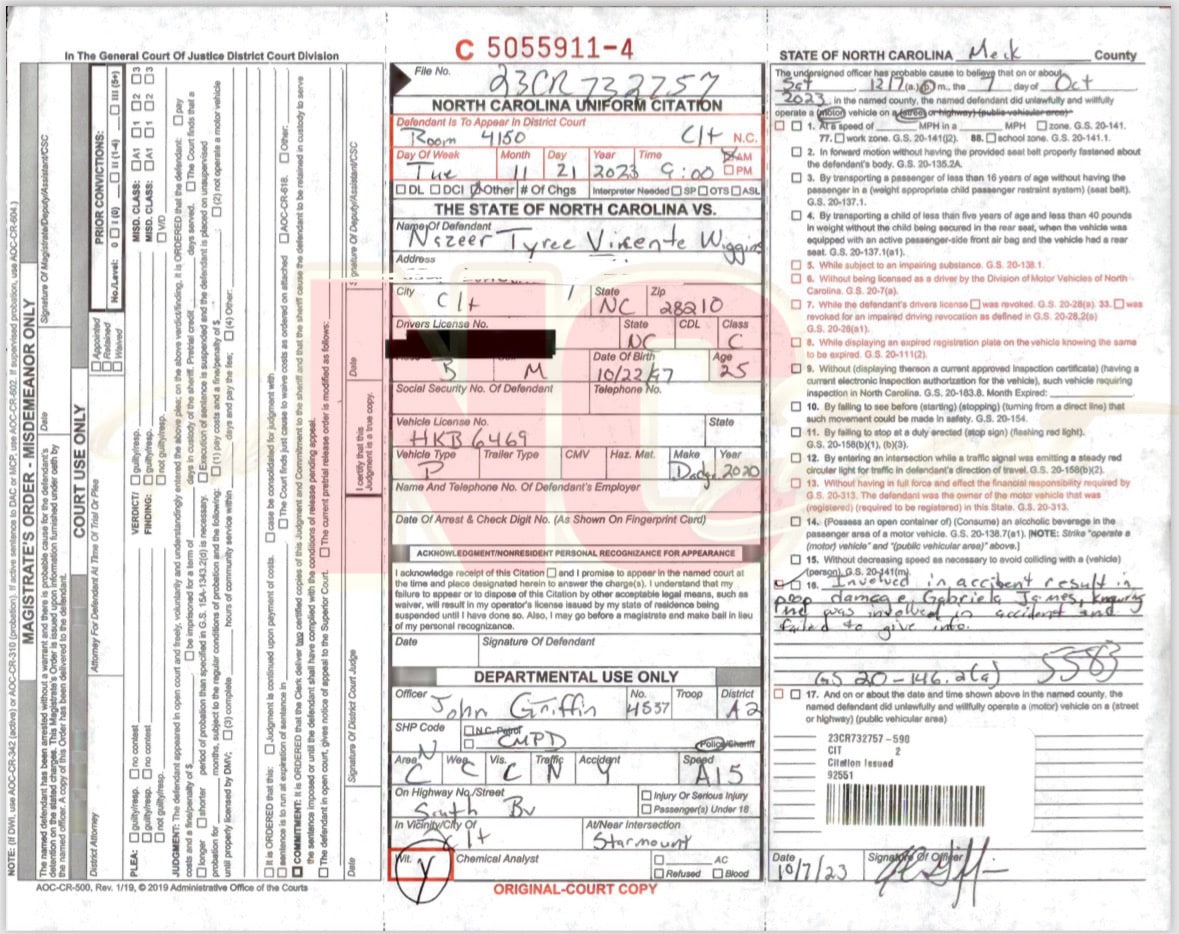 Wiggins is no stranger to deception and carrying an unloaded pistol, always needing to conceal his identity and never able to reveal his face because the WORLD has not forgot about what he and his jealous ass friends did to world's best friend, Shanquella Robinson. 
DID YOU MISS: Woman says she was raped by Nazeer Wiggins in High School
Other court records obtained by The North Carolina Beat show that earlier this month, on November 2nd, Wiggins received a speeding citation for going 53 MPH in a 35 MPH zone.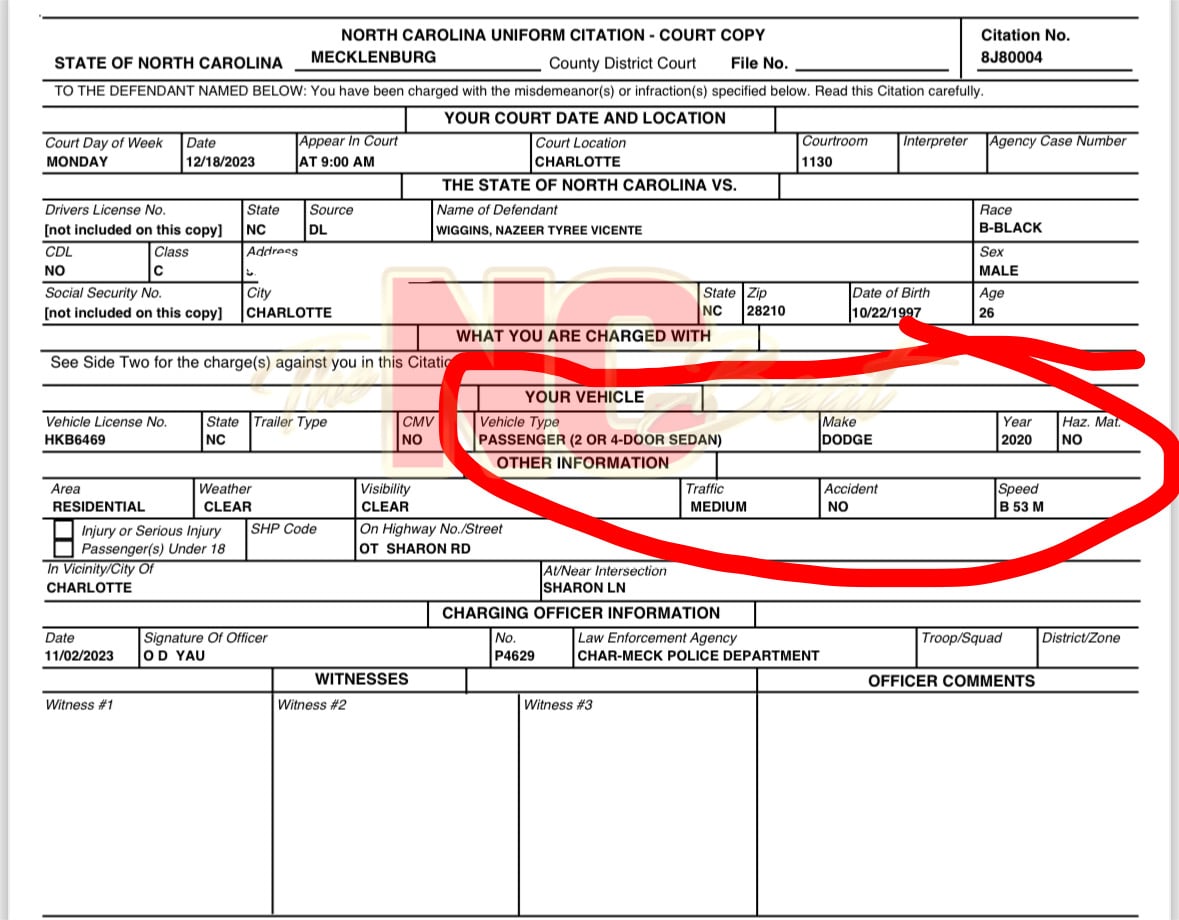 He also received a citation back in August for driving around in a 2010 Honda with expired tags. Officers noted in their report that Wiggins was aware that the tags on the vehicle had expired. He is due in court for that citation in January 2024.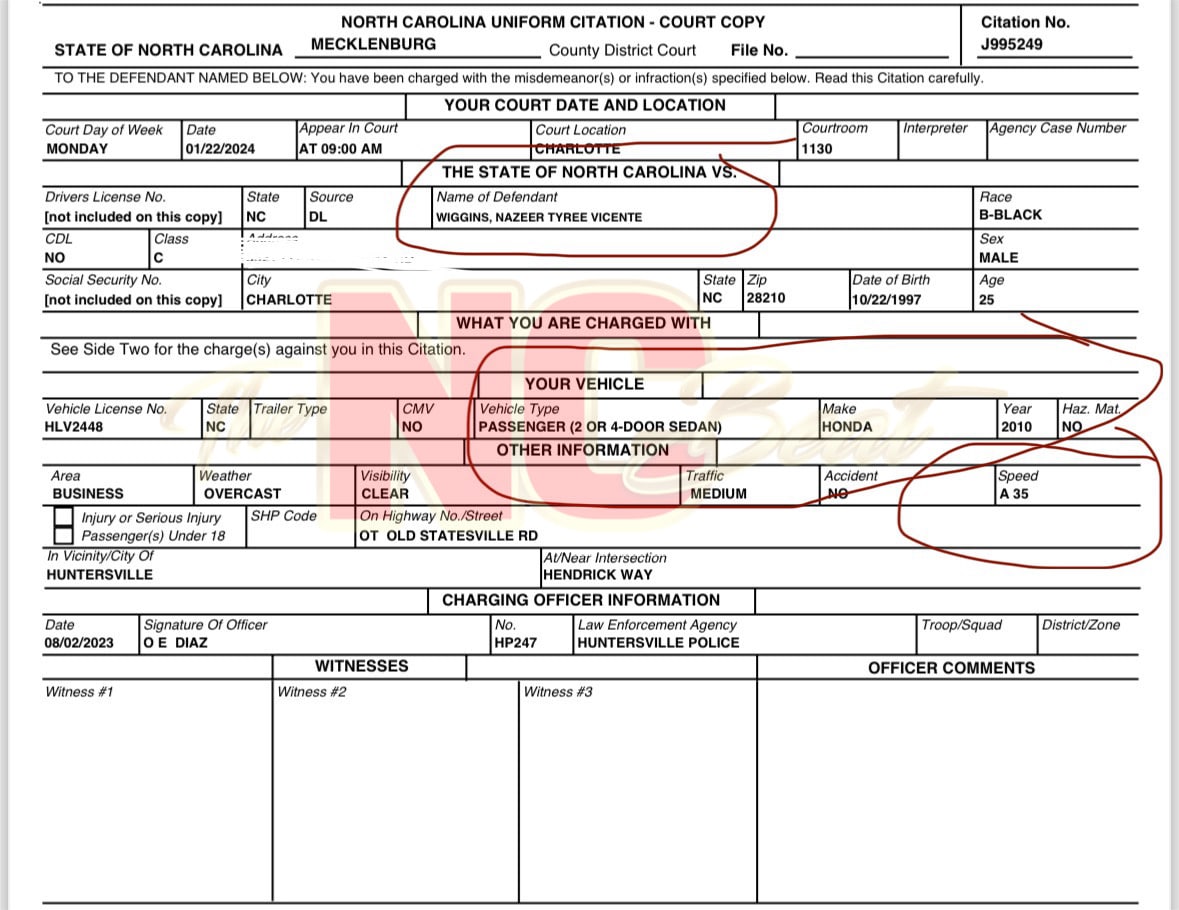 Wiggins' court date for his hit-and-run charge is also set for January 30, 2024.
If Wiggins is convicted of the hit-and-run charge he faces up to 120 days in jail.
Follow me, Gerald, on Instagram @iiamgj and Facebook @TheOfficialGeraldJackson
If you have a story you think the public should know about, send it to [email protected]