Word On The Curb… some funeral home owners in Colorado have been busted for improperly storing 115 bodies, and authorities were alerted by a foul odor emanating from Return to Nature Funeral Home.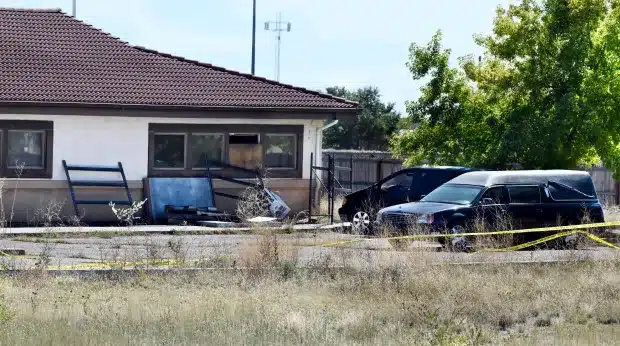 The FBI searched the funeral home, which spans over 2,500 square feet, last week and discovered bodies that were "improperly stored." According to federal authorities, this situation was creating a hazardous scene.
DID YOU SEE: Family says Laurinburg, N.C. funeral home stole money off their 15-year-old son's life insurance policy
The funeral home is located in Penrose, Colorado, which is approximately 30 miles south of Colorado Springs. The Return to Nature Funeral Home specializes in eco-friendly burials, where no embalming fluid is used and the remains are buried in a biodegradable casket.
Without providing too much detail to avoid further victimizing these families, the air of the funeral home where the bodies were stored was horrific, said Fremont County Sheriff Allen Cooper on Friday.
Colorado Governor Jared Polis declared a local disaster emergency, which ensures that resources are readily available to investigators. According to officials, it is not yet clear if the bodies were intended for burial or cremation, although the funeral home claims they stopped offering cremation services in July 2023.
DID YOU SEE: Gold Leaf Carriage horse dies due to heart attack while carrying a casket during a funeral service in Durham
Fremont County Coroner Randy Keller said that the investigations would be a "very lengthy process" due to the requirement of conducting forensic identification, such as obtaining fingerprints and DNA. Additional investigators, such as a technical hazardous response team and a disaster recovery team, are being dispatched from Quantico, Virginia. Theyare expected to arrive in the coming days.
The FBI has stated that it is "not clear if a crime has been committed" and that the owners, Jon and Carie Hallford, have been cooperative.
Families will be notified once the identities of the bodies have been confirmed. The county is requesting that family members who utilized the services of Return to Nature Funeral Home send them an email.
Follow me, Gerald, on Instagram @iiamgj and Facebook @TheOfficialGeraldJackson
If you have a story you think the public should know about, send it to [email protected] 
Follow The NC Beat on Social Media: Instagram:@TheNorthCarolinaBeat | Facebook: @TheNorthCarolinaBeat | Twitter: @TheNCBeat