Word On The Curb…Kandi Burruss and her restaurant, Old Lady Gang, are in the blogs again due to their poor customer service. At this point, Kandi needs to close the doors because Mama Joyce, Aunt Bertha, and Aunt Nora's recipes aren't hitting on nothing anyway.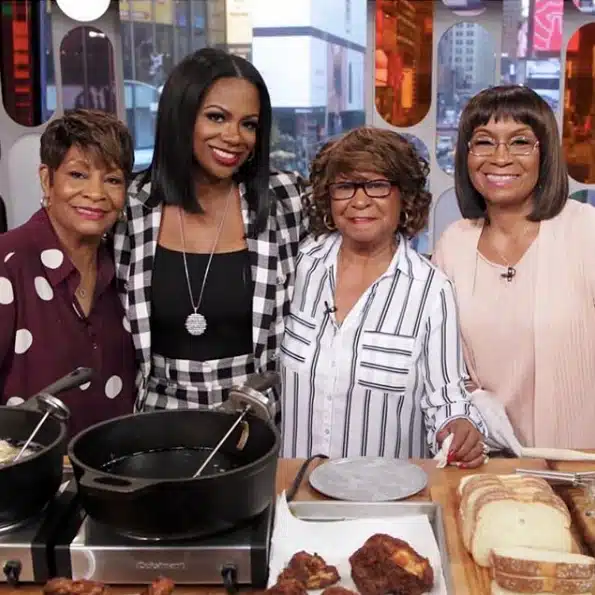 The dirtiness of the restaurant is because of all them dirty bottoms Kandi got running around like roaches. Additionally, customers have to endure long wait times of over an hour to be seated. The phone lines are not functioning, online delivery is unavailable, and there is no takeout service on weekends. Overall, in our opinion, the quality of the food is simply terrible.
DID YOU MISS: Raleigh woman Taliyah Watson started altercation that led to her death
Popular food critic Keith Lee and his family recently visited the Atlanta restaurant and experienced the same poor customer service that everyone else receives on a daily basis.
Lee said that he and his family were in Atlanta on Sunday for the ONE Music Festival. While they were there, an employee of the restaurant approached him and mentioned that they had been trying to get him to do a review at the Old Lady Gang.
Lee, who has a following of more than 14 million on TikTok, is known for helping struggling restaurants find customers, giving honest and authentic reviews, and putting restaurants on the map. He usually sends his family to order takeout to avoid receiving any special treatment from restaurants.
On Sunday, Lee said he wanted to order takeout from Old Lady Gang, but the phone numbers posted online were not working. He said, so they drove to the restaurant. His family went in to order takeout, but they were told that the OLG doesn't do takeout orders on the weekend.
Lee said his family decided to wait, with the plan to take Lee's food back to the car once they received it, but the staff reportedly told Lee's family that it would be a one and a half hour wait. He said the staff did not collect any contact information from his family to notify them when a table was available.
Lee said he decided to go inside the restauraunt and was immediately informed that his table was ready, which contradicted what the staff had previously told his family.
WATCH VIDEO BELOW:
Kandi has been experiencing ongoing issues with this struggling restaurant since it opened.
Follow me, Gerald, on Instagram @iiamgj and Facebook @TheOfficialGeraldJackson
If you have a story you think the public should know about, send it to [email protected]