Iowa police found a man dead in the passenger seat of a car with clothes piled on top of him while checking on a stranded motorist.
On Tuesday, troopers located a silver 2010 Chevrolet Malibu parked on the shoulder of the interstate at 8:10 a.m in a ditch. The driver, who has been identified as 23-year-old Jihad Abdul Malik Gasaway, told troopers that his car had stalled and he needed a jump start. Court documents state that Gasaway did inform the police that he was carrying a gun and proceeded to show it to them.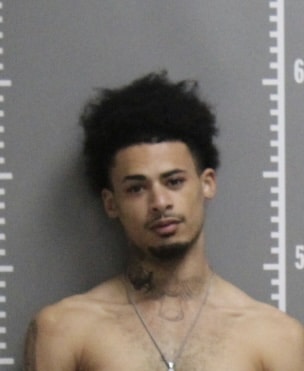 While assisting Gasaway, troopers found a deceased man in the passenger seat, buried under a pile of clothes, with gunshot wounds. The victim was later identified as Kemp Xavier Sherrod Harriel, a 26-year-old.
DID YOU MISS: Orlando dad charged for shaking his baby so hard it was like he was in a car wreck
The Iowa State Medical Examiner's Office determined that Harriel died from two gunshot wounds to the chest, and the manner of death was ruled as a homicide.
When investigators spoke to Gasaway, he told them that he covered Harriel because he "thought he was very cold" and "kept him warm because we were both cold. I just waited for the police," he said. He then told the police that he "didn't know the victim was gone until" he "watched the police eyes and read his lips." Gasaway allegedly told the police that he "started crying in the car."
Police asked Gasaway if Harriel was alive when the car went into the ditch, and Gasaway replied, "Yes." When asked what happened to Harriel, Gasaway said, "We got into it."
DID YOU MISS: Biden immigrants causing Tuberculosis cases in New York City to SURGE
Gasaway was charged with "abuse of corpse – hide or bury," and is now also charged with Murder in the First Degree.
Follow me, Gerald, on Instagram @iiamgj and Facebook @TheOfficialGeraldJackson
If you have a story you think the public should know about, send it to [email protected] 
Follow The NC Beat on Social Media: Instagram:@TheNorthCarolinaBeat | Facebook: @TheNorthCarolinaBeat | Twitter: @TheNCBeat