A former NC NAACP president who was recently found dead in his Greensboro, North Carolina home, Tuesday, July 19, was suspended from the NAACP before his death.
Documents obtained by The North Carolina Beat shows that Theodore Anthony Spearman was suspended in February for refusing to turn over property belonging to the NC NAACP which included "bank account information/access, social media passwords, post office box keys, and storage unit information."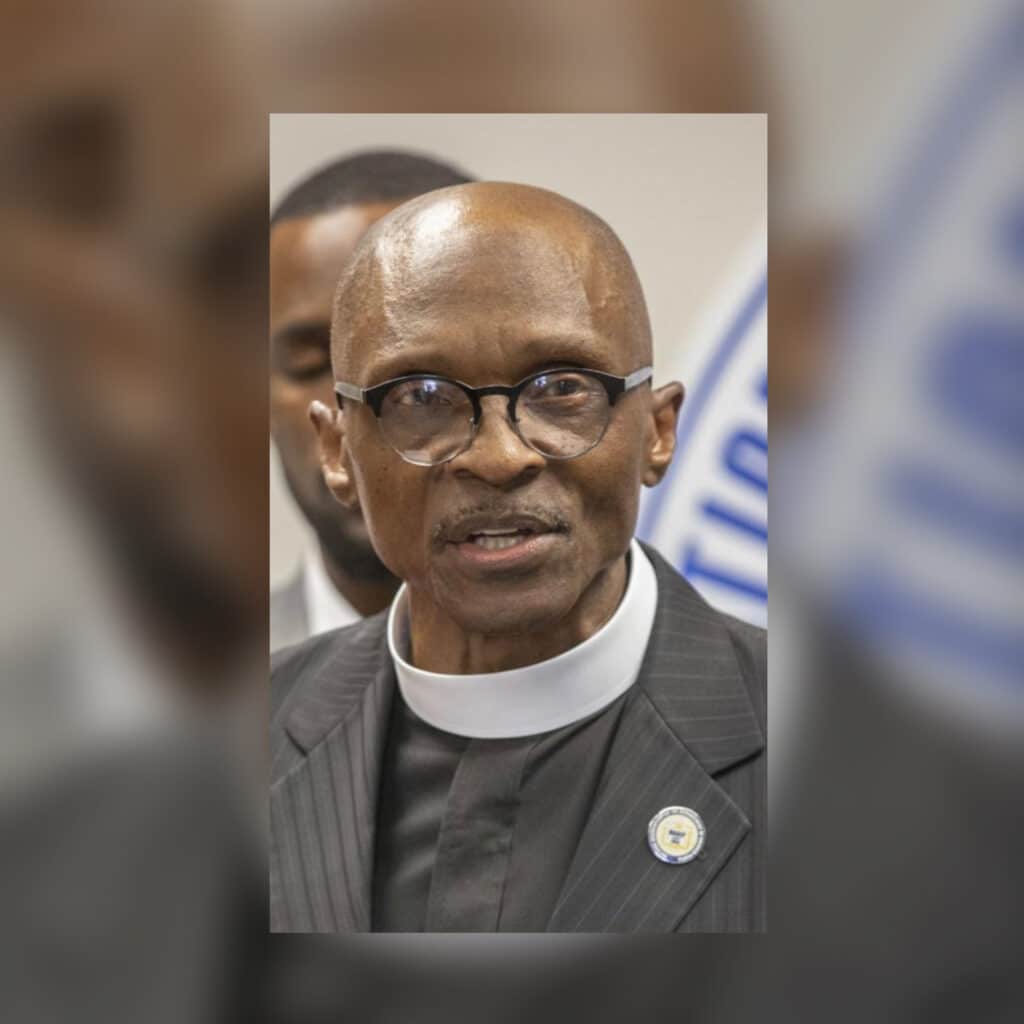 Because Spearman was no longer the NC NAACP President and Deborah Maxwell was the new state conference President, Spearman had a duty to turn over all property to the new administration, in which he refused. 
For someone to be called a "champion of justice", why would they withhold property that supports the fight for JUSTICE? 
On January 3, 2022, NAACP Associate General Counsel Anson Asaka left a voicemail for Spearman regarding the aforementioned property. On January 5, 2022, Mr. Spearman's attorney, Al McSurely reached out to Asaka and requested a list of the property Spearman needed to hand over, in response, Asaka sent McSurley the requested property list. However, on January 11, 2022, McSurley reached back out to Asaka and told him that Spearman said he would not be "producing the requested items."
The next day on January 12, 2022, the national office told Spearman that he had until the close of business on January 13, 2022, to produce the requested items or they would seek all legal options against him.
READ THE DOCUMENTS BELOW: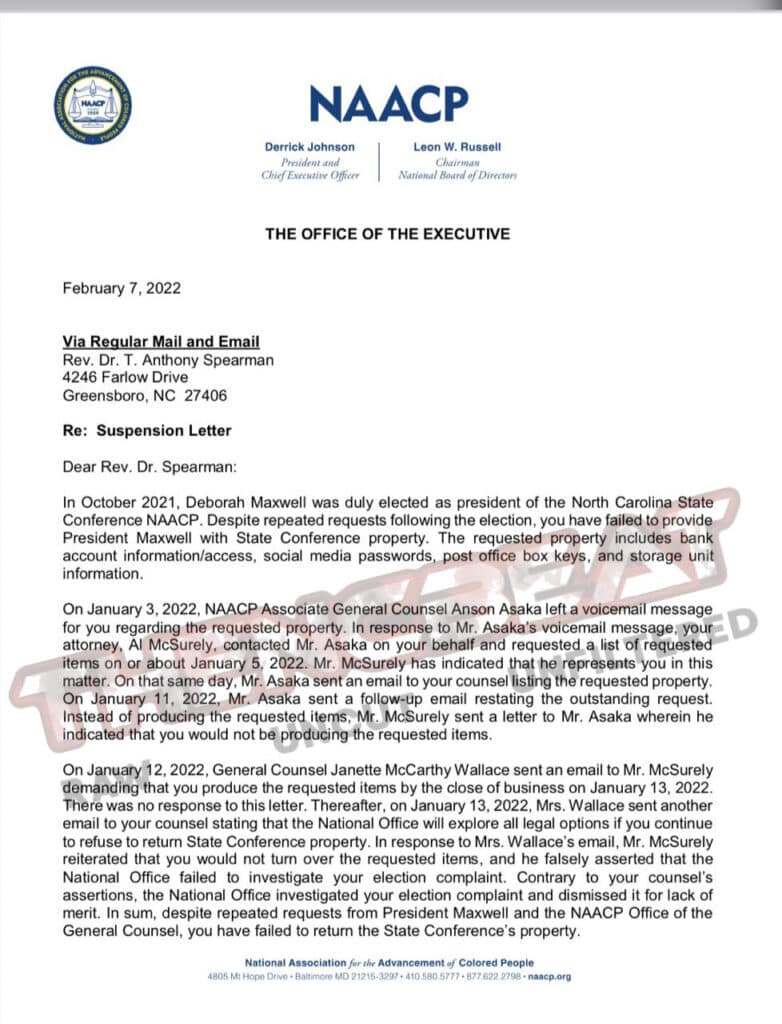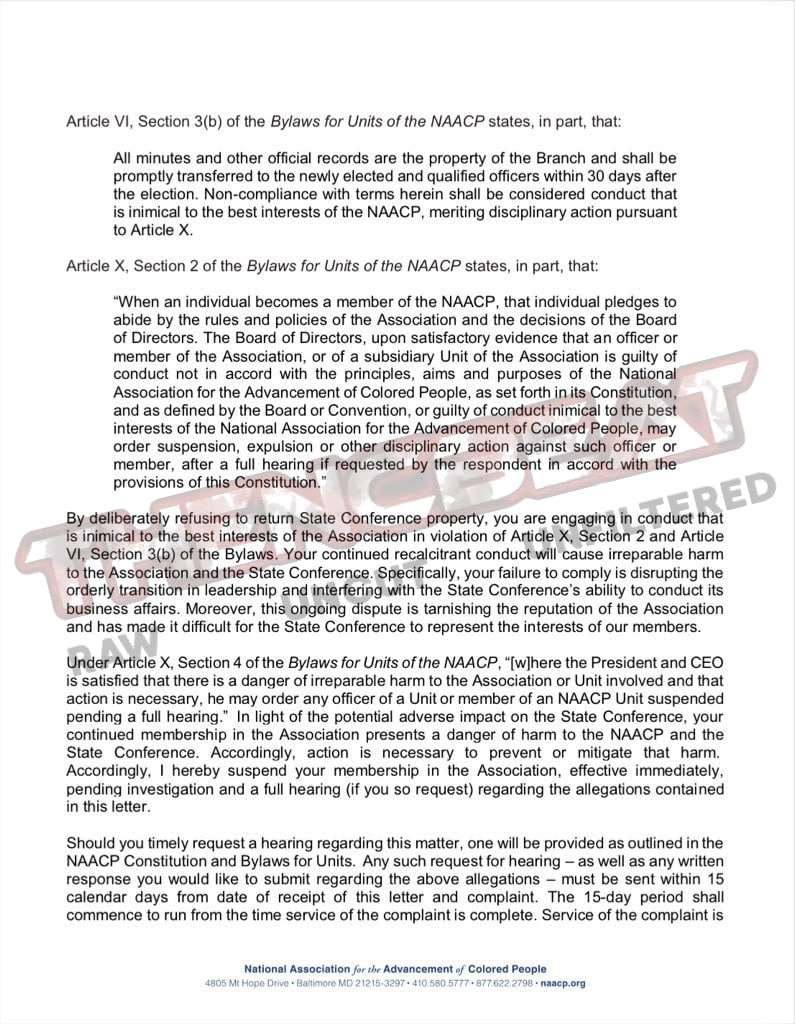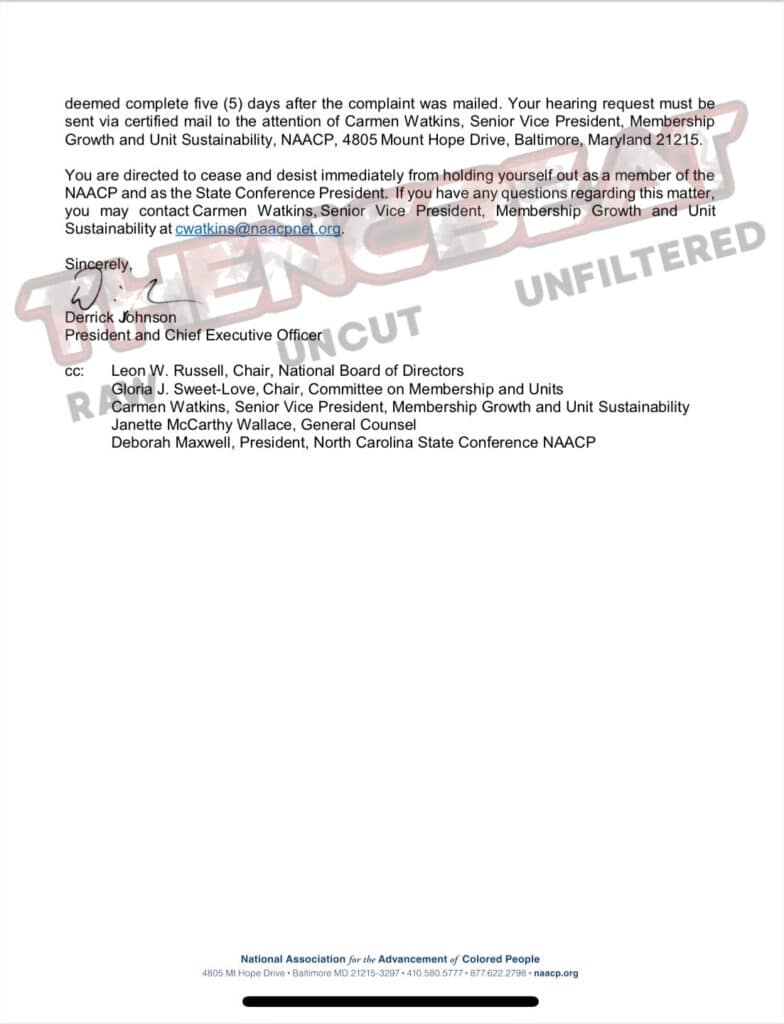 The National NAACP had finally suspended Spearman, something that NC NAACP leaders called for in 2019. 
In an Article X complaint against Spearman and Rev. William J. Barber II obtained by The North Carolina Beat, said that the only recourse six (6) charges they filed against the two men in their complaint would be "to request that T. Anthony Spearman and William J. Barber II's memberships be suspended for financial improprieties and undermining the NAACP Constitution and Bylaws."
The complaint against the two men speaks for themselves and we have provided them to you BELOW: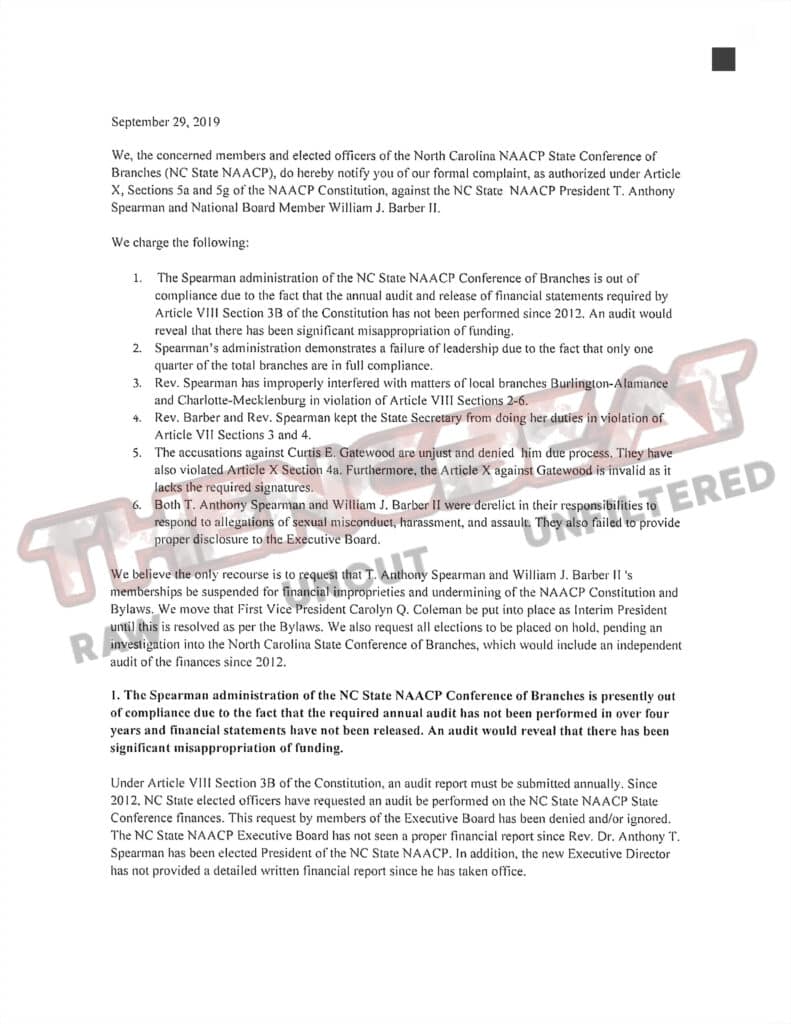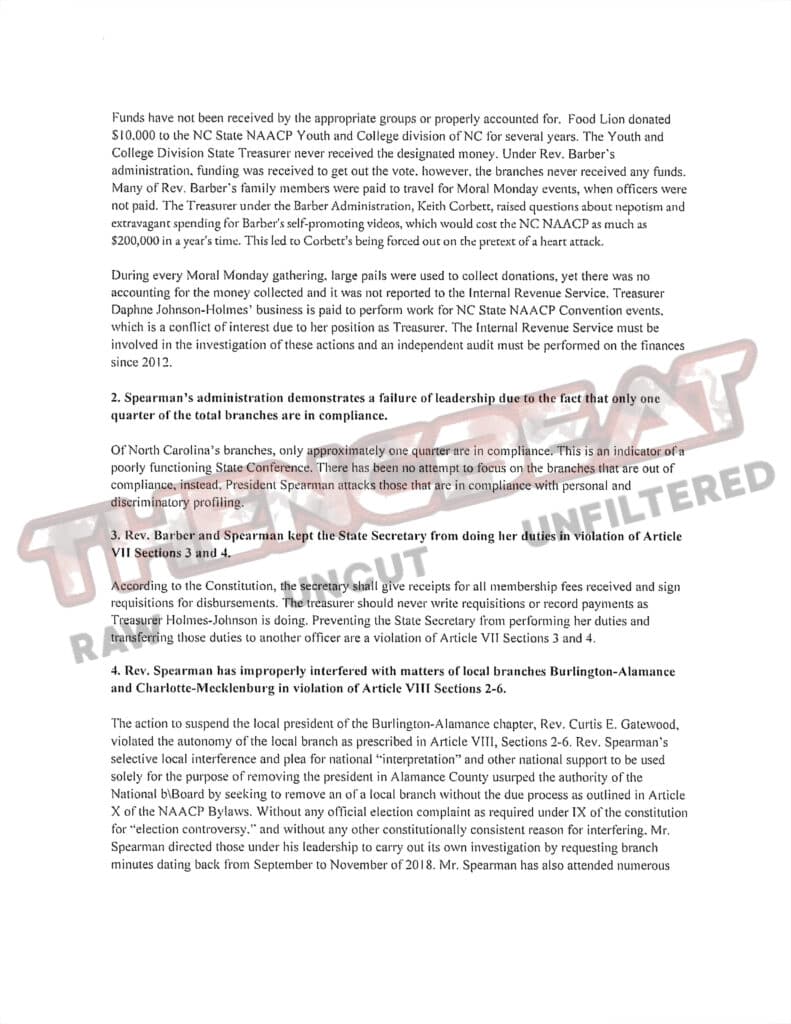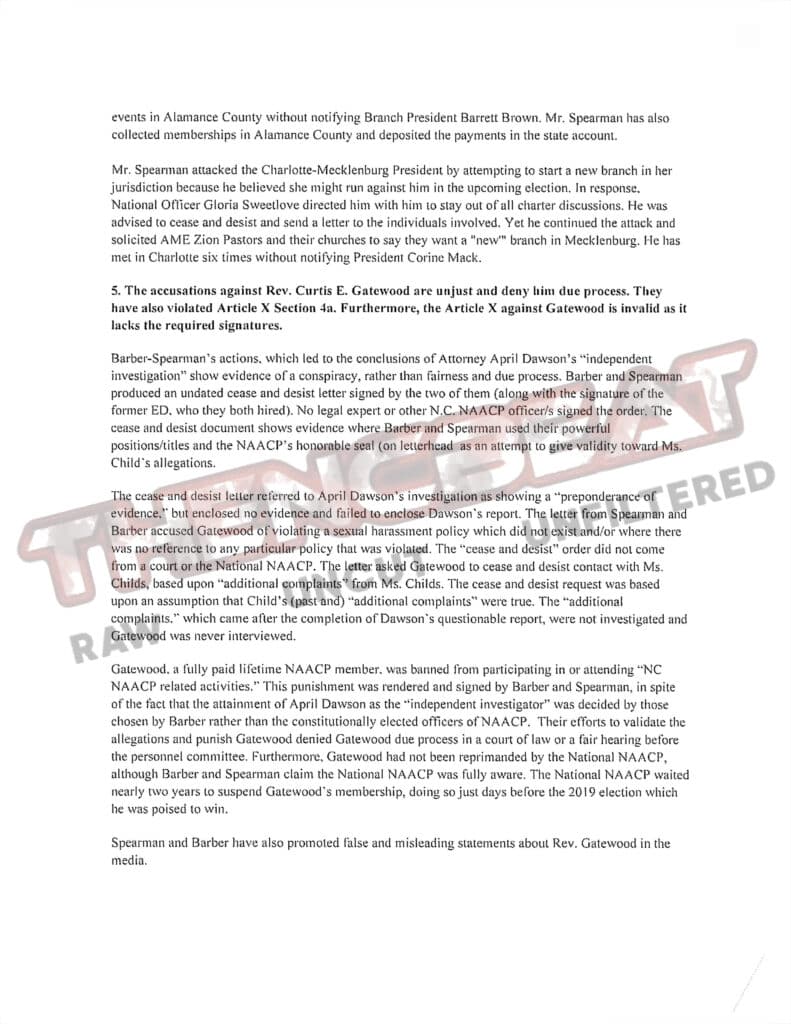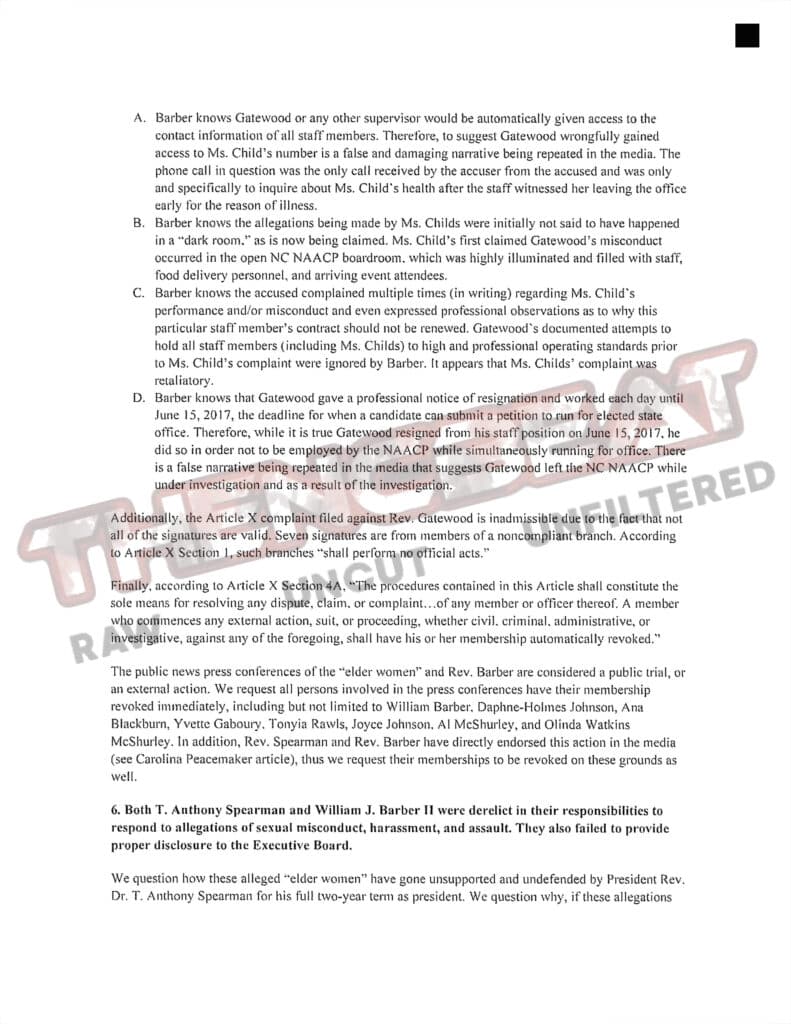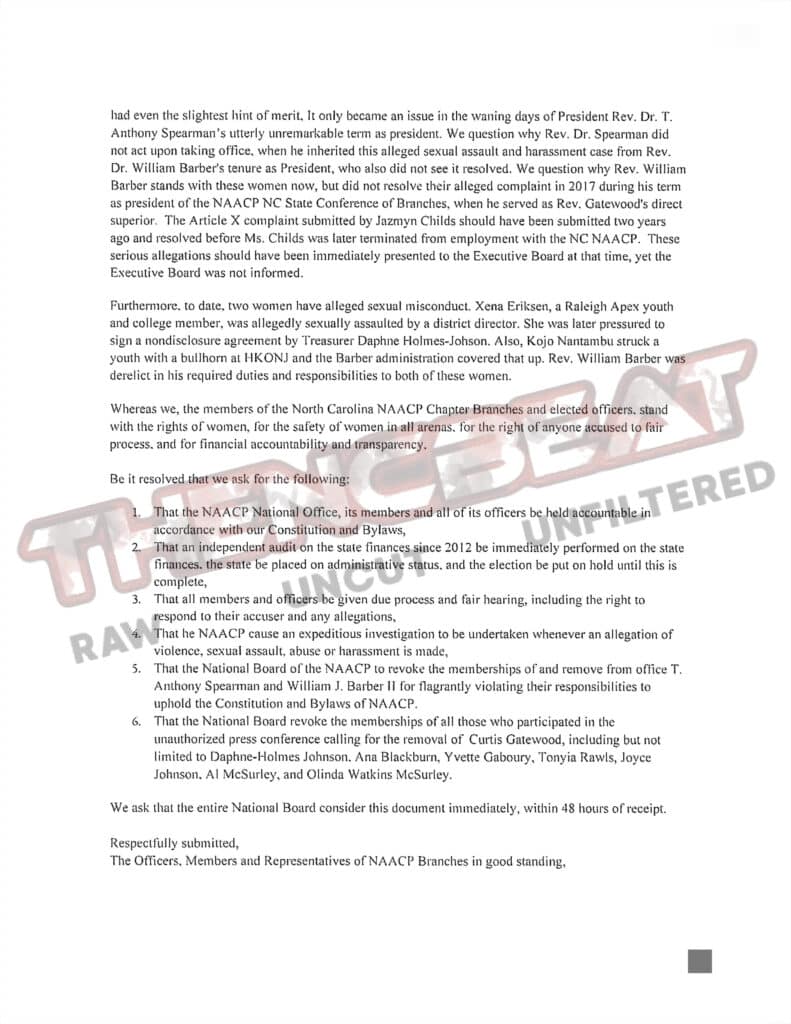 What's even more egregious in these documents, is the fact that Spearman and Barber hid the serious sexual allegations of Xena Eriksen, a Raleigh-Apex youth and college member who said she was sexually assaulted by a district director, but was quick to march Jazymne Childs to a press conference in September 2019, a month before the October NC NAACP Election to make false sexual allegations against Reverend Curtis Gatewood, a prominent member of the NAACP who was poised to win the 2019 presidency, but is now ignoring a 20-year-old man who came out this week and said that Spearman tried to rape him last Wednesday, July 13.
According to the above documents, Eriksen was "pressured to sign a nondisclosure agreement by then Treasurer-Daphne Holmes-Johnson."
Spearman's death Tuesday sent shock around North Carolina as many continue to wonder out what happened to him. While inside sources at Guilford County Sheriff's Office have told The North Carolina Beat that Spearman's death was a suicide, his attorney, Mark Cummings suggests foul play was involved calling for a "full and fair investigation." 
Rumor also had it, that Spearman's death may have been staged to look like he took his life but the rumor is nothing but a rumor with no truth to it and a sad excuse to cover the criminal investigations Spearman was under that was at anytime about to break the internet and show that he was not the man he portrayed himself to be. 
The accusations against Spearman's alleged sexual assault victim that he tried to rob Spearman is without merit and no evidence has been presented to substantiate such claims. 
Also, when have you heard someone taking their own life after someone tried to rob them? Just sounds too far fetched, but this is what their camp is using against this 20-year-old man. They are trying to silence him, just as Spearman and Barber silenced Eriksen.  
These men are no "Justice" fighters, especially when they are doing the same thing they accuse the White man of doing, oppressing Blacks.
Sadly, we lost true leadership when Martin Luther King Jr. and Malcom X died.
If you have a story the public should know about, send it to [email protected] or send news tip to (919)-307-9002.