The North Carolina Beat has learned that racist Columbus County Sheriff Jody Greene has been suspended from his position as Sheriff.
The suspension comes a day after Columbus County District Attorney Jon David sent Greene a letter calling for his resignation over his racially-charged comments.
The letter sent to the racist sheriff by David talks about David hearing the 2019 audio recording on September 27, 2022, and that by law, he has to "disclose to our trial judges any conduct that may call into questions either your veracity or ability to impartially uphold the law on racial grounds."
READ JON DAVID LETTER BELOW: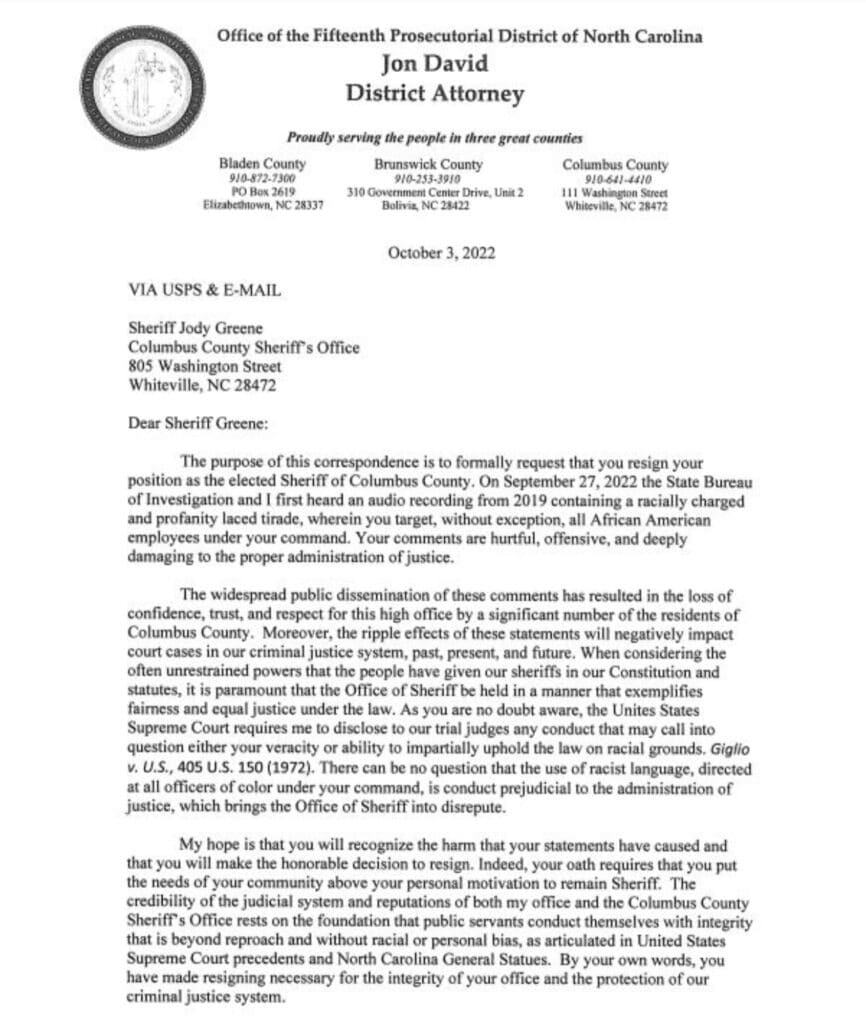 According to Article 2 in N.C. G.S § 128-16, a sheriff can be removed from his position by the resident Superior Court Judge. 
You can read for the reasons in N.C. Law below:
[pdf-embedder url="https://thencbeat.com/wp-content/uploads/2022/10/Article_2.pdf"]
Sheriff Greene was busted and caught on audio making racial comments towards his black staff. (Click HERE if you missed that story)
Tuesday, David filed in his petition that Greene "committed willful misconduct and maladministration in office, and The acts committed by Defendant… constitute corruption while in office."
Superior Court Judge Douglas B. Sasser granted David's request and suspended Greene until a hearing could be held on the petition for removal filed by David.
READ THE PETITION BELOW:
[pdf-embedder url="https://thencbeat.com/wp-content/uploads/2022/10/598539202-District-Attorney-Jon-David-files-petition-to-remove-Jody-Greene-from-his-office-and-a-motion-to-suspend-him.pdf"]
It's unclear who will take over Greene's position while suspended.