Send your story to gjackson@thencbeat.com
Follow me on Twitter @GeraldJBlessed
---
Another woman has come forward about their employment relationship with Dunkin Donuts located at 433A Western Blvd. in Jacksonville, NC.
I am leaving her name and photo out of the story. 
The woman said she worked at the location during the summer of 2018 and had a traumatic experience with the owner Samir Palet, and the manager, Jonathan Thompson.
Jon the general manager is a pervert. There have been numerous times where he would make inappropriate comments and just make me and a few of my co-workers at the time very uncomfortable, the woman said. 
The woman recalled one incident saying that it rubbed her wrong.
Part of the work uniform is to wear the DDs apron. Well, I have my marker on my apron by my breast area and Jon took it upon himself to reach for it and grab it off me because he needed to write something to write with. He thought of it as nothing, the woman said.
The woman said the supervisor, Kim Brewster witnessed Jonathan allegedly touching her breast. She said she reported this to Palet, and he had Thompson fire her. 
The woman reached out to Kylee Anne Clemons to share her story after she saw what Clemons had experienced with her employment there.
READ FULL TEXT BELOW: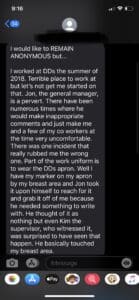 The manager Jonathan Thompson also has been accused of giving underage employees alcohol, according to another woman separate from the woman in this story. (Who will also remain anonymous)
READ THE MESSAGE BELOW: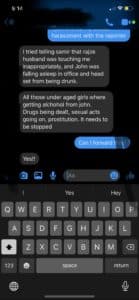 These women are coming forward and to protect their identity at this time in case they want to take legal action, I have refused to release their name to the public.