Pantana Bob's Bar in Wilmington, North Carolina, is facing backlash for discriminating against black customers by not allowing them to enter their bar after 8PM unless they are white.
A woman said that she and her friends were discriminated against when they tried to order take-out food at Pantana Bob's Bar, located at 149 South College Rd. in Wilmington, North Carolina, Saturday, August 27.
Amanda Brinkley called the encounter "racist." She said that she had been a customer of Pantana Bob's in Wilmington for years and had never had to deal with what she dealt with on this night. In an Instagram post posted the night of the incident, Brinkley said that she and her friends were going to order take-out food, but the bouncer at the door had a problem with them.
PICTURE OF BOUNCER BELOW: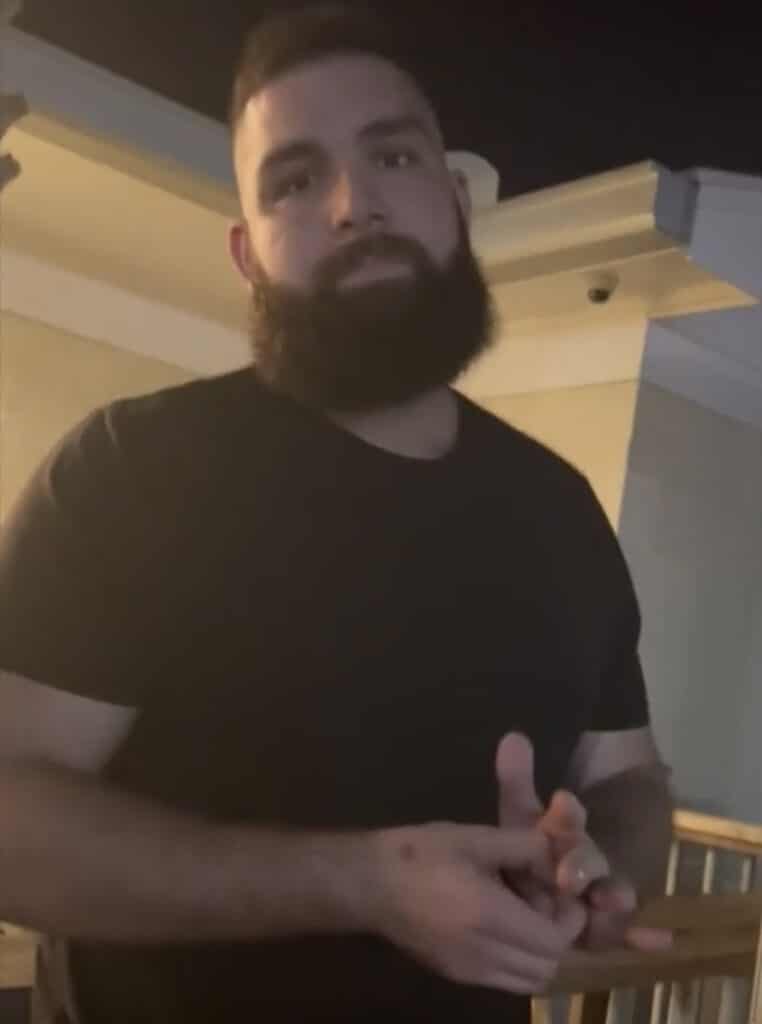 According to Brinkley, the bouncer at the door, who we have not been able to identify, said something about their clothes. Brinkley said the first thing the bouncer said was that her shirt was inappropriate, so she said she buttoned it up. The second thing the bouncer had a problem with was her friend's scarf, which she couldn't wear. Brinkley said, so her friend removed the scarf from around her head. Then, the bouncer told another friend of Brinkley's that she couldn't wear a solid white t-shirt.
LOOK WHAT BRINKLEY AND HER FRIENDS HAD ON BELOW:
The friend with the solid white t-shirt returned to the car and waited while Brinkley and their other friend went to order the food, but they never made it inside because they were black. 
After Brinkley and her friends adjusted their attire, the bouncer still had a problem with them. Brinkley said as she and her friend proceeded to give the bouncer their ID'S, he told them that he could not let them in and that the decision wasn't personal. In Brinkley's Instagram post, she said the whole experience made her sick to her stomach.
A video Brinkley recorded of this incident, and several short clips show how Brinkley, her friends, and other black men were denied entrance to the bar, but a white woman and a white man with similar attire were allowed inside.
Brinkley and her friends requested a manager, but the bouncer told them that it was his jurisdiction, basically telling them that he wasn't calling a manager because he makes the decisions on who is allowed in the bar. 
Another young black man approached to enter the bar and was denied outright by the bouncer, claiming that his white t-shirt and shorts did not comply with the bar's dress code. Moments later, you will see a white woman walk right past Brinkley and her friends, wearing a white shirt and shorts. Also, in a later clip, you will see a white man be allowed inside the bar by this same bouncer with shorts and flip-flops.
The video is disturbing and disgusting, and the bouncer should be fired immediately.
WATCH THE VIDEO BELOW:
If you don't think that was racist, then you are why we still have these issues in America.
In another video clip, two black men, one with shorts, walk up to enter the bar, but the bouncer denies their entrance.
WATCH BOTH VIDEOS BELOW:
Later after the bouncer denies the two black men entrance, Brinkley and her friends hang around and watches the bouncer allow a white man with shorts and flip-flops inside the bar.
WATCH VIDEO BELOW:
To me it seems like this bar is for whites only at a certain time and blacks aren't allowed.
A Black chef named Tony works there, which is why Brinkley and her friends went to the bar that night to order take-out food and why a lot of those in the Wilmington area go to Pantana Bob's to eat the delicious food Tony cooks.
Residents in the Wilmington area are calling for Chef Tony to quit Pantana Bob's Bar due to this bar's mistreatment of black customers.
This is the dress code you have to follow if you're black at Pantana Bob's in Wilmington.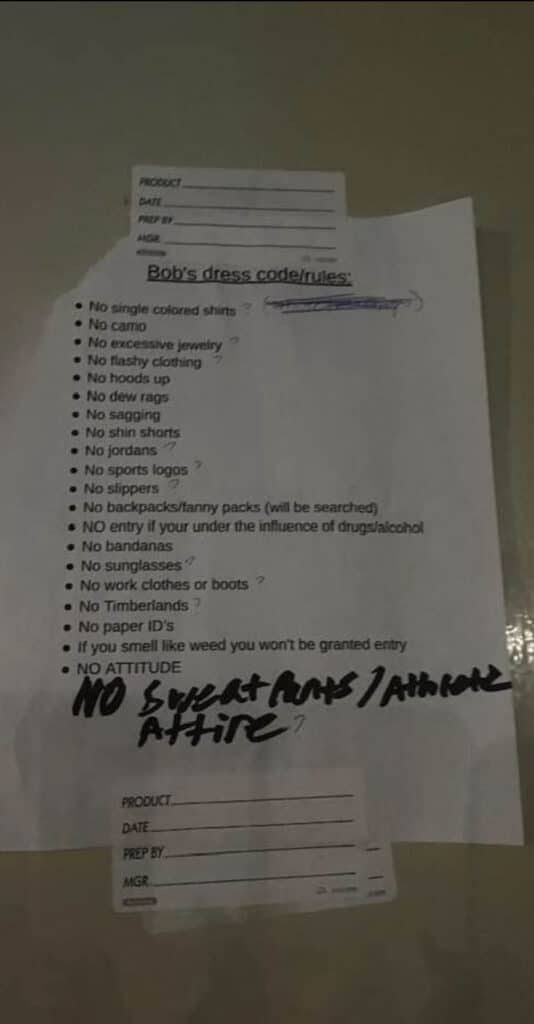 We reached out to Pantana Bob's Bar for comment and didn't receive a statement by the time of this story.