The family of a man who died Friday evening in Brunswick County, NC is getting suspicious stories from police about what really happened that led to the death of 21-year-old Tyrance Drequan Benbow, who is also known as "Duke".
Time and time again, we've seen the police all across America take the lives of Black men with no regard to telling the truth about what really happened and for one family in Brunswick County, NC, it is becoming a nightmare. Especially when you know that there is a deputy who works with the local sheriff's department that wanted your child dead. But what is egregious is the fact that the Brunswick County Sheriff's Department has a years long history of racially profiling Black men.
Becky Laselle, the mother of Tyrance Benbow, told The North Carolina Beat that her son's father, Abraham Benbow, told her that Tyrance was on the phone with him moments before he allegedly crashed. She said that Abraham told her that Tyrance said that Deputy Joe Cherry, a Brunswick County Sheriff's Deputy, who always harassed him, was chasing him.  (Story about the harassment coming soon)
His daddy told me that he said, "Daddy, they following me, they following me, they running me down. They chasing me," Laselle said.
Laselle said when Abraham asked Tyrance who was chasing him, he said Tyrance told him it was Deputy Joe Cherry.
Recently, Deputy Cherry had told Tyrance that he was going to hang him, according to Laselle.
He didn't only say it to my son, Laselle said. Other people heard Joe Cherry tell my son that he was going to hang him.
Tyrance's vehicle was overturned on Holden Beach Rd. along with another vehicle police claimed he ran into around 7:30 p.m., and that ultimately claimed his life. But Laselle said that an anonymous person who did not want to disclose their name to her said they witnessed the Brunswick County Sheriff's Office pull Tyrance out of his vehicle.
An anonymous person and they wouldn't give me their name told me that when the accident happened, they pulled him out the car and he was hollering 'I can't feel my legs, call my mama, call my mama,'" Laselle said. And then they blocked the view with the fire truck so nobody couldn't see what was going on.
The mother said that she doesn't know anything, and what the police are telling her is not making sense.
I know nothing. I know nothing. All I know is that my son is dead, Laselle said.
Tyrance made a few calls before the crash, letting his father, girlfriend, and best friend know that Deputy Joe Cherry was chasing him.
His girlfriend called me and said 'Becky, Duke just called me and said Joe Cherry is behind him,' Laselle said. I know he wasn't going to stop because you done threatened my child, so why would he stop? He wasn't going to stop until he got home. He was like 5 minutes from home. Almost home. joe cherry didn't want him to make it home.
Rumor has it that Deputy Joe Cherry has been telling people that it wasn't him that was chasing Tyrance and that he was out of town. Although there has been no proof of Deputy Cherry out of town, it wouldn't surprise me if those KKKOPS come up with some plan to put him away from the chase.
When Laselle and her family went to Novant Health Regional Medical Center, a NCSHP named Sgt. Ballard told her that Tyrance was involved in a high-speed chase with the Brunswick County Sheriff's Department, lost control over the vehicle and hit another vehicle.
(WATCH VIDEO BELOW)
What doesn't add up and the stories that are continuing to be told doesn't add up. In a recent news story about this incident published by WWAY10, they quote the NCSHP saying that Tyrance "hit a deputy's cruiser, then crashed into an oncoming vehicle head on, which caused both cars to flip." 
(READ SHORT POST OF WWAY'S STORY BELOW INCASE THEY DELETE STORY)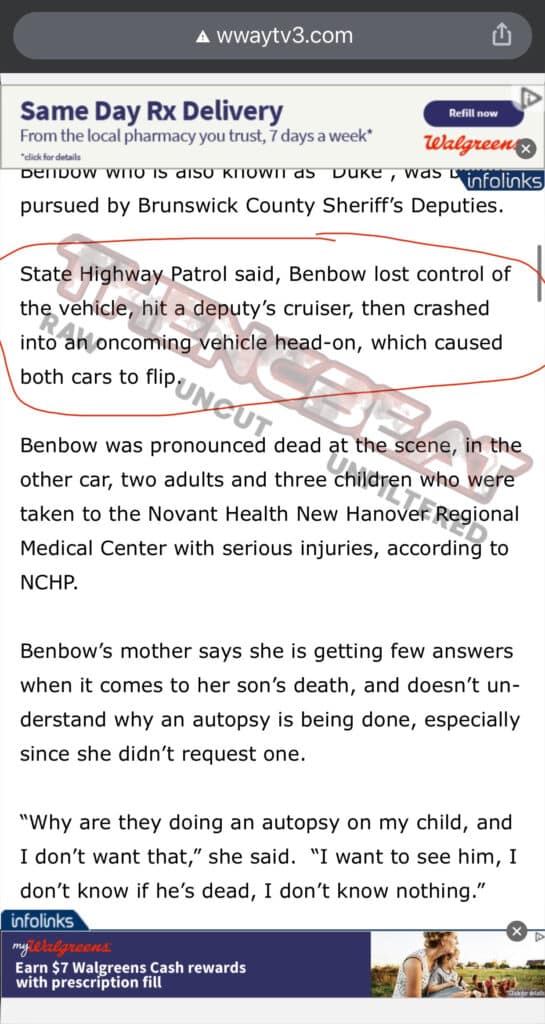 According to the video above, Sgt. Ballard never mentioned Tyrance hitting a Brunswick County deputy cruiser. Sounds like Brunswick County Sheriff's Department hit Tyrance that caused him to hit another vehicle. But according to witnesses on the scene after the car accident, there was no damage to the front of Tyrance's vehicle that would substantiate him hitting another car head-on. 
But what makes this story even more unsettling to knowing that there may be a cover-up underway, a man who lives not too far from the accident told Laselle that he heard the crash and when he came outside, he saw the two cars, and a few police cars but Tyrance vehicle was not flipped over.
Something is just not adding up…
Laselle said that when she and her family arrived at the hospital, there were six police officers at the entrance as if they were waiting for the family to arrive for another reason other than them coming to see Tyrance. 
There were six offices out there and they told me I could not see my son until the medical examiner examines him, Laselle said. 
Later, Laselle found out that the medical examiner was not at the hospital, and she was not allowed to see her son until after a medical examiner performed an autopsy. 
If they want to perform an autopsy to find the cause of death, then fine but to vehemently deny a mother to see her son who had just been killed at the hands of, we don't know who is wrong.
Laselle said she never requested an autopsy on her son.
I never requested an autopsy, Laselle said. How are they doing this without my permission? This is my son. Y'all said he died in an accident, then what an autopsy is needed for?
NCSHP is refusing to release more information about what really happened Friday night. 
I just want to know the truth about what happened to my son, Laselle said.
Brunswick County Sheriff's Department can clear this all up if they release the DASH CAM FOOTAGE and BODY-CAM FOOTAGE from all responding officers.
This story is developing…..
If you have a story that the public should know about, email [email protected]