The family of a Minnesota man believes the Robinsdale Police Department brutally beat and let their K-9 maul, then 24-year-old Khalil Azad to death before throwing his body into 2-foot water.
The Robinsdale Police Department says Khalil drowned, but his family says it's impossible because Khalil is 6 feet tall and he knew how to swim.
On July 3, 2022, the Robbinsdale Police Department attempted to stop Khalil for "probable cause DWI." Khalil was driving a white SUV. A chase ensues, which shows Khalil hitting a curb moments before crashing into a tree.
Khalil fled the scene. According to police, Khalil had a warrant out for his arrest, but his family says he feared for his life.
The reason for fleeing from police, Carvona Henderson, Khalil's girlfriend, recalled an incident in December 2020 when Khalil was pulled over by police for an active warrant. Henderson said at the time Khalil was wearing a neck brace, resulting from a car accident a month prior. She said during the traffic stop, police repeatedly slammed Khalil into the ground.
When they pulled us over, they had about eight AK guns in our faces, Henderson said. So, he's scared of the police. He had his hands up…and they grabbed hum out the car, slammed him on the car and put their knee in his back. He kept saying 'it was hurting', and they kept slamming him and slamming him into the ground.
According to Robbinsdale Police Department, two passengers, a man and a woman, exited the vehicle and told police they didn't know Khalil. The woman later told police that she only knew him by "K," and there were no signs of Khalil being drunk.
A state patrol helicopter with a thermal imaging system and police K9'S and officers from Plymouth Police Department were called to the scene.
Police K-9! You're under arrest! Give yourself up now! Dog will be set! Dog will find you! Dog will bite you!" an officer yelled while searching through the woods.
An hour after searching, police claimed they failed to locate Khalil and never came into contact with him during that traffic stop.
After Khalil exited the vehicle, that was the last time anyone saw him. His family and friends said he "wasn't answering the phone."
Khalil was found two days later floating face down in Crystal Lake's shores. His skin was purple and blue, and he was swollen and disfigured. His eyes protruded from their sockets, and his nose was slanted from being broken, leaving his face torn with scars.
Khalil was unrecognizable.
LOOK AT THE PHOTO BELOW: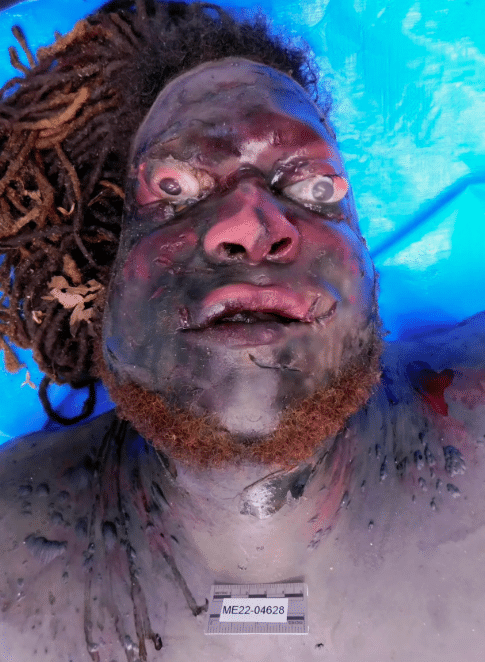 Khalil's death was ruled an "accidental drowning" by the Hennepin County Medical Examiner, despite his family saying he knew how to swim.
Police said Khalil didn't have any life-threatening injuries nor was there any bruises on his body.
However, when the family got the autopsy photo, they saw different than what the police said.
Body-cam footage recently released by Robbinsdale Police Department raised more questions for the family, which not have made them demand an outside investigation on the police department and medical examiner's office.
While watching the body camera footage, a number of discrepancies also stood out to us, Khalil's family wrote in a statement. We also noticed parts of the audio cut out for significant amount of time. In addition, we noticed skips, pauses and freezes of the body camera footage, with multiple moments of blurriness, which leads us to believe that the original footage was tampered. We are concerned because there were absolutely no time stamps on the footage we watched.

We want full transparency about the agencies who were called to secure the perimeter… In light of the footage we received from the Robbinsdale Police Department, we are also demanding footage from additional agencies involved: New Hope, Crystal, Plymouth, and Hennepin County Sheriff's Department & State Trooper Patrol.
An independent investigation of the Robbinsdale Police Department is being conducted by the Minnesota Bureau of Criminal Apprehension.
The family claims Khalil was brutally beaten to death by police, mauled by K9s, and thrown into the lake and they want everyone responsible, held accountable.
If you have a story, send it to [email protected]
Follow me, Gerald, on Instagram @iiamgj and Facebook @TheOfficialGeraldJackson