Officials at Nash County Central High School in Rocky Mount, North Carolina, are under fire after they held an all-girls meeting Monday, blaming their female student's provocative outfits for the online harassment they had been receiving.
First of all, when parents drop their children off at school or the bus pick children up and take them to school, how they are dressed is not the school's concern. If a child is dressed inappropriately, you call their parents. You don't decide to have an all-girls meeting, ridiculing them and telling them that their outfits are why they are being sexually harassed online.
Girls at the high school say they are being harassed online on anonymous social media accounts, and the school administrators aren't doing anything about it; instead, they are victim-shaming them.
According to an audio clip a student recorded during the meeting, an administrator told the girls to not report any online social media sexual harassment to them if they do not know who the person is.
Umm, isn't that what criminal investigations for? How do they sound telling girls that? If the account is anonymous, then it's law enforcement job to find out who the anonymous person is. 
Parents in Nash County are heated that the school would be blaming girls for the boys' behavior. 
The principal of the high school, Victor Ward, said that they were trying to be "positive and encouraging" during the all-girls meeting, but in the audio you will hear below, nothing Ward said about the meeting was corroborated with what students recorded.
LISTEN TO AUDIO BELOW:
After the audio recording was sent to the principal by local media, Ward snatched his lying statement back and apologized.
Parents say anonymous social media accounts have been posting offensive messages frequently lately.
But, Nash County Central High School officials didn't want to hear that. Instead, they blamed the girls' way of dressing as the reason for online sexual harassment.
You heard it in the audio, "No skin on your stomach should be showing," one administrator could be heard saying. 
Save the showing of your bodies for later. Because you'll be the same one that comes to myself talking about, 'Look what they put on the central page," the other administrator said.
The Nash County Public Schools said they were not aware of the assembly at the school.
Ward also said he plans to hold an all-boys assembly later this week to address social media posts.
READ PRINCIPAL WARDS FULL LETTER BELOW: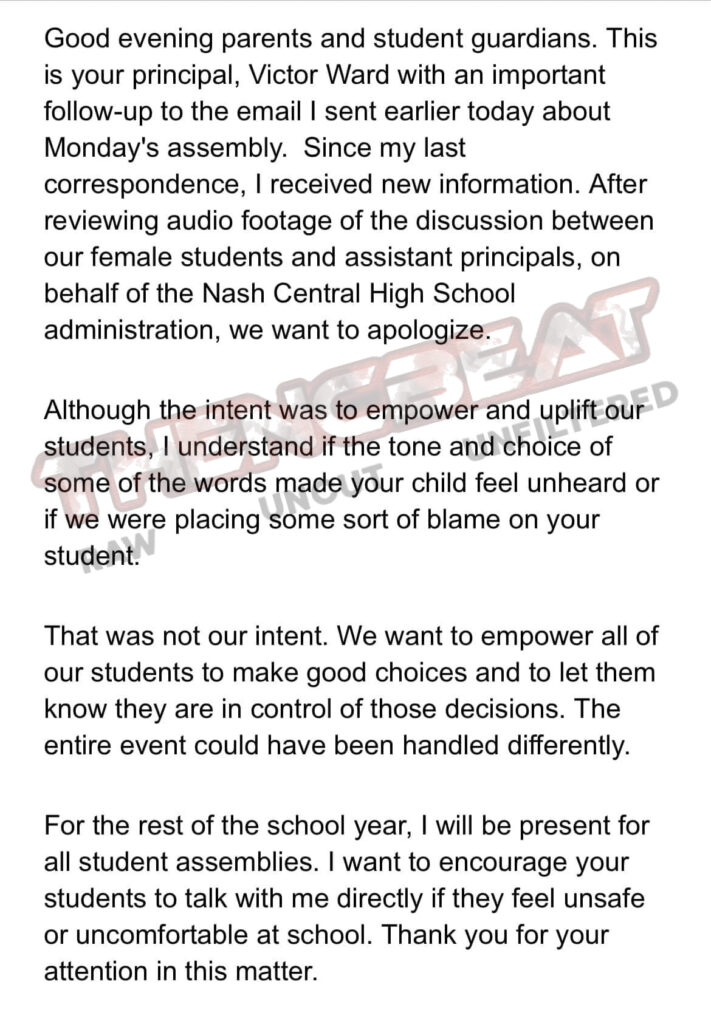 In a social media post, a woman named Quanisha MsLucy Roberson said that students were also told that they would get a 5-day suspension if they go to administrators about online sexual harassment without proof.
READ HER COMMENT BELOW:

One parent told local reporters that one of the social media accounts posted a survey that spoke about raping freshman girls.
If you have a story the public should know about, send it to [email protected] or text (919)-307-9002.