RAPISTS and CHILD MOLESTORS strike again. This time I take you to Winston-Salem, North Carolina, where an already registered pedophile admits in a video that he is sleeping with an 8-year-old girl.
Listen, you can't make this stuff up. Still, thankfully, there's a track record of this pedophile because, in 2010, he was convicted for indecent liberties with a 15-year-old, according to North Carolina Sex Offender Registry.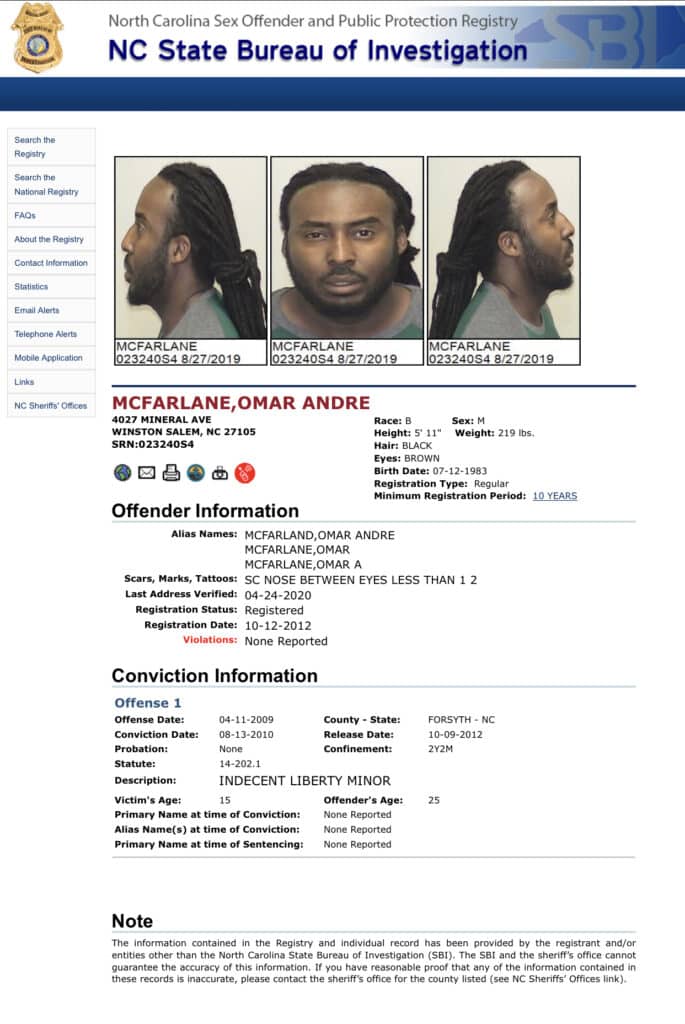 In a video recorded by a woman on Facebook named Tay Dawkins is 37-year-old Omar Andre McFarlane, a registered sex offender in Winston-Salem, North Carolina.
In the video that was streamed live on Facebook Saturday afternoon shows Tay Dawkins questioning McFarlane about him sleeping with an 8-year-old child. McFarlane tells Dawkins that he told her the information because she seems open and accepting. When Dawkins asks McFarlane if he liked young girls, he immediately says, "I do like young girls."
McFarlane says, "this wasn't me," trying to say he doesn't know what got into him to make him sleep with an 8-year-old child.
You don't understand everything though, he tells Dawkins. She real aggressive, he says.
Dawkins says to McFarlane, "An 8-year-old real is real aggressive?" in which McFarlane quickly nods his head in a yes motion.
As Dawkins continues questioning McFarlane, he tells her that he's "weak."
I'm weak a little bit. You can only fight so much, McFarlane says.
Dawkins asks McFarlane if he had kids, and he pauses, and then ask her if she wants to have his baby. She tells him "no" and says you might sleep with them, to which McFarlane responded, "if I did, I would tell you."
Later in the video, Dawkins Ipad dies in which she facetime McFarlane on another device. On the new facetime call, when Dawkins brings back up the conversation, McFarlane acts like he doesn't know what the fuck is going on.
WATCH THE VIDEO BELOW:
You Can't Afford To Miss A Story On The NCBEAT!
Join 1,134 other subscribers