A California mother says her 29-year-old son was allegedly drugged and murdered by Papas & Beer bar in Rosarito Beach, Mexico, while vacationing for Labor Day Weekend with four of his friends to celebrate a friend's birthday, and she says Mexico did everything they could to cover up her son's murder.
Evangela Thomas tells The North Carolina Beat that the phone call she received about her son, 29-year-old Maurice Colburt, while he was in Mexico for a friend's birthday during Labor Day Weekend was the worst she had ever received.
On September 1, 2022, Maurice and four friends arrived in Rosarito Beach, Mexico. Evangela said her son and his friends stayed in an Air B&B while there. Two days later, on September 3, 2022, around 1:50 am, Evangela said she received a phone call from Maurice's significant other, who told her that something had happened to Maurice.
Evangela said she called one of Maurice's friends, Jacob, whose significant other told her to call to get more information on what was happening. On the other end of the line, Jacob tells Evangela that something happened to Maurice, but he doesn't say at first. Evangela asked Jacob, "What do you mean? Something is wrong with my son?" Jacob told her Maurice was dead.
I screamed and asked where my baby was at and how was he dead, what happened? Evangela said. The call dropped and I tried multiple times to call Jacob back but I couldn't reach him.
Evangela told The North Carolina Beat that she immediately called her other two sons and told them what was happening. They were in disbelief. As a family, Evangela said they were making calls to find out what happened and were also in contact with the Mexican Embassy. The lies and hurdles this family endured with the Mexican authorities are unbelievable.
On September 3, 2022, around 4:33 am, Evangela said she spoke with a duty officer name Sean at the embassy. She said he told her that he had been in contact with one of her sons and couldn't confirm if her son Maurice was dead or alive.
He informed me that the Mexican Government had the obligation of informing the United States of any death of an American Citizen immediately, Evangela said. They had not been informed of the fact, so we were hopeful and thought he was alive and possibly at a hospital.
Evangela said before Maurice left, he turned on his location information for his eldest brother, Kevin. Sean, the duty officer, was provided with Maurice's phone tracking information later the morning of September 3, 2022. Maurice's tracking information placed him in a residential neighborhood on the other side of Tijuana, Mexico, which is an hour from Rosarito, according to Evangela.
Phone call after phone call, Evangela tried to find her son. She said she had family members calling hospitals in Rosarito with the help of a bilingual family member. During their family investigation, Evangela learned that Maurice's remains were at Grupo Funererario Santana's Morgue in Rosarito.
Grupo Funererario Santana Morgue is 10 minutes from Papas & Beer.
Around 10:35 am, the morning of September 3, 2022, Evangela said she received a phone call from another duty officer name Bill Once, telling her that they needed to get to Mexico and identify Maurice's body and that they would receive an email of how the process works of identifying the deceased. After receiving the instructions, Evangela said they contacted a Mortuary in Long Beach, California, where she resides, who provided her with a Mortuary contact in Tijuana to assist her family with receiving Maurice's remains.
Evangela told us that when she arrived in Mexico is when the cover-up started, and the ridiculous hurdles she and her family had to go through to get her son. She said when she and her family arrived in Mexico on September 3, 2022, in the afternoon, they could not see or identify Maurice's body. According to Evangela, a representative for The Grupo Funererario Santana Morgue, Isaac Alejandro Santana Reynoso refused to allow her family to identify Maurice's body once the Morgue learned they would not be using the funeral home associated with their Morgue.
Evangela said they were later told to return Monday, September 5, 2022, at 10 am. on September 5, 2022, Evangela and her family traveled back to Rosarito, Mexico. Upon arriving with their attorneys, Evangela said they could only view a computer picture of Maurice's face and were told they could not see him physically until they went to the Mexican D.E.A. 
The process took several hours, Evangela said. Finally, we were given the signed documentation to provide to the morgue for physical identification and release of Maurice's body.
When Evangela and her family arrived back at the Morgue with the required paperwork, an autopsy was already performed on Maurice. The Morgue allowed Evangela and her family to only view Maurice's body from behind a glass partition showing only his face through a coroner's body-containment bag, according to Evangela.
Around 3 pm, Evangela said they called the mortuary they hired in Long Beach to come and receive Maurice's body. Isaac, the representative from The Grupo Funererario Santana Morgue, told Evangela that their mortuary service would need to pick up Maurice's remains by 3:30 pm because their staff was leaving the day, according to Evangela.
Issac knew it would take almost an hour for our mortuary provider arrived, Evangela said.
Evangela
 said 
Isaac
 told them they would have to pay additional fees to stay longer than 3:30 pm; however, their closing hour was 5 pm. 
Evangela
 said the extra costs were attempts to extort her grief-stricken family. She said they paid the additional fee, but 
Isaac
 refused to release him once their mortuary services arrived to receive 
Maurice's
 body.
Evangela said their reason was that the mortuary service receiving her son's body didn't have the proper identification, although the company arrived in uniforms and a company transport vehicle. Evangela said once again; Isaac requested more money.
At 4:30 pm, Isaac releases Maurice's body to his family. After arriving at the mortuary in Tijuana, they could finally physically view and touch Maurice. Evangela said they received Maurice's body back in the United States on Friday, September 9, 2022, around 4:00 pm.
Maurice's family tells The North Carolina Beat that they hired an independent Medical Examiner who performed a secondary autopsy completed on Sunday, September 11, 2022. According to the autopsy results obtained by The North Carolina Beat, Maurice's heart was dissected in an "infantile style" cut which means only one midline dissection of the organ, no blood clots found in his heart, no indication of trauma, no hemorrhages, all organs were overall healthy. He had no bruising or defensive marks.
The Mexican authority autopsy report is inconsistent with Maurice's independent autopsy. The Mexican autopsy revealed that Maurice's cause of death was "anoxemia through bronchial aspiration due to cardia thrombosis." Evangela says she doesn't believe Mexico's autopsy report on her son. The attorney representing Evangela and her family has requested the toxicology report from Mexico, but they have not cooperated.
The North Carolina Beat will not be naming or providing photos of the friends with Maurice at Papas & Beer because Evangela and her family don't believe Maurice's friends had anything to do with his death. When Evangela spoke to Maurice's friend, she said they told her they all were inside Papas & Beer when Maurice collapsed while standing at the bar.
According to the friends, they and the staff helped Maurice off the ground and sat him at the bartop, where he remained unresponsive. A short time later, the staff of Papas and Beer removed Maurice from the premises and dumped him in an alley outside the establishment. Moments later, the paramedics arrived and pronounced Maurice dead without attempting life-saving measures.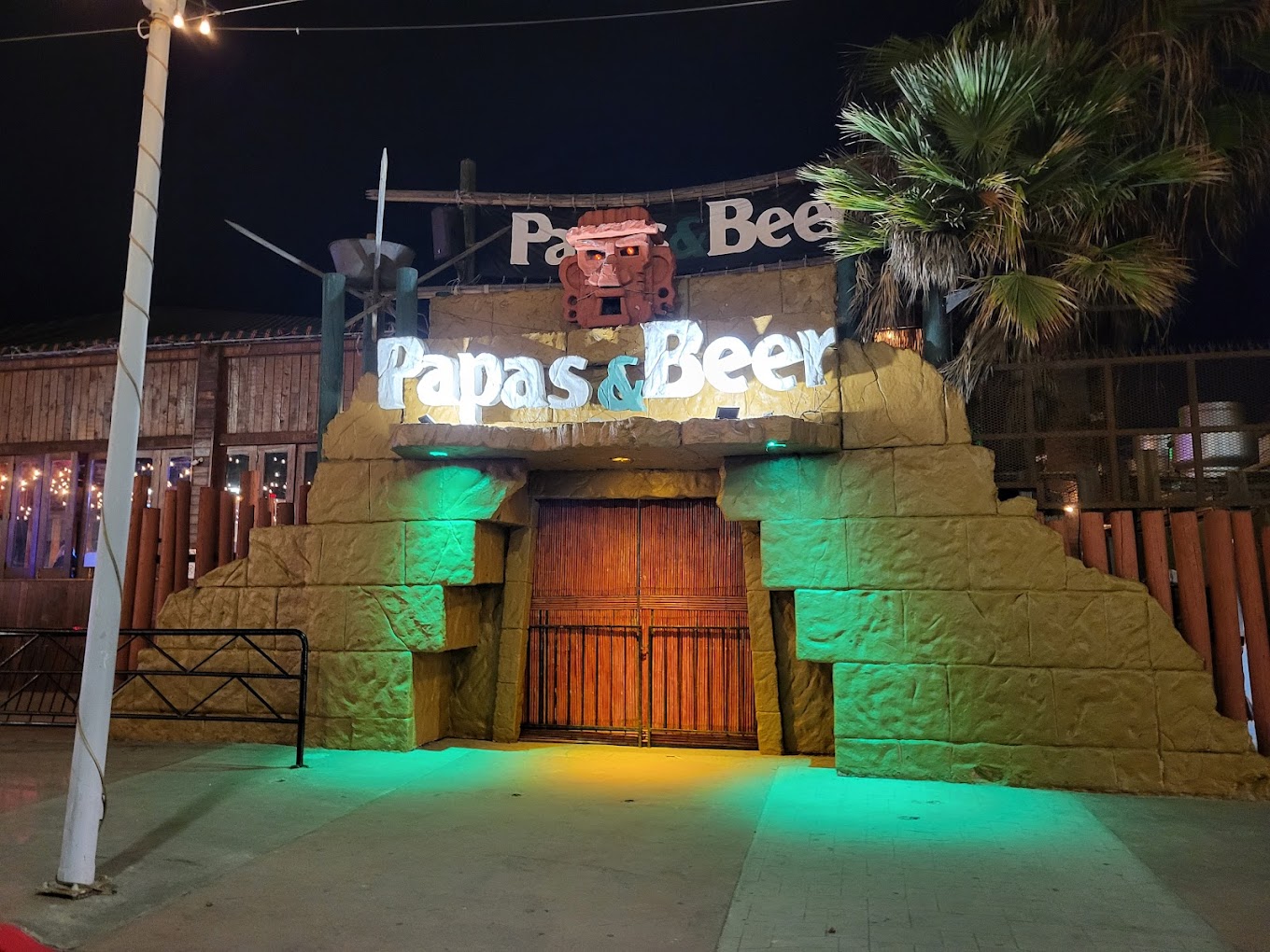 Evangela said Maurice's friends told her that paramedics took Maurice's body away and refused to allow them to go with him, nor did they give them any information on where they were taking him. The friends told Evangela that the Mexican police had arrived and threatened to arrest them if they didn't leave the area.
No police investigation took place that night to get any type of information, Evangela said. They didn't talk to my son's friends, the papas and beer staff or any of that.
Evangela said Maurice's friend told her that the Papas & Beer staff would not allow the Mexican police to enter their establishment. False news articles were published in a newspaper called Norte Pointe that said Maurice's body was found and that he had died from a Fentanyl overdose after buying and doing drugs in the Papas & Beer bar to coverup what Papas & Beer allegedly did to Maurice.
Not only did Papas & Beer kill my son but desecrated his name and physical being when they inhumanely dumped him in the alley like a piece of trash and not providing medical attention, Evangela said.
Evangela said her son isn't the first person to lose their life in Papas & Beer with the same mistreatment and lack of medical attention, and she wants anyone traveling to Rosarito, Mexico, to avoid Papas & Beer at all costs.
Maurice's family tells The North Carolina Beat he was full of life and laughter. Maurice was a proud working San Jose Water Company employee, where he was promoted numerous times. Evangela tells us that Maurice was the youngest of her children.
Evangela told The North Carolina Beat that she sent a letter to the Justice Department months ago and has yet to receive a response.