A North Carolina mother tells The North Carolina Beat that her 16-day-old daughter, born July 22, 2022, died due to carbon monoxide at McDougald Terrace in Durham.
On August 8 of next month, Katie Burnette tells The North Carolina Beat that it will be one year since her 16-day-old daughter, Diamond Yvonne-Jennifer Burnette, died. The public housing complex- McDougald Terrance has failed the U.S. Department of Housing and Urban Development inspection since 2018.
The housing complex has a history of carbon monoxide and failure to install working smoke and carbon monoxide detectors. In a Federal Housing and Urban Development inspection report, inspectors found mold and roach inside the long-standing apartments built for black-only tenants in 1954 and have been standing since. The report also said the housing complex has exposed electrical wires, ventilation problems, misaligned chimneys, and faulty ventilation systems in water heaters.
Katie told The North Carolina Beat that on the night of August 7, 2022, Diamond was in her crib sleeping while she was lying on the couch. Katie said a couple of family members came over and spent the night, so she and Diamond went upstairs and got in bed with Diamond's father, Devonte Burnette. At 6 am, on August 8, 2022, Katie said Diamond woke up hungry, so she pumped her breast and fed her daughter.
At 6:30 am, Katie said she finished feeding Diamond and laid her back down underneath her blanket beside her father. Katie said when she woke up at 1 pm to check on Diamond, she was unresponsive. Katie said she and Devonte immediately rushed Diamond downstairs and attempted CPR with the help of a next-door neighbor who was a licensed CNA.
When paramedics arrived on the scene, Diamond was pronounced dead. In a police report, Durham police said no foul play was involved in Diamond's death. She was transported to Raleigh Medical Examiner's Office for an autopsy. Diamond's autopsy results came back undetermined as to her cause of death.
In December 2022, Diamond's toxicology report was released to her family. The North Carolina Beat obtained a copy of Diamond's toxicology report showing that the infant only had carbon monoxide in her system, which was less than 5%. Katie said she believed it was more in the daughter's system, but they had her lying on the couch for nearly 8 hours after her death with the doors open.
According to the Toxicology report, there was nothing else in Diamond's system.
READ TOXICOLOGY REPORT: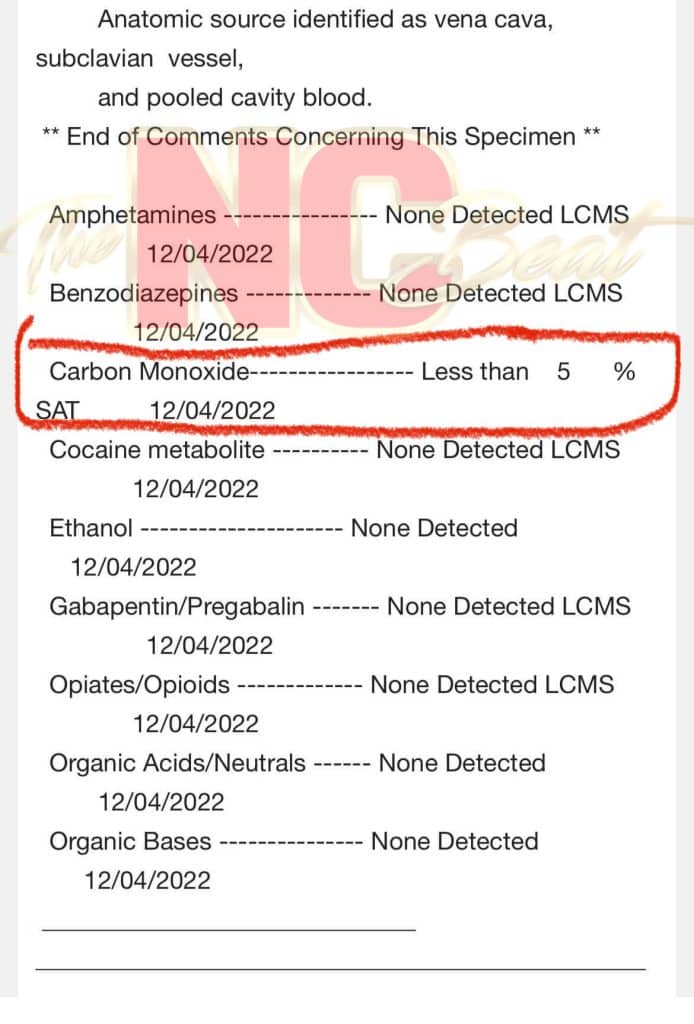 An investigation determined that the housing complex carbon monoxide problems seem to be related to stoves, heaters, and water heaters that appear to leak the gas. In February 2023, the Durham Housing Authority said they have plans to demolish the McDougald Terrance Apartment complex but need the okay from the U.S. Department of Housing and Urban Development.
Katie tells The North Carolina Beat that sleeping has been hard since her daughter died. She said she is up all night, every night making sure her kids are breathing because she doesn't know when the carbon monoxide will return.
On June 1, 2023, Katie said the city of Durham found her apartment with a gas leak during their inspection and McDougald Terrace has still not come out and fix what was on the inspection report by the city.
This place needs to be shut down, Katie said. It is not safe for families out here, especially with children. Some people are stuck because they don't have any place to go.
Katie said she wants families to know what happened to her child at McDougald Terrace and she wants other families to be safe.
If you have a story you think the public should know about, send it to newstip@thencbeat.com.
Follow me, Gerald, on Instagram @iiamgj and Facebook @TheOfficialGeraldJackson