The Israel-Hamas conflict is extending its impact to the U.S., as a Michigan man was apprehended for allegedly making a social media post in which he asked if anyone would join him in "hunting" Palestinian Americans.
Investigators said that 39-year-old Carl David Mintz threatened violence in the city of Dearborn, which has one of the highest populations of Arab Americans in the U.S.
The Dearborn Police Department stated in a press release that Mintz is facing one felony count of threat of terrorism and a misdemeanor count of malicious use of a telecommunications device.
Last Wednesday, investigators said they received an anonymous tip about a post that Mintz allegedly made on his Facebook page, threatening violence against Palestinian Americans.
The post allegedly made by Mintz read, "Hey!" Anyone in Metro Detroit area want to go to Dearborn & hunt Palestinians?"
READ POST BELOW: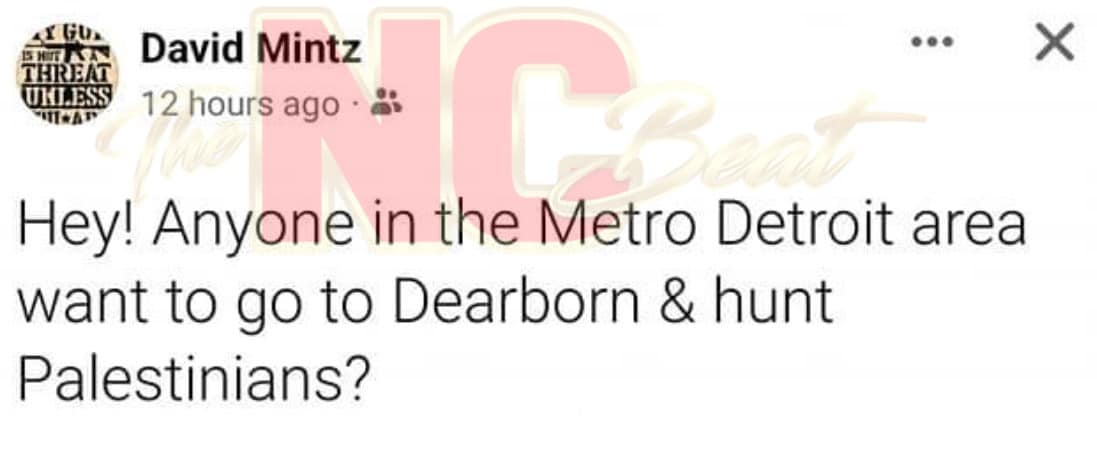 Mintz was arrested on Thursday at his home near Farmington Hills. A magistrate judge ordered that Mintz be assigned a GPS tether device and be banned from possessing weapons and using the internet as part of his bond conditions.
We take all threats very seriously. Although we are currently unaware of any further credible threats, we have increased police patrols across the city and at all places of worship in the interest of the public safety and security of Dearborn's residents, workers, and visitors, said Dearborn Police Chief Issa Shahin.
Dearborn has one of the largest Arab American populations in the United States, making up approximately 42% of the city's population.
Follow me, Gerald, on Instagram @iiamgj and Facebook @TheOfficialGeraldJackson
If you have a story you think the public should know about, send it to [email protected]