Chileeeeeeeeee…. ever since Nicki Minaj married her registered sex-offending husband, Kenneth Petty, her name has been all over the internet, from people shocked that she would marry someone like Kenneth to the fact that she needed to make better music and stop hating on other Female rap artists who are surpassing her.
But that doesn't have anything on these new allegations from a woman behind a Twitter account saying Nicki's husband, Kenneth, drugged and raped her while working as the couple's housemade.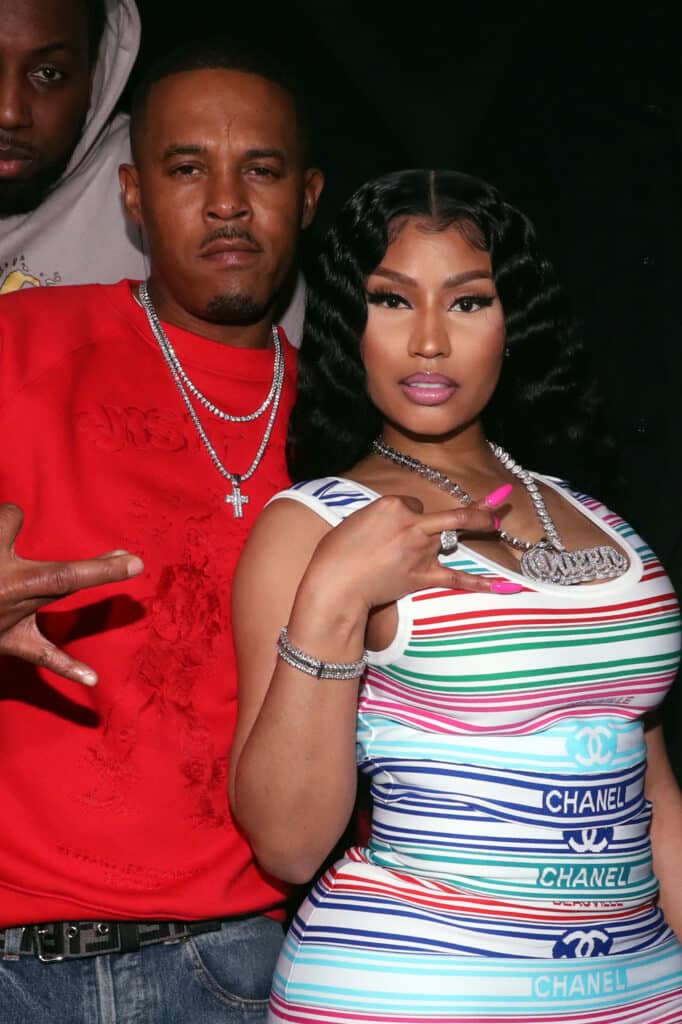 The allegations come from the Twitter handle @teannajacksons, who says she is 23 years old and that on Aug. 1, 2022, while working as Nicki Minaj's housemaid and while Nicki Minaj was in Canada for the "Ovo" festival, Kenneth Petty allegedly "drugged her and did evil things to her."
"We had to do extra chores that day and so much work was there. At 9:45 PM, I finished all I had to do and was very exhausted from the work. It was that same exact moment Kenneth petty drugged me and did evil things to me", the alleged housemaid said in a letter.
The alleged housemaid said she woke up with a "pounding headache" the following day and felt like garbage. She said she remembered Kenneth Petty allegedly on top of her, "laughing and giggling," all while crying and screaming for help, "but no one showed up."
According to the alleged housemaid, she said that when Nicki Minaj returned home, Kenneth told Nicki to fire her because Kenneth accused her of trying to steal from Nicki's bedroom.
"After miss Minaj came back, he told her to fire me, he lied about me and told her I was trying to steal something from her bedroom, she immediately told me to get out before she calls the police on me", the alleged housemaid said in the letter.
The alleged housemaid said she didn't immediately leave when Nicki Minaj allegedly told her to; instead told Nicki Minaj that Kenneth had allegedly sexually assaulted her.
Without giving a specific time, the alleged housemaid said she contacted Nicki Minaj via phone and told the "Super Freaky Grandma" artist that she was pregnant by Kenneth Petty.
The alleged housemaid said Nicki Minaj "realized she was telling the truth" and offered her everything she could not tell "anybody."
And if that was the case, the alleged housemaid did not take the self-proclaimed "Queen" offer because these allegations are all over Twitter.
The alleged housemaid said days later, Nicki Minaj messaged her on Instagram making threats.
READ THE LETTER THE ALLEGED HOUSEMAID POSTED ON TWITTER BELOW:
please take your time to read this. pic.twitter.com/6nOY6DoGFy

— teanna. (@teannajacksons) October 22, 2022
The alleged housemaid also posted a video that appears to be a recording of private messages from an account that looks like Nicki Minaj's actual Instagram account. However, because of the quality, you can't determine what is being said in the alleged private messages between the suspected housemaid and Nicki Minaj.
WATCH THE VIDEO AND READ THE IG DM MESSAGES THE ALLEGED HOUSEMAID POSTED:
it's literally blurry bc of twitter's quality 😭😭😭😭 here's a PROOF again pic.twitter.com/ocziBmeoG7

— teanna. (@teannajacksons) October 22, 2022
Earlier Sunday morning, the alleged housemaid tweeted that the "Bodak Yellow" rapper Cardi B offered to pay for her an attorney to go after Kenneth Petty, and I could believe it.
WTFFFF!!! @iamcardib just offered to pay for my lawyer…
THANK YOU SOOO MUCH!!! ❤️

— teanna. (@teannajacksons) October 23, 2022
It's believable because Nicki and Cardi have been beefing for some time now, and back in August, Cardi responded to a Nicki fan telling them, "Let's Not Talk About Husbands Now."
Plus, if you were beefing with Nicki and throwing shots at her husband and someone came and made allegations like these about Nicki's husband, you would offer to help that alleged victim too.
The problem is, the alleged housemaid hasn't come out and provided any proof that Cardi B has offered to help her, and knowing Cardi B, she doesn't shy away from calling out people playing with her name, so if this is not true, we'll know but then again, sometimes when you help people you don't expect them to tell people, and so you deny publicly your offer to support privately.
If this is true, we hope Nicki Minaj will learn to keep everybody else's name out of her mouth and focus on paying more attention to her husband.
Just so you know, Kenneth Petty is currently a registered sex offender for attempting to rape a 16-year-old girl in 1995. He was sentenced to 18 to 54 months but spent four years in prison.
Kenneth Petty is a level two registered offender in New York, which means he's considered a "moderate risk of a repeat offense."
It's unknown if the woman filed a police report. 
If you have a story the public should know about, send it to gjackson@thencbeat.com.
Follow me on Instagram @iiamgj and Facebook @Itstheofficialgeraldjackson