The FreakNik 2022 that was scheduled to start next weekend, Saturday, August 27, 2022, with rapper Khia, Sukihana, Tokyo Jetz, and rap group, Bad Habit hosted by Jump Judy Events and NuPlanet Entertainment, has been canceled.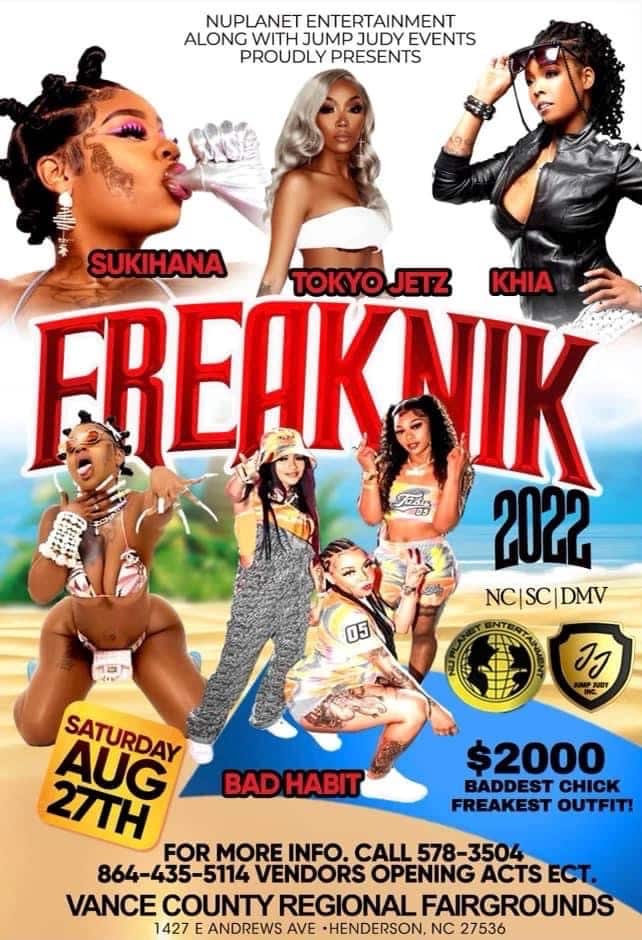 The North Carolina Beat learned earlier this week that the cancellation has nothing to do with the rap artists. Instead, NuPlanet Entertainment pulled out of the event due to "janky promoters."
We have not yet learned exactly what happened for the reasoning for the event being canceled, but Ray Ramsey, CEO of NuPlanet Entertainment, has told numerous people calling his number listed on the FreakNik 2022 flyer that Khia, Sukihana, and Tokyo Jetz will not be in attendance.
The event was scheduled at Vance County Fairgrounds at 1427 E Andrews Ave Hwy 39 Henderson, North Carolina.
Sources also told The North Carolina Beat that things could possibly change but as of right now, the artists who were scheduled to perform will no longer be coming to Henderson for the event.
You Can't Afford To Miss A Story On The NCBEAT!