Donald Trump's mugshot was released shortly after he was booked at the Fulton County Jail on RICO charges on Thursday.
Never before has a President of the United States been charged with a crime, let alone indicted four times as Donald Trump has. The American people have used memes over the last couple of years that depict Trump posing for his own mugshot. On Thursday, those memes became a reality.
Donald Trump showed up in his trademark blue suit and red tie.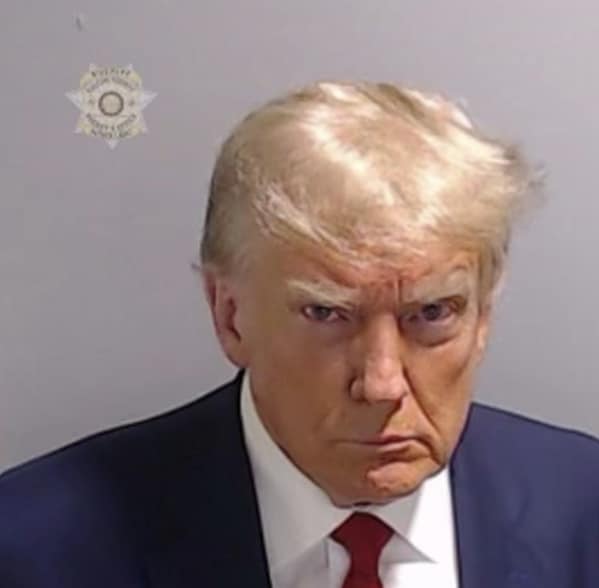 Trump and 17 of his allies, who are also charged in the DA Fani Willis RICO indictment, are accused of attempting to overturn the 2020 presidential election.
Trump's bail was set at a total of $200,000 for the 13 counts he faces in Georgia, including charges of RICO, criminal conspiracy, false statements, and criminal solicitation. If you add up the other cases Trump has pending, he faces a total of 91 felony counts.
A judge set Trump's bond condition as "shall perform no act to intimidate any person known to him or her to be a codefendant or witness in this case or to otherwise obstruct the administration of justice."
Judge Scott McAfee warned Trump against making any "direct or indirect" threats in social media posts or otherwiseagainst co-defendants, witnesses, unindicted co-conspirators, victims, or "against the community or to any property in the community."
The former president was also warned not to discuss case facts "with any person known to him to be a co-defendant in this case, except through his or her counsel."
Trump's legal drama continues in Fulton County.
If you have a story you think the public should know about, send it to newstip@thencbeat.com 
Follow The NC Beat on Social Media: Instagram:@TheNorthCarolinaBeat | Facebook: @TheNorthCarolinaBeat | Twitter: @TheNCBeat
Follow me, Gerald, on Instagram @iiamgj and Facebook @TheOfficialGeraldJackson