Do you have a story the public should know about? If so, send to gjackson@thencbeat.com
Follow me on Social Media: Facebook, Twitter, and Instagram
---
The owner of a local Jacksonville home-based "business" is under fire after a video captured inside of her home shows the kitchen where she preps and cooks food for customers, DIRTY AS FUCK!
The name of the illegitimate business is called Dime's Pieces, and the owner's name is Diamond Monique Garrison.

Apparently, Garrison sells decorated desserts such as cupcakes, strawberries, popcorn, and pretzel sticks. But the problem is, the food she sells is allegedly being cooked and prepped in unclean pots and pans in a dirty ass kitchen.
One woman who wishes to remain anonymous says she knows Garrison 'really well' and that Garrison "has never been a clean person." OOP, Chileeee.
The video obtained by The North Carolina Beat shows the inside of the Dime's Pieces business with unclean dishes, pots, and pans everywhere, a towel on the floor, and guess what else we found? A little strawberry sitting by himself on a dirty ass table that looks like the prep table. (LOOK AT THE PHOTO AND VIDEO BELOW)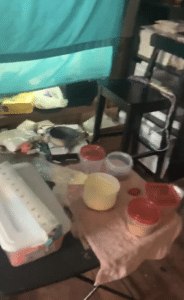 Isn't that DISGUSTING??? Is this where people are ordering their desserts? Obviously, this is a public health issue…but some of y'all like nasty and would still eat this junk.
The video above was originally posted by Sharifa Marshall on June 15, 2020. In the caption, Marshall said "So if you ordering from Diamon Monique you might want to rethink things. I don't understand why nobody didn't warn me." (READ POST BELOW)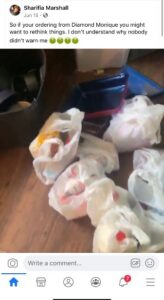 After Garrison caught wind about the post, she responded saying "AND WHOEVER BEEN IN MY HO– USE TAKING VIDEOS TO SEND BITCH DO IT IN FRONT OF ME! So you can get your issue with that frozen apple. Y'all bitches need life and something of your own. Those tricks ain't gone do shit but turn around that's why death knocking on some of y'all doors and you can barely tell up from down without a bill to your fucking face all day. Leave me the fuck alone. I'm not bothering you bothered ass bitches! And I'm not deleting shit in advance." (READ POST BELOW)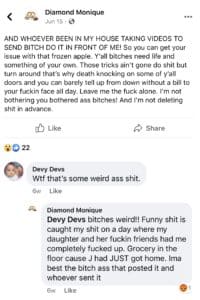 So, basically Garrison got mad because Marshall was doing us all a favor and sharing a video that captured the inside of Dime's Pieces…you can't be mad at that. If you not clean, you not clean and you shouldn't be selling anything to the public.
Go back to the photo above, you can see a STRAWBERRY sitting on a freaking towel… among other things the video shows. And she was really about to sell this stuff to people who have placed orders with her. SMH!
Anyways, is this a Black-owned business you want to support? I wouldn't. Your kitchen shouldn't be looking like this if you have a cooking business, PERIOD!