The man who allegedly killed an Ahoskie, North Carolina pastor, said the pastor was "feeling on him" before he shot him.
He has now been released from jail WITHOUT posting his $300,000 bond.
The North Carolina Beat spent most of Thursday morning speaking with officials in St. Francis County, Arkansas, and we have also learned what the alleged killer, in this case, told investigators.
During a virtual birthday celebration a day before his death, 35-year-old Pastor Ryan Chandler said, "I could be six feet under. I thank God I'm on top of the ground and not up under it." Chandler's gay lifestyle is believed to have cost him his life the next day, May 5, 2022. He was shot in the head at close range and killed by a hitchhiker in the parking lot of a Shell Gas Station, located at 2335 North Washington Street in Forrest City, Arkansas, according to court documents obtained by The North Carolina Beat.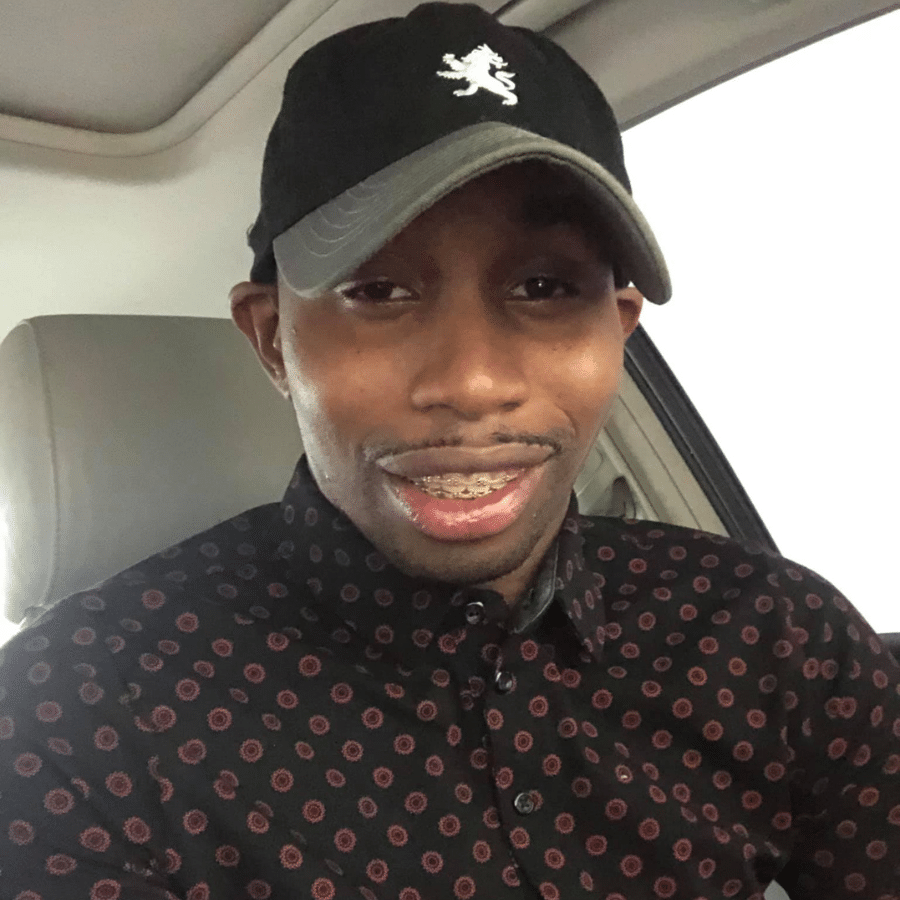 Police say around noon on May 5, they responded to a call of a man sitting in the driver's side of a parked car bleeding from the head. They say Chandler's Lexus was parked in front of the store when he was shot in the head. Later that day, police apprehended 24-year-old Rodney Montezy Ward and charged him with Murder, Tampering With Physical Evidence, and Resisting Arrest.
When police captured Ward on May 5, he was booked into the St. Francis County Jail under a $300,000 bond, where he had been sitting until Tuesday, September 13, 2022, when he was released by a judge under a court order.
St. Francis County Jail officials told The North Carolina Beat Thursday that Ward did not post his $300,000 bond; instead, a judge released him, and he is required to check in at the jail once a week, every week.
Jail officials did not give any further details about his release.
The North Carolina obtained a court document that shows that on September 12, a day before Ward was released, he appeared in court as an indigent defendant to be given a court-appointed attorney.
In the affidavit, Ward listed his assets at $0, non-liquid assets at $0, and his liabilities at $0.
VIEW DOCUMENT BELOW: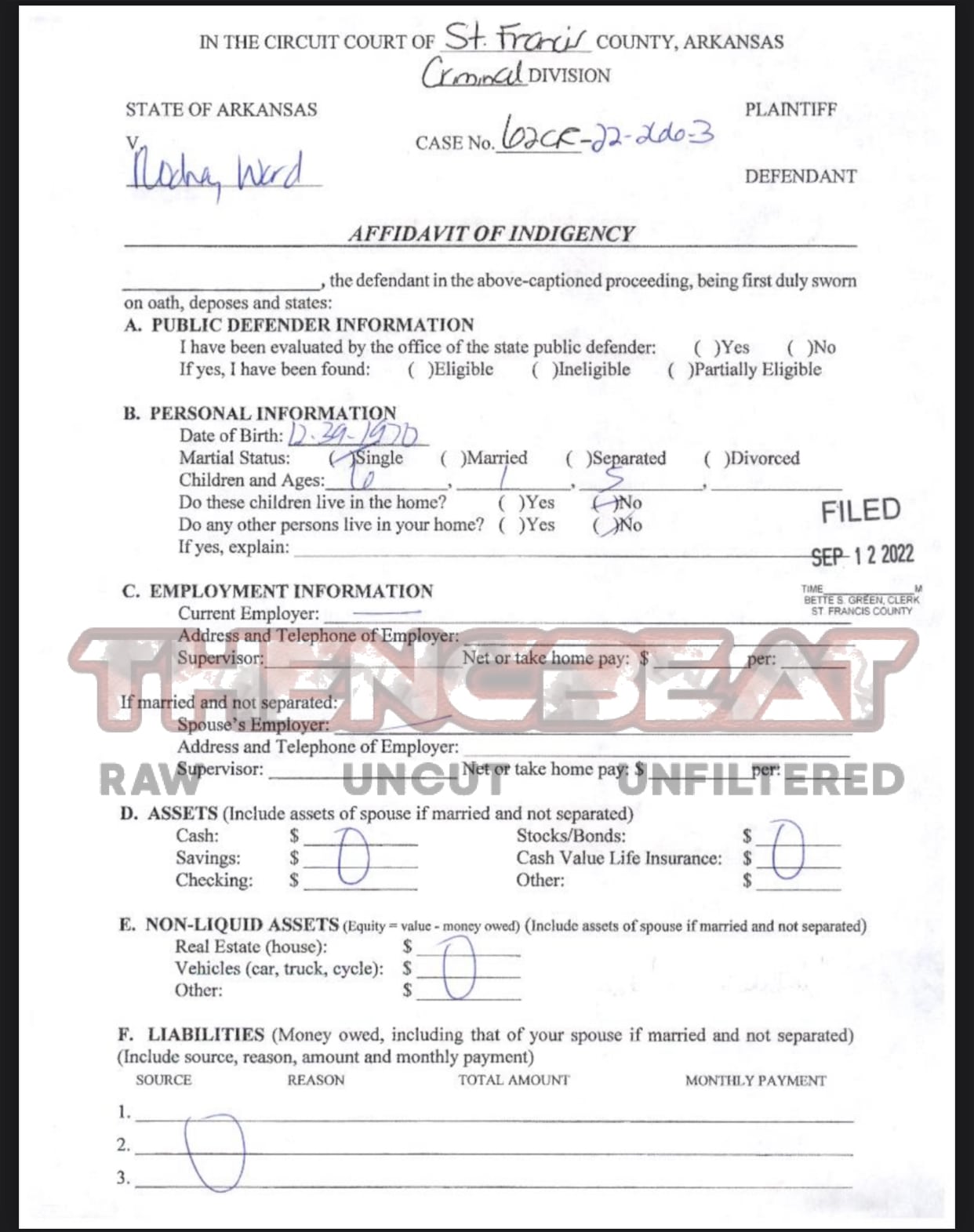 According to court documents, when police arrived at the gas station, they found Chandler inside a silver Lexus, shot in the head, and slumped over. When police reviewed the store's surveillance footage, they observed Ward exit the passenger side of the vehicle in all black. The footage showed Ward running west toward the Red Roof Inn hotel at 2333 N. Washington Street.
Police started canvasing the area and identified a man with the description of the black male who exited Chandler's vehicle near the Forrest City Bypass. However, when officers tried to make contact with the man, who was later identified as Rodney Ward, he attempted to hide under the bridge. Detective Sergeant Gracey, who initially canvased the area and spotted Ward was able to get him to come out from under the bridge and instructed Ward to keep his hands up.
As police made physical contact with Ward, a struggle ensued. Police say they found a 9mm handgun with a live round in the chamber on Ward. He was transported to the Forrest City Police Department for questioning. 
According to court documents, during the questioning, Ward denied involvement in Chandler's death and that he had not been at the gas station or in the vehicle with Chandler. In addition, when Ward was asked about the gun police found on him, he told investigators that he had brought it with him from Memphis and then later recanted his story and said he found it minutes before officers located him hiding under the bridge.
Police say that they began searching through Ward's property and found a red substance on his iPhone that was consistent with blood. According to court documents, when police had Ward confirm that the iPhone was his, they asked him about the blood on it. Court documents say Ward told investigators that the red substance was not blood and then he "sighed" and said it was self-defense.
Investigators asked Ward if he wanted to speak to them again about what happened, and he said yes, according to court documents. 
Ward told investigators that he had been walking from Memphis, Tennessee to Little Rock, Arkansas, when Chandler stopped on the Memphis Bridge and offered to give him a ride, according to court documents. Ward told investigators that he and Chandler stopped in between travel for gas and then got off the interstate again in Forrest City.
Ward told investigators that Chandler started telling him that he was a masseuse and began feeling on him. Finally, he said Chandler started coming over on him, and that's when he grabbed a gun that was in the backseat and shot Chandler. Ward told investigators that he discarded his clothes in a field and fled the scene because they had Chandler's blood on them.
LOOK AT COURT DOCUMENT OBTAINED BY THE NORTH CAROLINA BEAT BELOW: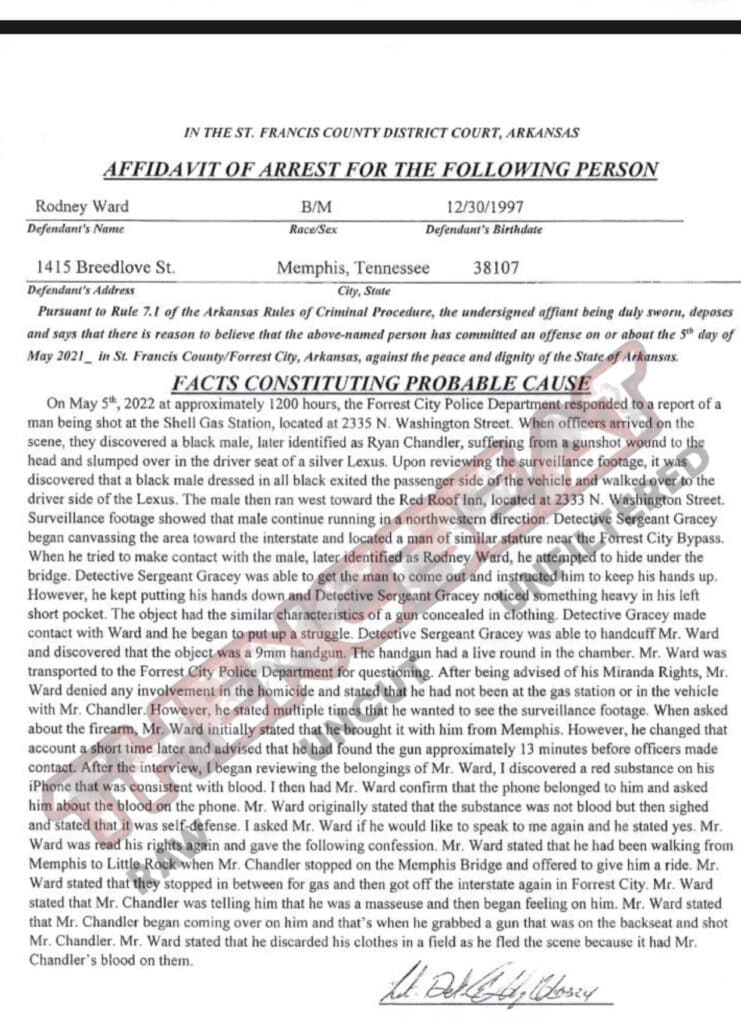 The North Carolina Beat spoke to friends and members of Chandler's church Thursday, and they told us that everyone knew he was a full fledged queen.
Rumors circulated on social media that this was a sex hook-up gone wrong but as of Thursday, there was nothing at St. Francis County Courthouse that verifies those rumors.
It seems as though Chandler tried to "try" a straight man and got murdered. 
It's sad that Chandler died, but if Ward is telling the truth about Chandler "rubbing on him" and Chandler forcing himself onto Ward, this is something Chandler brought onto himself.
You can't "try everybody….some people are meant to be STRAIGHT. They are just not with that BULLSHIT, and you need to not try them and find somebody else who wants you to play in their brown hole, straight eat the click, or love suckin a Lil dick every now and then.
HERE ARE MORE COURT DOCUMENTS: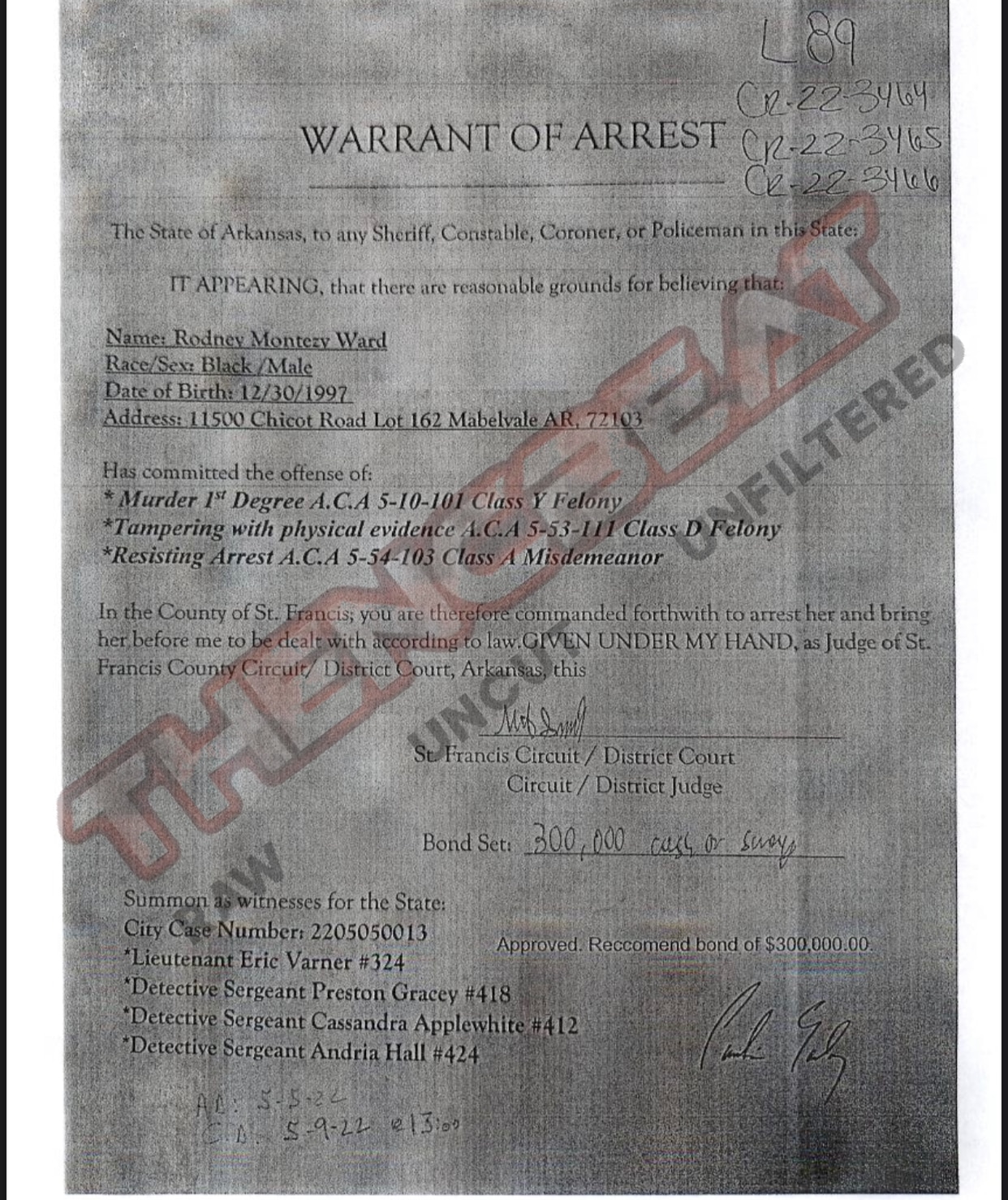 Ward's next court date is December 5, 2022, according to the St. Francis County District Attorney's Office.
If you have a story the public should know about, send it to newstip@thencbeat.com or text (919)-307-9002.
Follow me on IG @itsgjtheceo and Facebook @GeraldJackson