Lace-up your skates and get ready to roll because a big skate party is happening on Saturday, November 19, at United Skates of America in Raleigh, North Carolina.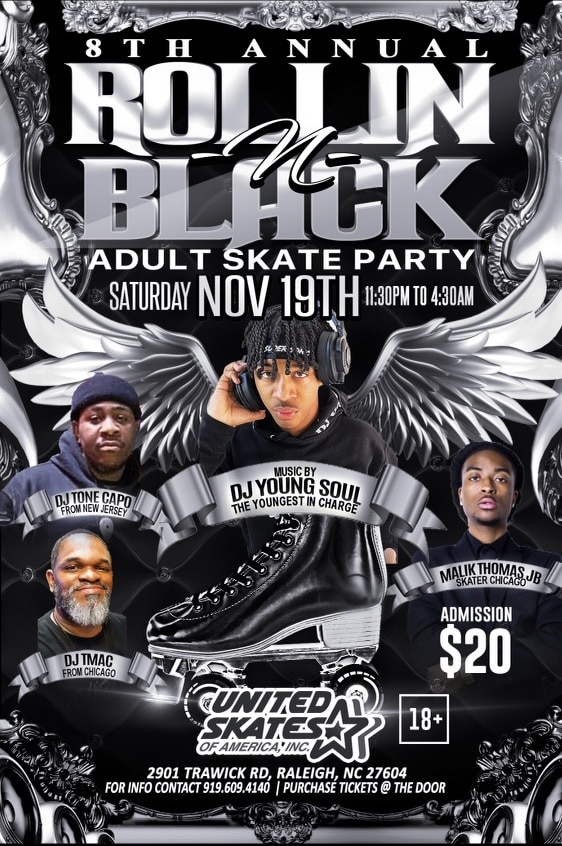 It's the 8th Annual Rollin N Black Adult Skate Party, and it will be a movie. 
Skaters from the ATL, Jersey, VA, South Carolina, ChiRAQ, and other areas will be in the building rolling tll the wheels fall off from 11:30 p.m. to 4:30 a.m.
Calling all JB Skaters, House Skaters, Snappers, Trains & Trios to meet on the WOOOD.
Keeping you rocking all night is the YOUNGEST DJ in Charge, DJ Young Soul, DJ Tone Capo from New Jersey, and DJ TMACK from Chicago.
Special guest ChiRaq JB Skater Malik Thomas will be in the building.
This is an 18 and up event ONLY! 
Tickets are $20 and can be purchased at the door.
Don't miss it on Nov. 19 at United Skates of America, 2901 Trawick Rd. Raleigh, NC 27604.